Jervis Bay is a bay over on the southern coast of New South Wales in Australia. However, it is also a charming village that is filled with sandy white beaches that sparkle under the shining sun. As you sit on the beach, you can easily watch dolphins frolicking out in the water. This is also a whale migration destination, so it is a common area to see humpback and southern right whales. Those are not the only types of wildlife you will see during your visit though.
Throughout the National Park, you can see wombats, kangaroos, wallabies, and a plethora of different birds. It is within that same National Park that you can spend days or weeks camping, bushwalking, cycling, and so much more.
You can easily reach the Jervis Bay area from Sydney via the Princes Highway. The distance between the two areas is 198 kilometers. The distance between Melbourne and Jervis Bay is greater at 600 kilometers. However, that doesn't mean you shouldn't avoid this beautiful area when you want to do a little camping in this part of the country. Jervis Bay is also 40 kilometers from the town of Nowra and not too far from many other smaller towns in this area of Australia.
You will have many options when it comes to accommodations in Jervis Bay. While hotels, B&B's, and guest houses are scattered around everywhere, staying at one of the local campgrounds is usually a favorite option amongst visitors.

Bristol Point Camping Ground
You will find the Bristol Point Camping Ground within the Booderee National Park.  This camping ground is approximately three hours from both Sydney and Canberra.
Booderee National Park is one of the more popular parks within all of Australia. When you are not relaxing at your campsite or on the soft sandy beach, you will find yourself high up on the cliffs gazing out over the Pacific Ocean. There are botanical gardens within this park, as well as plenty of wildlife to see as you are walking around.
The Bristol Point Camping Ground is a walk-in camping ground only. There are many smaller sites located here, but there are also quite a few larger sites for when you are camping with a crowd. You must have a tent, or plan on sleeping out in the elements, during your stay. The reason for this is the camping ground is not well-suited for any type of camper or caravan.
You will never park more than fifty meters from the site you are staying at during your visit. This is perfect if you are the type of camper who likes to have many of the comforts of home with you, because you won't need to lug anything too far.
As for the amenities at this camping ground, there are public toilets and both hot and cold showers. Fresh water is available for drinking and cooking and the wood fireplaces will keep you warm on those cooler nights. While barbecues are available for you to use, it is usually best to bring a gas barbecue with you if you plan on cooking a lot.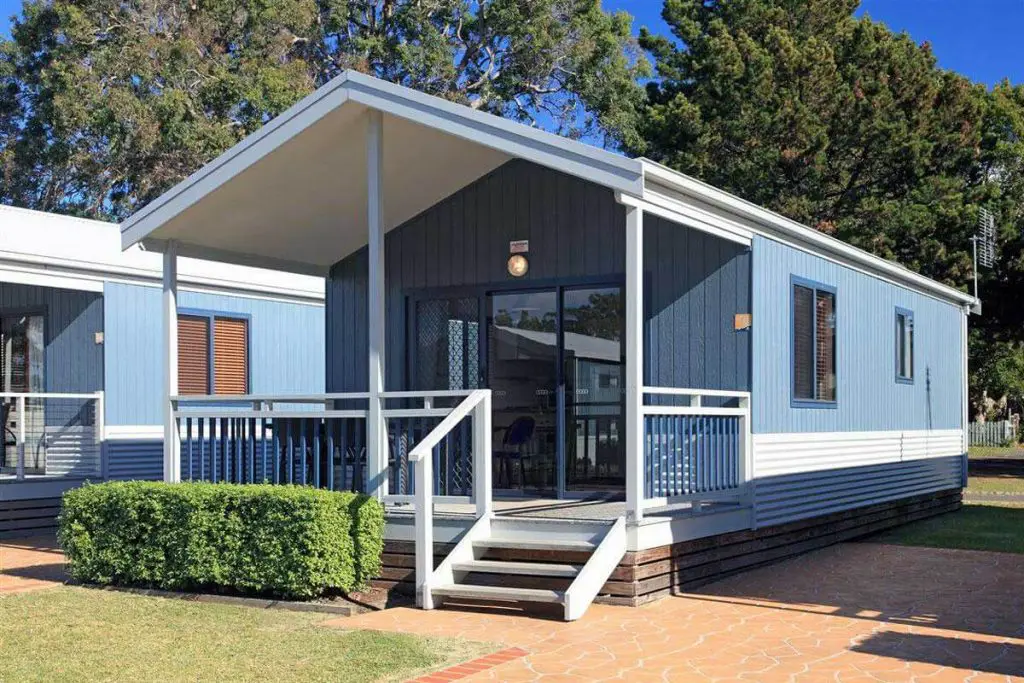 Holiday Haven White Sands
There are twelve different Holiday Haven destinations in Australia, but none of them are as amazing as the Holiday Haven White Sands in Jervis Bay. You can easily reach this area from Sydney in two and a half hours.
A stay at this camping ground will have you enjoying Huskisson Beach quite a bit, since it is only steps away from most sites. A quick ten-minute walk will have you enjoying meals at the local restaurants, heading out on dolphin and whale watching tours, and doing a little shopping. All the nightclubs are in that area as well, so you can enjoy late nights without being too far from your bed.
While many people love to camp in a tent, Holiday Haven White Sands has spots for RVs and caravans too. There are also cabins that come completely furnished to make your camping experience better than you ever imagined!
One of the favorite amenities at this camping ground is the camp kitchen and the barbecue facilities. Both those areas make cooking and eating easy! When you are not out swimming and paddleboarding at the beach, your kids can get rid of the last of their energy at the on-site playground.

Jervis Bay Holiday Park is 12 kilometers from the village of Jervis Bay and just over 43 kilometers from Kiama. This camping ground is known for the ultimate in relaxation, while also providing plenty of opportunities for adventures.
You must stay at this camping ground if you want to spend your days out on whale watching tours, at the Shoalhaven Zoo, and at the Tree Top Adventure Park. There are four beaches near Jervis Bay Holiday Park, and you can spend time at them all to find your all-time favorite.
While you can bring your own tent or camper with you for a camping adventure at this camping ground, you have so many other options available. There are many cabins you can rent, but you may want to consider the villas and even the safari glamping tents.
As for the amenities at this camping ground, you will find everything you need and so much more. Restrooms, hot showers, laundry facilities, and Wi-Fi are only some of the amenities you will appreciate during your stay.
CHECK CURRENT RATES
We do not list rates as they can change regularly. Click below to check.

This is one of the other Holiday Haven camping grounds in the Jervis Bay area. You will find this camping ground on the northern side of the marine park in Jervis Bay. The location is only 8 ½ kilometers from Jervis Bay Village and you can easily access so many of the nearby activities and landmarks.
This is a dog friendly camping ground, so it must be at the top of your list if you want to take your furry friends camping with you. When you are not at your campsite, you will find yourself spending your days exploring the Abrahams Bosom Reserve, Beecraft Peninsula, Honeymoon Bay, and the Point Perpendicular Lighthouse.
Tent camping is popular at Currarong, but you can also camp in your RV or at one of the on-site cabins. Each site is within walking distance of the general store, as well as the barbecue area and camp kitchen. The playground will keep the kids busy when you are not down at Currarong Beach, as will the splash pad, jumping pillow, and miniature golf course.
A visit to this camping ground during the summer months will have you enjoying many activities that are only held at that time of the year.
These are some of the best camping grounds in Jervis Bay and you will want to check them all out before you make your next camping reservation. Each option will allow you to have an amazing time, but make sure you choose the one that has everything you want, and need, for your next campout.

Visitors adore camping at Booderee. Choose between the natural setting and individual campsites at Green Patch, the grassy area at Cave Beach, or Bristol Point, which is ideal for larger groups.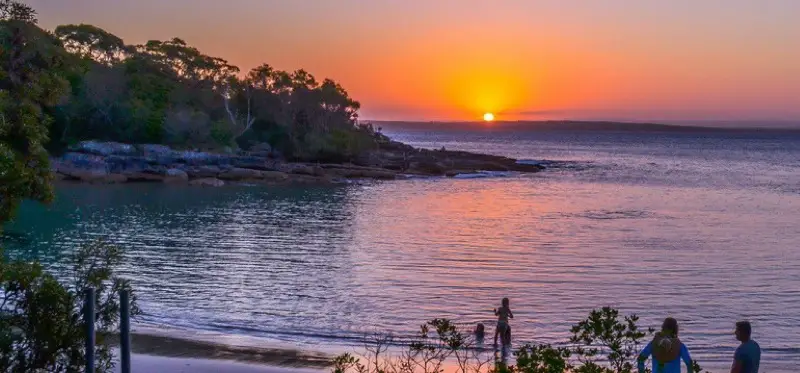 Honeymoon Bay is set in a picturesque location in Jervis Bay. It is approximately 10 kilometers from the edge of Currarong along the Point Perpendicular Lighthouse Road.
Honeymoon Bay is a small sheltered bay to spend a day by the beach, snorkel and paddle in the sea. Camping is fully booked during the summer holiday period via a ballot system held each August. At other times of the year it is available on most weekends and during school holidays on a first come, first served basis.
No pets are allowed.
At times the area is closed, when the car park reaches capacity or for Defence exercises Monday to Friday. Telephone the Beecroft Weapons Range for more information.