Want to get away from the hustle and bustle of city life and take a break from all the chaos? It would be best if you had a quaint little town to vacation in. A place that is not crowded or highly urbanised. In a location with good weather, you are not sweating too much.
Timber Creek is a small isolated Australian town located on the banks of the Victoria River. Approximately 600km south of Darwin, and 285 Km West of Katherine, Timber Creek is well known for its Boab trees. The Victorian highway passes right through the town, making it well connected via road.
With a very low population and basic amenities, Timber Creek could be the perfect getaway from the traffic, noise, and pollution of the populated city life. You can go fishing and catch some sizable Barramundis. You can also visit Gregory National Park and get some time with nature.
The Gregory National Park is open all year round. You can go on four-wheel drives, explore the area, go fishing or even camp under the stars and wake up to the sounds of a variety of birds, you cannot spot in the busy cityscapes.
You can go on a solo trip to get some time for yourself or go with family. Children will love to get close to nature, observe the birds, the forest life, and all other things the city life cannot provide them. This trip can also give you a taste of rustic life, which can be an experience to cherish for many years to come.
Timber Creek is not very urbanised like many cities around Australia. The population is low; there is not much of a "nightlife" or malls and shops to while away your day in. It is a rest stop for those who are en route to Perth or Broome from Darwin.
Timber Creek also has a small airstrip to the west of the town for those who want to land their charter flights.
When you are holidaying in your caravan, you need good caravan parks to stop in. Timber Creek has a few of those for you to relax in. You can choose to halt the night at: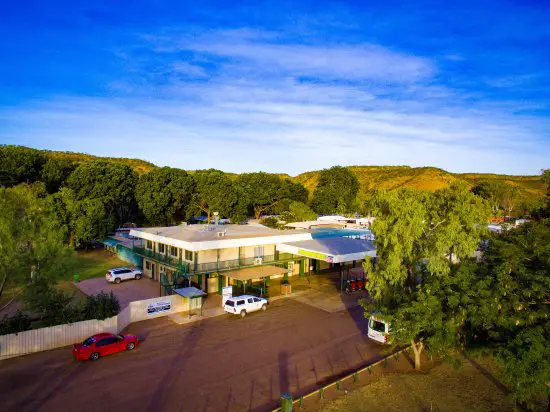 Timber Creek Hotel / Fogarty's Store / Circle F Caravan Park
The Timber Creek Hotel can be a great option for both adults and kids for a fun-filled vacation. You can go bird watching, witness the seasonal kite and crocodile feeding; kids are sure to love these experiences. You can even feed them and take back exciting stories to share with your friends.
The Timber Creek Hotel has a variety of accommodation options. Be it for family or students on a budget; there is something to meet your needs.
This park has many amenities to make your stay comfortable and memorable. Both children and adults can have a comfortable stay and have some fun.
MAKE A BOOKING / CHECK RATES
We do not list rates as they can change regularly. Click below to check.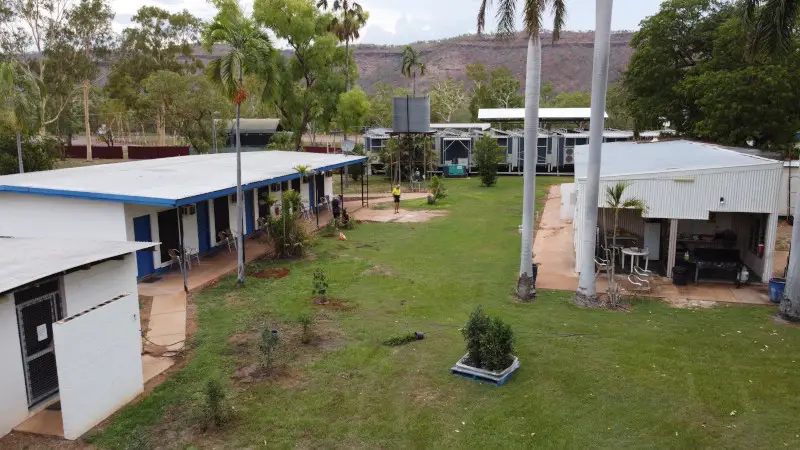 Wirib Store & Tourism Park
The Wirib Store And Tourism Park cater to all accommodation needs. Be it a fully equipped cabin or a place to park your caravan in for a night or two, so that you and your friends can enjoy some nice BBQ and camp under the stars, this park has got you covered.
They even have a supermarket and bakery on the site for you to buy fresh baked goods from. You don't have to venture out searching for a store to restock your supplies from. You can park your caravan here, restock, stay the night and be on your way in the morning.
You can choose to come along for some quality time or come with a group; there are rooms to suit all your needs at different budgets.
The amenities are basic and sufficient to meet camping needs. You can relax a day or two in your caravans, enjoy these amenities, and hit the roads again.
MAKE A BOOKING / CHECK RATES
We do not list rates as they can change regularly. Click below to check.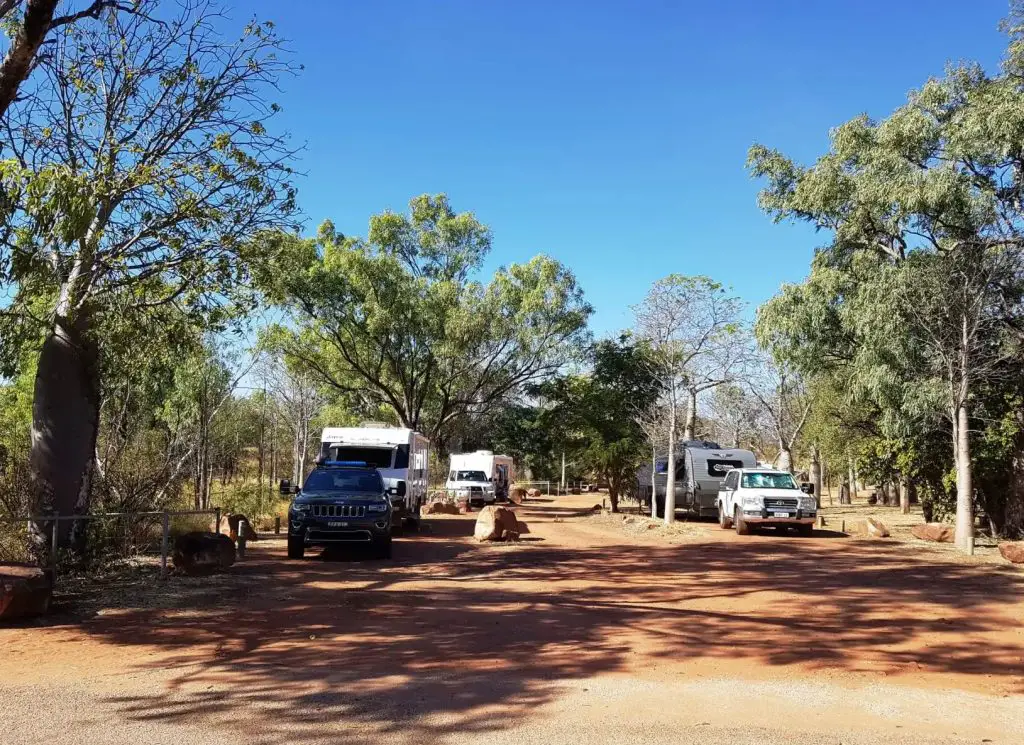 Big Horse Creek Campground
Located 10km West of Timber Creek on Victoria Highway, the Big Horse Creek Campground is open all year round. You can come in your caravan and halt at any time of your choice. You don't have to worry about your pet as the place is pet-friendly.
You can have a nice time with your friends and family. Build a fire to keep yourselves warm, add some BBQ and make it a wonderful camping trip. You also have a boat ramp nearby, so you can even go fishing.
Since the water has many crocodiles, one has to be very cautious when they take their boats in and out of the water—the camping ground advices against cleaning fish near the water for your safety.
You can go fishing in your boat, but swimming is not allowed, again for your safety from the crocs. Overall, the camping ground is a very spacious, clean, and well-maintained place to park in for a night and relax for the night.
This is a campground where you can come and park your caravans or trailers and enjoy the night with fellow campers. At just $3.30, you get to park your holiday home in a secure place without a worry. You can pay the rent at the entrance of the camp.
MAKE A BOOKING / CHECK RATES
We do not list rates as they can change regularly. Click below to check.