Port Hedland is known for its iron ore mining, ports, salt piles, and thriving industry. It is also famous for its indigenous culture and history. The city has a bustling population of workers and people working in different industrial sectors.
At the same time, it has made a name for itself as a tourist city, too, with abundant wildlife, fishing, whale watching, and a site for turtle nesting. It is two hundred km from Karratha and connects Pilbara and Kimberley. The Northwest Coastal Highway and the Great Northern Highway are two major roads to reach Port Hedland. Broome is 611 kilometers away, and you can travel via Pardoo and Sandfire Roadhouse to Port Hedland. Perth has daily flights, while Brisbane has a weekly flight to the town.
You can tour the shipping area and the iron ore and salt shipping area. Tourists can get a chance to see the mechanism of one of the biggest mining companies. You can also see some humongous ships at this export port at Hedland. You can follow the trail of culture and heritage of the town that inherits indigenous and European history.
Dalgety House Museum tells the story of the effect of English and European people on the original inhabitants known as Kriyarra of the Pilbara. The museum has artefacts from the pearls and pastoral trade and showcases the rich history. The town also has abundant fauna and flora, and tourists love to go on walks and hiking trails here to catch some unusual flowers. An unusual phenomenon is the 'Staircase to the moon' between May and October. This is a special visual when the full moon rises at the time of low tide. Outback drives, nature parks, and Flatback Turtle nesting sites (October to March) are other attractions. You can also easily see bottlenose dolphins, sharks, and whales here. Turtle hatchlings at Port Hedland are a sight to behold for nature lovers.
With so much to see and do, here is the list of places where you can easily put up your tent or park your caravan.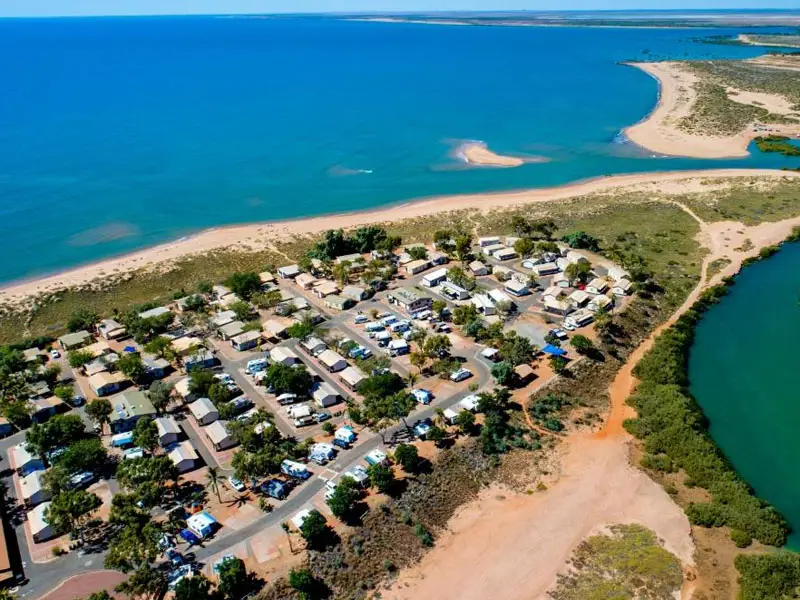 Discovery Parks - Port Hedland
Discovery Holiday Park is located conveniently for the workers at the port or in the industries and the tourists coming for short stays. You can easily access the BHP Billiton Iron Ore tour or go fishing from here. Other attractions are whale watching and crabbing. Off-road driving and coastal walking paths are close by. It is a great base for many activities and outdoor adventures families enjoy here. 
MAKE A BOOKING / CHECK RATES
We do not list rates as they can change regularly. Click below to check.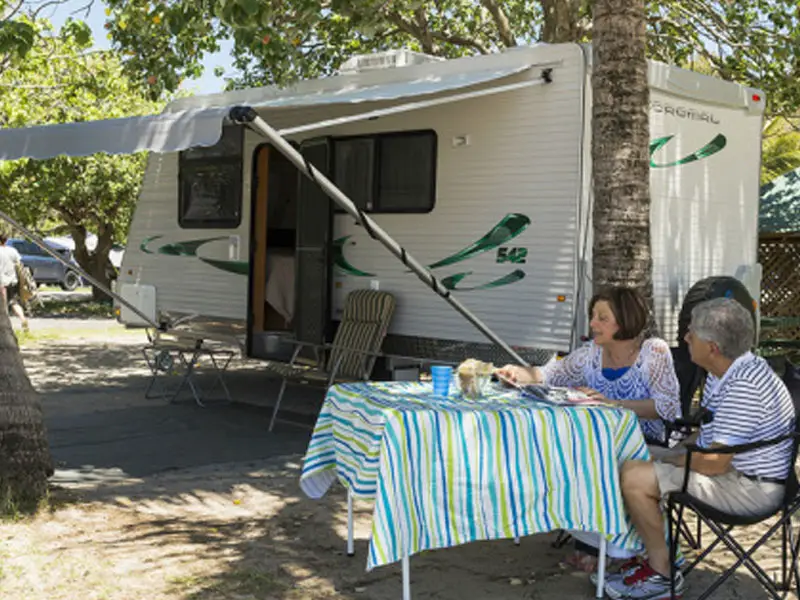 The park is located near the Port Hedland International Airport. It is strategically located on the route to West Australia and is reasonably priced. The entrance to the park is close to the Port Hedland Truckstop service station, opposite the airport. The park shares a reception with the Landing Resort, and this is a great advantage as you get access to their gym, swimming pool, and restaurant. You can also have access to breakfast and dinners at the Landing resort if you stay at Port Tourist Park.
It is a pet-friendly caravan park that caters to local workers, caravaners, and campers visiting the Pilbara, and people can stay here for two to many days. People can go backpacking tours to the West Australian region and make a pitstop here. The camping sites are very green and have shades to keep them cool during the day.  
Just because you want to leave the city life behind doesn't mean you need to forget all comforts. In addition to all that you can do outside in nature, you can enjoy the following amenities:
MAKE A BOOKING / CHECK RATES
We do not list rates as they can change regularly. Click below to check.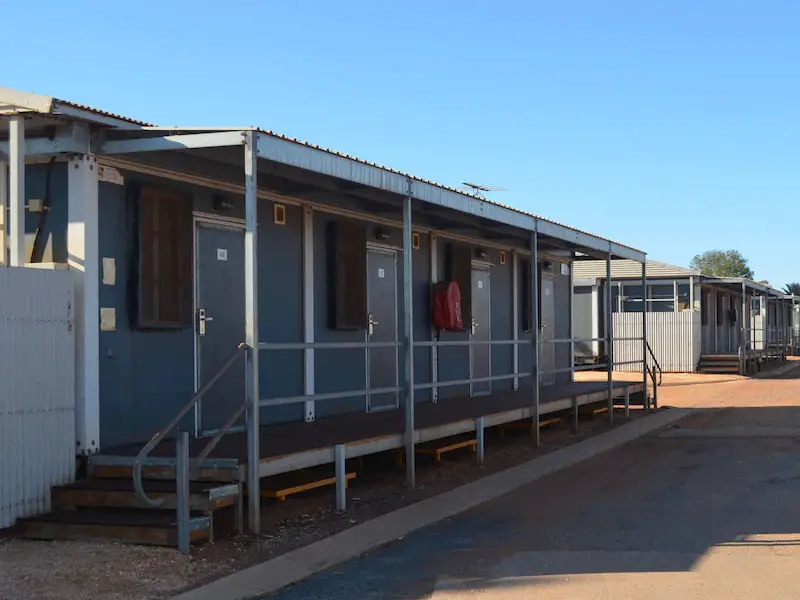 Blackrock Tourist Park is located in South Hedland in the neighborhood of the main town. It has Pretty Pool and East Pretty Pool, adding to the area's natural beauty. The Dalgety House Museum and Don Rhodes Mining Museum are a few km from the park. Other interesting attractions are Redbank Bridge Lookout and Lisa's Kangaroo Retreat.
Matt Dann Cultural Centre is also located close by. It offers movies and theatre shows in the auditorium that can seat 300 people.  
MAKE A BOOKING / CHECK RATES
We do not list rates as they can change regularly. Click below to check.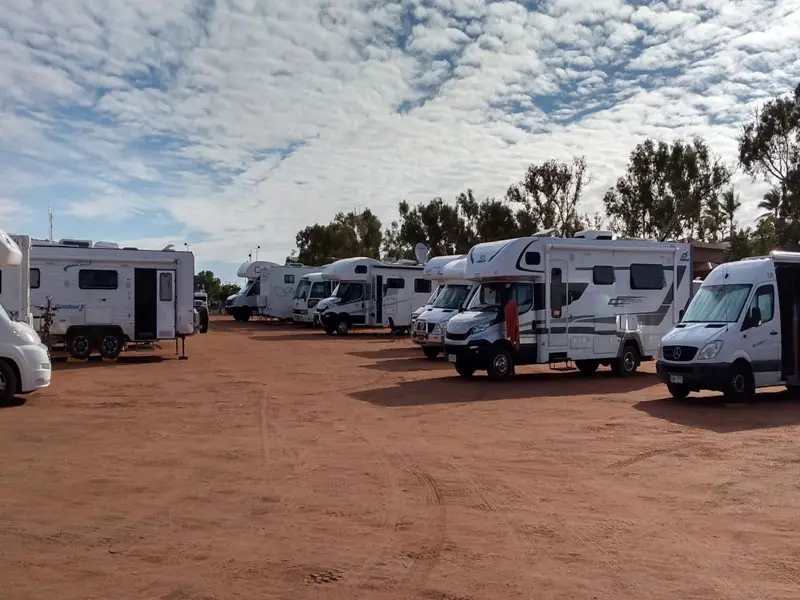 The most amazing point about the Turf Club Campground is that it is a free camping area provided by the local council or community. Your stay will be convenient as it is located within a short driving distance from the town center and many tourist attractions. 
It can only be used for short-term stays and has several conditions of Use.
You can stay here for only up to 72 hours a month. 
It would be best if you had toilet and shower facilities in your RV, and all the waste must be disposed of at the designated places. Tents and camper trailers or small backpack vans are not allowed in this area. There is no barbeque in the park, and you cannot light fires either. The campers must adhere to the management regulations and keep their pets restrained all the time. You cannot use a portable generator for power. All the regulations always help to keep the place silent and clean. The town authorities may ask people to leave if they violate any of the terms.
An official caretaker is in place to oversee and ensure adherence to the regulations. If you are looking at a free and clean space and own an RV, it is the perfect place for a short stay.  
MAKE A BOOKING / CHECK RATES
We do not list rates as they can change regularly. Click below to check.
Check out these deals for accommodation in Port Hedland