If there is one creature comfort to take camping, it would have to be a portable toilet!
Getting outdoors and going camping can be a lovely experience, made even better if you are prepared and have a few pieces of equipment to make life in the bush or beach just a little more comfortable. I'm sure the majority of women campers out there would agree that a camping toilet is high on their list of items to pack in the camper or truck every trip.
A camping toilet doesn't have to break the bank. There is a wide range of options available for all budgets and styles of camping! In cases where there are no public toilets, a camping toilet is actually required by law with the waste to be disposed of at a designated dropoff area. In cases like this, it's best to get a camping toilet that ticks all the right boxes.
Anyway, enough toilet talk, let's get straight into our camping toilet comparison and reviews. In our opinion, the best camping toilets are:
Best Camping Toilet Australia: Reviews 2020
Cleanwaste Go Anywhere Portable Toilet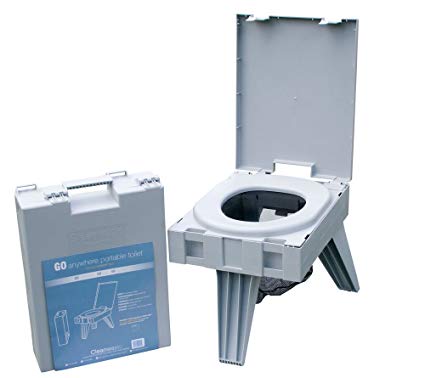 Cleanwaste tops our list with a rating of 4.3 stars out of 5.0. It has been ranked the number of my list because of the features it offers.
If you are looking for an easy to use and a compact camping toilet, then this is the right option for you. The Cleanwaste is extremely easy to use. You can set up it in as less as three seconds. It has locking legs; hence no assembly is required. All you have to do is to open the cover and the legs; you have a portable toilet ready for use.
The best thing about this product is that its folds just like a briefcase and has a built-in handle which makes it easy both storage and carriage. It has a strong and sturdy built and can support up to 500 lbs weight. The locking three legs design enables stability on uneven ground. The seat is comfortable, and bowl dimensions are the same as a standard toilet. This toilet comes with a mesh holder that prevents the disposable waste kit from slipping.
Specs
Amazon rating 4.3 stars
Weight: 3.72 kgs
Dimensions: 48.3 x 10.2 x 38.1 cm
Weight capacity: Up to 500 pounds
Size: One size
Sets up within a few seconds
Easy to fold and carry
Strong and sturdy built
The three legs can lock hence no fear of falling
Mesh bag to hold the waste kit
Over-priced
Spare bags are expensive
Difficult to unfold legs because of hard plastic
Reliance Products Hassock Portable Lightweight Self-Contained Toilet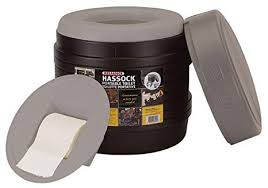 The next on my list is Reliance's Hassock portable toilet, which comes with a rating of 4.2 stars. Let's have a look at it in more detail below.
Hassock is a self-contained toilet, which makes it another good option for camping. It's ideal for camping and for keeping on the boat while you catch some fish. It comes with a contoured seat, which makes it comfortable, just like a chair. It is portable and extremely light-weight. You can carry it easily from one place to another.
The best about this product is that it comes with a toilet paper dispenser in the lid, which makes it easier for you to wipe yourself. The inner bucket can be removed easily without touching the waste. All you have to do is to remove the seat and empty the bucket. The removable inner bucket is compatible with Reliance's standard double doodie bag. You can easily put it inside the bucket and remove it when you are done. No hassle of cleaning the bucket, and there is no risk of touching the waste. It is backed up with a five-year warranty against manufacturer's defects.
Specs
Amazon rating 4.2 stars
Weight: 2.27 Kgs
Dimensions: 14.7 x 14.7 x 14 inches
Material type: Plastic
Portable and light-weight
Easily removable doodie bag
Comes with a toilet paper dispenser
5-years warranty
Wobbles due to uneven bottom
Seat dimensions are small
Not very sturdy
Weisshorn 20L Portable Outdoor Camping Toilet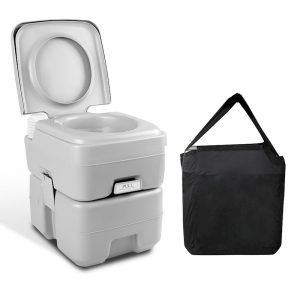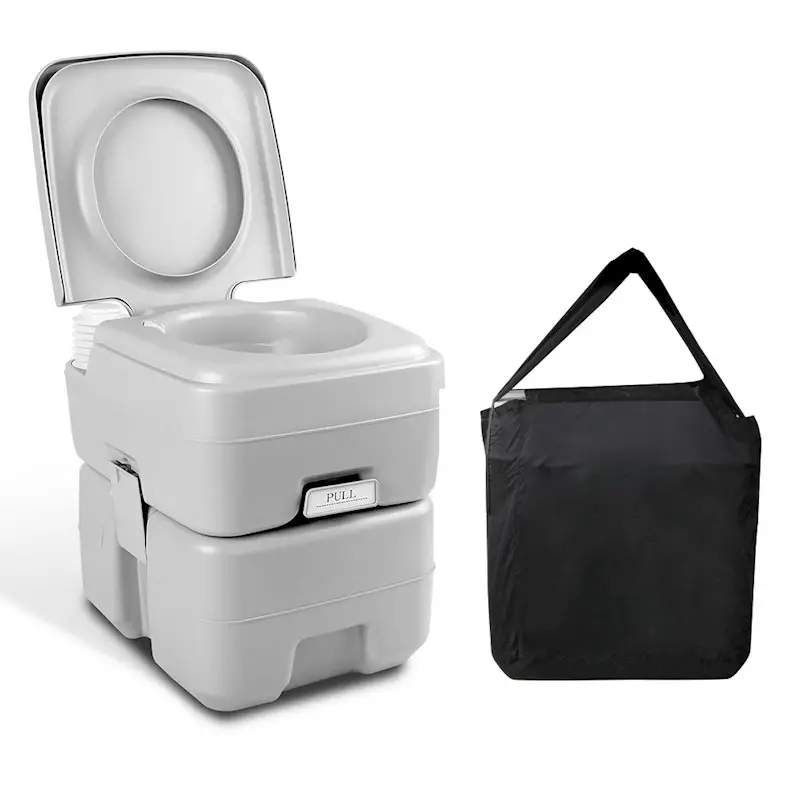 Weisshorn 20L portable camping toilet is another great option for a portable toilet with a rating of 5.0 stars. It can make a considerable choice due to its attractive features.
Weisshorn has come up with this product, which is absolutely easy to use and easy to clean. While camping, our main concern is to use a clean toilet and what can be better than a portable toilet, which has the facility of flushing. This product lets you flush up to 50 flushes with 12-liter freshwater capacity in it. It does not require external water connections for flushing. The detachable waste tank has a 20-liter capacity and is easy to clean.
This product is sturdy enough to handle weight up to 200 kgs. It has been made with durable material and is extremely hygienic. The drain valve has been protected by double seals to prevent leakage. A seat cover is attached to it prevent water from leaking while travelling. It comes with a bag in which you can easily pack it and carry it.
Specs
Amazon rating: 5.0 stars
Weight: 6.20 Kgs
Dimensions: 41 x 37 x 44
Strong and sturdy built
200 kg of weight capacity
Durable and safe
Strong flushes
Large flow outlet
Easy to clean
Big in size
Takes up space in the trunk
A little heavy to carry
SereneLife unisex-adult SereneLife Portable Toilet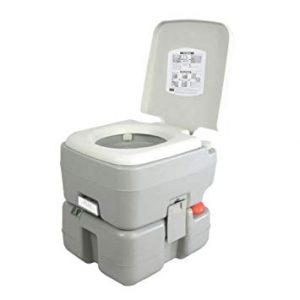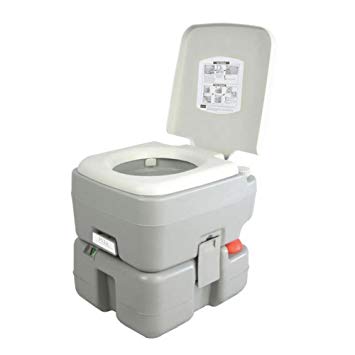 SereneLife-unisex-adult-SereneLife-Portable-Toilet-Porta-P
If you wish to have a comfortable time at camping and not worry about nature calls, then this is the right product for you. Having a rating of 4.4 stars at the Amazon, this product is not to be missed if you are a regular camper.
Some people prefer having a toilet which looks like an actual toilet when they are camping or travelling. This is the perfect option for people who camp regularly and for families who love to travel and have children with them. It comes with an extra-large toilet tank of 5.3 gallons. It holds more waste as compared to other products of this league.
The level indicator lets you know when it is time to empty the tank. Don't worry about the odours. It has been secured with double seals, which prevent the bad odours from spreading around. It is effortless to empty the tank with the rotating pour sprout, which has been installed for your convenience. The 3-way pistol flush ensures the waste has been drained in the waste tank. It has a capacity of 3.2 gallons of fresh water for flushing. It includes a carrying case, which makes it easier to move.
Specs
Amazon rating: 4.4 stars
Weight: 11.25 pounds
Dimensions: 16.5 x 14.6 x 16.9 inches
Weight capacity: 250+ pounds
3-way pistol flush
Sealed waste tank preventing odour from coming out
Waste level indicator
Strong and sturdy
Perfect for both indoors and outdoors
The seat is small
It is difficult to clean
It is heavy
Reliance Products Fold-to-Go Collapsible Portable Toilet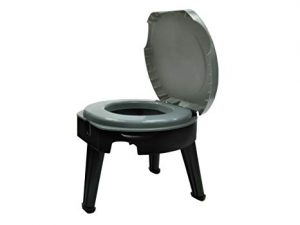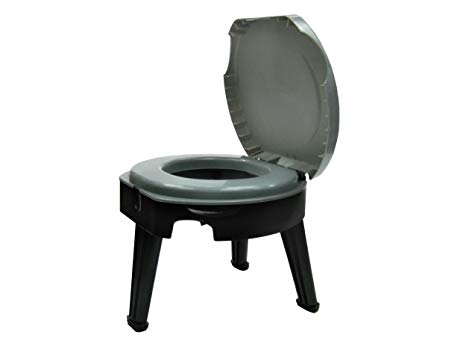 The second last product on my list is the Reliance products Fold-to-Go portable toilet. If you don't like to carry hefty things with you while you travel, then this is the right option for you. It is compact and portable, and it will not take much space in your car.
A delight for campers and hikers. This product is your go-to option if you want something portable and compact. It measures only five inches when it is folded and weighs 4 kgs. You can carry it easily up to the mountains, on a boat or in a car. Its leg locking system ensures a stable grip on any surface. It is sturdy enough to hold down weight up to 300 lbs.
The Fold-to-Go comes with an integrated handle, which makes it easier to carry. It also includes one Double Doodie bag which can be attached to the seat to dispose of waste material. You can buy more Double Doodie bags separately; they are compatible with this product. The manufacturer has the product secured with a 5-year warranty against manufacturer's defects. This product is a good-to-go option for the campers.
Specs
Amazon rating: 4.0 stars
Weight: 4 kgs
Dimensions: 14.5 x 14.5 x 14.5 inches
Material-type: Plastic
Easy to clean
Disposing of is a mess-free process
It is reasonably priced
Light-weight, compact and portable
Legs are a little short
Seat dimensions are small
Doodie bags are expensive