Family Tent Comparison Table
Best Family Tent for Australia: Reviews 2023
Coleman Silver Series Instant-Up Tent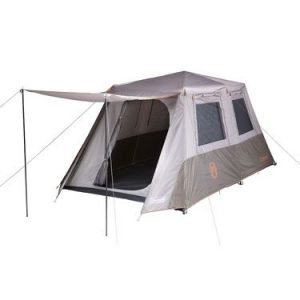 If you are looking for the most reliable, good performance family tent in the market, look no further than Coleman Silver Series Instant-Up Tent. This tent can go up within a few seconds and offers a plethora of amazing features and specifications where it matters the most.
This tent is very easy to set up; it can go up really, really fast, and only takes 2-5 minutes, so you don't have to waste your precious time pitching the tent after a long journey with your family. It features a sharp Instant up Technology that uses a hubbed pole design to eliminate the need for threading individual poles over the sleeves.
When talking about the performance against tough weather conditions, this tent is able to endure and handle serious wind and water, with the manufacturing claim of stability in high winds of up to 80 km per hour and a water-resistant rating of 1500mm.
The interior space is 2m high, which, when joined with a spacious floor plan, gives an adequate living area that is comfortable for a small family of 4-5 people. Some other prominent features of Coleman Silver Series Instant-Up Tent includes fully seam-sealed waterproof fly, patented welded floors, inverted seams (to keep the floor dry), integrated cord management system, and removable side and front awnings (to provide shelter and shade to the camping region).
Comes with a carrying bag
Instant set up
High-quality materials
Needs a fly for heat and light transfer
Coleman 8-Person Tent for Camping – Montana Tent with Easy Setup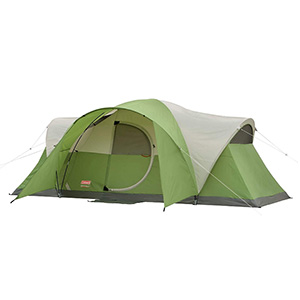 This tent by Coleman has a more conventional design, which saves you a lot of effort and money. It is among the best-selling tents in the market right now because of its amazing features, size, and value for money.
It is a dome-shaped tent with an extended space than most of its competitors. It consists of a central part and 2 main poles, which make the structure look like the letter X. Two extra poles are provided to help you enhance the room inside the tent for a more comfortable stay during your vacation.
The poles are made up of fiberglass that works together with the dome and provides more stability and durability to the tent. Besides 4 poles (for shelter purposes), an extra set of poles is also present to be used as a sunshade. It means that the tent owns a total of 7 poles to stand.
The fly along with taped rainfly seams and Velcro frame accessories work to cover the doors and windows of the tent, whereas the polyester fabric allows the tent to endure all kinds of harsh weather conditions. There is a WeatherTec system to prevent the accumulation of moisture and condensation over the surface of the tent.
Another plus point for this tent is its hinged door design; inversed angle rainfly covered walls and pocket points.
Quite spacious
Solid and durable
Easy set up (only takes 15 minutes)
Fiberglass poles are a disappointment
Weisshorn Camping Pop Up Tent 8 Person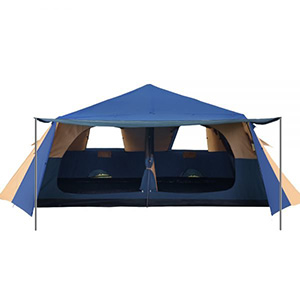 With Weisshorn Camping Pop Up Tent 8 Person, you can now spend less time setting up your tent and more time enjoying with your family during your outdoor camping expedition. The manufacturers have already done the hard work for you because the tent is already attached to its frame, so you will only need 2-3 minutes to pitch the unit perfectly.
The overall tent is very large and can easily lodge 8 people in it, so you are free to take a few close friends and family members with you over a family camping trip. This tent is distributed in half into 2 separate sleeping rooms, so even if there are too many people in it, you will never have to compromise your privacy at all.
It features large windows and zipper doors (to deliver proper ventilation), mesh screens (to prevent mosquitoes and other insects from getting inside the tent), PU waterproof coating (to protect against rain), and thick water-resistant base (to prevent moisture from seeping at the bottom). This tent is suitable to be used all year round as it comes with a convenient carry bag, so you can take it along everywhere and enjoy camping whenever you want.
Automatic frame design, plugin connectors, pegs/ropes, entrance shade awnings, and power cord management holes are some other unique features that make Weisshorn Camping Pop Up Tent 8 Person a best-selling product in 2020.
Spacious
Instant set up
Well-ventilated and affordable
NTK Savannah GT 8 to 9 Person 10 by 12 Foot Outdoor Dome Family Camping Tent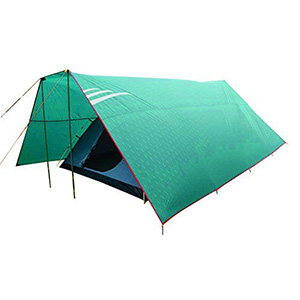 This tent is an excellent option for people who are looking for innovative, stylish, and comfortable family camping gear. With easy and fast assembly, the NTK Savannah Tent features spacious 2 doors, a comfortable floor size, great center height, and compact size/dimensions for your convenience and maximum comfort.
You can set the rainfly of the tent in any way you want. You are free to use your creative mind and use the given heavy-duty aluminum poles to assemble the tent according to your liking. The outer layer of the tent is made from a waterproof, 190T polyester laminated fabric with polyurethane. This layer consists of 2500mm water column rainfly (that offers complete coverage on all 4 sides of the tent) and a thermoplastic, heat-seamed coating (for UV protection).
The inner portion of the tent consists of two 2-way zippers and a D-styled door with a full insect/mosquito mesh protection. The fiberglass poles are a little more thick than usual and are interconnected with strong elastic and dual gold chrome plated ferrule hardware to offer durable and strong construction. The pin and ring system, on the other hand, is for easy setup and assembling.
The ultrathin noseeum polyester micro mesh fabric works as a mosquito repellent, and the heavy-duty anti-fungus floor material prevents leakages to keep you dry and protected all day and night long.
Innovative design
Lightweight
Full coverage rainfly
Dream House Luxury Outdoor Cotton Canvas Yurt Bell Tent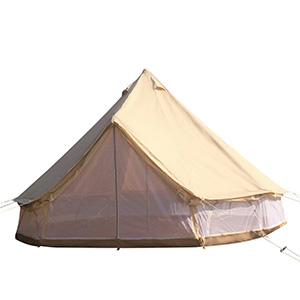 The Dream House Luxury Outdoor Cotton Canvas Yurt Bell Tent is an ideal option for all those people who are looking for an amazing, high-quality, versatile, and durable product in the market.
Depending upon the size that you want for your family, the price range of the tent is different. Still, the best thing about this family tent is that it is available in various sizes, so you have a variety to choose from. A lot of potential buyers prefer this tent over other high-end models since its longevity and durability is far better than a basic polyester or nylon tent.
This canvas tent is suitable for all 4 seasons and is waterproof, thanks to its double-stitched outer shell, and reinforced key points for added weather protection. With the package, you will also receive a heavyweight zippable groundsheet (so you can roll the sides of the wall for ventilation) and a stove hole on the sidewall (to stay warm during winter season).
The ropes and pegs are very strong and durable and can facilitate proper pitching and quick set up process. Towards the inside and outside of Dream House Luxury Outdoor Cotton Canvas Yurt Bell Tent, you will also find some ties that will help you strengthen the overall equipment against high winds and rain. However, the use of this tent is completely forbidden over 30mph.
Moreover, the doors and windows of the tent are furnished with screen meshes to repel bugs and other harmful insects.
Water and windproof
Mosquito netting
Adjustable for different temperatures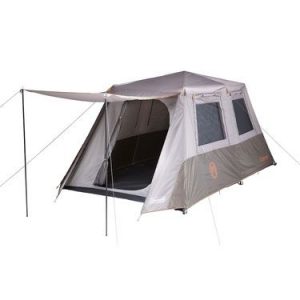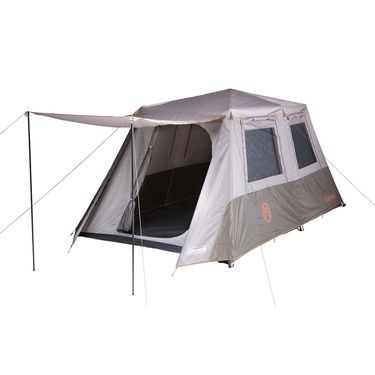 Choosing the best Family Tent: Buyers Guide 2023

These days, there are hundreds and thousands of options for family tents available in the market. However, buying the best family tent depends upon a lot of things. In this buying guide, we are going to cover all the important features and factors that everyone ought to know before making the final decision.
Top 6 factors to consider when buying a Family Camping Tent
1.Tent Size
The size of family tents has evolved significantly over the past few years. Big size tents are usually ideal for family camping holidays because there is a lot of room for every member of the family, but they have several disadvantages. They are heavy and bulky to take along places; they need a lot of time to set up and might need more accessories to fill in.
So, if you are planning a family trip where you are going to spend a handful of days and nights at the campsite, then buying such tents is worth considering. On the other hand, if your camping is only going to last a day or two, then it is better to invest your money in a smaller tent.
2.Tent Material
Family tents are usually made up of two types of materials i.e., polyester and polycotton.
The polyester material is a less expensive option; they are more durable and lightweight. Such tents have a waterproof coating and are also seam tapped against water tightness. The only drawback with polyester is condensation, UV light, and tree sap damage.
Polycotton tents are comparatively expensive because they are a combination of cotton weave and polyester. Also, this material is treated against water ingress and condensation.
3.Tent Layout
Everything is subjective when it comes to a tent layout, which means there is no catch-all formula for a perfect product. If you have a lot of kids in your family, it is better to go for tents with bedrooms at opposite ends to provide a sense of individual space to each of them. With younger children or infants, go for tents with a single master bedroom.
4.Cost of the Tent
Another important thing to consider before buying the best family tent is its overall cost. Family holidays are always expensive as it is but you can take advantage of comparative shopping technique and match prices of different products in the market to buy the most useful product without sacrificing comfort, durability, performance, and quality.
The price of an average family tent depends upon various factors such as the manufacturer, the size of the tent, quality of the fabrics, and other accessories attached to it.
Video guide to choosing the right tent for your family
Family Tent Frequently Asked Questions
Q. What Are The Key Accessories I Should Budget For when buying a family tent?
The best family tent accessories that every buyer should budget for include a footprint and a carpet. A carpet will add a touch of style and luxury to your tent and will also be easy to sit around on. Carpets are also very easy to remove and clean.
Footprint, on the other hand, is a plain layer of groundsheet material that is present under the tent to protect it from dust, dirt, stones, and thrones. It allows you to pack the tent away more quickly, so you don't have to spend more time cleaning it after reaching home.
So, if you are planning a family trip where you are going to spend a handful of days and nights at the campsite, then buying such tents is worth considering. On the other hand, if your camping is only going to last a day or two, then it is better to invest your money in a smaller tent.
Q. What Extras Should My Family Tent Come With?
Almost every family tent comes with a variety of luxurious and unique accessories such as pockets (for an organized stay), lantern hooks and lights, cable slots within the vestibule (to provide electricity when required), thermal reflective layer over the sleeping area (to reflect sunlight during hot, humid days) and light reflection strips.
A lot of family tents also feature a canopy above the main entrance, floors with inverted edges (to prevent entrance of water and dust inside), and dimmed windows in the vestibule (to maintain ideal indoor temperature).
Q. What are the different shapes/types of family tents?
Family tents are available in 4 shapes i.e., domes, tunnel, tipi, and pavilion.
The dome type family tents come with tent poles that you can cross above the vestibule or sleeping area. Tunnel tents have 2 or more poles that are parallel to each other. Tipi tents come with a middle, vertical pole over the top, around which you can place additional poles to create a circular shape. Lastly, the pavilion type tents are those with multiple fabric walls that are either sewn together or separated through a thin pole to provide extra safety to the tent.
The dome type family tents are most commonly used. They are further divided into two types i.e., tents with dome-like bedrooms with a tunnel vestibule and tents with dome-like vestibule with 1 or 2 tunnel-like bedrooms.
Final Thoughts We hope that after reading this detailed guide about buying the best family tent, you should have a clear idea about the type of tent you need to look for your next family trip.