Having a well lit caravan or camper will not only make for an enjoyable trip, it also will help with safety and avoid any unwanted falls and injuries. If you are in the market for new caravan lighting then there are plenty of low cost, quality options available.
You don't have to spend a fortune to light up your van, with many low cost LED options available that will both light up your van and also not put too much drain on your batteries if travelling off-grid.
When it comes to choosing lighting, there are some general considerations to be made, such as:
What colour light output do you want
Size of lights (downlights, spotlights, led strips)
Brightness of lights
Power consumption of lights
This article will take a look at different options for caravan lights in Australia and hopefully help you choose the best for your van or camper.
Here are 5 of our top picks.
Best Caravan Lights: Top Picks for 2023
Narva 12V White LED Awning Lamp, Standard
If you are one of those people who want their caravan to look as stylish as possible, consider getting this awning lamp for your vehicle. Not only this light is very stylish, but it will also make your caravan look equally amazing on the road. It features a contemporary, sleek design suitable for all kinds of caravans, vans and motor home exteriors.
The SMD LEDs of the awning lamp are sure to deliver you powerful, illuminating, bright white light. Thanks to its low current draw, polycarbonate lens, and IP66 rating, the Narva 12V White LED Awning Lamp, Standard, is the best choice for late-night traveling and outdoor parties.
The best thing about this lamp is that it is made of extremely durable and eco-friendly materials. The light might be a bit small for some buyers but can emit potent lumens, enough to improve your visibility at night and fulfil your traveling requirements. We love how this lamp delivers wide coverage and illumination, all while repelling bugs and insects with its high heat or brightness. It was manufactured by keeping caravan owners in mind, so the installation process is also very easy and convenient.
IP66 LP rating
Powerful white light
Durable
Sleek design
Hard to stow away when not in use
CAMEC LED Grab Handle white with Blue Night Light Function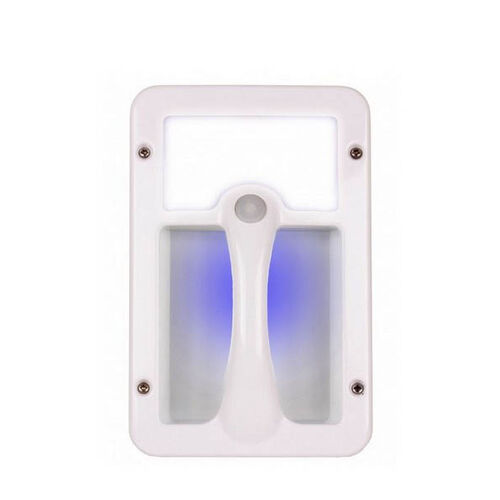 Owning a caravan vehicle is an experience that you can live even better with the most high-quality caravan equipment in place. Even if one of them is off, your entire outdoor experience will turn sour! For your help, assistance and convenience, CAMEC has launched their LED Grab Handle light. With this product, you can not only add style and lustre to your caravan trip but also achieve a clearer vision for your late-night gatherings.
This product features stylish, sleek ergonomic handles (saltwater and UV-protected) for easy grip. The package includes 42 LED cool white illumination lights, soft blue LED night light, glow in the dark switch and an optimal output to activate the step light. The biggest advantage of CAMEC LED light is that it is accessible in three different finishes and offers a direct replacement for the Bargman style handle lights.
At CAMEC, the manufacturers and designers know how important it is to own a perfect light set in a caravan for smooth trips. The CAMEC LED GRAB HANDLE WHITE WITH BLUE NIGHT is sure to provide you with just that in an affordable and budget-friendly manner.
Energy efficient
Long-lasting and durable
Bright and clear lighting
Saltwater and UV protected
It cannot be used as a standalone light
CEILING Light 2 X 30 White LED with Night Light Lamp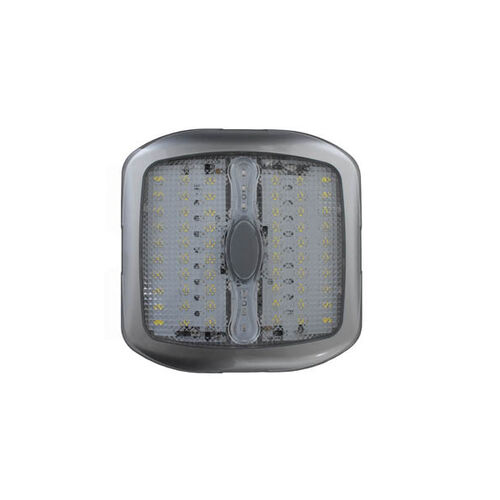 Thanks to the all-new CEILING LIGHT 2 X 30 WHITE LED WITH NIGHT LIGHT LAMP, you can relish the convenience of hands-free lighting everywhere around your caravan. This wireless, automatic ceiling light comes with a modern design to compliment any RV or caravan design. It is the perfect lighting solution for all your late-night traveling, camping, BBQ parties and whatnot! Advanced features and sleek design offer prolonged battery life while ensuring you can enjoy instant light when needed.
With a flick of a button, you can use this light for different color temperatures, i.e. white LEDs for daylight and warm night light. The night light lamp offers reduced light output and very soft illumination as per your needs. Since this ceiling light fixture features integrated LEDs in its design, you do not need traditional bulbs to carry on with your routine tasks.
With the excellent replacement of usual bulbs and energy savings of up to 90%, this product is ideal for people looking for a convenient, multipurpose light function. Long-life LEDs means constant use as a power failure light, task light, light sensor night light and emergency flashlight.
High performance
Versatile use
Significant energy saving
Stylish design
A bit too bright for some customers
Narva 10-30V 6000K Chrome Interior Lamp with Switch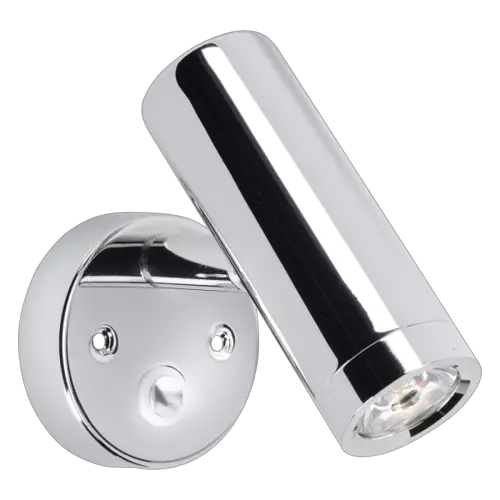 Another great product on this list is the Narva 10-30V 6000K Chrome Interior Lamp with Switch. We realize that no caravan is finished until it has been fitted with the right kind of light. For us, this chrome interior lamp is one of the most versatile and useful products on the market. It can easily brighten up your space, illuminate your caravan and add a great ambience to your late-night outdoor voyages. No matter what happens, this product is going to last longer, burn brighter and be more energy-efficient than any other standard caravan light out there.
Thanks to all the advanced features and versatility of this lamp, you never have to worry about replacing bulbs or brittle filaments of traditional light. It has a very nice, stylish and competently sealed, waterproof design, so you can use it for your benefit for many years to come. The use of high-quality materials and even amazing finishes makes it a top priority for every caravan owner.
Each lamp has an integrated touch switch with a blue night light and dimming functions. The mounting screws of the lights are all concealed as well, and the lamps are available for use in warm light, i.e. 3200oK or cool white, i.e. 6000oK color temperatures.
Warm light or cool white light option
Powerful LEDs
Highly polished chrome finish
Durable
Buyers complain regarding the dimmer function
Dream Lighting 12v Energy-saving LED Reading Lights/Bedside Lamp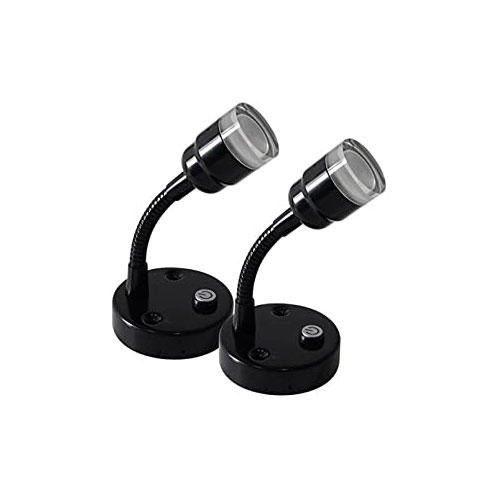 With its blue and warm white light, this product has won our vote for the best reading light/bedside lamp of the year. Be it your alone-time traveling on the road, doing parties with your friends or just chilling inside the caravan, this little gadget promises to make your every moment cozy and comfortable with its pleasant lighting options.
This 12V reading light with a small crystal lens is great as a reading light and bedside lamp. You can also use it as a beautiful décor for your RV or caravan and impress everyone with your wonderful taste in vehicle furnishings. It consists of the most high-quality LEDs ever, so the crystal reading light can give out soft beams and serve the purpose without causing you any eye strain.
Both warm white light and ambient blue lighting are available in one unit; the body can fit narrow places easily, and the LEDs last way longer than other lighting sources in the market. The lifespan of this product is up to 50,000 hours, indicating the quality, durability and longevity of the product.
Two lighting modes
Flexible holder
Good lifespan
Elegant looking
The package lacks mounting hardware
How to Choose Your Caravan Lights: A Buyers Guide
When it comes to motorhomes or caravans, buying a high-quality light is a must to save energy and lighting costs. However, to make sure you can see what you are doing after the sun goes down, you will definitely need the best Caravan light according to your needs. We have compiled a list of the features and factors that you must consider while looking for an efficient Caravan light for your next big outdoor adventure.
Colour Of Light
Opting for the right light appearance for your caravan can make all the difference you want. Lower degree lights deliver you a warmer, yellow-white light, whereas the higher degrees light are to enjoy blue-white light. Warm white lights are in close proximity to traditional incandescent bulbs and are most favored in a caravan's living room or bedroom. You can enjoy a warm and inviting light every time you step into your vehicle. You can use the neutral white light for every space you want in daylight or opt for the cooler color temperature for your tasks during nighttime.
Brightness Or Light Output
The newer and more advanced LED bulbs use far less energy compared to our standard bulbs. Therefore, wattage is no longer an indicator of light brightness. It is better to look for the lumen rating with unique caravan lighting options to know the amount of light a product can give off and its brightness. Knowing the light output and brightness lumen before making a purchase will help you in the long run when it comes to saving energy and overall lighting expenses.
Longevity
Another important feature to consider when buying a caravan light is its durability and longevity. Unlike our traditional bulbs, LED lights for caravans never burn out; they might progressively dim over some time period. A high-quality light can maintain its initial brightness for up to 10,000-25000 hours. This way, you never have to worry about replacing it for many years to come. Simply install the light in an easy to reach spot and start using it for as long as you want.
Reliability
Before buying a caravan lighting bulb, it is worth looking for a reliable brand and product. The most high-quality light will switch in an instant, while cheaper options will take a second or so to come into action. Go for reliable manufacturers as they ensure that the caravan light will never reduce in its brightness and output over time. Buying a light from a reputable brand is also important because the products tend to be more durable and prone to instant damage.
Easy Installation
When buying lights for a caravan, you should always have an idea of how you will mount them, install them or set them up for regular use. A lot of products on the market are extremely difficult to install, but if you keep some factors in mind, you will face no problem setting up your next purchase. It is better to know the total amount of lights needed, the power and voltage requirements, the flexibility of the lights, the durability of the lights, along with other factors such as waterproof rating and wiring specifications.
Waterproof Rating
The waterproof caravan lights are agreat choice for both indoor and outdoor use. These products can easily withstand the natural elements and still work great despite snow, rain and dust storms. Though these products are mostly recommended for outdoor settings, a lot of people consider them for their caravan rooms, kitchen or any other space where water or dust collects very easily.
Power Source
Next, it is important that you think about what you would prefer the light to be powered by. Many battery-powered options are available in the market, so when comparing different products, look at what batteries they use and how much would it cost you to replace them after some time. Know whether you want to have a rechargeable lithium-ion battery as they are more cost-effective than disposable batteries, does not take long to charge and support plug and play use.
Solar panel lights are also available for caravans to collect energy from the sun during the daytime and power the light at night.
Comfort And Convenience
Go for a product that offers different features for added convenience and comfort. Some products have different brightness, colors and beam settings; others might come with a dimmer or remote control. Some lights are a lot lightweight than others, so easy to carry around and install, while others have a hook for a convenient setup inside/ outside of the caravan.
Frequently Asked Questions
Can I Replace My Caravan Light Bulbs With LED Lights?
Yes, you can replace the most common Caravan lights with any 12 volts LED light bulb or strips. Most Caravan light bulbs and LED lights share the same standard shape, so with the measurements of an average LED light, you can easily fit them into your standard socket.
Why Should I Switch To LED Lighting In Caravan?
The biggest advantage of these lights is that they deliver you the same brightness of a standard light at a lower wattage. They will utilize only a fraction of energy to do the job, which makes them more energy efficient is any other option in the market. Your energy-efficient Caravan will give you lower running costs, and you can benefit more while using the same battery.
Final Thoughts
Most of the new motorhomes and caravans are already fitted with LED lights. However, if you use a second-hand caravan buying these lights can still be a budget-friendly option to consider. All the products in this article are best-selling and highly rated so can make a big difference for your place. You can enjoy a much brighter and comfortable living space, that too at far less power and cost. If you think there is a suitable product for you and you can relish better visibility during daytime and nighttime, invest your hard-earned money and get just the right light for your daily use. So, which one would it be? Let us know in the comment section below!