Do you know the feeling of sleeping at the campsite inside a tent, closer to nature, right under the stars? Camping experiences are surely fun but the experience could get a little rough at times. If you are looking for a fun-filled, enjoyable and comfortable camping experience then you must carry a few things along to make your experience worthwhile.
How do you make camping more enjoyable and comfortable?
Prepare everything well in advance and create circumstances for your surroundings. Here are some tricks that make tent camping more comfortable and fun.
Choose a good campsite
A good campsite can turn your frustrating trip into an exciting one in just a second. Before you choose a campsite for your next camping trip, consider what you want while camping? Different campsites will give you different experiences.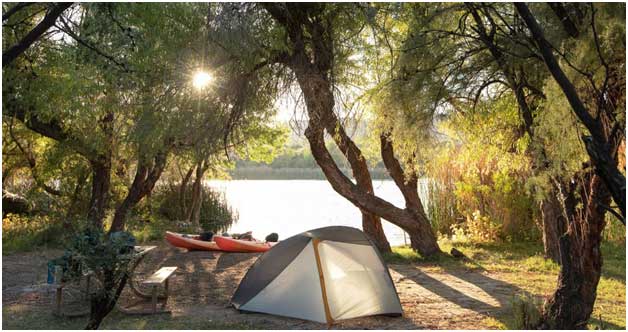 For those searching for some entertainment and reduced stress, go to campsites such as national parks, museums, etc., or if you want to hike, swim, etc., choose natural areas for your campsite. Check online reviews about the campsites and see photos or videos. This will help you choose a good campsite according to your needs and know what to expect from a place.
When you reach your campsite, find the right location to pitch your tent. You can follow the tips I have given below to pitch your tent in the right place:
Choose Flat Ground
Avoid hills or mountains
Consider sun exposure
Consider wind exposure
Choosing the right tent
The material of the tent also plays an important role. Choose the material that can handle rain, storms, etc., and is durable over a long period. Choosing a tent that is also a good size to accommodate all the occupants will make it easier to sleep.
Sleeping mattress or Stretcher
Invest in some camping mattresses, sleeping pads, or camping stretchers to keep you comfortable and warm while sleeping. Don't compromise your comfort by carrying with old mats or bedsheets.
Sleeping bag
Choose the sleeping bags according to the temperature of your campsite. If you're camping in a low-temperature area, you want a sleeping bag that can handle cold temperatures. On the other hand, camping in a warm climate in the summer does not require a heavy-duty sleeping bag.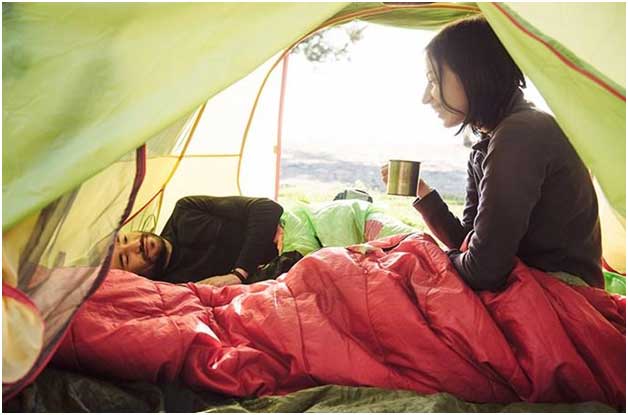 Pillow
You may consider a pillow to be the least valuable thing while packing your stuff for camping, but you will be really happy if you take them while camping. Nothing can beat the comfort of the pillow you use at your home. Your neck will not go through unnecessary pain and twists.
Cooking at Campsite
If you are the one who will cook yourself at the campsite. Don't forget stoves, pots, plates, cutlery, cylinders, kettles, etc. A true classic combination is a barbeque at a campsite at night with some light drinks. Nothing beats this, so don't miss out on it.
Take appropriate clothing: Pack comfortable clothes that don't get dirty easily for camping. This is very important. Never be sure about the weather while camping, and take clothing for the worst scenarios possible.
If you are a cold sleeper, think about packing materials such as wool or Gore-Tex, etc. If you want to go hiking, make sure you pack hiking shoes and other protective gear. For more safety, check the weather forecasting of your campsite before packing.
Tent Heaters and Coolers
During camping, one constant thing is the unpredictable changes in weather conditions. That is why you need to be equipped with heaters for camping in cool weather and cold regions. These come in both petrol or diesel heaters and electric versions. In addition, you can bring along fans, swamp coolers, and even portable air conditioners are great during the warm weather months. But I suggest that if you require an air conditioner to go camping in warm weather, don't go tent camping in hot weather at all.
Use camping chairs
While shopping for camping, add one more item to your shopping list: a camping chair. It will help you in cold weather and the rainy season. You can also use these chairs while playing cards, cooking, or telling stories around the campfire. When you buy a camp chair, make sure that it has rubber tips to avoid ripping your tent floor.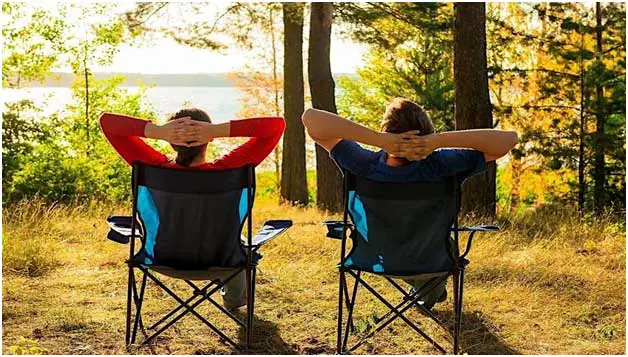 Photo Credit: rvblogger.com
Prepare for mosquitos and bugs
You cannot avoid mosquitos and bugs while camping, but you can prepare for them. Imagine if your tent is now home to hundreds of bugs and mosquitos, you may not be able to have a peaceful night of sleep. Ensure that every time you enter your tent, you have closed the flap door. It will keep unwanted guests out of your tent. You may also bring plenty of bug spray or invest in a mosquito repeller.
Keep your belongings in the car
To keep your things safe and secure at the campsite, always keep them in your car. It will help you if you want to go hiking or explore new things and leave the campsite. You will lock your vehicle and go wherever you want. Otherwise, you will have to put a lock on your tent. It can increase your camping security while increasing your overall comfort level when camping too.
Use Bathroom Before Bed
If you are in a caravan, you have all the facilities of washrooms and toilets. But camping in a tent is very much different. It's mandatory to use the washrooms or the toilets before sleeping while camping in tents. This can save you from getting up in the night which isn't fun when it's a cold or rainy night.
Hygiene
If you want your camping comfortable, it is required to maintain hygiene at your campsite. For this, you have to take trash bags or dustbins to throw garbage in it. Do not leave any garbage behind at your campsite and protect Nature as much as possible. Where possible, try and shower regularly. It's not fun going to sleep each night dirty or with your hair full of sand.
Camping is a wonderful experience like none other; you need to enjoy it for what it is! It is a necessity to know how to make tent camping comfortable. Because without comfort, any activity becomes more stressful than anything.
Keep the above ten tips in mind, which I have discussed, and you are ready to enjoy your entire camping experience. Have an adventurous time, eat and sleep comfortably, and stay protected at all times during camping.