Last updated: 10 May 2023
Don't freeze your butt off in winter when cruising in your caravan! Install a diesel heater and stay warm.
Adding a diesel heater to your caravan will make touring in winter so much more comfortable and allow you to use your caravan all year round. Setup is quite straight forward with many kits available to purchase online and install at home by yourself, or by your local auto mechanic.
With hundreds of diesel heater options available in the market, it is common to feel overwhelmed. Don't worry; this caravan & camper diesel heater buying guide has you covered! This section will cover some of the most important aspects and features that a potential buyer must consider before making a final decision.
In our opinion after researching caravan air conditioners in Australia, the best are:
Top Caravan Diesel Heaters
We have spent some time finding 5 caravan diesel heater kits available online now! Check them out below.
How we picked the diesel heaters
We began with checking a number of Australia's leading caravan accessories ecommerce stores – to see which diesel heaters had the best reviews. These websites have sold 1000's of caravan diesel heaters so there were plenty of reviews.
Next, we wanted to see what other buyers had to say about various diesel heaters. The best place to see these is over on ProductReview.com.au. Plenty of time was spent sifting through the reviews to get a good understanding of what was good, and the not-so-good.
We then checked out the different features of various diesel heaters. Factors such as size, weight and power & fuel consumption were very important in shortlisting the best products.
Anyway, let's get straight into our best diesel heaters reviews.
Caravan Diesel Heater Comparison Table
Diesel Heater Reviews: Australia [2023]
maXpeedingrods 5KW 12V Fuel Caravan Diesel Air Heater with Remote Controller LCD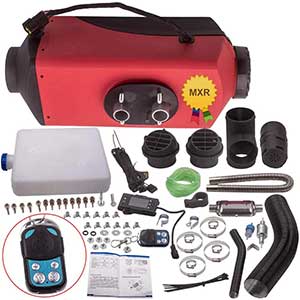 This is the top best caravan diesel heater because of its ultimate features and benefits.
Are you going camping or touring in a caravan? Then this little unit will definitely provide you with enough warmth to see out the Aussie winter.
The maXpeedingrods diesel heater is a very popular unit online, you just have to check out their reviews on ebay to see why so many units have been sold.. This diesel air heater consumes much low power and fuel and ensures you longer operation time. It comes with heater power, fuel gasoline that is diesel and car air conditioning feature that is heating with 12V.
This caravan diesel heater is a perfect fit for campervans, motorhomes, caravans, popup campers, truck campers and fifth-wheel trailers. Besides this, it is also suitable for trucks, van, bus, boat, and the list goes on.
It is made of metal and plastic that is built to last. You will get the package full of several things like parking heater, silencer, T-piece, oil pump, washer, etc. The best part of this caravan diesel heater is its remote control feature. It comes with a remote control that you can use for its operation.
You will get this heater with a small diesel tank. This is quite appealing for the ones who don't like connecting heating to the main diesel tank. It is a mobile unit that you can move in between the vehicles smoothly.
Its installation is simple because of its own fuel tank. Buying this heater is a good value for money.
Portable design
Nice mounting bracket
LCD
Remote controller
Vinteky 12V 5KW Tank Caravan Air Diesel Heater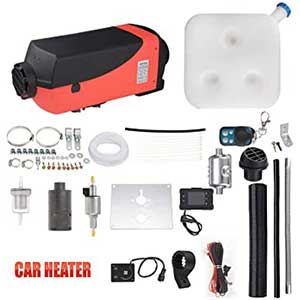 This diesel air heater comes with high power of 5KW, and its voltage is 12V. The great thing about this heater is that it consumes relatively low fuel to work. It's per hour oil consumption is just 0.2 to 0.5 litres.
It is an ultimate choice for the cold season or icy weather to enable heat and eliminate frost to let you stay warm and cozy anytime anywhere you are.
This caravan diesel heater comes with a complete kit for installation that includes mounting screws too. This makes it super easy to install for every user even if he is new to it.
It is a good fit for vans, freight vehicles, storage battery cars, and every vehicle out there. It brings you convenience as you drive.
The heater has much low noise as it equips noise reduction processing. It has temperature pre-set facility that assures you cozy automatic room temperature control. The heater has consistent monitoring and diagnosing mechanism to let you know about certain things.
It offers you a high level of portability because it is an all-in-one unit. In fact, it is super easy to move from one space to another. Its compact design allows to set it in place with ease.
Low fuel consumption
Easy to install
User-friendly design
Compact
Automatic temperature control
Gets shut down while working
Caravan Air Diesel Parking Heater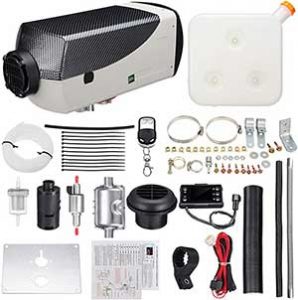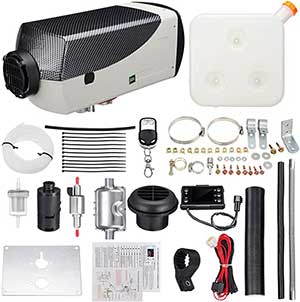 This is the best caravan diesel heater because of its efficiency and great value for money.
It does not bother you as it takes fuel directly from the tank of the vehicle. The heater assures you minimal noise because of its noise reduction processing. It doesn't disturb you while you drive.
Moreover, the air heater has two operational modes that are heater mode and air condition mode. It equips a consistent system of monitoring and diagnostic to assure everything is working fine.
Another of its major benefit is that it consumes relatively low fuel and power for longer working time. On average, it consumes 0.1 to 0.24 litres. It takes you away from the instant drop of temperature that causes your car damage.
It has automatic room temperature control that comes with the already set temperature. This means that you don't need to set temperature. The caravan heater is super easy to install as it comes with all the mounting equipment.
Its compact design enables you to use it in varied spaces. You can use it in several diesel-powered vehicles like buses, cars, trucks, engineering vehicles, etc.
The material used to made it is plastic and metal that assures its long-lasting life. It is available in black carbon fibre and grey colour. Also, it comes with a powerful motor of 5000W that makes it work smoothly.
Low fuel consumption
Powerful motor
Easy to install
Compact
Installation instructions are difficult
Webasto Single Outlet Caravan Diesel Heater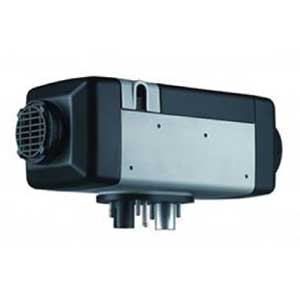 This diesel heater by Webasto is highly efficient in power and fuel consumption. It is a silent working 2Kw diesel-fired top heater. You can easily find this in 12v and 24v power options.
It has unique features that make it apart from the other heaters. It does not warn the interior or cab but also dehumidifies the air to assure you complete comfort. This is for the removal of moisture from the air and prevents the growth of dust mites and moulds effectively.
As it uses relatively less fuel so usually, its device noted the heater using 1 litre of diesel for almost 5 to 6 hours. Besides this, the Webastro best caravan diesel heater is super easy to install as it comes in an exceptionally compact size. It comes with a detailed mounting kit that makes its installation easier.
The height of this diesel heater is 121 mm, width is 120 mm, depth is 317 mm, and weight is 2.6 kg. It is a quite compact design that placing and installing it anywhere is super easy.
It comes with an installation kit that includes manual controller, air outlet, 60 mm ducting house, mount heater bracket, two duct clamp, vent flat open and hose connector for the outlet.
Its complete package assures you that managing things on a caravan is comfortable and riding would be comfy.
Easy installation
Detailed mounting kit
Portable design
Dehumidification of air
Truma Combi Caravan Diesel Heater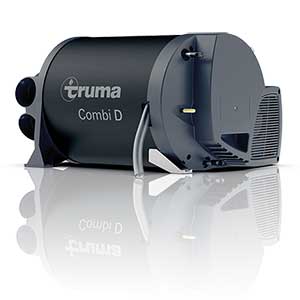 This Truma Combi diesel heater is quite potent that is suitable for larger size motor homes. It has a powerful but silent fan that indeed gives you the optimum level of air distribution.
This diesel heater is smaller in size and saves space that enables you to implement varied installations. Moreover, the energy consumption of this heater is quite low. In fact, you can operate Truma Combi D 6 by an empty water tank too.
You will get this heater with frost control drain valve installed priory. It has digital CP plus control panel to let you make infinitely variable temperature adjustment. There is also a possibility for automatic climate control as it has a combo with Truma caravan air conditioner.
Truma Combi D 6 is a potential diesel-powered heater that can be used for water heating too. Mainly, it is suitable for larger size motor homes but workable for caravans also. Another of its great feature is that it has fan support to make your heater work as you drive.
It is ultimately lighter in weight in comparison to other similar heaters. It is simply controlled with a digital control panel.
Investing money on this diesel would be a great choice.
Silent fan
Space-saving design
Lighter in weight
Low energy intake
Pre-installed frost control drain valve
How to Choose a Caravan Diesel Heater: Buyers Guide [2023]
There are always some essential factors that buyers should consider before buying a caravan diesel heater. Some essential elements are mentioned below.
Number of BTUs
Before final purchasing, get to know about the volume of your space. For this, you need to calculate the space dimension to be heated. The accurate model should make 90 to 180 BTUs for each cubic meter or 30 to 60 BTUs foe each cubic foot. 
Construction Casing
Make sure to thoroughly inspect the diesel heater casing to make sure all components inside are secure from damages. Also, the high-quality casing helps in easing the diesel heater installation. For construction casing, it is important to be made from heat-resistant and long-lasting material like aluminium or nylon. Besides its well-built, make sure that case material is toxic-free and have better health reasons. The unit is liable to produce heat, so the case needs to be durable, safe and high quality.
Safety
The entire diesel heater design should be guaranteed safer to use. The ideal option for the heater is that it should not be prone to the damage risk because of overheating. In this regard, the diesel heaters you are choosing should acquire an automatic feature of shut-down. It will be an aid if the temperature reaches its specifications.
Also, the heater should serve robustly to inhalation and combustion risks since the combustion chamber has to seal with vented exhaust outside. At night in the caravan, the carbon monoxide poisoning is at minimum, luckily. This will keep you safe from harmful air. 
Size
It is another important factor to consider. Your diesel heater should be smaller and compact in size to get fit in your car easily. Compact size will make the mounting process easier for you too. A small size diesel heater will be portable enough to let you take it anywhere with you. In this regard, you need to make sure that you are buying a small size diesel heater to easily get it adjusted and installed in your car for safe and warm driving. 
Temperature Control
The better option is to get the diesel heater with temperature control. This will be a great help to keep the temperature under control in the vehicle according to your preference. The technology of microprocessor in your diesel heater should modulate airflow and combustion.
There are some models offering you automatic temperature control to let you get things done with ease. It is important for setting temperature as you like. Also, make sure the temperature is not much that will affect anything around.
Quiet operation

The diesel heater you have should operate with silence with an accurate installation. For sure, the noise-free operation will be a guarantee for comfort and conducive environment. There are diesel heater models that come with noise-reducing processing to let you have a comfortable and peaceful time.
If you really need to enjoy a peaceful time, then considering silence operation is the foremost factor.
Why Should You Get a Diesel Heater?
It is recommended to get a diesel heater because it is more beneficial in comparison to a regular heater. The diesel heater is safe and mostly have auto-shutdown of temperature exceeds the limit of operation. Besides this, it provides more safety to inhalation and combustion.
If you get an LPG fuel heater and there is leaking, besides explosion it can cause permanent nervous and respiratory damage or in an extreme case, death. So, diesel heaters do not have such hazards. You can easily use it while driving. This is the perfect way to get your caravan heated while being on the road to reach the destination.
Furthermore, general heaters have a single speed fan that turns on and off according to the thermostat. So, general heaters cannot consistently maintain room temperature. However, diesel heaters come with an advance level of microprocessors that enables them to control over excessive combustion and airflow. This gives a variable fan speed and ensures a comfortable and constant temperature. 
Also, the diesel heater is super cheap in comparison to general LPG heater. You can install DIY diesel heater too. 
Final Thoughts
Caravan heater is super important to spend your time with peace. However, you should know the way to choose the right model of the best caravan diesel heater. All the above products are highly recommended because of their beneficial features. So you need to select the one that fulfils your demands and purpose too. The diesel heater is the best way to say goodbye to cold condition and weather while you are driving. For more information on how a diesel heater works, click here.
Caravan Diesel Heater FAQs
Are diesel heaters safe in caravans?
Diesel heaters are widely used as a heating source in caravans. The combustion unit is completely sealed, and all the exhaust gases are released outside, so you can consider the Caravan Diesel heater to ensure safety.
Where do you put a diesel heater in a caravan?
Many people put a caravan diesel heater under the bed. However, the diesel heater is a bit noisy, so it can disturb your sleep. Hence, it is better to find a larger space for the heater to work efficiently. You can also put it at the other end of the caravan, but ensure that the area is close to the area where you plan to put the exhaust/intake pipes.
How do you prime a diesel caravan heater?
The caravan diesel heater must pass fuel through the line and into the heater for proper functioning. Use the control panel to allow the fuel pump to run faster for easy flow of diesel through the lines.
Once the fuel is in the heater, stop the pump operation. Now the heater should be turned on and burn off any purged fuel to operate normally.
Is it safe to sleep with a diesel heater on in a caravan?
Caravan diesel heaters produce much lower concentrations of carbon monoxide poisoning gas and are also thermostatically controlled. Hence, they are safe to run while you are sleeping in your caravan.
However, for those who spend the night in the caravan, a diesel heater is a safe option to use while operating the vehicle or vessel.
Is it easy to fit a diesel heater in a caravan?
Yes. It is easy to fit a diesel heater in a caravan. Firstly, figure out where you want to install it and assemble the unit, including baseplate, inlet/exhaust pipes, and wiring. Now make the holes at appropriate places in your caravan so that the unit can be installed easily. Once it is done, route the fuel line and hook up the wires to the battery.
Finally, check the installation and make sure there are no fuel leaks at connections. Don't forget to cover it!
How much fuel does a diesel heater use?
It depends. Generally, the fuel consumption for a caravan diesel heater is between 0.11 and 0.51 liters of diesel per hour.
Are Chinese Diesel Heaters safe?
Short answer is yes. Like all diesel heaters whether they are Chinese, Australian or made elsewhere, they should be installed correctly as per the manufacturers specifications and also operated under the specified circumstances.