Camping Mattress Comparison Table
Australian Camping Mattress Reviews
Hikenture Ultralight Sleeping Mat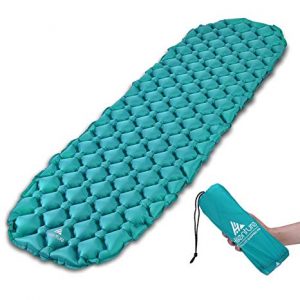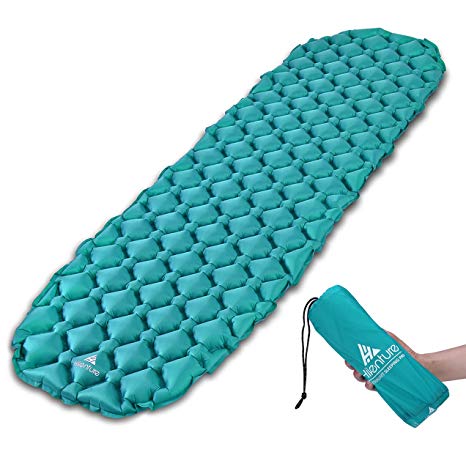 When going camping, you only need to pack lightweight items. This mattress is suitable because it is lightweight. You also don't want cumbersome items when packing for a hike. The Hikenture Ultralight Sleeping Mat is foldable, so it occupies minimal space in your backpack.
This mattress will make your camping spree trouble-free because it is easy to clean. You also don't have to worry about inflating it because 10 to 15 breaths is all you need to fully inflate it. Whether you are a back, stomach, or side sleeper, this mattress will ensure a comfortable sleep. Keep yourself warm and cosy during your hike with the Hikenture Ultralight Sleeping Mat.
Summary
If you are looking for a portable, lightweight, and comfy mattress to use when hiking, the Hikenture Ultralight Sleeping Mat | Backpacking Sleeping Pad with Pillow mattress will not disappoint. It is durable, so you get value for your money.
Specs
Weight: 431 grams
Length: 25.40 centimeters
Available in blue, green, and red
Does not include batteries
Temperature rating: 40 ÎçF
Dimensions: 25.4 x 8 x 8.1 cm
Comes with a repair kit
Multipurpose
Easy to set up
Good for sleeping outdoors
No air leaking
Foldable and portable
Insulating and durable
Can withstand heavy-duty use
High-quality offered by a reputable company
100 percent money-back guarantee
Comes in a carrying pouch
Waterproof
Requires manual inflation
Not suitable for very tall people
KingCamp Light Single/Double Outdoor Camping Mattress
When backpacking, it's easy to forget some essential items. One of the biggest inconveniences is forgetting a pump for your inflatable mattress. The KingCamp Light mattress puts all your worries to rest. It has a built-in foot pump for easy inflation. You can also carry it around with ease because it is lightweight.
This mattress is firm and comfortable to ensure a solid sleep. Inflating it only takes less than two minutes.
Summary
If you want to share a mattress with your partner, the KingCamp Sleeping Pad with Built-in Foot Pump is a great choice. Its large size allows you to sleep comfortably throughout the night. Its durability means you don't have to worry about the cost of frequent replacement.
Specs
Weight:
Single: 3.74 pounds;
Double: 7.71 pounds
Fully Inflated Size:
Single: 76 × 27.56 × 3.93 inches;
Double: 76 × 54.33 × 3.93 inches
Built-In Foot Pump
Made of 190T polyester
Comes with a repair kit
Lightweight
Portable
Suitable for hiking, backpacking, and camping
Easy to inflate
Stretch-resistant
Waterproof
Durable
Environmentally friendly
Solid and comfortable
The pump may breakdown, causing inconveniences
May lose some air overnight
Self Inflating Mattress Camping Hiking Airbed Mat Sleeping With Pillow Bag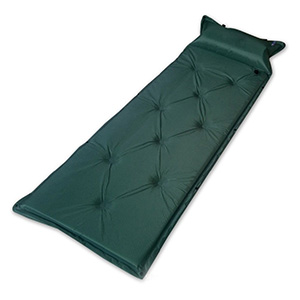 Do you want to feel like a pro camper? This self-inflating mattress is an excellent choice for anyone who wants stress-free camping. You can easily fold the mattress and fit it in your backpack. If you have a lot of items to pack, this mattress will not be a burden with its light weight.
The mattress is made of polyester Pongee PVC coating, which makes it more durable. If you are looking for an inflatable mattress that is easy to use, this is the product to buy. This mattress inflates in less than one minute. You can also sleep on any type of surface, including concrete. It also has clips on the edges that allow you to join more than one mattress. It is great for kids or during sleepovers.
Summary
This is a great mattress for group activities. It is lightweight, durable, and self-inflating, which makes it a great investment.
Specs
Size: 180 x 60 x 2.5cm
Shipping weight: 948 g
Item weight: 27.2g
Available in green
Two or more pieces can join together to form a bigger space
Innovative design allows for easy and quick self-inflation/deflation
Inflatable pillow included
Lightweight
Easy to carry
Environment-proof and waterproof: protects from bleaches, sand, and damp grass
Comfortable
Easy self-inflation/deflation
Long-lasting
Comes with a pillow
More expensive than most inflatable mattresses
Only available in green
Trekology Inflatable Sleeping Pad, Camping Mats for Sleeping
This mattress keeps you comfortable and warm regardless of the sleeping surface underneath. It stays comfy on wet, cold, or uneven camping floor. It's made of durable and ultra-lightweight material, making it an investment that will last for years.
The Trekology Inflatable Sleeping Pad elevates you 80mm from the ground. This amount of cushioning provides sufficient insulation. It gives you enough support from your head to toe for a sound sleep. Forget those camping mattresses that make you miss your bed. Try the Trekology today.
Summary
The durability of this mattress makes it a good long-term investment. It is also easy to use and carry, so you will enjoy crashing out on it after a long day of hiking.
Specs
Available in Teal Blue
Inflates with 10 to 15 breaths
Shipping weight: 522g
Size: Large: 195cm x 60cm (77 x 22 inches); Small: 20.3cm x 10.2 cm (8 inch x 4 inch)
Made of 75D nylon
Lightweight
Decent size
Easy to carry
Premium quality
Comfortable
Easy to inflate/deflate
Water-resistant coating
Made of durable material
Can sustain extreme environments
Only available in one colour
No batteries included
Weisshorn Double Size Self Inflating Mattress – Grey
If you enjoy the freedom of sleeping outdoors but dislike the rocky sleeping experience, this mattress is a perfect fit. It's so comfortable you'll forget that you are sleeping on a portable mattress.
The Weisshorn Double Size Self Inflating Mattress self-inflates within one minute with the built-in air valve. It requires no extra effort after a tiresome day. Its high density lets you lie comfortably on any type of surface. The polyester pongee bottom means it is also slip-resistant and waterproof. As a bonus, you can connect two or more mattresses if you need more sleeping space.
Summary
Although it is a bit heavy, the Weisshorn gives you maximum comfort for a night outdoors.
Specs
Color: Double Grey
Weight: 7.20 kilograms
Dimensions: 62.5 x 23.5 x 46.5 cm
Self-inflates in 60 seconds with built-in air valve
Water-resistant
Durable
Self-inflating
Joinable mattress
Ideal for year-round hiking
A carry bag is offered
Easy to use, transport, and store
Relatively heavy
One-minute inflation time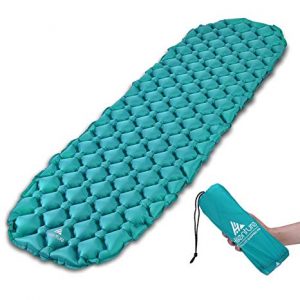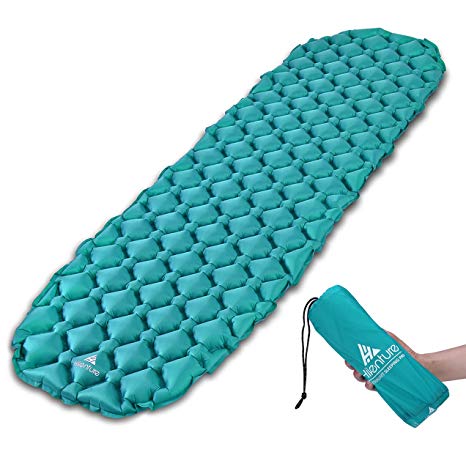 Choosing a Camping Mattress: Australia 2023
It's fulfilling to get closer to nature by spending some quality time away from the house. Camping is one of those activities that will motivate, entertain, and rejuvenate your energy. It is associated with fun and adventure, so when you go for it, you can expect the best.
However, something that may seem negligible can ruin your adventure. Have you ever tried sleeping on cold, hard, bumpy dirt? This feeling can ruin your camping experience when you don't have the right camping mattress. A low-quality mattress that exposes you to cold and floor pressure is equally irritating and uncomfortable.
So, what factors do you need to consider when buying a camping mattress? Keep reading to learn the intricacies of choosing a high-quality camping mattress.
The Basics
Before you go out there to buy a camping mattress, there are several questions you should ask yourself. Where will you be camping? How is the terrain? How is the weather? How many are sleeping on it? For how long will you be camping?
Generally, you must look for:
A thick mattress for comfort
A mattress that is well-insulated to keep cold nights warm
A lightweight mattress
Size Matters!
The size of a mattress determines the quality of your sleep. Do not just buy the first cheap camping mat you find.
Always take your height and body size into consideration when shopping for a mattress. You need a mattress that is bigger than you and one that can withstand your weight. Don't buy a mattress that will leave your feet hanging throughout the night.
It is recommended that you try out a mattress before buying it. Also, checking its specifications will help a great deal.
Ability to Park near camp and deploy the Mattress
How will you get to the camping site? Will you carry the mattress on your back or drive to the camping site?
These essential questions matter when buying a camping mattress. If you plan to drive to the campsite, weight should not be a significant issue. You can pack a heavy mattress because you don't have to worry about carrying it
However, if your campsite requires hiking, a light camping mattress is a lifesaver. Most trekkers camp on a thin mattress due to its portability as they often also have to carry a hiking tent. Those who carry mattresses on their backs need to go for a lightweight product.
The construction is also a crucial factor. For hiking, portability is something you cannot overlook. You don't want to spend more time constructing your sleeping place after a tiresome hike.
Resistance Value (R-value)
Thermal resistance against the ground and cold air is another critical factor )R-Value. You might spend several nights on the ground and in the cold. Even a thin foam mattress will provide a protective layer between you and the ground.
At Bright Camping, we recommend buying a mattress with high-resistance to avoid contact with the harsh air. Some mattresses come with a fabric cover specially designed to keep the body warm.
Ideally, the camping season should determine the R-value of your camping mattress. For winter and fall camping, you should go for a mattress with an R-value of 5. For summer, an R-value of 3 will work. In most cases, quality is directly proportional to price. This means that you are likely to pay more for a high R-value.
Mattress Inflation and Deflation
Considering that camping activities can be tiring, you need to preserve as much energy as you can. You should not use too much effort trying to inflate or deflate your mattress. When you go shopping, consider a mattress that is easy to pump air in and out of before buying it.
You can gauge this feature by reading customer reviews. Check the specs indicated on the packing box as well. Check whether you need to inflate it manually or not. It's more advisable to buy a mattress that comes with a built-in pump or air valve.
The advancement in technology has seen the emergence of a wide range of self-inflating mattresses. Such mattresses have cell foam and air. The internal cell foam allows the mattress to self-inflate.
The other trick is using your car's A/C adaptor as a charging source for pumping air into the mattress. A mattress pump will save you time and energy.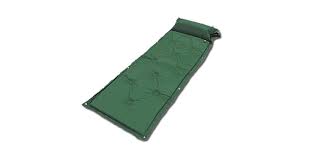 Types of Camping Mattress
Now that you know what to consider when buying the best camping mattress, you need to decide which one to buy. Camping mattresses come in different materials and designs. Here are some types that you should know:
Foam Pads
Other people refer to them as roll mats. These mattresses are suitable for trekkers who need to walk for several hours. These are light and can easily fit in your bag. All you do is unfold them, and everything is set. Worried about the price? These closed-cell foams are sturdy and cheap. It's also worth noting that foam pads are often indestructible. Their downside is that they do not provide enough comfort and warmth. However, they are very reliable.
Self-Inflating Mats
These mattresses may be pricier than the rest. They have a layer of open-cell foam. The coating is covered with nylon. You can inflate them with several breaths. However, they can self-inflate themselves if the valve is left open. The good thing about these mattresses is that they are more comfortable and warmer than foam pads. Their setback is that they can easily get punctured.
Inflatable Air Mattresses
These mattresses provide the same functionality as an air bed. You need to inflate them with a pump. They are among the most comfortable, warmest, and thickest types of mattresses. Inflatable air mattresses are filled with fluff. However, they require more effort and time to inflate compared to the rest. The other setback is that they are the most expensive. They also become useless when punctured.
If a camping air mattress isn't your style and you would like to try something different, then check out camping stretchers. The quality of stretchers on the market today has improved ten-fold. Check out our best camping stretcher reviews here
The Takeaway
You need to take the time to learn about different types of mattresses and their features before buying one. Now that you have gained enough knowledge about camping mattresses, there is no doubt that you will make a well-informed decision. Check the price of the best camping mattress on Bright Camping.
Common Camping Mattress FAQs