Maintaining proper hygiene and cleanliness while camping far away from your comfort zone could become quite a challenge. Camping outdoors could get rough and a refreshing shower once a day could help you feel energised instantly.
You may or may not find the perfect camping and bathing spot, so we have penned down a few ways for you to shower when you are out and about on your next camping adventure. There are a lot of different ways and techniques to take a shower during camping now. In this article, we will consider the different ways to take a shower during camping. But, of course, you should pick the way that is best for you.
Take a natural river bath
Take advantage if you are camping near natural water resources such as rivers, streams, lakes etc. These resources are the easiest and most refreshing way to take a bath while camping. Don't use any soap and shampoo in the river bath as it will go into the river water and make it polluted.
The river bath needs no special equipment, a pair of shorts and a t-shirt is enough to take a bath. It can make you feel refreshed and also maintain your hygiene. In addition, it is a productive way to enjoy your afternoon time while camping.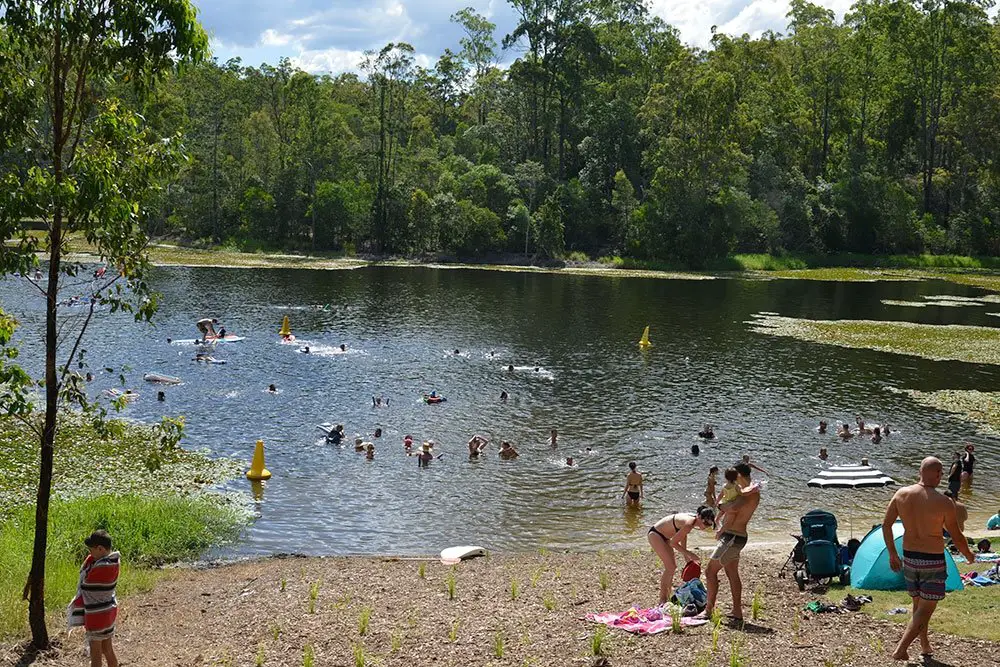 Go for a sponge bath
If you want to take a bath with soap and want a cleaner feeling, a sponge bath is perfect for you. In this type, you will first require a container with water, a stove, a sponge, and some biodegradable soap that is not harmful to the environment. If possible, take this bath at least 200 meters away from the river to avoid soapy runoff into the rivers.
Now turn on the gas stove and warm the water. When it is warm, turn off the stove. Now take the soap and make lather. This technique can be used to clean some important body parts such as underarms, knees, etc., or clean the full body.
Soap will create lather and the more lather you make, the more water you require to clean your body. So before using this method, see the availability of water around you. Don't use natural water resources to rinse off your lather.
Do all the above steps with cold water if you don't want warm water on a sunny day. It will save your fuel and time. Remember to dispose of the leftover soap particles away from the river. This way is very beneficial when you want extra cleaning with the help of soaps.
Public Showers
While travelling and camping, public showers are the most convenient way to shower, but it is not easy to find them around you. However, there are some places where you have access to take a public shower.
Truckstop: Such stops offer bathing facilities to truck drivers and general people after paying some money.
Public Beaches: They provide free showers outside.
Campgrounds: Man Made campgrounds allow you to access their showers as part of their daily fees. It is not advisable to use public showers during this pandemic, but if you don't have any other option, use them with proper sanitisation.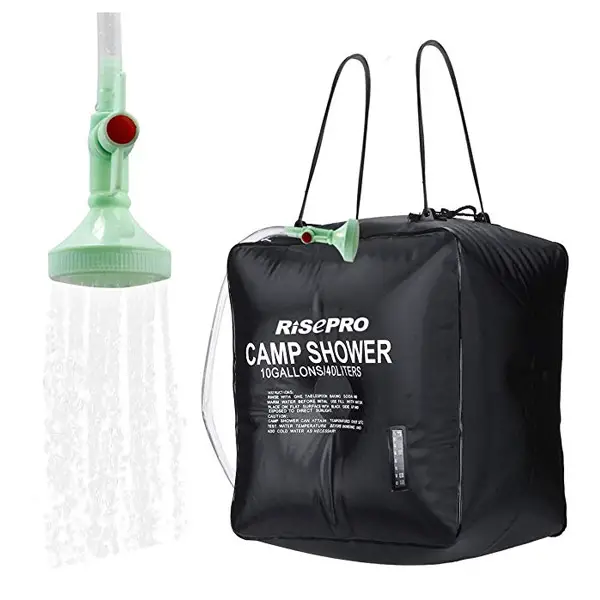 Using a portable camping shower
A portable camp shower is a tiny version of the ordinary shower. These are designed to enjoy the classic bathing experience at a campsite. Here are some types of portable showers that you can purchase:
Gravity Portable camp showers
This shower is the simplest among all portable showers. It consists of a water bottle and showerhead. The rest of the work is done by gravity. This shower is compact and has minimum parts. So, there is less chance of damage. For example, Simple showers, Sea-to-summit pocket showers etc.
Electric portable camp showers
Electric showers use an electric device to pump water from a storage container. It does not regulate the flow of the water. So, it is used at the campsite where there is plenty of water available.
As these are electrically operated, therefore we can either choose rechargeable options or battery-powered alternatives. For instance, JAYETEC USB Rechargeable Portable Outdoor Shower Set, Ivation Battery Powered Portable Outdoor Shower Set, ZODI battery-powered camp shower.
Solar portable camp shower
At the campsite, there is a huge availability of solar energy. So, it is a good option to use portable solar showers. These showers use solar energy to heat up the water.If you want to know the temperature of the water, go with showers having temperature gauges in them.
You have to suspend these showers overhead; gravity pushes the water and you can enjoy a shower through the showerhead. The DOTSOG Portable camping solar shower bag, VIGLT Portable Shower Bag for Camping etc. are some popualr choices
Pressurized portable camp showers
Pressurized portable camping showers discharge water from a pressurized tank. These showers are made up of aluminium and plastic. To use this shower, first of all, fill them with water; after that, you have to pressurize the tank, and then water comes out through the showerhead using a pressure release valve.
There are many options to pressurize the tank, such as a bicycle pump, 12-volt air compressor, or an inbuilt hand pump. For example, Road shower, water port Day Tank, Rinse Kit Pressurized Portable Shower, etc.
Portable camping shower tents
A portable camping shower tent combines a portable camping shower and a privacy shelter changing room. Therefore, it has the best usage when you need to shower in a public or crowded campsite. For example, Gigatent popup pod, King camp etc.
Propane portable camp showers
These camp showers have a propane-fueled device to heat up and pump water for campers to enjoy showers. Hike Crew Propane portable shower & water heater pump is an example of a propane portable shower.
Conclusion
While camping, keeping personal hygiene is mandatory for your fun and adventurous trip. For that, you must shower regularly by using any of the above ways. Depending upon your campsite, you can choose the best-suited method.
If you are in the forest, choose portable showers or sponge baths; if you are near a river or lake, you can choose a natural way of bathing. If you feel clean and fresh, you will have more fun on your adventure. So, enjoy your next trip by taking a shower with the best method for yourself.