12v Air Compressor Comparison Table
Portable 12v Air Compressor Reviews - Australia 2023
Bushranger 55X23 Max Air III 12V Portable Compressor
The very proficient Bushranger Max Air III Compressor has all the attributes and characteristics essential for a technical device. This air compressor is remarkable in terms of engineering and design, with feasibility and ease of use in mind. This unit provides the functions of inflation and deflation in a rapid manner. It can also support all of your air-supply requirements.
The Bushranger portable 12V air compressor provides continuous functions without having to turn it off and on consistently. It is incredibly beneficial to use on tires and provides not only fast features but manufacturing controls also. This air compressor fulfills the highest standards of quality and comes with a five-year warranty.
The portable air compressor is excellent for use in an on-board air system in which you can simply place the compressor manually and attach it to a tank. The pressure is already set in the order, so you don't have to worry about providing the settings.
The most important feature of this compressor is durability and reliable applications. It also comes with an extensive range of different nozzles, making it convenient to use for different types of inflation tasks, such as filling sports balls, bike tires, or inflatable pools. Another essential use can be the inflation of most vehicle ties unless they belong to a more robust form of truck.
Durable
Different types of nozzles
Available with warranty
Does not include a carrying case
Valves are tricky to use until you get familiarized
Air Compressor Thumper Max Portable Twin 300L/min 4×4 Off-road Tyre Inflator Hose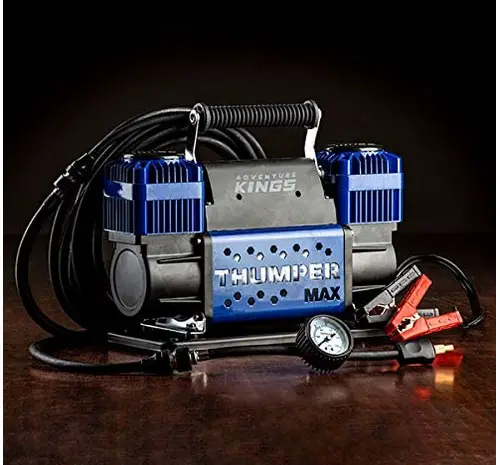 If you want to select a portable 12V air compressor which is available in a well-researched and diligent design, the Thumper Max Portable Twin is the best option. This range of portable air compressors is available throughout the market, and you can take advantage of them by extremely high output. The units are capable of providing a substantial amount of high-pressure air.
The Thumper Max Portable Twin comes with 4WD Supacentre stables.  This characteristic offers about double the air output, and the twin 60mm pistons output up to 300 liters per minute of air, which has high pressure. You can use this air compressor to clean out dust from electrical connections, drying out electronic components inside the bonnet, and even re-seat tire beads.
This portable 12V air compressor considers a professional internal circuit, which, when turned on, automatically shuts down upon receiving optimal pressure. In this manner, you can use this compressor with additional devices, which allow the application of high-pressure air.
The Thumper Air Compressor is already famous in the Australian markets. The product is getting attention in several other parts of the world. If you want to purchase a faster device, this product will be worth it!
Can be used with different types of power supply (generator, 12v solar panels)
Longer warranty
Continuous run time
Available with multiple nozzles
It can be challenging to read pressure dial at times
Large size for a 12V compressor
Astro-AI Portable Air Compressor Pump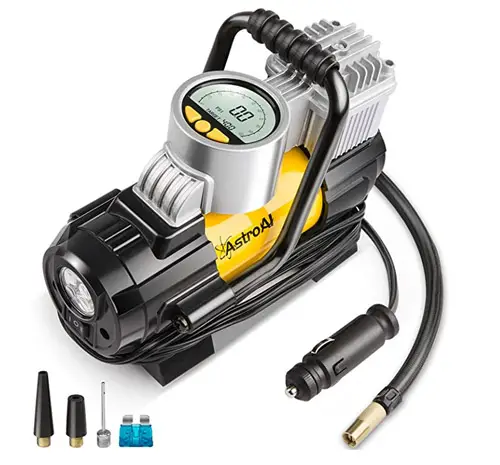 The first thing you will notice with this 12V air compressor is its surprisingly high CFM and PSI. Out of all the compressors and devices that are available in the market, this is extremely powerful and strong. It can inflate all sorts of balls and tires in a feasible manner. It can also work for lightweight pneumatic jobs, such as nailing, without a hassle.
Contrary to several other portable air compressors, the Astro-AI Portable Air Compressor has an optimum longer functional time of 30 minutes. This is of considerable importance if you want to use your air compressor for a longer duration. You will not lose pressure or require working in breaks with this device.
However, with all of the positive aspects, there are some consequences present as well. One of the most significant disadvantages of this air compressor model is that it will frequently exceed its pressure level. Even though there is an automatic shut-off present, this is something that can be a nuisance. If you inflate something small, you need to consider this option because additional PSI values can be dangerous.
Better warranty
The maximum level of PSI
The higher level of CFM
Usable on continuous functional time
Multiple additional nozzles
Frequently exceeds pressure
Placement of gauge is not always appropriate
Short hose
VacLife Air Compressor Tire Inflator, DC 12V Portable Air Compressor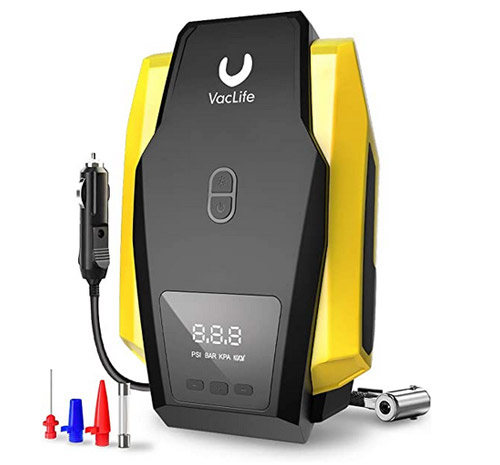 VacLife is a device which works in a different manner as compared to several car accessories that are out there. Out of all the products which the brand makes, their air compressor is an optimal choice for your vehicle.
It is an exceptional 12V air compressor which provides connection to the power outlet of any vehicle. You can program any value of the tire pressure on this device going up to 150 PSI with the help of inbuilt display. The power consumption of the VacLife air compressor is quite low; with about 120 watts you can get the job done efficiently.
Another great feature which you will find in this air compressor is that it comes with an automatic shut-off attribute. The product is available with a bright LED light on the front which can be extremely useful to have if you are traveling at night or repairing something in the dark.
This portable 12V air compressor has a decent build quality with a 4 piece inflation tip kit. In order to guide the customer better, there is a user manual present to provide suitable guidelines.
Maximum power of 150 PSI
Power draw is minimum
One year warranty
LED display
Auto-off function
Supported build quality
The pressure may exceed sometimes
HAUSBELL Portable Air Compressor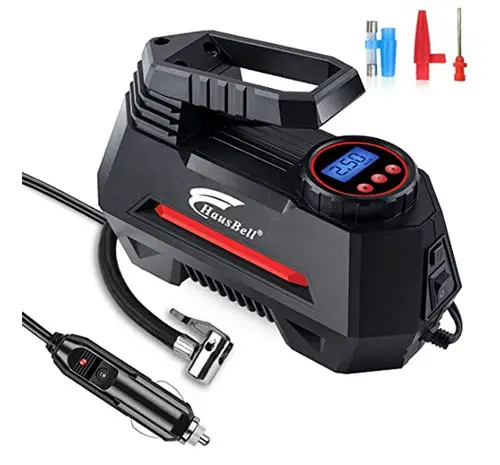 If you are looking for a tire inflator for your car, Hausbell can be another better option. The company makes some of the most amazing yet affordable devices and they will solve your issues in a timely and professional manner.
As discussed in multiple added options reviewed in this guide, you get a maximum amount of air tire pressure with an upper value of 150 PSI from this 12V air compressor. It is also capable of providing this facility with a power draw of 120 watts through the selected battery of your vehicle.
Hausbell portable 12V air compressor provides a display option on the top. You can use this for multiple functions such as checking or setting the tire pressure that you require in the vehicle. It also provides a bright display light on the front in case if you have to use the equipment at night or during traveling on longer distances.
This durable air compressor comes with a one year warranty and is worth your money. With the 3 piece inflation tip kit, you can fill up air in different objects and materials. A clear and defined user manual provides additional facilitation.
Maximum air pressure of 150 PSI
Minimum power draw of 120 watts
Visible display
Bright LED light
Durable and high-quality
The warranty may not be useful in multiple conditions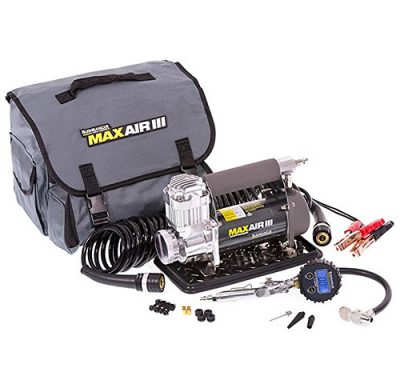 Your Guide to buying a Portable Air Compressor
The portable 12V air compressors have multiple uses and there is a variety in applications. Although they are simple and essential, the air compressors fulfill important functions around a household environment. Their basic and most common function is inflation. These smaller size devices are optimum for filling up air inside bike and car tires, besides managing inflation levels in sports balls.
Things to Know Before you buy
According to the use, these interesting compressors have several features that you need to take into account before you make a final choice. In this section, you will find out what to look for in a 12V air compressor.
Type of Power
One of the most prominent constituent about these air compressors is that you don't have to provide a lot of power. Because of this attribute, you can take them with you for whatever purpose you prefer. These air compressors are safe and travel friendly. However, you need to select one based on the power source you will use commonly. Most of the air compressors are set to run on DC power only, which is easily available from the emission from the cigarette lighter of your car.
Maximum Current and Wattage
Two other important things to consider when you are getting a portable 12V air compressor are the amount of current and wattage. Although none of the models in this review require maximum amounts, it is still something to think about. This is particularly important if you have an older battery inside your vehicle.
You should make sure that the battery can handle the amount of amps, or current, that the air compressor needs. Since the wattage of these tools are comparatively low, the amperage requirements are low as well.
Pressure Value
The value of compressed air is normally presented as PSI (pounds per square inch). Most models of the 12V air compressors do not have an extremely high PSI due to which you can perform smaller tasks. You can inflate smaller balls or tires of household automobiles.
Before investing in an air compressor, try to figure out your requirements and take what you will use on a constant basis. If you have to inflate balls and tires, you do not need something which will provide a significant amount of pressure. On the contrary, if you are looking to work with some pneumatic nails, such as nailers, you will require an additional amount.
Popular Portable Air Compressor Questions
Q: I would like to use the air compressor at home to inflate a ball. Can I use the AC power outlet?
If you want to use your air compressor with an AC outlet, there are a few things you can do. First of all you can buy a device which is available with an AC plug. Another useful option is to get an 12v to 240v inverter.
Q: Are portable air compressors versatile enough to inflate bike/truck tires?
Absolutely, yes. Most of the portable 12V air compressors are strong enough to inflate any vehicle tire, whether you have something big like a truck, or a smaller vehicle like a tricycle. Evidently, for bigger vehicles, it may take longer to fill the tires, but eventually the outcome will be positive.
Q: How can you repair a 12V air compressor?
It actually depends on the extent and nature of the problem. If there is a major issue with the compressor, then do not try to fix the device on your own. It is better to get professional assistance.
You need to take care of your air compressor to maintain its function and appearance for years. You can adjust the air flow for multiple objects using the upper screw. Maintaining power supply is critical as well.
Conclusion
Of all the different types of air compressors that this guide describes, the HAUSBELL Portable Air Compressor is the best option. It is durable, reliable and super easy to use. This tool will help simplify the inflating process's complications and work with pretty much anything with an automatic shut-off system. There are different types of nozzles present for an adequate attachment and versatile applications.
Safety and power consumption should be two essential features for the times you have to inflate a ball or a tire instantly. Make your mind up regarding these air compressors according to what your requirements are. You do not have to invest a more substantial price if you have to use the device occasionally. Just go through the characteristics and technical details and pick one out for your routine.