Having fresh water on board when out touring in the caravan is one the must haves on our essential items checklist.  Easily accessible water is perfect for replenishing water bottles, doing the washing up, washing off sand from your feet to keep the caravan or tent clean.
Water tanks come in various shapes and sizes, so choosing a tank will really depend on your current situation in terms of caravan, mounting options and the desired tank capacity.
That said here are 5 great caravan water tanks that are worth checking out.
Top Caravan Water Tanks for Australia: Reviews 2021
Roto Fresh Water 84L Caravan Tank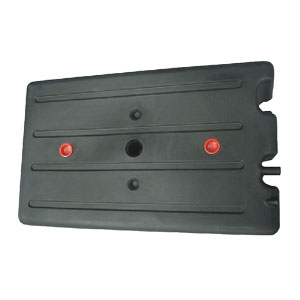 Are you looking for a water tank for your caravan, RV, or camping to serve you well? Then you are at the right thing. Roto 84 Liter tank is made while keeping the quality as prime importance. If you are lucky enough to get your hands on a great quality camping water tank like this, then all of your problems are gone in click-on files.
Roto Fresh water tank is the best go-for option for you in all means. This tank is specially constructed using food-grade plastic while keeping your well-being and health in mind. Plus, its carrying capacity is more than 84L. This means you can store more than enough water for a group of people. You can easily go camping while keeping it in a caravan. Also, it is made convenient to carry with its exceptionally lightweight construction.
Both the barbs are present on the same side, which means you can easily carry this water tank. Most important! Roto Fresh Water Tank features non-toxic plastic that's not going to release toxins in your water. And the 1-inch inlet allows you to fill your tank with full ease without getting splashes on you. ½ inch outlet is perfect to go for because it will let you your mugs and glasses filled with great ease and comfort when you are on the move.
Collectively this Roto water tank is an all-rounder for you in the range of best caravan plastic water tanks. All thanks to its fine construction and exceptional quality plastic that is non-toxic as well.
Compact food-grade plastic body
Great storage capacity
Comes with perfect carrying barbs
The water level is not visible
No breather is included
Fiamma 70L Caravan Water Tank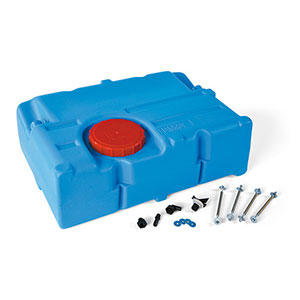 No matter where you are and what you are up to, having clean water is such a blessing for you. And for making this wish a reality Fiamma 70L water tank is right here. It promises to provide you with a constant supply of clean and clear water for a greater time when you are out on some adventure.
Fiamma is the most versatile and good-to-use water tank. It is known to be one of the most popular tanks among the campers, caravan, and homeowners. It means you can use this great water-capacity tank for all sorts of works, and honestly, it's not going to disappoint you at any point. All thanks to its sturdy and great-looking construction and a 70-liter water storage capacity.
You don't have to worry about the quality of the water stored in this tank nor even about your health. The reason behind this is its non-toxic plastic body that promises to take care of the quality of water stored in it. Another notice-worthy point about this water tank is its ability to be mounted, whether horizontally or vertically, on any surface.
Six distinguished sports are present on this tank, using which you can effectively mount your tank and never get disappointed. Moreover, the perfect fitting ability of this tank lets you use it for all household purposes. Separate clamps are also available for accurate fixation and add ease when you are filling caravan water tanks.
Median weight
Made up of non-toxic plastic
Have a proper fitting arrangement
Water storage capacity is relatively low
Caravan Water Tank Heavy Duty 140L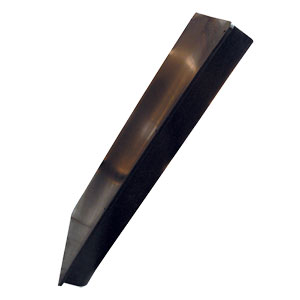 Like every good quality water tank, this heavy-duty water tank comes with excellent construction and storage capacity. These features are enough to provide you with great ease and comfort when using the tank on your outdoor adventure. Other than this, high-grade and non-toxic plastic is the thing that mainly people worry about. But this 140L water tank is enriched with all of these features in one place.
This grey water tank has heavy-duty plastic construction and substantial storage of about 140 liters, which is more than expected. This large tank also has other exciting features that make it perfectly fine to go for. Other interesting features include a built-in tap, which can be used to fill your water utensils. Plus, if you want to install this tank yourself, we must say that it has an all-ready fitting system.
A mounting flange is also a unique feature of this water tank –a treat for every outdoor enthusiast. You can mount your tank wherever you want to hang it. Almost 9 kg body of this tank is not that much; you cannot take it with you. So we cannot add it to its drawback.
Finally, we would like to tell you that if you are interested in getting a perfect caravan or RV water tank or a tank for your household usage, then this water tank is the thing you're actually looking for. Its excellent construction, coupled with excellent storage capacity, makes it perfect to use at every spot.
Heavy-duty construction
Excellent storage capacity
Mounting flange
It can be quite difficult to carry when fully filled
Jayco 90L Caravan Water Tank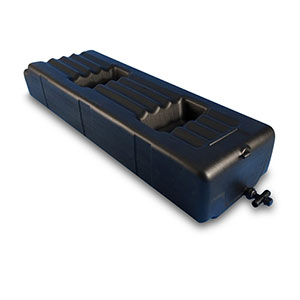 The Jayco 90L tank is specifically designed while keeping the technique of attaching multiple tanks with a single water tank. If your work demands a great supply of water then this is the must-to-buy option. This water tank is here to solve all of your problems in seconds with its multiple connectivity options. Not only this, but this king comes up with all of the eye-catching features and excellent storage capacity.
It features twin barbs on the side and a drainage cap that makes this water tank convenient and easy to use. It is preferred for caravan usage because of the 25mm hose, which will let you attach multiple tanks with it. Also, the food-grade, non-toxic plastic makes this tank comfortable to use without bothering water quality.
A 10mm breather is also included in its unique construction, which adds up to overall uniqueness. A separate replacement outlet cap is added in the package that you may call a plus point of this tank. Multiple connectivity options and 1-year warranty are enough to add a bunch of satisfaction to the customer's mind.
We can collectively say that if you are looking for a great capacity water tank with several connectivity options, this tank is a go-to option for you. You don't have to worry about the quality or any other drawback because it comes up with a satisfactory 1-year warranty.
Multiple connectivity options
Twin barbs available
A separate outlet cap is provided
Millard 63L Caravan Water Tank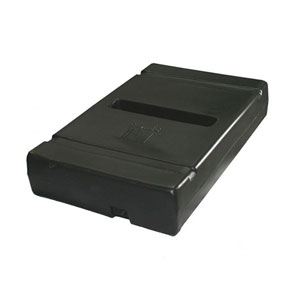 Among hundreds of caravan options out there in the market, the MILLARD 63L water tank marked its spot because of its unique features coupled with sturdy construction. If you want a mid-range and median water tank for all sorts of activities, this water tank is a thing you can blindly trust on. It comes with a mid-range storage capacity that can store a fair amount of water for any outdoor activity.
This 63liter rugged plastic caravan fresh water tank is finely constructed using molded plastic, making it ideal for hardship usage. You can easily fit in your caravan effectively for hours. If you are out for longer periods and want water for drinking purposes, this water tank is effective enough to provide you with sufficient and clean water.
If you want to plumb this tank with taps, you can do so with the multiple options of connectivity in this caravan water tank. However, this all-rounder water tank will provide you with satisfactory results no matter for what purpose you are using this tank. All thanks to its expertise in construction.
When we talk about the price, MILLARD has won this round too. Not cheaply tagged, nor even you have to pay a hefty amount, this tank comes in a median price range that fits everyone's budget well.
Finally, this water tank is perfect in dimensions and is exceptionally made while keeping all of the facts and figures in mind. You can go for this water rank without any doubt in mind.
Great storage capacity
Multiple connectivity options
Rugged plastic construction
A Quick Buying Guide to find the Caravan Water Tanks
Whenever you are out in the market to get something exceptional for your household usage or outdoor adventures, your mind probably muddles up that which one is the best. It is quite obvious to get such confusion because when there are hundreds of options claiming to be the best, this will put you in a state of utter confusion. No need to worry anymore! Because we've got you covered.
Here we are up with a detailed buying guide about caravan water tanks in which we will guide you about all of the important points that you have to keep in mind before getting a caravan water tank for you. After reading this, you'll for sure get a step ahead in your mission. Let's get started!
Inlet for incoming water
The first and the most important that you have to keep into consideration is the inlet of a water tank. Do you want to know the reason? Let's get right into it. The only reason behind this is the water pressure that your tank's inlet will experience is to be compensated by the inlet.
Remember that you have to go for a perfect-looking and perfectly dimensioned water inlet of a caravan water tank. The better approach to an inlet will keep you safe from the water splashes when filling your water tank.
Outlet for going water outside
Here comes another important aspect. The outlet of a caravan water tank is going to determine your experience. Make sure that you can easily get the water out from your tank. Plus, you have to make sure that the outlet is having an option of connectivity with a gravity feed tap. Also, it is having a pressure controlling tap or not.
With your caravan water tank's outlet, a manual or automatic pressure pump is the necessary option. So keep this thing in mind before buying a water tank for your next jaunt.
The tank is having a breather or not
A breather in a tank is the most important thing if you don't want any mishap to happen. Keeping this point in mind we would recommend you choose that tank containing a prominent and fine working breather. We will justify this point by telling you about the importance of a breather in a water tank.
The only function of a breather is to quit the trapped air out so that no air locking occurs inside your tank while filling it. It is also recommended to keep the hose of the breather relatively higher than that of the inlet hose to get a perfect experience.
Hose for fitting
If you are looking for a tank that you have to use in your house, it is evident that you will connect it somewhere, demanding a connectivity hose. Also, when there is a large demand for water at that time, multiple tanks can be connected if your tank is having a connectivity hose fitted in it. When you are doing this, make sure that you have maintained the levels of your water tanks.
Collectively we would say that go for a water tank which is having multiple connectivity options.
Dimensions and water capacity
Finally, if we talk about the dimensions and the water storage capacity of the caravan water tanks, then it is all up to your requirement. If you are looking for a great water storage tank capacity, you have multiple options present in the market. If you want a median range water tank, then a water tank with 60 liters to 150 liters would be enough; you will get hundreds of options in the series of caravan water tanks.
Food grade plastic construction
It's another crucial factor that has to deal with your health. Would you like to mess up your overall health with unhygienic water? Definitely not.
Try to go for the water tank constructed with food-grade and non-toxic plastic while keeping your well-being in mind. It must have enough to ensure crystal-clear and freshwater.