Keep clean when outdoors with one of these handy camping showers!
Camping is not for everyone and that's fine! A lot of people don't like sand in their tent, or getting dirty. But in this day and age, camping doesn't have to mean roughing it. There are many mod cons available that can make getting away for the weekend – or trekking across the country much more enjoyable. One of those is a simple camping shower.
With camping showers, you can either go a simple solution such as a bag type setup hung from a tree with a small hose, or connect up to a gas cylinder for continuous hot water. Both options are fine, and probably more affordable than you think.
Camping Showers come in a couple of different styles including:
Solar heated camping shower bag
Foot pump operated camping shower
Gas powered hot water heater / shower
Battery operated camping shower
Anyway, let's get straight into our camping shower reviews. In our opinion, the best showers are:
Best Camping Shower for Australia Reviews 2023
Bushranger Hot Water Camping Shower Kit Bundle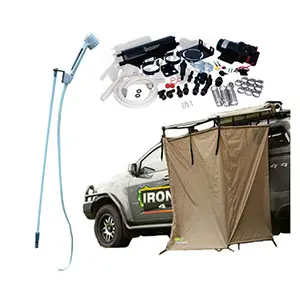 We all need a camping shower that works perfectly at the time of long trips or camping. But, choosing an appropriate camp shower is quite challenging. If you're looking for a complete camp shower setup then you should definitely consider having a Bushranger Hot water camping shower. This combo includes both the Bushranger vehicle mounted hot water system AND the popular Ironman Shower Tent/Toilet/Change Room with Fold out Awning.
What's included in the kit? The Bushranger hot water shower has everything included to mount the unit inside your engine bay and is perfect not only as a shower, but also for washing dishes and other items. The kit also includes a showerhead and hose and quiet marine pump capable of 12L per minute. This is a good combo for those who do a lot of touring, as everything is mounted to the car. If you are after a more portable unit then this is not ideal. For powering the unit, you can also use alligator clips, or hard-wire the plug as well.
The Bushranger portable gas shower allows you hot water instantly with the source of your choice. They are a perfect fit for long trips, camping, caravanning, 4×4 driving, washing, and cleaning your pets within just a few minutes. They are easy to set up, safe to use, quite handy to operate, and easily portable. This amazing shower can warm-up 12 liters of water per minute.
Everything you need (shower & tent)
All the components included in the kit are properly labelled, safely manufactured, and certified by Australian standards.
Easy to operate and use.
Need to mount the unit into your engine bay
Heater hose is not included in this kit
Lots of assembly required
Gasmate Water-Tech 5 Litre Water Heater with Pump & Shower Attachments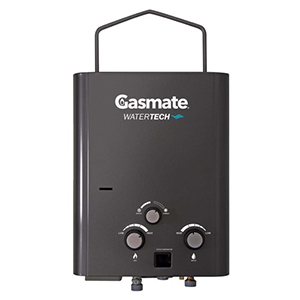 Are you planning to invest in a camping shower to get a hot soothing shower anywhere at any time? Does your old ordinary camp shower leave you in the midway of a shower? Do you want to know which camp shower is a safe bet to go with? If so, then without a second thought go for the Gasmate Water Tech Hot camp shower.
This portable camp shower comes along with a handheld showerhead, water heater, gas hose & regulator, 12V pump, water hoses, and filter. They are compact in design, lightweight, easy to transport, handy to operate, and convenient to set up. Gasmate shower camp has an automatic ignition feature that starts the unit just by pressing the tap. Also, you'll notice an on/off feature at the top of the handheld showerhead in order to avoid reaching the heater unit.
Apart from that, the Gasmate portable camp shower has an LED display screen, multi-season mode, controllable and adjustable temperature & water flow settings, and a DC water pump. Furthermore, they work on low pressure in the start and have steel housing with enamel finishing. Also, they are approved by the NZ standards.
One of the distinctive features of the Gasmate portable camp shower is that they are equipped with a low-pressure safety system and a flame failure system, which means the gas will automatically shut-off, if the flame escape. Due to this feature, you can protect yourself or your surroundings from hazards.
It has a storage capacity of 5-liter water.
Comes with an automatic ignition function.
Provides you access to control the temperature and flow of water.
You need to carry fuel along with you to operate the unit.
KICKASS Shower Tent & Change Room with Camping Gas Hot Water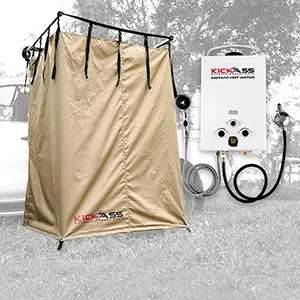 Are you struggling with the cold showers during camping? Are you in need to have a shower package that offers incredible features and is cost-effective? If yes, then you might consider purchasing a Kickass gas camp shower. This amazing gas shower comes with a good-quality polyester fabric with a 12L pump. Not only that, they are super-easy to install, simple to set up, safe, and secure to operate anywhere at any time.
It has adjustable straps that permit you to use the tent for a shower, restroom, or even some privacy, leaving the bottom of the tent dry. Also, the tent has a back window that allows you to keep an eye on your belongings or you can take hold of other contents within the tent. Furthermore, the camp shower is made up of durable and resilient lightweight material that is corrosion-free and is a perfect fit for coastline situations.
Kickass shower tent comes along with a 1000D PVC UV-resistant storage bag, and an extra silver lining fabric to avoid visible lighting or silhouettes. It's an ideal shower camp to withstand any hardest weather conditions, keeping your privacy intact. You'll love the sag-free design which permits your tent to stay structural and let you keep your essential items at one side without falling or tripping.
You'll surely appreciate the idea of an attached showerhead at the top, so you may experience the luxury of a shower anywhere. Plus, this portable camp shower has equipped with mesh bags to keep other accessories neatly. All in all, it's a perfect camp shower for your camping due to its vehicle-mounted facility. You can mount along with your vehicle just by using provided brackets and you're all set to enjoy your trip.
Comes with a 12L pump and a shower tent.
Easily accessible anywhere at any time.
It has an attached showerhead placed at the top of a unit.
You may find it a little heavier and affluent.
Companion AquaHeat Lithium Gas Shower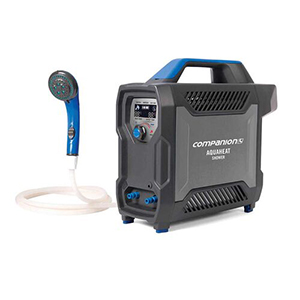 If you're a seasoned camper and loves travelling without compromising on having hot baths, then Aquaheat lithium gas shower comes to the rescue. This unique slimline design camp shower delivers hot water instantly by utilizing a rechargeable lithium-ion battery. You don't need to worry about its charging, as the battery automatically charges at the time of shower with a DC lead or Ac Adapter (sold separately).
On a single charge, the battery runs for about 60-120 minutes which means you will get 2L of water per minute. Also, the battery takes 4-5 hours to get recharged. You have to purchase the companion carry bag separately. The kit includes a water hose & pump, silicone hose, shower head, and 2V DC connection.
In a nutshell, Aquaheat lithium gas shower works exceptional for those who require a generous amount of hot water for a longer duration. Also, it has a digital display screen that permits you to control the flow and temperature of the liquid. This amazing product is certified by Australian standards, user-friendly to operate, convenient to use and store. Also, it comes with a one-year warranty.
Operate with the help of a powerful lithium-ion battery.
It has equipped with a brushless motor, auto-ignition one-touch showerhead control, and a built-in gas regulator with a BOM connection.
You'll get 2L of hot water per minute.
The battery takes a long time to recharge.
Companion Solar Shower 20L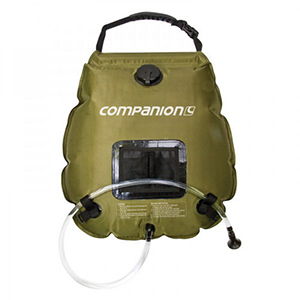 If you're searching for a camping shower that is super-efficient and utilizes solar energy to warm the water, then a companion solar shower has got you covered. If you've limited access to water but don't water to compromise on your shower, then shop for this amazing product. It gives you a decent 8 minutes of shower time due to its 20-liter water capacity. Also, it has mesh pockets to hold the soap or shampoo.
Not only that, it is made from 600D Ripstop polyester and clear PVC to withstand any sort of weather condition. Plus, it comes with a temperature control gauge to control and set up the flow of liquid. It has equipped with a large 38mm filling vale which is another plus point.
Furthermore, you'll also find convenient Velcro straps to adjust the show head height. All in all, it's a great solar camping shower for your solo trips or trips with families or friends. It comes with a decent 12 months warranty and is approved by Australian standards.
So what are you waiting for? Just pack your shower bag along with your essential accessories, and you're all set for the coming weekend camping. Get the hot water instantly anywhere at any time just by keeping your bag under the sunlight and you're ready to have a soothing relaxing hot body shower.
Easy to use and store.
Made from good-quality Ripstop polyester material.
Comes with a one-year warranty.
It has a storage capacity of 20-liter of water.
Requires a decent amount of sunlight to warm up.
What to look for when buying a camp shower
Are you a seasoned camper or loves camping? Are you planning camping this
weekend along with your friends or family
? If yes, then don't forget to have a camping shower along with you to turn your camping experience into extraordinary.
But, how would you know which camping shower works exactly for you? There are a huge variety of camping showers available in the mainstreams markets, but you need to consider some vital factors before purchasing them. This is where we come to the rescue.
Whether you want the best portable camping shower or the camping hot water system for your solo trips or group trips, don't forget to consider the factors mentioned below. At the end of this write-up, you'll have a clear idea of how to choose the best camping shower for you.
Look out for the Size, Weight, and Portability
The best camping shower is the one that is lighter in weight, smaller in size, less spacious, and easily portable. For this purpose, you can go for a pressure camp or solar showers. However, if you have a preference to get hot water immediately, then you must go for the battery showers or the gas ones.
Check for the Temperature Range or Water Supply
Different types of showers requires different ranges. Some showers work by utilizing the power of the sun, and some showers give you access to control the temperature with the use of a gauge. However, if you choose the manual ones like pressure showers or the solar ones, they need to be filled with water, meanwhile; if you opt for the camping shower that runs through battery or gas they must be connected via any water source like a hose, steams, or rivers.
Types of Camping Showers
Camp showers are available in different types and they utilize different power sources. While you're on the lookout for the best portable showers for your trips, then choose the one from the list mentioned below as per your requirements.
Solar Powered Camp Showers
These type of camping showers works on the solar energy. They are quite economical, easy to operate, and store. They work incredibly for situations where you have limited access to the water. For taking a quick bath solar ones are a safe bet to use. They just need a sunny day and few hours to warm up the water inside.
Battery Powered Camp Showers
These camping showers work via a running source. They utilize batteries that are easily replaceable or rechargeable, hence quite expensive. Battery-powered camp showers are a perfect fit for those who love to have hot water instantly. They are quite controllable but heavier in weight.
Gas Powered Camp Showers
For those people who can carry fuel for camping, gas camp showers are a game-changer for them. But they tend to be heavy, bigger in size, and costly. They work well when you've access to a running source of water and you want hot water instantly.
Pressure Camp Showers
These camp showers are a perfect fit for the ones who are generally not fond of hot water. They are usually operated by a hand pump or a foot to move out the water from the bag. They are lighter in weight, easily accessible, easy to use, and store.
Other things to consider

While you're on the hunt of choosing the best camping shower bag for you, have a look at the factors mentioned below.
Check out for the long hose or Shower Hooks: – The best camping shower is the one having a long hose and shower hooks or handles. In this way, you don't need to grasp the shower on you every time while using. Also, you'll feel more comfortable and have more control during a shower.
Go for the Extra Pouches: – Always buy a camping shower bag that offers you extra pockets or pouches, so that you can keep your other items, such as soaps, tissues, shampoo easily and conveniently.
Go for the Water Temperature Gauge: – The temperature control gauge allows you to control the water temperature in order to protect from the freezing showers or broiling, hence; it's a must-have in your camping bag.
Frequently Asked Questions (FAQ's)
All the camp showers mentioned in our best camp shower guide have their importance. It's tough to say which one is the best because that is completely based on your need and requirements. However, we recommend you to go for the solar or pressure ones if you have limited access to water. Also, if you love to take a hot bath instantly then you can go for the battery or gas camp showers.
Generally, the standard capacity of portable camp showers is 5 gallons or 20 liters. However, they last for about 1-1/2 or 2-1/2 minutes in an ordinary shower, but it also depends on the showerhead and the power of your 12 V water pump. Moreover, you can't take long showers while using portable solar showers due to its limited access to water.
You can use the car battery to charge the camp shower, just fill the portable shower camp with water and connect through the car's battery and you're good to go. If you have a solar camp shower, it will warm up on its own by utilizing solar energy. Moreover, if you have fuel along with you, gas camp showers can be powered and warm up.