Camping Clothes Line Reviews 2023
Portable Folding Rotary Clothes Line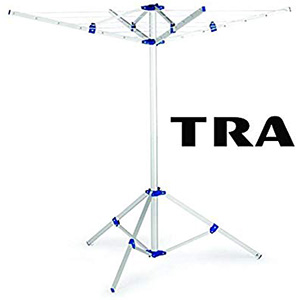 The first product on this list is the portable folding rotary clothesline. It is the perfect item to be carried around with your camping gear. It is highly portable and lightweight, weighing 2.7 kg only, so you will not feel any burden even if you have to hike to get to your destination. It is the ideal clothesline for people who are travelling in the form of groups or families.
The portable rotary clothesline has a very sleek design. It has a rotating aluminium frame, which is collapsible. You can fold it and make it compact, which fits in the carry bag easily. It has four arms and four feet that make it stand stable on the ground. The ground stand is wide enough to ensure stability, especially when it has weight on the arms. The setup is pretty easy and fast, and you won't have to waste time fixing it. It comes with three screw in pegs to secure the clothes on windy days.
If you are travelling with children, then this is the perfect product for you as it can hold 35kgs of clothes at a time. We all know how quickly children can make their clothes dirty, especially when they are out in the open fields. The best part about this product is that you can adjust its height according to your requirements. It is very simple to put on clothes on the lines. It comes with a black carry bag, which makes it easier to carry around as well as store when not in use.
Wide ground stand for stability.
Lightweight and portable.
Collapsible and easy setup.
Comes with a carry bag.
Pegs are less in number
Have to balance the weight of clothes
Wahe Outdoor Camping Lanyard with 10 Hooks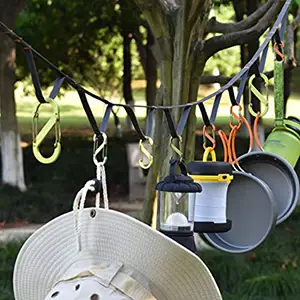 This camping lanyard by Wahe is a great product for people who love to hike and camp. It is an advantageous product to hang your clothes while you are away from home. You can wash your clothes and hang them on this lanyard to let them air dry. In addition to this, this lanyard can also be used to store your stuff while camping.
This lanyard comes with a 71-inch long rope, which is sturdy and durable to take the weight of your stuff. It is a no-stretch strap that you can toss over a branch and create a loop to get ten adjustable hangers. Along with the rope comes ten S-shaped lock hooks made from aluminium alloy to hold your belongings. The hooks are extremely strong and durable and can hold 154 lbs of weight easily. You can hang anything on it e.g., clothes, mugs, kettles, pots, and lanterns, etc. You name it, and this lanyard can hold it for you.
You just need to find the right spot for putting up this lanyard. Find a place where you have two trees side by side so that you can create the loop on them. It has a link clasp that can adjust the length of the lanyard according to the space available. This product is highly portable and can be carried around easily due to its compact size.
Lightweight and sturdy hooks
Durable and robust rope with loops
Easy storage
Not suitable for a family
A little shorter in length
YLOVAN Outdoor Camping Rope Strap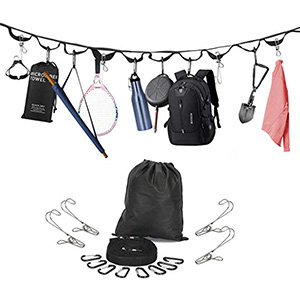 This is another lanyard on our list, but this one comes with 19 loops. This lanyard offers more storage and is a good option for small families who like to camp. You can use it as a clothesline or use it for storage; in both cases, it works perfectly fine and serves the purpose well. Now you don't have to worry about your clothes falling off the rope as it comes with four clothing slips.
It is a breeze to assemble this lanyard. You are done with the assembling within five minutes. It comes with eight carabiner hooks along with the clothing slips. You can carry extra hooks with you as the strap has the capacity of 19 loops on it. You can hang anything on it, especially when children are with you as they tend to misplace things easily. You can hang your clothes and other gear on this lanyard and enjoy your camping time with your family.
It can handle heavyweight easily and can accommodate weight up to 400 lbs. The strap is highly durable, and the hooks are robust to hold up all that weight. You can carry pegs with you to hang your clothes on it so that they can air dry. All in all, it is a great product with a lot of capacity to store and hold weight.
Strong and durable strap
Easy to hang
Ideal for multiple usages
Package includes 19 loops, 8 hooks, and 4 clothing slips
Fewer hooks included as compared to loops
Sea To Summit The Clothesline Camping Accessory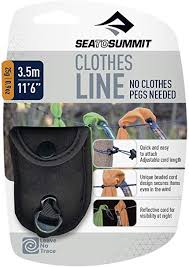 This product is the ultimate solution to people who are looking for a clothesline that does not take up much space while they travel. This is literally the most compact clothesline you can come across with no need to carry extra tools, pegs, or hooks to hang your clothes while you camp. It weighs only 1.3 ounces. You can even carry it in your pocket; it is that compact and lightweight.
This is a very unique product as it's completely different from the conventional clotheslines available in the market. This product is based on the dual cord, which contains beads. The beads hold your garments in place for drying. You need to have pegs for this purpose. You put the cloth between the dual cords, in between two beads, and bring the beads together while securing the cloth.
The cord measures 11.6 feet. You only have to wrap it around two trees to assemble it. Assembling it is as quick as a snap. The cord comes in a nylon pouch, which is extremely compact and can be placed in your pocket as well. The cord is reflective, which makes it visible at night as well. The beads secure the clothes well, even in strong winds as well. Though it is compact, but it is robust and can endure heavyweight as well. This is a must for your upcoming camping trips.
Unique beaded design
Compact
Lightweight and portable
It can endure heavyweight
It can hang limited things
Outdoor Camping Lanyard With Hook
The last product on our list is the Outdoor Camping Lanyard by GTOMIPO. This one is similar to the Wahe Lanyard. It comes with a robust 1.8m nylon outdoor lanyard that has ten loops on it. It is a multi-purpose lanyard; hence you can hang anything on it along with wet washed clothes to air dry them.
This lanyard is the lightest of all. It weighs only 150g, but it is robust and strong enough to endure heavy weight easily. The lanyard comes with ten hooks enabling you to hang anything on it easily. You can store your small gears and clothes on this clothesline easily without worrying about forgetting something. The hooks are made from aluminium alloy, which will not break easily. The length of the lanyard is adjustable so you can tighten or loosen it according to your choice. This product is extremely helpful when it comes to camping; hence you should not forget carrying it along.
1.8m long lanyard
Ten aluminium alloy hooks
Lightweight and compact
Robust enough to endure heavyweight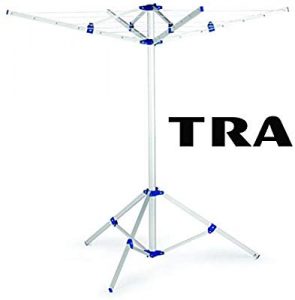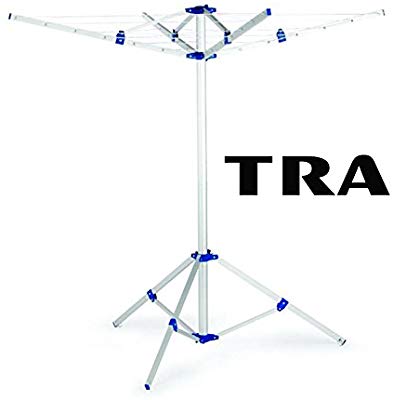 Buying Guide for Camping Clothesline
Choosing the right clothesline for your camping experience can be daunting, especially when you have to travel with children. You have to buy a clothesline, keeping in mind for many days you will be camping and how many clothes you will be taking along. Camping is all about packing light, but it gets different when you are travelling children. The following buying guide is going to help you with finding the right camping clothesline for your camping experience.
Adjustable height
If you are planning on getting a rotary washing line, then make sure it has an adjustable height. It should be easy to reach and should be flexible enough to let you put on heavy cloth items without much hassle. The adjustable height enables the user to lower the line to put on clothes on it and then adjust it on height to let them air dry.
Size of the rope
If you want to want to get a lanyard or a rope for your camping trips, then make sure that the size of the rope is big enough to secure maximum clothes on it. A longer rope makes it easier to assemble when trees are at a distance. Also, it enables the camper to put on maximum items on the rope.
Durability
No matter what type of clothesline you plan to get, make sure it is durable to last long and robust enough to endure the heavyweight. While camping, people tend to use clotheslines as storage as well. It helps the campers in putting on their utensils, lamps, and clothes, etc. on the clothesline to secure them from misplacing. A cheap product will not be able to last long if used roughly.
Weight
Camping is all about packing light. The clothesline which you want to get should be lightweight so that it doesn't add more weight and make it difficult for you to carry it, especially when you have to hike. A compact and lightweight clothesline is what you should look for so that you have lesser weight to carry.
Easy Assembling
The clothesline should be easy to setup. You don't want to waste your time at the campsite in setting up the clothesline. The assembling should not require any tools as well. The assembling time should be minimal. Watch tutorials on assembling the clothesline if you are a first-time camper. That will help you in getting done with the task quickly.
Easy storage
Just like the rest of your camping gear, this item should be easy to store as well. You don't want it to go bad by lying around anywhere in the garage. Get a product that can offer storage bags, so that you can pack it up and easily store anywhere in the house. The compact ones are the easiest to store as they don't take up much space and time in packing. You can keep the compact ones in your handbag as well.
For tips on on packing your caravan or for camping click here
Frequently Asked Questions
Q1. At what height should the clothesline be installed?
A. The clothesline should be 80mm approx. above the campers' head. It should be within the camper's reach. Too high clothesline will result in strain on the shoulders and the back.


Q2. Can these products hold heavyweight?
Ans. Yes, all of these products can hold heavy weight easily. They have been manufactured by using robust materials so that you can utilize them to the max during your camping trip.
Q3. Can these clotheslines withstand heavy wet clothes?
Ans. Yes, they can easily withstand wet clothes like heavy towels and blankets, etc. The lanyards have aluminium hooks that don't break that easily, and the rope is made from strong materials to sustain heavyweight.
Q4. Is it easy to assemble these clotheslines?
Ans. Installing these products is a breeze. You will be done assembling them within minutes. You don't have to carry any tools or require extra help in assembling these clotheslines.
Q5. Is it necessary to install the lanyard on the trees only?
Ans. No, you can install them at any pole. If you are carrying two sticks with you, then it is better to erect the sticks on the ground and then install the lanyard. Make sure the sticks are strong enough to handle the weight of the things on the lanyard.