Get your camp set up in an instant with a pop-up tent!
There is nothing worse than finally arriving at your campsite and then having to set up your tent, especially if it's in the dark. Gone of the days of the old canvas tents with a hundred poles and ropes, instead, the invention of the pop-up tent makes setting up camp a joy and quite instant.
Let's get straight into our pop up / instant camping tent reviews. In our opinion, the best pop up tents for Australia are:
Best Pop Up Tent for Camping for Australia: Reviews 2023
Coleman Steel Creek 6 Person Fast Pitch Dome Tent with Screen room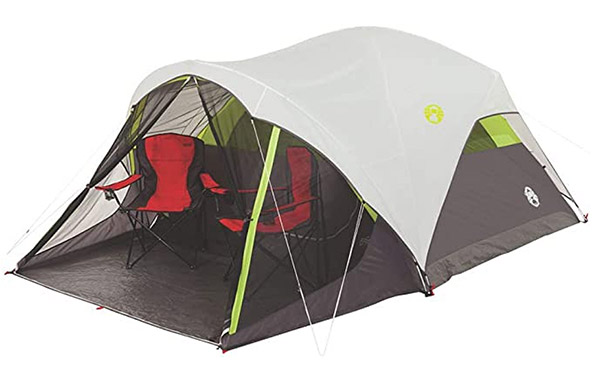 Coleman Steel Creek Fastpitch Dome tent is our top pick due to its durability and the capacity to accommodate many people at a time. If you are looking for a sturdy and easy to use the Tent for your family, then Coleman steel creek is a must-buy. It can easily accommodate up to six people and is extremely easy to set up. You just need to fix it up for 7 minutes, and here you go.
It is equipped with the WeatherTec system and Rainfly that keep it cozy and dry in all weathers. It is made up of sturdy Poly-Guard fabric and frame that is designed to withstand the rough and tough conditions. It is larger enough to accommodate two queen-sized beds, so it is suitable for a large family. It has a separate and comfortable screen room where you can enjoy quality time without bugs and mosquitos etc.
The Tent is fully ventilated and made up of breathable fabric. It keeps the rooms airy and prevents you from the rain at the same time. There is an E-port that offers electricity in the Tent so that you can recharge your devices. It is also equipped with storage pockets where you can keep all your belongings. Moreover, the Tent is not only easy to establish but also easy to pack and carry.
Sturdy and durable.
It comes with a useful E-port.
Ventilated and breathable material for airy room
Bug-free room.
It is highly suitable for large families.
Easy to establish and pack.
None that we can identify
HEWOLF Camping Tents 2-4 Person [Instant Tent]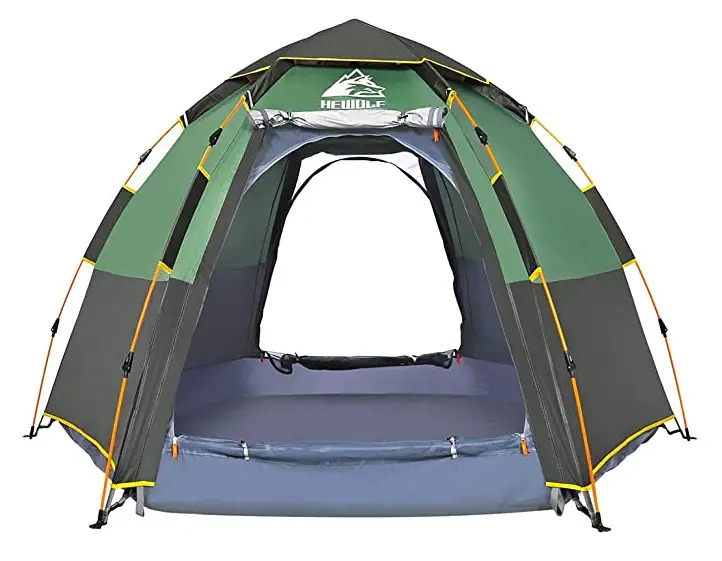 Here is an extremely convenient and easy to establish a pop-up tent that is none other than the exception. The Tent just takes few seconds to install automatically. You just need to lift the Tent up to install and press the end of the pole to get it folded automatically.  The Tent is made up of the 190T Polyester cloth that is waterproof and resists water and ultraviolet rays to keep you and your luggage dry and safe.
There are two doors in the Tent to keep it ventilated. The D shaped zipper door makes sure that you can easily move in or out of the Tent. It is armed with the mesh windows that keep the inside airy and protect you from the mosquitos.  The unique six-angled design makes it stable during rough weather.
Moreover, it comes with the purchase guarantee, so don't worry and buy the Tent with full confidence because the warrantee covers all the wear and tear. The price is quite reasonable as far as the features are concerned that add great value to its users.
Affordable price.
Waterproof and UV protected.
It is suitable for 2 to 4 persons.
Automatic installation process.
It has a ventilated room.
There are two doors for convenient entry and exit.
Intelligent design.
It can only accommodate two adults.
Weisshorn Camping Tent 10 Person Instant Up Pop up Tents Swag Family Hiking Dome Beach Tent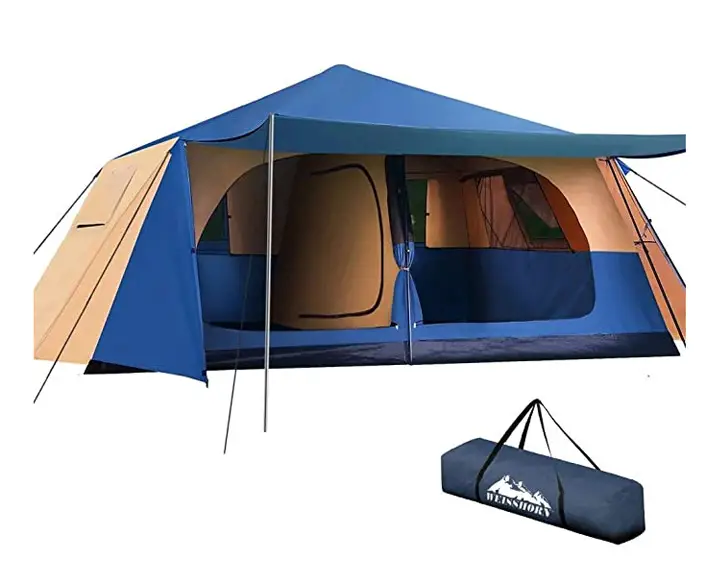 Weisshorn is a very large pop-up tent that can accommodate a large family or a group of people consisting of 10 members, so if you are going to Camping with a large group of friends, this canopy goes great. The Tent is easy to use and install. It is attached to the frame, so it takes very little time to install.  It has two large sleeping rooms that offer you privacy, even if there is a big crowd out there.
The Tent contains small ventilation holes you can open to keep the rooms airy and ventilated. It comes with a large and sturdy carrying bag that you can keep your Tent in. It is super-portable and compact and offers easy movement.
It has mesh windows that prevent mosquitos from coming inside. The UV and water-resistant body keep you and your tent safe under any tough weather condition. Moreover, it has large zipper doors that make movement convenient. It also features a convenient electricity port to provide an electrical connection.
Ventilated and bug-free rooms.
Very large Tent.
It has two large rooms.
UV and water-resistant body.
It comes with an electricity port.
Comes with a large and sturdy carrying bag.
Toogh 2-3 Person Camping Tent 4 Season Backpacking Tent Automatic Instant Pop Up Tent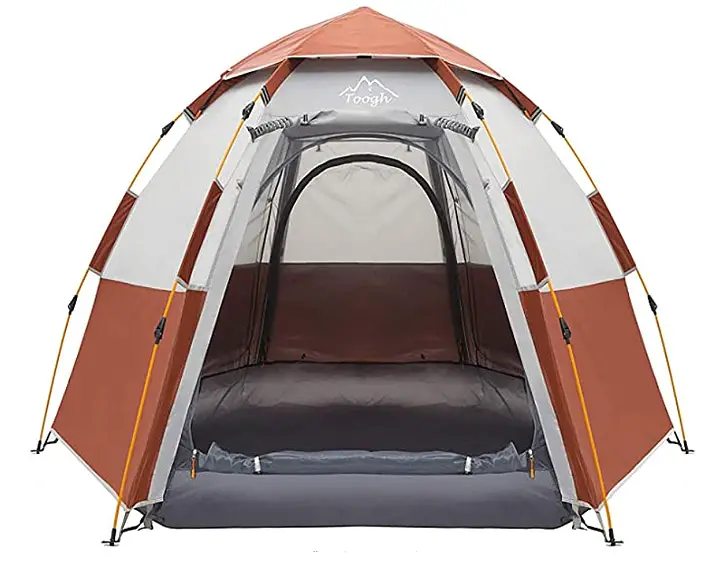 If you are conscious about the design of your camping tent, then you will definitely like this Tent. It has an incredible design that is extremely easy to install. It only takes 60 seconds to install the Tent. Moreover, packing up the Tent is also very easy. This camping tent has two doors that makes moving convenient.
The Tent has a super-lightweight with a mosquito repellent net that prevents you from the mosquitos and other bugs. Moreover, the Tent comes with the mesh window that keeps the Tent airy. Toogh camping tent has an intelligent waterproof design that prevents it from tough weather and keeps it stable. In addition, it comes with all the accessories that nails and anti-wind ropes.
The camp is easy to carry and compact. You can easily move it anywhere whether you are camping in the woods or going fishing or mountaineering. The Tent comes at a very affordable price but has the capacity to accommodate only 2 to 3 people at a time.
Intelligent 6-angled design for stability.
It has an ultra-light weight.
Comes with all necessary accessories.
Affordable price.
Equipped with dense mosquito repellent net.
It has proper mechanism for ventilation.
Easy to fold design.
Quick installation process.
It comes with a small rainfly.
It does not come with the instruction manual.
Suitable only for two to three people.
ZOMAKE Instant Tents for Camping 2 3 4 Person – Waterproof Dome Tent with Carry Bag, Automatic Hydraulic Pop Up Tent – Easy Setup in 60s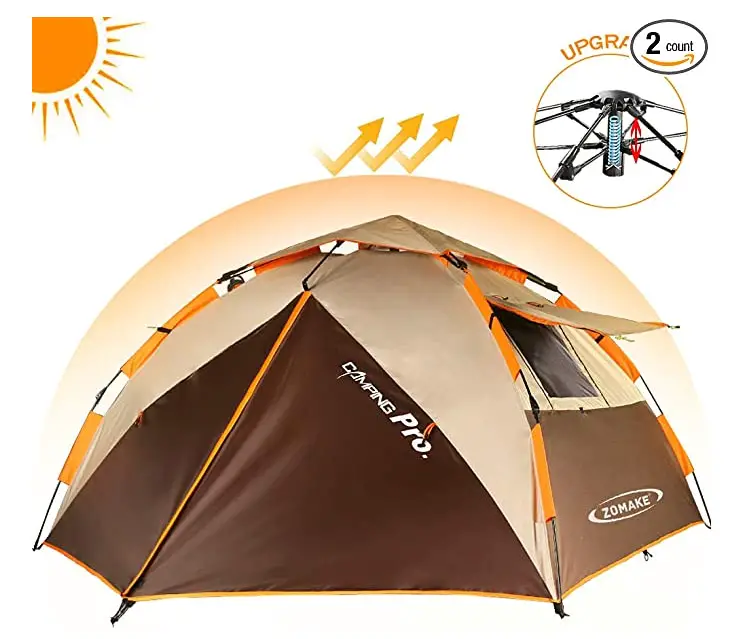 If you have a budget constraint, then go for the ZOMAKE automatic camping tent that is fairly affordable. The Tent is made up of long-lasting, durable fabric that resists water and keeps you dry on the rainy days.  The camp takes just a few seconds to install automatically and folds into the carrying bag so that you may be able to spend more quality time with your friends and family.
This camp is a spacious one. It can easily accommodate two adults and also two children if needed. It is made to withstand rough and tough weather. The fabric is reliable enough to last long. The Tent has large ventilated windows that make it airy. In addition, it comes with large storage pockets useful to place things in. It also comes with an instruction manual to help you in the installation process.
It comes with a 90-days guarantee within which you can replace the Tent for any damage. The Tent is really very affordable and comes with all the intelligent features that make it a must-buy. It provides great value for money at a price that beats many competitors.
Breathable and durable fabric.
Sturdy construction.
Comes with the ventilated windows
It comes with large storage pockets.
Automatically installation and folding mechanism.
It can accommodate only two people.
A Quick Buying Guide to find the best Pop up Tent for Camping
Pop up a camping tent is very popular among the adventurers and those who love to go on an outdoor trip far and wide. These convenient tents are available with several different features according to your needs. The market is saturated with the number of pop-up tents having different sizes, designs, and qualities, so finding the right one is not easier. You should have complete knowledge about the tents before going to find one for you.
So, we are here to help. Let's find out the comprehensive buying guide that helps you to make the right decision. 
What are the Pop-up Tents?
Pop up tents are the tents designed specifically for the campers and adventurers to stay outside and enjoy camping in the woods. Holiday making becomes convenient and safe due to these pop-up tents. They do not require to be established like the complicated models and easily be able to accommodate two or three people.
These tents are easy to establish and lightweight. They are easily foldable and can be packed into a carrying bag or a backpack so that you can carry it around conveniently. The tents are extremely simple and have a single opening and wall.
Benefits of a Pop-up tent
Easy to Setup – These tents are extremely easy to establish. You can set up a tent in a matter of just a few minutes.
Convenient and portable- The pop-up tents are designed for outdoor activities. That is why they carry very lightweight. They are compact and foldable so that you can keep them in your backpack and open them up at the time of need.
Affordable – These tents are very affordable. They come at a competitive price as compared to the other costlier types and offer great value for money.
Factors to Consider while buying a Pop-up Tent
There are several factors you should ponder over in order to make a reasonable decision. These factors vary from the budget to the several characteristics; the Tent may possess. Let's dive into detail to buy a competitive model.
The frame of the Tent
The frame of the Tent is the most important aspect as far as the setup is concerned. The Tent depends upon its Guylines and Stakes. They are essential to maintain the Tent's shape and prevent it from blowing away in the windy weather as there is quite a lot chance of your Tent being blown due to its lightweight and material. 
Different tents come with a different type of Guylines and stakes. Some of them may come with the rope. Make sure that you do not choose a tent with the weak stakes or the one that spikes out. Because such stakes tear off the Tent. Bury the stakes deep in the ground with the help of the hand pressure of if it does not work, try to do it with some other object or with your shoe.
Space
One of the most important factors you should keep in mind is the room space you need. If you tend to use it for your family, then buy a family tent that is roomy enough to accommodate all of you. However, if you are leaving for the trip alone, then you can buy a small hiking tent but make sure that it is able to accommodate all your belongings like your sleeping bag, camping mattress or stretcher, your luggage, and the water cooler, etc.
Number of Doors
Your choice must depend upon the number of people going to occupy a tent. If you are more than 3 or 4 people sharing the Tent, then it is suitable to buy a tent with at least two doors so that nobody gets disturbed and freely moves in and out. You can use one door to come in and one to get out of the Tent. 
Weather Resistance
Weather resistance is an important factor as far as the outdoor gears are concerned. They should be rugged enough to withstand the harsh weather and wear and tear. Make sure that they are made up of the durable and reliable material that may afford to last long.