Hiking & Backpacking Tent Comparison Table
Best Hiking Tent for Australia: Reviews 2023
Naturehike Cloud-Up 2 Person Backpacking Camping Tent Lightweight Outdoor Tents for 2 Person Camping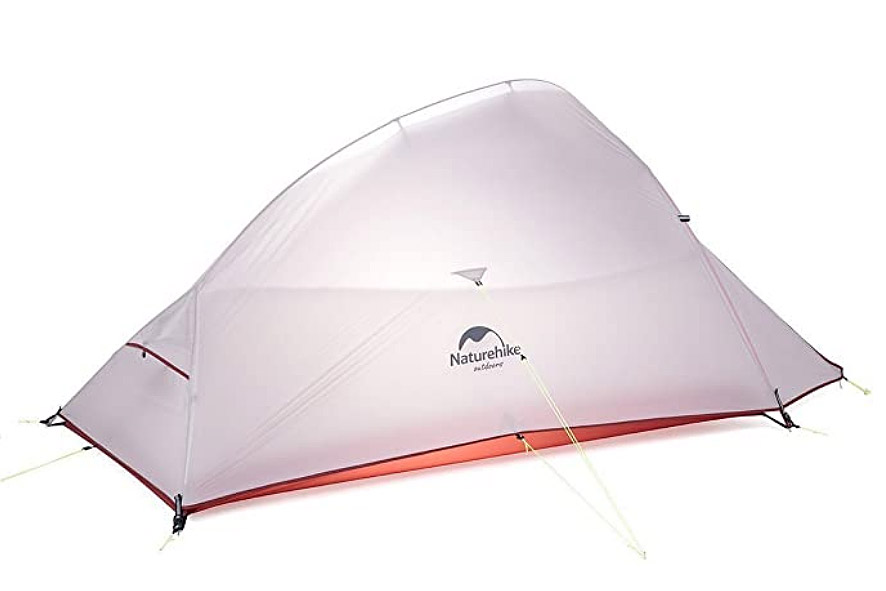 Often people complain that manufacturers make tents for only one or two seasons. Since different people have different preferences, they would much rather prefer a tent that is suitable for all seasons. If you have found yourself complaining about the same issue, then the first tent on our list by the brand Naturehike would be excellent for you. Apart from being superior when it comes to using them in various seasons, what makes this tent exceptional is the lightweight feature.
If you are worried about feeling suffocated in a hiking tent for camping, then don't be, especially if you choose to buy this tent. As it has an updated way of ventilation, you can say goodbye to condensation and say hello to ventilation. Even when you are inside the tent all zipped up, you will not find it hard to breathe. It would be as if you are lying right under the sky. Another feature that makes this tent an excellent contender is that it has free-standing poles, which makes it really easy to set it up. It has a rain fly which would provide you sturdy protection- be it heavy rain or a thunderstorm.
Finally, this tent comes in two colors: green and orange. Not a lot of tents offer this feature
It comes in two bright colors.
It has free-standing poles.
It is perfect for all seasons.
It only has one vestibule.
Naturehike Star-River 2 Person Lightweight Tent 20D Silicone Fabric Waterproof Backpacking Tent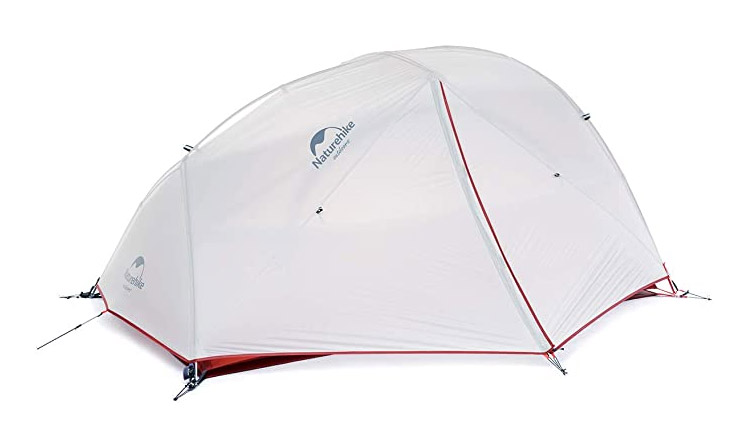 Naturehike has been manufacturing excellent outdoor products. So don't be surprised if you see more than one hiking tent on this list. If you and your partner are looking for a tent for a quiet weekend getaway out in the woods, then it would be hard for you to find a better tent than this one. It has enough room to fit two adults comfortably. The two adults can not only sit in this tent comfortably but also sleep in it with ease as it would provide more than 30 square feet for sleeping. Moreover, this tent weighs only 2.1 KG when it is fully packed.
This means that portability would not be an issue with this tent. If you want to carry it in your car or RV, you would be easily able to. What's great about this brand is that they make sure they manufacture a product for anyone. So, if you are tired of owning black and white-colored tents, then you would be glad to know that it comes in 3 different colors, grey, orange as well as green. When it comes to the manufacturing material of the tent, the brand has made sure it doesn't disappoint in that department too. The fly of the tent is made of 20D Nylon, which is covered by silicon. These two things ensure that the tent remains durable for years to come.
Finally, this tent has two doors which not only provide excellent ventilation but also protect people from the cold wind.
Comes in three different colors
It has two doors for ventilation.
It is manufactured out of durable materials.
It is not as easy to set up as the rest of the competitors.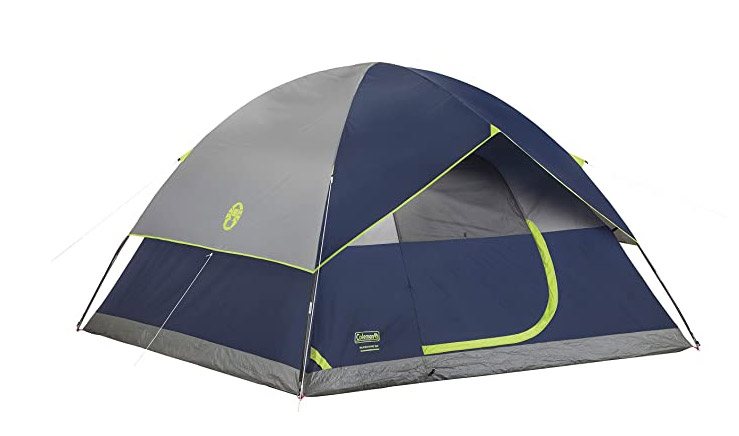 Often, tents that have a dome design are not stable enough to withstand strong winds and storms. That is not the case with this tent. It is excellent when it comes to standing firm on its feet during severe weather. Additionally, it also helps protect you from light rain or dew. Once you are inside the tent, you would not need to worry about the rain coming inside and filling the tent. The rain fly of this tent cover enough parts- mainly being central roof mesh, doors, and back windows- to make sure that you remain dry all the time.
But to ensure that you remain dry all the time, you have to close the zippers properly. Otherwise, the rain might get into the tent. For even more protective measures, make sure to seal the simmers before getting into the tent. Now, let's talk about the floor of the tent. As it is made out of polyethylene, you would not need to worry about the tent leaking anything. The seams are located above the ground level, which helps in keeping it clean from the dirt on the ground. Finally, the tent comes with adjustable ventilation panels.
The ventilation panels do a great job of keeping heat out of the tent while retaining cold air.
It offers excellent wind and storm protection.
The floor prevents leakage.
The temperature is breathable inside the tent.
Not the best in heavy rain.
TRIWONDER 2-3-4 Person 3 Season Camping Tent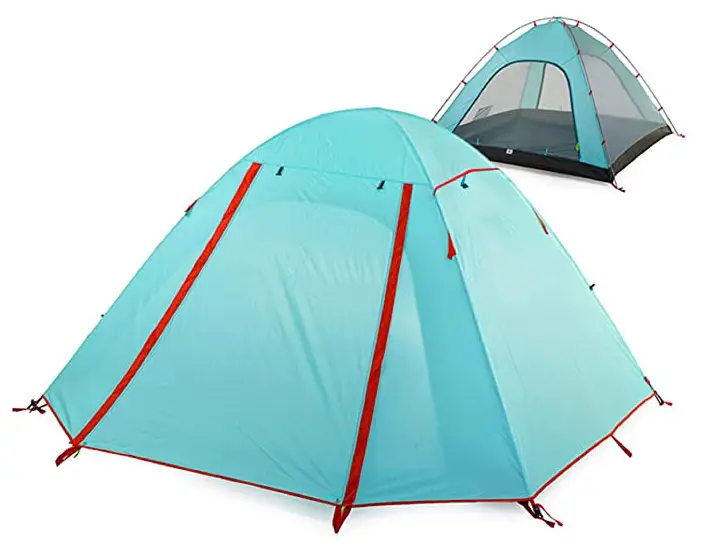 There have been a lot of complaints about camping tents that do not look good. They might have a lot of excellent features, but their appearance isn't one of them. If you would like a tent that lets you camp in style, then we have just the right product for you. This tent has a stylish design. It consists of double layers and vast interior space. The interior space makes it ideal for four persons to sleep inside the tent. Since it can accommodate a large number of people, it comes equipped with two vestibules, so people can quickly come and go. The doors can be opened from both inside and outside.
The tent also has not one but two ventilation skylights. They make sure that you remain fresh and energetic thanks to the fresh air that comes inside through those ventilation skylights. The mesh yarn is quite effective in keeping the insects out of the tent while allowing cold air to pass through. The frames are durable enough to not sway with strong wind. The tent comes with all the necessary tent accessories that are required for an enjoyable camping trip. The outer tent later can be used either for keeping shoes or your backpack. Finally, the tent is very easy to set up. You don't need a third person or extra tools to do it.
It has a stylish appearance.
It is waterproof
It can be installed easily.
The zipper does not run along all the way to the bottom.
GEERTOP Ultralight 1 Person Backpacking Tent 4 Season Outdoor Waterproof Single Tent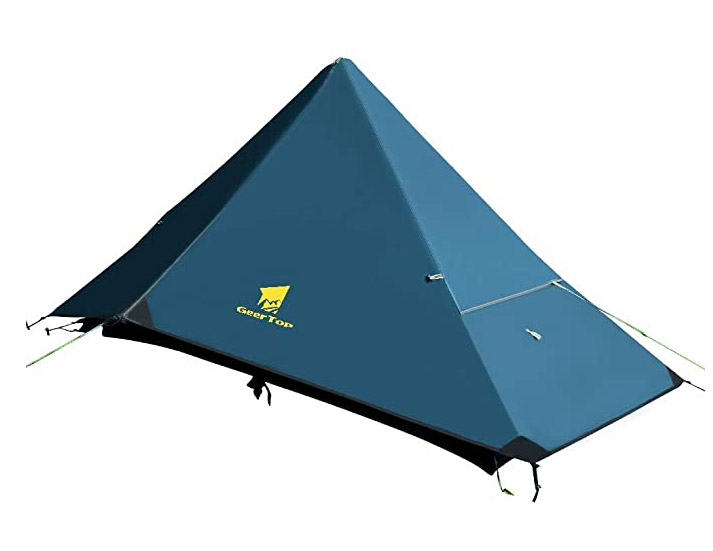 The last camping hiking tent on our list is for those who are looking for a lightweight tent. And not just lightweight, but space-saving too. Such people would be glad to know about this tent. As it weighs only 1 KG, it would not take much space in your backpack. Additionally, carrying the backpack would also not be a problem as it doesn't weigh a lot. One of the best things we found about this tent was that it was quite easy to set up. All you need are two trekking poles, and you would be good to go. The flaw here, however, is that the tent does not come with poles.
The design has been made in such a way that it allows two doors to be included in the tent. It also has a skylight to ensure even better ventilation inside the tent. It doesn't matter how long you stay inside the tent; you would never have a problem breathing in it. If you are a solo traveler, then you would not face any problem lying comfortably inside the tent. You can even read, eat, or change clothes inside the tent. That's how spacious it is for a single person. Before choosing one of these tents, make sure to select the model you want. Since it comes in multiple variants, you can quickly get confused.
Weighs only 1 KG
It has two doors
It is perfect for one person.
It doesn't come with trekking poles.
Buying guide for the best hiking and backpacking tents in Australia
Even with such excellent options in front of you, it can be hard to choose a tent. If you feel the same way, don't worry, we have got you covered too. Here, we are going to discuss a few factors you should keep in mind before selecting a camping hiking tent. If you are still stuck, check out these helpful tips for tent camping.
What to look for when buying a hiking tent
Size
The first important factor for you to consider is the size of the tent. Before buying a tent, think about the number of people who would be using it. Do you want one that is spacious enough to fill four or more people such as a family tent? Or are you looking for one that can fit you and your partner? Or are you looking for one that can just accommodate you? Once you have identified this factor, the rest should be easy. Keep in mind that if a tent is advertised to be for two people, then it would be only for two people. Three people cannot sleep in a two-people tent, regardless of how short the person might be.
Standing space
While most people think that a tent should be ideal for a person to sleep in, a lot of people do other activities in it too. For example, some like to read inside a tent while others might want to change clothes inside one too. And to do that, you should have enough space in it to stand correctly, especially if you are taller than the average person. There are some tents which have a height of 48 inches. Such tents would be more than enough for people to stand upright without having to worry about their head touching the roof of the tent.
Weight
Always remember: the more massive the tent is, the tiring your journey is going to be. You might buy a tent, not keeping in view the complications its weight might put in front of you, but once you put it in your backpack and start hiking, only then will you understand how difficult it is. That is why you need to make sure that the weight of the tent is as low as it could be. Fortunately, it shouldn't take you long to find one. There are a lot of hiking tents available in the market that not only pack efficiently but are easy on the weight too. Some tents weigh as low as only 1 KG.
Durability
When you are spending money, not just on tents but on things generally, you want to make sure that you end up with the best product—something which you wouldn't need to change soon. You want something that will last long. The same can be said about camping tents. You don't want one which rips or stops working efficiently just after a few days of use. The zippers, construction material, poles- all of these things should be strong enough to work for a long time. Moreover, if you plan to hike during severe weather conditions, then make sure it can withstand heavy rain or strong winds.
Number of seasons
The last important factor is the season in which you intend to camp. Weather plays a crucial role in defining how well your camping experience is going to be. When you look for tents for camping, you will find that there are several variants, including three seasons or four seasons. The three-season is more suitable for summer, spring, and fall season, while 4 season tent is best for all seasons. Some tents would protect you from all the rain and strong winds coming while others would keep you warm in cold weather. That is why you need to think about the climate or the weather of the place in which you intend to hike.
Wrapping it up
We hope you find this article beneficial. We have reviewed some of the best hiking tents for camping and mentioned some crucial factors too. The decision lies in your hands now. It might seem hard at first, but consider the elements, and it would be easy as squeezing a lemon. Good luck!