One of the most special areas of Australia is Kangaroo Valley. This river valley can be found next to the Kangaroo River over in New South Wales. It is within the Shoalhaven Region. There is not much to do in this area, but you won't notice that once you see the beauty all around you.

A few of the events you may want to plan your caping adventure around include the Kangaroo Valley Agricultural and Horticultural Show, Kangaroo Valley Folk Festival, Kangaroo Valley Arts Festival, and the Kangaroo Valley Village Markets.

When you are not attending one of the local events, you can spend your days wandering around the lush green spaces. The friendly atmosphere will make you feel as if you stepped into the past, as will the fact that there are no traffic lights. Kayaking and canoeing are very popular, but so is attending the local cooking school.

This part of the country is only two hours from both Canberra and Sydney, so it is a trip you can easily make in a single day. There is a hotel in this town, but the camping grounds offer so much more when it comes to being outside in nature.
Kangaroo Valley Camping Grounds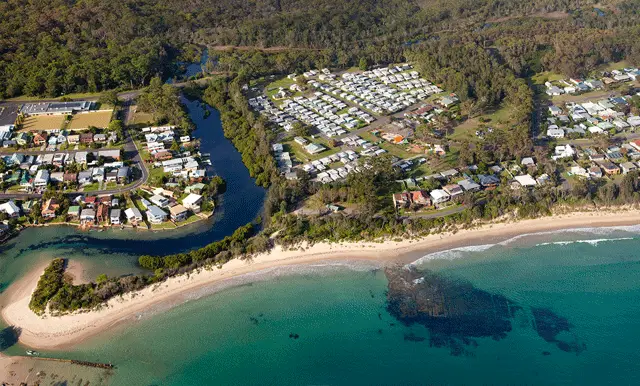 Holiday Haven offers a piece of paradise in a country setting. The historic village adds to the charm, although you may miss it with all the mesmerizing views in every direction. This camping ground is not directly on the ocean, but you can easily reach the South Pacific Ocean in approximately forty-five minutes.

Your days must begin with the sun rising over the mountains, as there is no better place to watch the dawn of a new day. Afterwards, you can go out bushwalking, canoeing, kayaking, mountain biking, or horseback riding.

While you can bring your tent or RV to this camping ground, there are also campsites that have cabins on them. Some cabins only sleep two, while others sleep up to six. All the cabins have their own bathrooms, as well as a fully equipped kitchen.

This is a dog friendly park, so you can easily take your furry friend with you. The video security will ensure your safety during your stay. There is a playground, barbecue facilities, and a camp kitchen. The Wi-Fi is free, and you will never need to worry about running out of clean clothes with the on-site laundry facilities.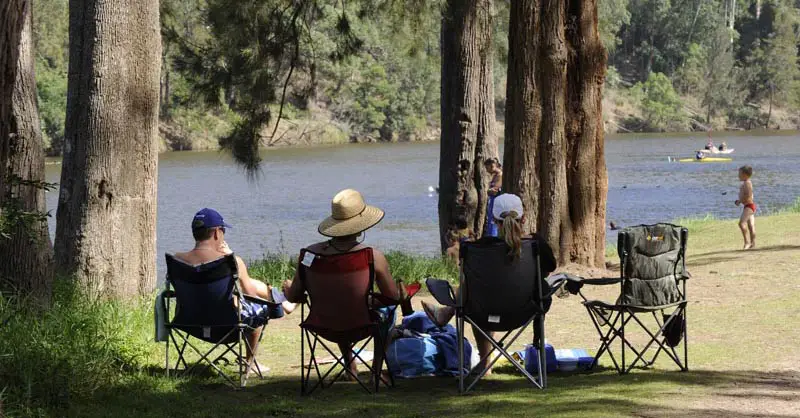 You will find the Bendeela Recreation Area approximately one hundred fifty kilometers to the south of Sydney. It is also not that far from Canberra and other small towns in between.

Some of the most popular things to do while visiting this camping ground include swimming, fishing, watching the wildlife, and venturing out in a canoe. You can also wander away from this camping ground to go walking at Morton National Park, see the Fitzroy Falls Reservoir, and have a picnic near the Tallowa Dam.

This camping ground allows tents and RVs, but you must plan your trip accordingly. The front camping grounds are open year-round, but the back-camping grounds are only open during peak seasons. While you can camp in the back-camping ground at any time of the year, you must walk in during the non-peak seasons. Those times will be when you will need a tent and not an RV. However, if you are planning on staying in the front camping area, you can drive in at any time.

There is a picnic area available as one of the amenities of this camping ground. There are also toilets and drinking water available.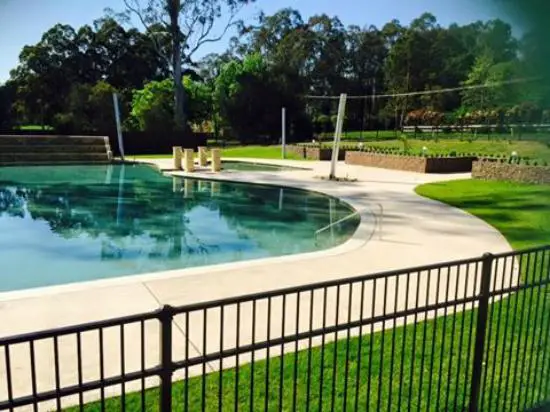 One of the best camping grounds in Kangaroo Valley is Glenmack Holiday Park. This camping ground has everything you need for a vacation and so much more. It will take you a little more than two hours to travel the one hundred fifty-eight kilometers to this destination from Sydney. While this camping ground is slightly further away than all the others in Kangaroo Valley, it is worthy of the extra distance.

While you can spend your days canoeing, kayaking, and riding a bike, you may prefer to spend a little time feeding the animals that live in the park. A feeding schedule is posted at the reception desk, so you will always know when it is time to feed your favorite animal. There is also a swimming pool, jumping pillow, playground, and miniature golf course to keep you busy.

This camping ground has sites for tents, as well as RVs. But they also have villas and cabins if you would prefer to do a little glamping. Some of the villas and cabins are smaller than others, so you will want to check them out before you make your reservations. They all have kitchens and bathrooms for your convenience.