Byron Bay is renowned for its beautiful beaches, great surfing and laid back lifestyle and is very popular with both interstate visitors and international backpackers. Accommodation in Byron can range from expensive luxury homes and apartments, to affordable camp grounds in the town centre.
For those who don't know, Byron Bay is the most easterly point of Australia. The rocky headlands and nearby marine park provide a sanctuary for whales, dolphins and turtles, which are all common sights from the lighthouse which sits high on Cape Byron. The crystal clear waters of Wategoes and Tallows Beach provide perfect breaks for keen surfers who are found in abundance throughout the Byron Bay region.
For those looking at camping in Byron Bay and the surrounding shire of Brunswick Heads, there are many options to choose from with camping and caravan grounds situated in ideal locations for any traveller looking for a convenient but cost effective accommodation option.
So throw your favourite camping mattress, and tent in the back of the car and hit Byron Bay for a weekend of camping and fun.
Camping Grounds in Byron Bay
Right in the heart of Byron there are two main camping grounds to choose from. Positioned within walking distance to the town centre and main beaches these are great options for those wanting to be close to all the action.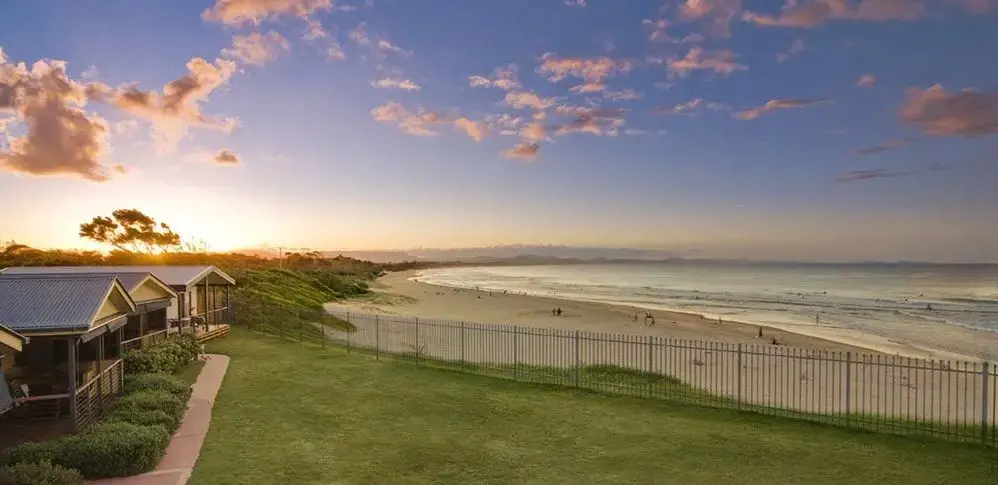 With an absolute beachfront position, First Sun Holiday Park is smack bang in the middle of Byron Bay with less than a minutes walk to the main street. As you can imagine it is very popular and often hard to get a booking during peak times.
The park offers a range of accommodation options including
Rates (correct as of October 2019)
As mentioned previously, the park and Byron Bay in general get very busy during peak times and minimum stay periods and deposits are often required during this periods.
Camping (2 people)
Peak   – Powered Site – $95/day – $665/week
Peak – Unpowered Site – $84/day – $588/week
Cabins (2 Adults)
Peak   – From $400/day – $2800/week
Low – From $195/day – $1,180/week
MAKE A BOOKING / CHECK RATES
We do not list rates as they can change regularly. Click below to check.
Clarkes Beach Holiday Park
Situated on the beautiful Clarkes Beach just a 10 minute walk from the town centre on the way to the lighthouse, the Clarkes Beach Holiday park provides a peaceful camping environment only metres from the beach. This camping ground is perfect for those wanting to camp out in a lush environment away from the hustle and bustle of the town center. It is conveniently located with the popular surf break "The Pass" only a short stroll up the beach.
The park includes options for:
With 4 different types of cabins available to choose ranging from Standard 2 person to Premium 5 person, there is an option for any budget. The Premium and Superior cabins are ultra-modern and are the perfect choice for those wanting to spoil themselves. Larger families can choose a Deluxe cabin that sleeps up to 6 people. All cabins are self-contained with a fridge, tv, air conditioning and bathroom.
If you have a caravan or motorhome then the powered sites are perfect for you. No need to bring your noisy generator to camp at these sites. Choose from premium ensuite sites, slab sites and motorhome only sites. All sites are conveniently located to all amenities and beach access.
Sites are available on both slab or grass and are situated within the lovely lush surroundings only a short walk to the town centre and beach.
For those travelling with dogs unfortunately they are not permitted at Clarkes Beach Holiday Park.
With plenty to do in and around Byron Bay, Clarkes Beach Holiday Park is perfectly positioned for easy access to the beach, rainforest walks, lighthouse, shops, restaurants and bars.
MAKE A BOOKING / CHECK RATES
We do not list rates as they can change regularly. Click below to check.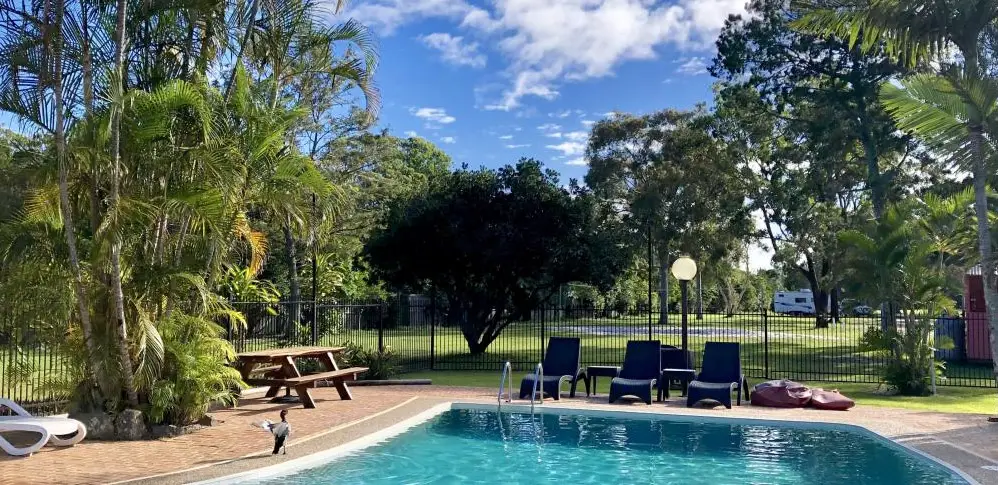 Ingenia Holidays Byron Bay
Located on the southern end of Byron Bay a short 5 minute drive from the town centre, Ingenia Holiday Park is the largest and spacious camping ground in Byron Bay. On offer within the 28 acres of parkland is 155 campsites and 52 cabins and quality modern amenities. The park is ideal for the more budget conscious travellers with many different accommodation options available.
For large families there are several cabin options available with a family villa sleeping up to 9 people, and smaller premium and deluxe villas sleeping 6. Studio and 2 bedroom cabins are also available sleeping from 2 to 4 people along with a pet friendly studio cabin.
There are options for both powered and unpowered sites, ensuite and premium powered. Premium sites are located in the far eastern area of the park overlooking the forest towards the beach. These sites are generally larger than standard campsites. If you prefer your own private bathroom then there are several ensuite campsites available.
MAKE A BOOKING / CHECK RATES
We do not list rates as they can change regularly. Click below to check.
Popular Questions about Byron Bay
Byron Bay offers up a wide range of activities for the whole family or solo travelers. Being surrounded by water, it is no wonder surfing is a very popular activity, along with swimming, and diving at nearby Julian Rocks. Those looking for more adventure can try skydiving, or even hanggliding off the western beach. Less adventurous activities include local markets, live music, fishing and hiking in the nearby hinterland and rainforests.
Is Byron Bay full of Hippies?
Byron Bay is renowned for it's laid back, relaxed lifestyle made famous by hippies in the late 70's. Today, the town is still popular with hippies and more so backpackers from across the world looking for a place to relax and enjoy the beach side lifestyle that Byron Bay offers.
Can you camp on the beach in Byron Bay?
Camping on the beach, or simply camping anywhere not specifically authorised as a camping area is in fact illegal in Australia, however in remote locations the risk of being fined would be low. In Byron Bay, rangers regular check carparks and beaches for campers as the area is very popular with backpackers.
Are there free camping spots in Byron Bay?
The short answer is no. As Byron Bay is very popular, there are no free camping spots within the town area. Rangers are very active in the area and you will risk a fine if found camping or sleeping in your car.
Are there holiday homes for rent in Byron Bay?
Byron Bay is renowned for its extensive number of holiday homes and accommodation. However, it's not cheap and is often in high demand, especially in holiday season. If you are looking for the best holiday homes in Byron Bay, then check out OnHolidays guides.