If you haven't been to Bright then do yourself a favour and add it to your bucketlist. Situation in the Alpine National Park in Victoria, the region is known for it's wineries, hiking and close proximity to popular ski resorts Mt Hotham and Falls Creek.
Bright is easily accessible by car and is less than 4 hours drive from Melbourne which makes it the perfect location for a weekend getaway. There are many accommodation options from Bed and Breakfasts, hotels and quality camping grounds.
For those looking at camping in Bright there are many options to choose from with camping and caravan grounds situated in ideal locations close to town. So grab the family tent, your best camping chair and check out Bright on your next holidays.
Camping Grounds in Bright, Victoria
There are a number of campgrounds situated right in the heart of Bright. These are positioned within walking distance to the town centre and main river and are great options for those wanting to be close to all the action of bars, cafes and restaurants.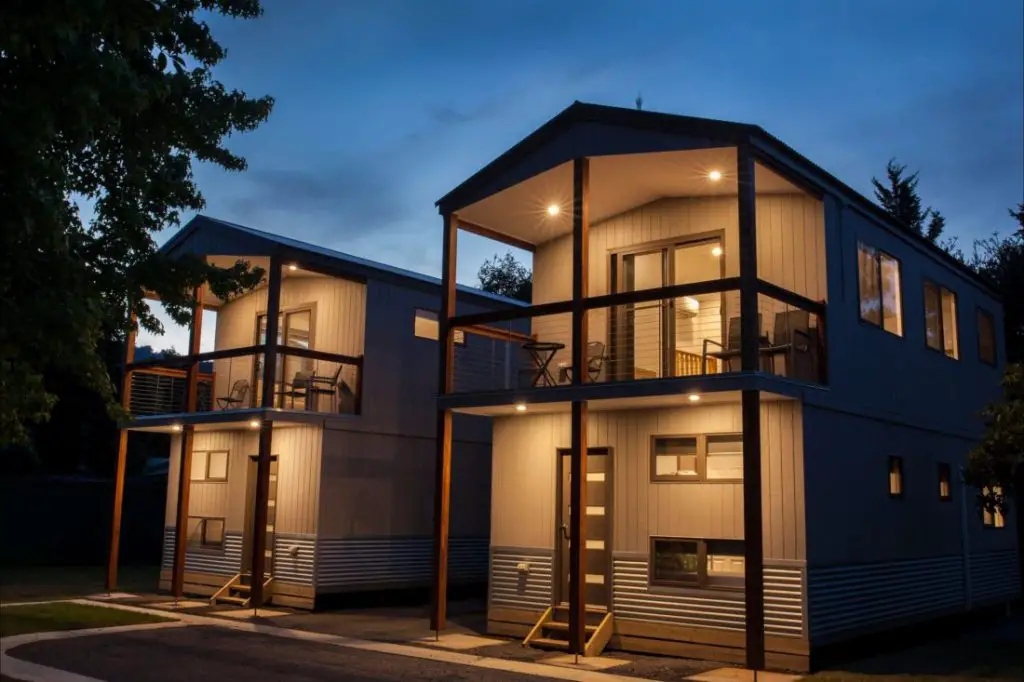 Situated in the resort precinct of Bright, right on the banks of the lovely Owens River and nestled amongst beautifully landscaped gardens, BIG4 offers a wide range of accommodation options. Choose from cabins, villas and leafy camping spots all walking distance to town and attractions.
The park offers a range of accommodation options including
With so many accommodation options and different booking periods, it's best to check the current rates directly with the holiday park as they are subject to change.
MAKE A BOOKING / CHECK RATES
We do not list rates as they can change regularly. Click below to check.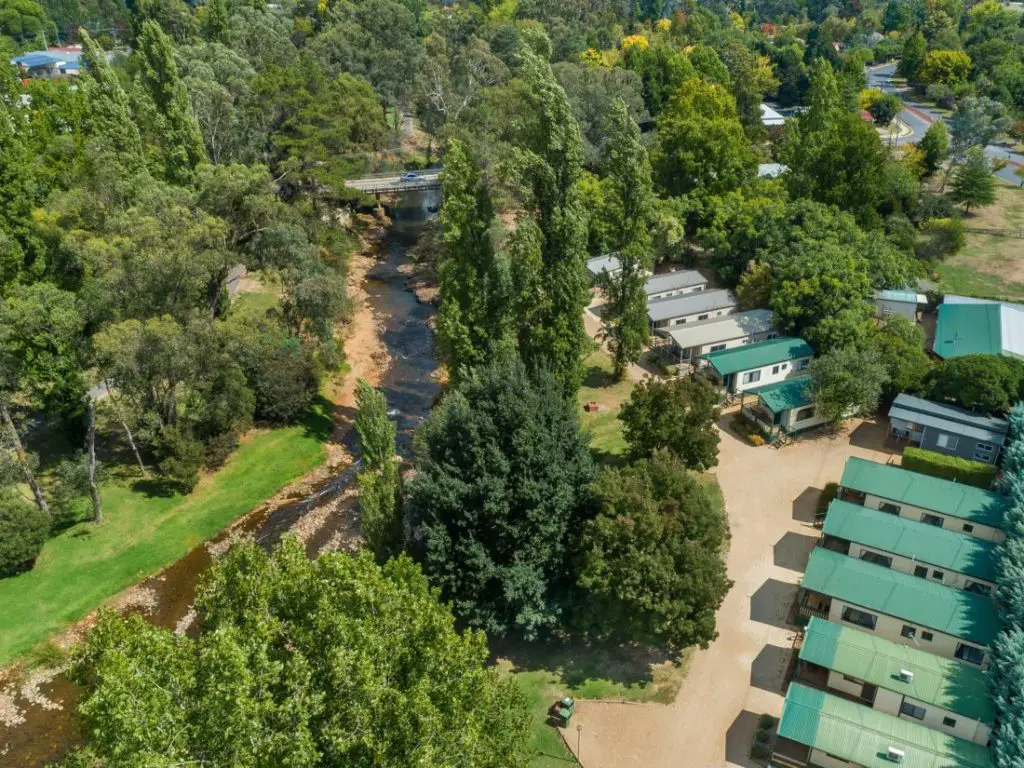 Bright Riverside Holiday Park
Situated on the northern side of Owens River, Bright Riverside Holiday Park is centrally located only a short stroll from all there is to see and do it Bright. The river provides the opportunity for a wide range of activities that will surely keep the kids and adults entertained.  Enjoy swimming, fishing, or simply floating down the river.
The park includes options for:
Cabins, Villas & Cottages
There are several different cabin options to choose from at the holiday park, including absolute riverfront complete with firewood for those cold nights in front of the fireplace. Cabins include tv, living room, fireplace and full kitchen facilities.
There are a number of riverfront powered campsites to choose from overlooking the Owens River. Please be aware, as you can imagine these are very popular so get in early. Standard powered sites on grassy lots are available for caravans, tents, camper trailers and motor homes.
Sites are available on throughout the grounds and are suitable for camp sites and caravans are still provide easy access to amenities and the Owens River.
MAKE A BOOKING / CHECK RATES
We do not list rates as they can change regularly. Click below to check.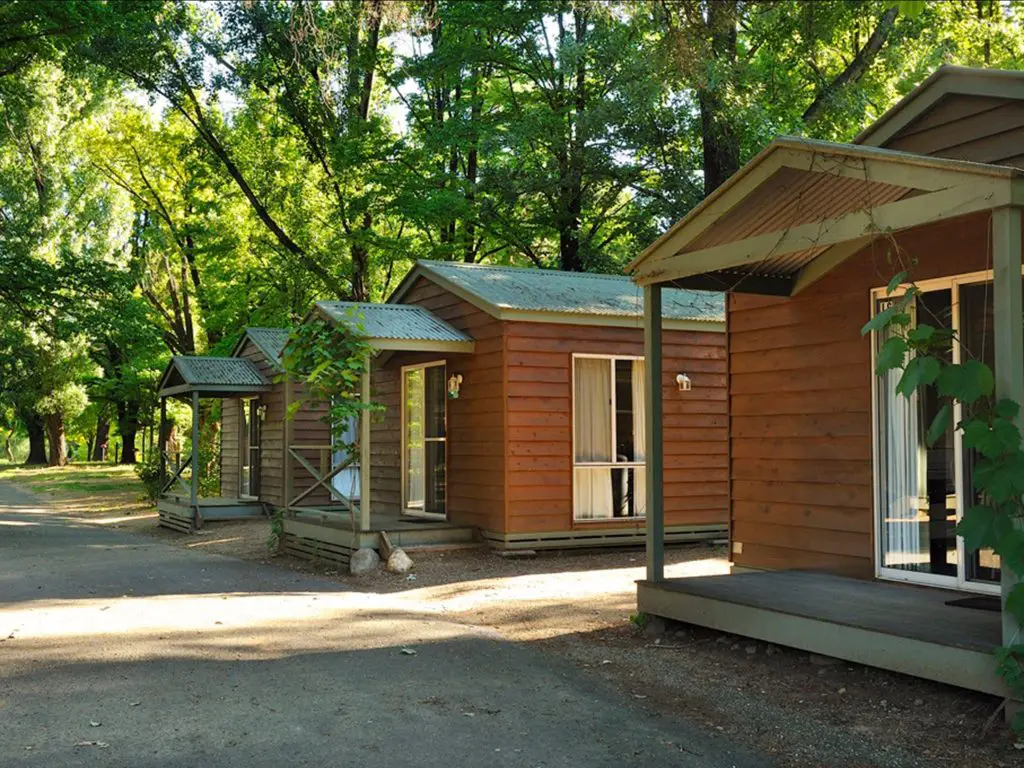 Perfectly positioned close to cafes, bars and restaurants, NRMA Bright Holiday Park is a great gateway to Victoria's Alpine high country. Situated on Morse's Creek, the park is in an ideal bush setting and only 90 mins drive to popular bushwalking, mountain biking areas of Mount Hotham and Mount Buffalo.
The park features a variety of accommodation options including one and two bedroom self-contained cabins and villas, spa villas, powered and unpowered camping sites.
There are plenty of features at the park to keep children entertained such as mini golf, sparkling clean swimming pool and playgrounds.
Cabin and Villa Accommodation
There are a wide range of cabin and villa options at the park and all feature air conditioning, tv & Foxtel, full kitchen and bathrooms. All contain 2 bedrooms and sleep between 4 and 5 people. For budget or solo travelers there are also dorm rooms available.
There are options for both powered. unpowered and ensuite sites. All offer 2 car spaces, and the powered and ensuite sites have power and water. These are suitable for tents, caravan, campervans and motorhomes.
MAKE A BOOKING / CHECK RATES
We do not list rates as they can change regularly. Click below to check.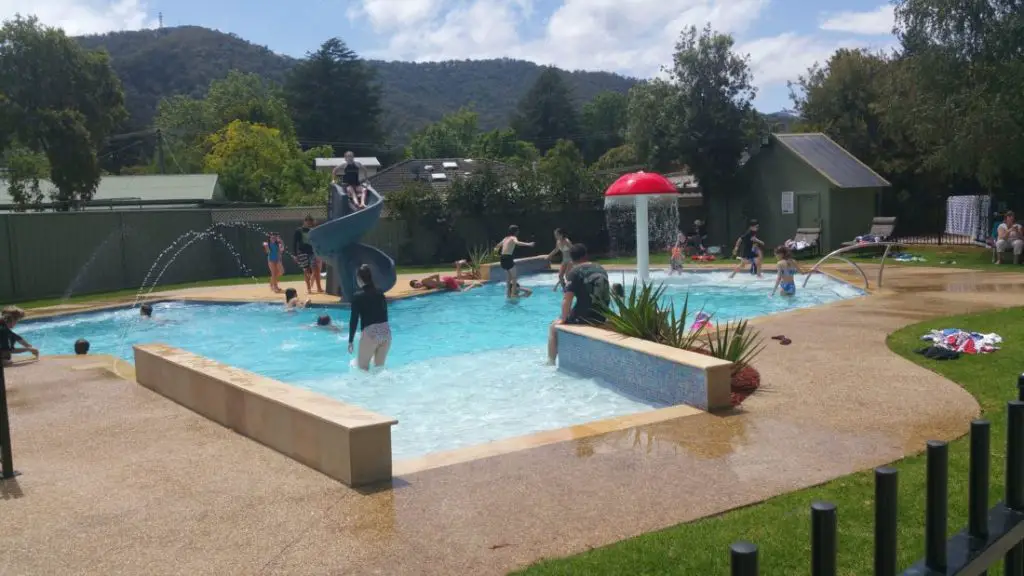 Bright Pine Valley Tourist Park
Family owned and operated, Bright Pine Valley Tourist Park is perfect for families and couples looking for a great place to stay and explore Bright and the surrounding Victorian alpine high country. There is plenty to do no matter what time of year you to choose to visit, with all four seasons offering a vast contrast.
The park offers fun for the whole family with plenty of activities available for kids including a large jumping pillow, mini splash park and swimming pool.
For those looking to bring pets, there are several pet friendly options available.
Pine Valley offers a number of cabin options for families of all sizes. Unique to Pine Valley is the 4 bedroom House that sleeps up to 8 people and includes it's own veranda and BBQ facilities. For smaller families or couples there are units and cabins available ranging from 2 to 3 bedroom. All include air conditioning.
There are 5 powered sites that all have power, water, sullage and a new ensuite toilet. There are plenty of unpowered sites in shady and sunlit positions.
MAKE A BOOKING / CHECK RATES
We do not list rates as they can change regularly. Click below to check.
Find more accommodation deals in Bright
Popular Questions About Bright, Victoria
Where is Bright, Victoria?
Bright is a small town in north-east Victoria, Australia. It is 319 meters above sea level and is in the Alpine Region
There are plenty of things to do in and around Bright. In summer it's popular to float down the river which runs through the centre of town. Hiking, mountain bike riding, horse riding are also popular in the warmer months. There are plenty of wonderful cafes, restaurants and bars to visit.
Are dogs allowed when camping in Bright?
Does it get cold in Bright?
Yes, in winter it can get very cold at both day and night. It is advised to pack warm clothing and bedding. It often snows in Bright, and the best ski fields are only a short drive away. Fires are allowed in some locations, but be sure to always check with the current fire bans. Consider using a diesel heater in your caravan for extra warmth.