Light up your campsite and say goodbye to batteries with a rechargeable camping lantern!
When camping outdoors, electricity is often hard to come by – or non existent at all. This is what camping is all about, getting back to nature and having a fun experience, however it's also a good idea to have a quality light or lantern when it comes time to cook a meal, or navigate your way to the campsite toilet.
Camping lanterns are a great idea and provide an indirect lightsource that's ideal inside your family tent, or around common areas (such as gazebos or cooking areas). Having a lantern that is rechargeable is an added bonus, as buying batteries can become costly and if you have a generator, solar panels, or even just your car, then the lantern can easily be recharged.
Anyway, let's get straight into our rechargeable lantern reviews. In our opinion, the best lanterns are:
Rechargeable Camping Lanterns for Australia Reviews 2023
Goal Zero Lighthouse 400 Lantern and USB Power Hub
What's better than a standard lantern? A lantern with a USB power hub. You read it right. This lantern has a USB output to keep your devices charged all day. This is a brilliant take on the usual lanterns. Out in the woods, when you are camping, it can be quite unfortunate when your phone runs out of battery. You miss out on all the cute pictures you could have taken. Additionally, in case of an emergency, it becomes an even bigger problem. But enough about the USB feature, this lantern has other amazing features that deserve attention as well.
The LED light on this lantern can be adjusted and directed. This allows you to turn the light towards a dark area anywhere around you. Another highlight of this lantern is that its legs are collapsible. When you are not using it, simply fold it and keep it away until you want to use it again. The collapsible legs are also great for when you want to travel with it. The lantern also comes with a handle that allows you to easily carry it from one place to another and hang it on a tree branch.
It comes with a USB power hub
The LED light is adjustable
It has collapsible legs
The build quality could have been better
LE 1000lm Rechargeable Camping Lantern 3600mAh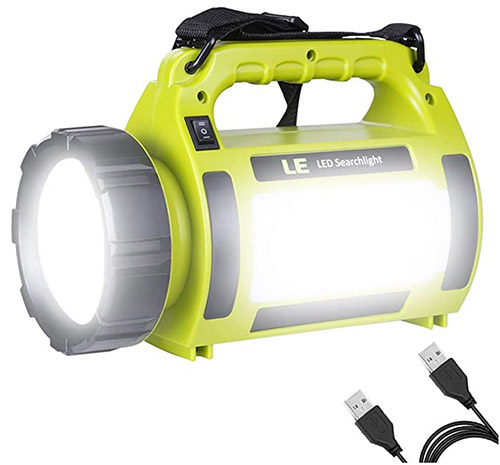 The reason we started off our list with this lantern is that it is incredibly versatile. If you have complained about lanterns not having enough lights, you would be glad to know that this lantern comes with not one but three lights. One of them is at the front, and the other two are at the side. This factor makes this lantern extremely helpful during camping. All of these lights have a separate purpose as well. For instance, the light at the front is better suited for rescuing or only camping.
The light on the left side is somewhat softer than the main light, making it useful for when you are working. The light at the right acts more like an emergency light. You can even change the brightness of the lights. Additionally, the light at the front can run up to 5-6 hours with just a single charge. The battery indicator informs you when the battery is low so that you can recharge it. Overall, this is an excellent lantern that has a lot of benefits. It is mainly going to help if you live in an area that suffers power outrages a lot.
It is versatile
It has three lights for different purposes
It indicates the level of the battery
The main light could be brighter
LE LED Camping Lantern Rechargeable, 1000LM, 4 Light Modes, 4400mAh Power Bank, IPX4 Waterproof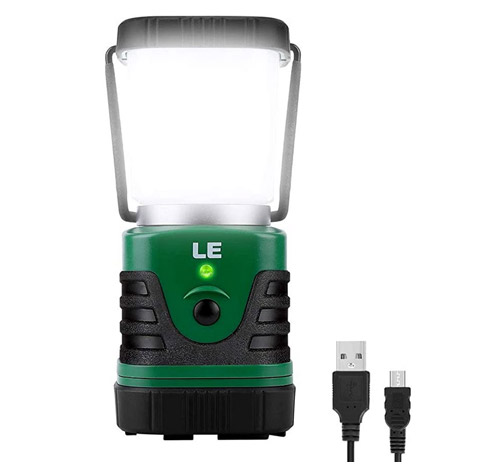 Looking for a lantern with multiple lighting modes so it can accommodate you in different situations? Look no more. The next lantern on our list comes with three different lighting modes—full brightness, half brightness, and flashing mode. Depending on your specific needs, you can choose the lighting mode. Another excellent feature of the lantern is that it is very portable. Whether you are going for a walk, looking for something in the dark, or simply camping with your buddies, you would have no trouble carrying it.
The lantern comes with a hook that is at the base. With the help of the hook, you can hang the lantern upside down. If you want to make sure that the light reaches far off areas in an open space, simply take the top off. It also has a little blinking light, which eliminates any chance of the lantern getting lost. As the lantern's protection grade is IPX4, water splashing coming from any side would not be able to damage the lantern.
It comes with three different lighting modes
It is very portable
Long battery life
You can hang it upside down to light open spaces properly
Can take a while to charge
Coleman Rugged Lithium-Ion Lantern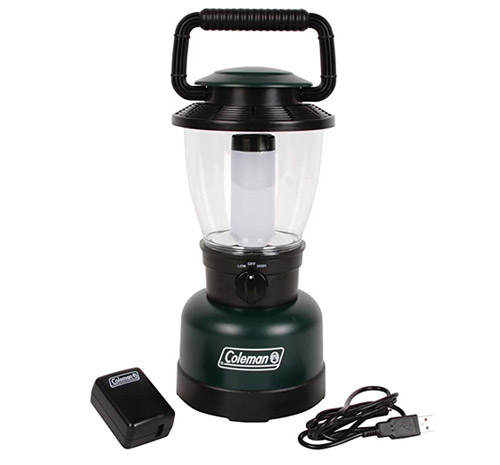 Some people prefer to buy fancy things. Others, however, choose something much simpler. If you belong to the latter category of people and are looking for a simple rechargeable camping lantern, then the next product on our list would be perfect for you. It has a very minimalist design similar to an actual lantern. However, the features it has are not ordinary. They are quite excellent. Talking about the battery first, the lantern comes with a rechargeable lithium-ion battery. And that's not the best thing about the batteries. You can charge them with any socket of your house.
You don't have to worry about fetching fresh batteries for the lantern ever again. Just make sure you have charged them before heading out on a camping adventure. As soon as the LED indicator turns green, you will know it is fully charged. In its highest settings, the lantern can shine 400 bright lumens that go as high as 12 meters. The lantern light may be bright, but it is never bright enough to damage your eyes. The brand Coleman has engineered the lights so that they reduce the glare coming from the light.
The design is very simple yet likeable
It comes with a USB port
It comes with a handle that makes it easy to carry
Well known, trusted brand
The port for recharging the lantern is fragile
Blazin' Bison Battery Rechargeable LED Lantern | 500 Hour Runtime | Phone Charger | Camping Light (600 Lumen, Red)
If you want to enjoy the colors of life truly, you have to buy things that come in multiple colors. Items such as the next lantern on our list by the brand Blazin'. It comes in four different colors, which are so exciting that you would want to buy all four. You might be wondering, 'sure it looks good, but does it perform well too?'. The answer is: absolutely. The lantern shines at 600 Lumen, which is enough to light up a whole room.
Charging this lantern is very easy. Whether you have a socket in your car, on your wall, or even in your computer, just plug it in and let the lantern charge. The lantern happens to be very sturdy as well. It is water-resistant, and unless you drop it from above five feet, it would not be damaged either. Overall, this is an excellent lantern that would remove all your worries when you have gone camping.
It comes in 4 exciting colors
It is bright enough to light up a whole room
It can be charged from any socket
Even at its lowest settings, the brightness is too much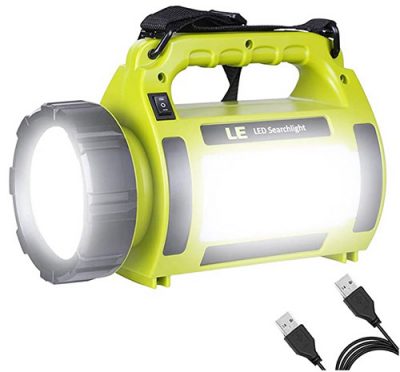 Your Guide to buying a Rechargeable Camping Lantern
Before going to buy a lantern there are a number of factors you should consider. We have outlined the most common below.
Battery vs. Rechargeable Lantern
One of the first factors you should consider while buying a rechargeable camping lantern is whether you want to buy one that runs on a battery or one which is rechargeable. There was a time when battery lanterns were quite common. However, these days, rechargeable lanterns are becoming more and more common. Both kinds have their own sets of pros and cons. So, ultimately, it depends on what you want to buy.
For example, the advantage of using battery lanterns is that even if the batteries run out during your camping trip, you can always carry back up with you. On the other hand, the advantage of rechargeable lanterns is that some of them come with a USB outlet that you can use to power your devices. These lanterns also save money you would have spent on buying extra batteries. The disadvantage of a battery lantern is that you would have to keep spending money on additional batteries. The downside of rechargeable lanterns is that you cannot charge them in the middle of anywhere out in the woods. You need a proper socket.
Lumen Count/Brightness
Another essential factor for you to consider is the brightness of the lantern. Often people think that the brighter the lantern, the better it will be. That is not true. The quality of the light also matters, not just the brightness. Some lanterns have bright lights, but they also have that glaring effect, which can be dangerous to your eyes. The lantern should also allow you to adjust the brightness of the light. In an open field, you might need a light with full brightness.
However, if you plan to read a book, then the light should be a little dimmer. You can measure the brightness of a lantern in Lumens. The higher the number of Lumens, the brighter the lantern is going to be. If you plan to camp in an open space, then you need a lantern with high Lumens. However, if you are just using the lantern to light up your room or your tent, you need to go for high Lumens. Lumens of a lantern can vary, ranging from a few hundred to even thousands.
Additional features
There are some other features that may not be important for you, but if the lantern you are going to buy has them, then it will be very beneficial. One of those essential features is a USB port. A lot of rechargeable lanterns these days come with a USB port. Brands understand it is almost impossible to go somewhere without your smartphones.
They have come up with an innovative solution: a USB port installed in a lantern that charges your devices. Other features include the lantern being water-resistant. If you intend to camp near a lake, then this feature would come in handy. They might not be completely waterproof, but enough that if you accidentally splash some water on them, they will not stop working.
Battery size/mAh
The final important factor is the size of the battery of the lantern you wish to purchase. Although some lanterns are not rechargeable, meaning that you would have to replace the batteries once the juice runs out, many lanterns are rechargeable. Some lanterns can give light for up to 30 hours on a single charge. We don't need to tell you how mAh works. You must have a good idea about them considering most of the smartphones uses lithium-ion batteries.
The mAh of a lantern varies, depending on the model of the lantern. They can be anywhere from a 200 mAh to even 6000 mAh. The battery drain also depends on the mode at which you will be using the light. For instance, if you are using a lantern with high, medium, and low modes, then the battery will run out faster in high settings, moderate in medium setting, and slower in the lower setting.
Popular Camping Lantern Questions