12v Camping Solar Panel Comparison Table
Portable 12v Camping Solar Panel Reviews
Renogy 12V Monocrystalline Solar Panel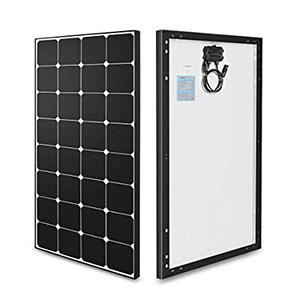 The Renogy 12V monocrystalline solar panel is one compact sized panel that punches way above its weight.
With a robust and corrosion-resistant aluminum frame that allows for extended hours outdoors, this is one tough cookie. Pre-drilled holes on the back of the panel make for fast and easy installation. The best part, its small size means it has a smaller footprint, making it a favorite among campers, boat owners, and similar off-grid applications.
Looking for the perfect off-grid solar panel but still not convinced? Let's see if we can get you over to the Renogy side of life.
Product Details & Features
Durable cell performance due to its complex laminates and advanced encapsulation material.
Suitable for off-grid and on-grid inverters.
Sturdy corrosion – resistant aluminum frame.
Bypass diodes that enable the panel minimize power drops due to reduced sunlight.
IP65 rated junction box guarantees this panel will weather most of the environmental elements.
A 4-stage battery charging process that gets your battery to full charge in no time.
Offers a 25-year warranty period.
Waterproof solar panel.
Corrosion – resistant aluminium frame that can withstand high winds of up to 2400PA and snow loads of up to 5400PA – allowing it last longer.
DIY solar kit.
Charge controllers need a well -ventilated area because they are not waterproof.
Panels energy output is low, and thus it can take many days to charge a deep-cycle battery fully.
Solraiser 120W 160W 200W 250W 300W Portable Folding Solar Panel Kit 12V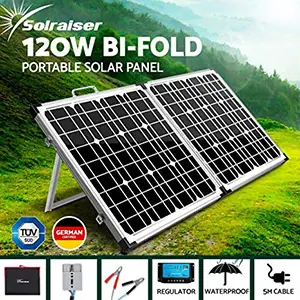 Portable doesn't quite describe it when one thinks of the Solraiser 12V solar panels. Within 15 seconds, you can have the solar panel folded and inside a 54.5 x 68 x 8cm water – resistant carry bag – ready to move.
Built with the latest monocrystalline technology, you can get upwards of 24% conversion efficiency with these panels. Throw in the enhanced aluminum frame and you have an all-weather panel built to take on the vagaries of the environment. The bypass diodes mean you don't have to worry about drops in performance during periods of low light.
Durable black silicon, a high-integrity tempered glass, and a built in overcharging protection all combine to ensure that these panels stick around for longer unlike other inferior alternatives. Throw in the 25 -year warranty ( most manufacturers don't go past the 10-year mark) and the German TUV certification, and you have a reliable and effective solar panel you can count on.
Product Details & Features
120W/160W/200W/250W/300W flexible and lightweight solar panels
Built – in USB port for personal devices
Adjustable standing frame
Waterproof
Heavy-duty surface protection
Frameless design
25-year warranty .
German TUV quality certification.
Comes with in-built battery overcharging protection.
Regulator is waterproof
Ultra-thin, lightweight frame can break in heavy winds or snowfall.
Otfrid Solar Mono Portable Foldable 12V Solar Panel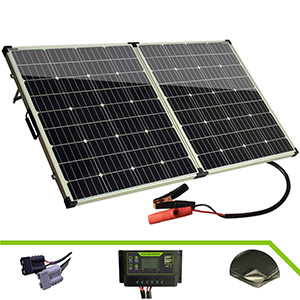 Built for campers, and probably by campers, the Otfrid mono solar panel is a great buy. It is lightweight, compact, and loaded with all you need to supercharge your off-grid adventure.
It's easy to carry handles make it an ideal panel to lug around as you look for a perfect spot to unload your tents, and can be easily set up within a few minutes. Compatible with a range of off-grid applications, the monocrystalline solar cells provide you with high solar efficiency and excellent heat tolerance.
It's also waterproof, comes with a in-built charge controller to prevent harmful overcharging, and a durable twin core doubly insulated cable that minimizes voltage drop.
Product Details & Features
An all-weather corrosion – resistant aluminium frame with stainless steel fittings.
Waterproof panels.
Dual USB ports to charge multiple devices at once.
5-years product warranty.
LED screen for battery status and charge indicator.
Charge controller can be adjusted depending on the type of your battery (Wet, AGM, Calcium or Gel) allowing for efficient and quick charging.
Compatible with a wide range of off-grid solar applications.
Monocrystalline solar panels deliver steady power output with excellent heat tolerance.
Easy to carry around when folded up due to carry handle.
Heavy duty wiring included in the pack.
Charge controller is more than adequate for the panels.
Good balance of weight and size.
Solar controller not user-friendly.
Included legs too short and can't tilt the unit very high.
NUZAMAS Poartable 4.5W Solar Panel Charger Power Car Battery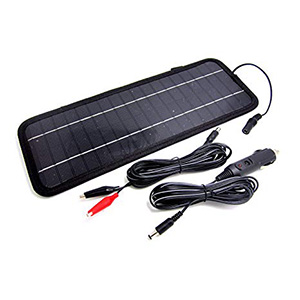 Portable but efficient, this little beauty harnesses the power of the sun to charge 12V batteries effortlessly. Be it automobiles, tractors, boat batteries or your lawnmower, it gets it juiced up in no time. Power output maxes out at 18V.
Able to produce up to 300mAh without breaking a sweat, the NUZAMAS 4.5W solar panel charger is thin enough to be placed on the front screen of the vehicle without obstructing anything. It weighs approximately 0.4kg.
It uses the ever-efficient monocrystalline panels, and on purchase – expect 1 x NUZAMAS car battery charger, cigarette lighter plug, clip line, suction cups.
Product Details &; Features
Compatible with automobiles, tractors, boat and motorcycle batteries.
In-built blocking diode prevents reverse output during charges, also ensures longevity of the batteries.
Durable and robust panels – all-weather panels.
Effective working voltage of 12V, can pump up to 22V on a sunny day.
East to set-up package complete with accessories.
Easy to carry around as it weighs 0.4kg.
Suction cups enable you to fix them on the front screen or any other suitable base while charging the batteries.
Monocrystalline solar panels guarantees an excellent power output of 300mAh.
Lightweight and easy to carry around.
Compatible with a wide range of batteries.
Multi-connections – USB, cigarette lighter plug.
Low energy output from panels.
Too small to power a home off-grid.
Dokio 200 Watts 12 Volts Foldable Solar Panel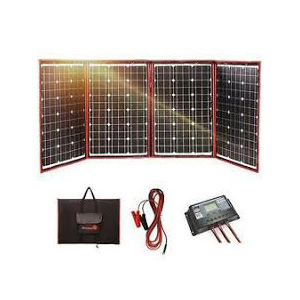 Dokio is famous for designing high-quality electrical components, and this 200w, 12V foldable solar panel certainly lives up to the billing. Powerful, thin and durable, it is a thick but easy to carry solar panel. It has a prominent carrying handle that allows you move it around quiet easily.
Made of durable materials, it is ideal for camping, hiking, charging your lawnmower, or in emergencies. The Dokio 12V solar panel is also easy to install and is well suited for long-term outdoor usage.
Weighing about 2.2kg, it can be quiet a lot to carry around. It however makes up for that with its low maintenance cost and budget friendly price point.
Product Details and Features
Monocrystalline solar panels means you get greater power output and efficiency despite the size. Power loss is also greatly reduced.
Inverter charge controller means you can use this panel without batteries.
Foldable and easy to carry around.
Panel is encased in a thick fabric casing.
5-years material warranty and 25-years output warranty.
Plug and play product, compatible with 24V and 12V systems.
Clear LCD display.
Folds well, with solid hinges that enhances its portability.
Easy to install.
Great price-to-performance ratio.
Flimsy prop-up stand that can't stand heavy usage.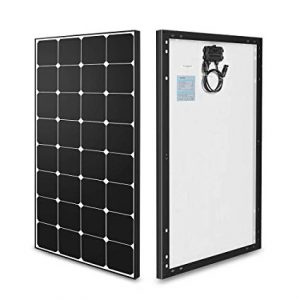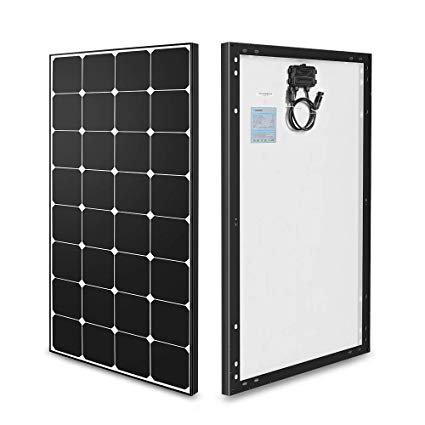 Choosing the Best Camping Solar Panels
Camping can be fun: we could list 15 reasons why you should regularly go camping. However, while camping has tons of benefits, it can be a stressful experience if you make no plans to handle your power needs while you are out there in the wilderness alone or with friends.
In the connected world we live in, a power bank is never enough to provide for all your power needs once you go off-grid.
Generators solve the problem of power. But they come with issues of their own. You don't want to be the one disrupting the peace and quiet of the woods or your camping site (learn how to make your generator quiet). Throw in the environmental damage they bring along, and you'll understand why it really shouldn't be an option for powering a low-key camping trip.
A couple of years ago, most solar panels were unwieldy bulky panels. They were extremely difficult to install, and it was always a problem carrying them around.
In recent times, powered by Moore's Law, camping solar panels have become portable, foldable and more efficient. Driven by this, more and more campers have ditched the obnoxious generators for easy to install solar panels that solve most or all of their power needs while off-grid.
Why Solar Panels?
Besides unlimited and clean energy, the power provided by solar panels is one of the most beneficial forms of energy that humans have been able to harness. It offers many benefits such as the following:
It's guaranteed natural and renewable free energy once you have adequate sunlight and the appropriate equipment.
Solar panels, unlike generators, can be used without restrictions at every campsite as long as they are installed properly and are safe.
Solar panels allow you to generate power at any location no matter how remote it might be – as long as you set it out to charge in daylight.
Having solar panels means you have extra cash to spend. Most places charge outrageous fees to campers who need tech-charging services.
No need to carry a noisy generator around and additional fuel
How to Choose the Best Portable 12V Solar Panel
Deciding on which solar panels to buy can be a tricky task, especially if you don't know what you are looking for. Here are a few pointers you must consider to ensure you pick the solar panel that is perfect for your off-grid needs.
What appliances will the solar panel be used for?
Are you going to need to power just the lights and charge your phones? Or you plan to keep the drinks cold? Maybe pump up a camping mattress? Your power needs define the size of the 12V solar panel you will need. If you need to use a camping fridge, you probably need a 12V solar panel with a higher energy output or consider a 12v to 240v inverter. That way you can power the fridge comfortably.
How long will you be out camping?
Are you gone for a week or more? You need to calculate the wattage you need for all your gadgets daily and then decide which devices you will connect to the solar panel.
Computing your daily usage also helps you pick the right battery for the solar panel. Its total capacity should be higher than that of your daily usage. Asides from ensuring you have enough power for your devices, you don't want to drain your battery every single time. It reduces its lifespan.
Lastly, pick a solar panel that exceeds your daily computed power usage. That way, you have a fully charged battery daily.
What's the panel type?
The quality and performance of a solar panel is heavily affected by the photovoltaic cell used in its production. There are two major types of photovoltaic cells – polycrystalline and monocrystalline.
Polycrystalline cells – These were the first form of solar panels developed. Built to be cost effective, manufacturers used lower grade silicone materials, while still engineering it to produce sufficient power for off-grid usage.
Monocrystalline cells – With the availability of higher grade silicone at much affordable rates, manufacturers could now produce better solar panels. Monocrystalline cells have a larger surface area while allowing for smaller sized solar panels than previously manufactured. This helped reduce the cost, size and portability of solar panels without reducing power output. They are also more durable and last longer than their polycrystalline counterparts.
What else do you need for the solar panels?
Besides the batteries, you need to get an inverter or solar regulator with quality cabling to your solar panels. Power from the solar panels usually fluctuates, and can damage your batteries if not regulated. The inverter transfers the appropriate voltage to your battery and should be able to float the charge once your battery is full.
Inverters are considered the brains of an off-grid system. They invert the direct current (DC) that the solar panel produces to alternating current (AC), which is what most appliances use.
Final Thoughts: Which Solar Panel Should You Get?
By now, you should be some sort of expert at evaluating the best 12V solar panel for your next camping trip.
My perspective, and it doesn't have to count – ensure you get monocrystalline panels. They have higher efficiency levels and are smaller in size. They also handle lower sunlight levels much better and are only marginally more expensive than polycrystalline cells. 
But most importantly, remember that you don't have to give up life's little luxuries when camping – you can still keep your phone fully charged and drink your beer ice-cold without upsetting the environment with your generator's fumes and noise.
Find loads more camping tips, tricks and products here at Bright Camping.
Setting up a portable camping solar panel system