Convert 12v to 240v on your next camping trip with these great products!
With many of life's creature comforts, they are often powered by 240 volts of power. This is not very helpful when you want to go camping and only have a 12 volt battery to run things off. This is where a 12v to 240v inverter comes in handy.
So rather than relying on 12v products such as kettles and fans on your next camping trip, a 240v inverter will allow you to simply plug in your standard 240v powered products and away you go! But what is the best 12v to 240v inverter available? Let's take a look.
Let's get straight into our inverter comparison and reviews. In our opinion, the best 12v to 240v inverters for camping are:
Best 12v to 240v Inverter Reviews 2023
GIANTZ 600W/1200W Pure Sine Wave Power Inverter 12V-240V Camping Boat Caravan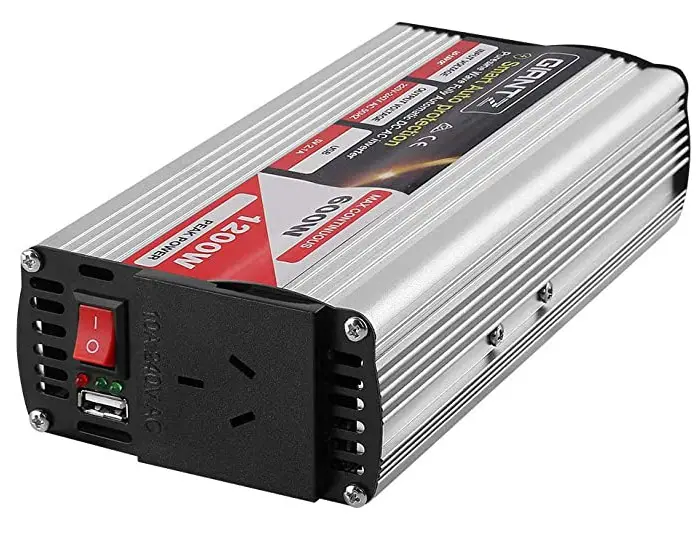 With a 3.4 rating on Amazon, this product is excellent for fast charging large devices such as laptops and tablets.
Specifications:
Amazon Rating: 3.4 stars
Weight: 1.11 KG
Efficiency: 90%
Peak Output: 1200 W
If you are looking for an inverter that can charge more than one devices at once, then this product by GIANTZ is an excellent choice. It comes with two 240V AC outlets. One of them can be used for charging larger devices while the other USB charging port can be used for powering USB compatible devices. Since it has 90% energy efficiency, crashes, glitches and noise can be prevented. It doesn't matter whether you are using it for high loads or low loads, the auto fans in this inverter will make sure that it always remains cool. It uses pure sine wave, which makes it completely safe to use.
Moreover, this inverter comes with 12V alligator clips which makes it suitable for different places such as camping, hiking or going to caravans. With this inverter with you, you don't have to worry about power failure. The safety features of this inverter are also worth noting as they protect the inverter from being overload, over-voltage and overheated. It uses the latest IGBT technology. The IGBT technology, which stands for Insulated-gate bipolar transistor is a technology developed to combine high efficiency with fast switching.
Convenient USB output
Copper magnetic core
Easy connection
Dual outputs
Known issues with the lights failing after some time
Cantonape 2000W/4000W(Peak) Pure Sine Wave Power Inverter DC 12V to 240V AC with LCD Display for Car Boat RV Solar Power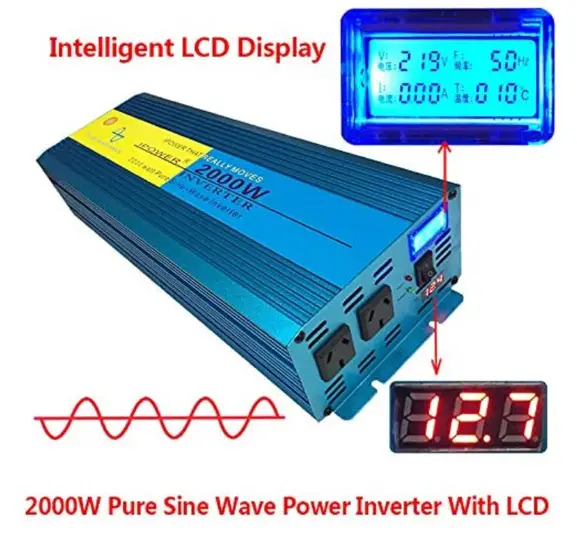 If you are looking for a powerful inverter that can run heavy appliances like a fridge, then this inverter by Cantonape should be your top priority.
Specifications:
Output Wave: Pure Sine Wave
Rated Power: 2000 Watts
Surge Power: 4000 Watts
LED Display: Input voltage
One of the most interesting features of this inverter is the LCD and LED display show. With the help of them, you can easily know the battery and output status of the inverter. The durable aluminum body provides better protection and it also allows the inverter to cool faster. The rugged construction of the inverter makes it perfect to withstand harsh conditions. This inverter is ideal for a lot of different occasions including camping, work trips and vacationing.
Furthermore, the inverter can be plugged into almost any vehicle. The high quality power backup makes this inverter ideal for running inductive loads on the inverter such as icebox and a power drill etc. With multiple output options available, finding a socket to plug it into would not be a problem. Using this inverter would not only make the batteries safer to use, but also the appliances.
Can stand harsh environments
Uses 6 kinds of protection
High conversion efficiency
Special design
It is a bit bulky and heavy
Power Inverter 600W 1200W Solar Controller Charger 20A Pure Sine Wave 12V 240V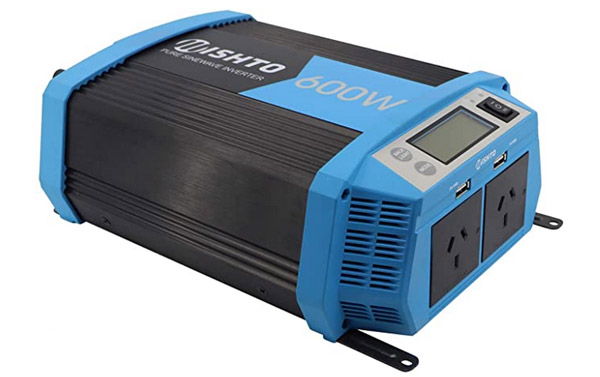 With a high 4.0 rating on Amazon, this is an excellent inverter for those who are looking to purchase one that can be used both, commercially and recreationally. The high surge capabilities are enough to provide the necessary current for starting up electrical loads.
Specifications:
Amazon ratings: 4.0 Stars
Type: 600W/1200W Pure Sine Wave
Continuous Power: 600W
Surge Power: 1200W
This inverter by Mishto has high build quality which makes it durable and ensures a longer life. It comes in 3 different models. The LCD screen on the inverter allows you to be aware of the running status of different factors such as current, power, voltage, and battery level, all the time. The pure aluminum housing makes it an excellent contender for using it in different places such as a commercial truck, RV and marine applications.
As this inverter comes with a fan cooling control, you would not need to worry about the heating of the inverter. It is also absolutely safe to use. The short circuit protection and over temperature protection make sure of the safety features needed to run this inverter.
Temperature fan cooling control
Excellent overload capabilities
LCD remote
Short circuit protection
Power Inverter, Giant 2000W 12V To 240V Car Inverter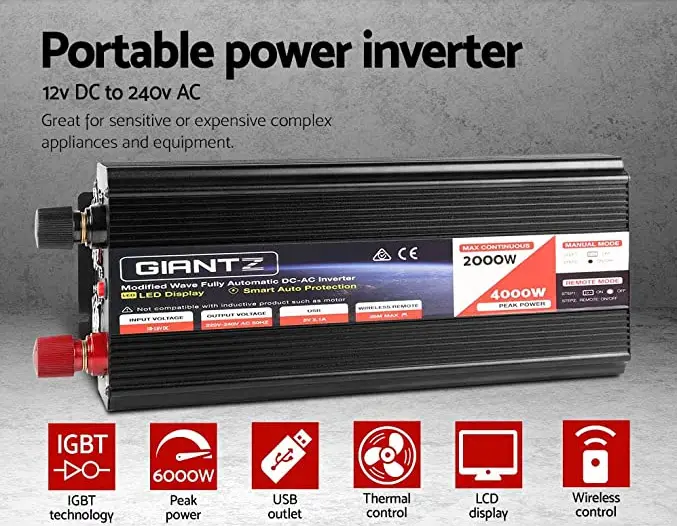 Another inverter on our list by the brand GIANT is power inverter. What makes this product excellent for usage is the safety features. Since it is built with safe charging design, it provides protection against overheating, over and under voltage charging, short circuiting and overloads.
Specifications:
Amazon Rating: 3.9 Stars
USB Current: 5V, 2.1A
Maximum Efficiency: 80%
Socket Type: Standard Australian
Just like the other inverter on this list by the brand GIANT, this product also has two 240V outlets. One, for charging larger devices like laptops and tablets and the other, a USB charging port for charging USB compatible devices. The thermal control feature on this inverter makes sure that the heat is steered out of the inverter. It uses a two-stage heat dissipation to perform that action. It doesn't matter whether you are using high loads on the inverter or low loads, the cooling panel will always keep it under control.
Moreover, as a bonus, this inverter is provided with a remote control and other important accessories which makes this inverter ideal for going camping, visiting caravans or hiking. With this product by your side, you would not have to worry about power failure.
LCD display
Wireless control
Convenient USB output
Reliable Japanese engineering technology
The negative cable is not durable enough
Elinz 1000W / 2000W 12V-240V Power Inverter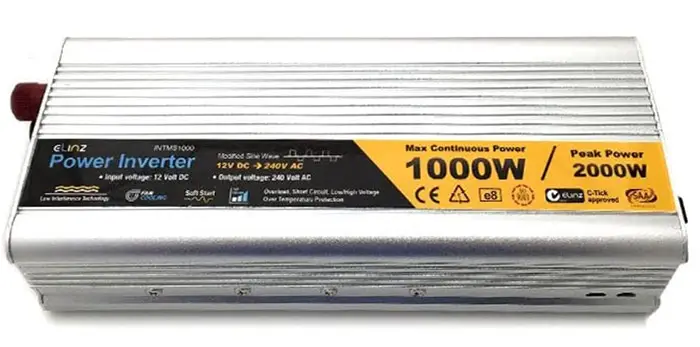 This inverter in our list by the brand Elinz can achieve up to 90% efficiency. This makes it more useful, reliable and it can be used to run a lot of appliances. The high performing modified sine wave provides an economical inverter solution.
Specifications:
Amazon Rating: 5 Stars
Peak Output: 2000W
Continuous Output: 1000W
Socket Type: Standard Australian
If you have always wanted to run appliances like you are at home, regardless of where you are, then this inverter by Elinz would suffice. Since it is a 1000W modified sine wave inverter, you can just hook it up wherever you want, be it your 4WD car, caravan or a boat battery and you would be good to go. This inverter gives you standard AC power just about anywhere. And since it has automated shutdown functions, it is perfect for those who want to drive cars safely. This way, it would protect you from overloading, overheating and short-circuiting.
Since it has a built-in cooling fan, you would not need to worry about the heating of the inverter. It also comes with a USB charging port, making it easier for you to charge it without going through any trouble. The size of the inverter is very decent. It can be easily stored under the seat of your vehicle.
90% efficiency
Uses DC power more efficiently
Built-in cooling fan
Can be easily stored under your seat
Cooling fan might drain the battery life
Buying Guide for choosing the perfect power inverters
There are a lot of factors you need to consider before buying a power inverter. They are:
Factors to keep in mind before buying a power inverter
Power consumption:
Before you start looking to buy an inverter, the first thing that you need to do is find the approximate consumption of your total power consumption. Make a list of all the things you would need to power with the help of the inverter. You have to keep in mind that an inverter and a generator are two different things. An inverter cannot run all the electrical appliances of your home when the electricity goes out. You would want to choose things that are important. First, you need to find out the combined load that your inverter would be consuming so you can buy an inverter that is capable enough to do that. Popular use cases include recharging camping lanterns or headlamp torches, powering camp lights, running televisions or camping fridges.
Wattage
Low wattage devices are often cheaper and smaller as compared to high wattage devices. Typically, such devices have a single USB port and an electrical plug. You can even plug them into a car's dashboard and charge a device while you are driving. High wattage power inverters, on the other hand, are powerful enough to run high demand electrical appliances like heaters and vacuum cleaners. Such inverters are usually large in size.
The difference between an inverter and a UPS
On the outside, it may seem like both, an inverter and a UPS are the same. Both of the devices are used to convert direct current into alternate current so it can be used to generate power. The difference between them, however, is that in the case of a UPS, there is no time lag in the devices which are powered off when there is a power cut and the turned on again. But in the case of an inverter, there is a very short period of time when there is a complete blackout. This is exactly why most of the laptops and PCs are connected with UPS instead of an inverter so that important data is not lost in case of a power cut.
VA ratings
While VA ratings and watt ratings may seem similar, but do not be mistaken. There is a difference between them. Appliances such as bulbs, refrigerators, air conditioners, and lights are everyday appliances that you use in your home consume power. That is why they are measures in Watts. On the other hand, power generating devices such as inverters, UPS and generators are rated in VA. VA is the product of the voltage and the current being supplied by the equipment.
Sine Waves
Power inverters produce either of the following two types of wave outputs:
Modified Sine Wave
True Sine Wave
The former, modified sine wave inverters deliver power that is both, consistent and efficient enough to run appliances without any trouble. Inverters that use this type of wave outputs are popular and affordable since they happen to be small in size and highly efficient. On the other hand, true sine wave inverters are more expensive than modified sine way, but they also deliver wave output of the highest quality and they are also consistent. Certain sensitive equipment such as laptops, computers, medical devices and audio/video equipment are suitable for true sin wave.
Battery
The battery is an essential part of an inverter. Both the performance of an inverter and its life depends on the quality of the battery. Battery capacity is another thing that you should keep in mind before making a decision to buy an inverter. Battery capacity decides how many backup hours the inverter is going to provide. It is expressed in Ah, short for Ampere Hours. Some of the most common Ah values of a battery are 100, 120, 150, 180, and 200. The higher the value of Ah is going to be, the stronger the battery would be. If the battery isn't powered enough, it wouldn't run a lot of electrical appliances.
Warranty
The last thing that you should consider before choosing an inverter is the warranty of the inverter. If your inverter has a higher warranty, it indicates the that your inverter has a long-lasting battery life, it is energy efficient and better accuracy. Moreover, it also means that your inverter is manufactured with the help of superior and durable materials. A lot of brands of inverters allow you to send back a model for service and maintenance, on a regular basis. This factor is very important as it increases battery life and backup support of the inverter.
Note: If you install an aftermarket inverter in your caravan, be sure it will not void your caravan insurance.