How to choose the best portable fridge for your next Aussie camping trip!
One of the most important factors of any camping trip is keeping the food (and beers) cold. There are many ways to do this, for example the traditional esky or cooler filled with ice – but when camping in the hot heat of summer, ice can quickly melt. Other factors to consider is access to ice on a regular basis to top up the esky. Well, camping technology has come leaps and bounds, and you can now purchase 12v camping fridges at a cost effective price!
Like most products, camping fridges come in a variety of configurations, so you will have to assess your requirements in order to choose one that is right for you. A few things to consider when choosing a fridge are:
The size and weight of the fridge
Do you also need a freezer component?
How much power the fridge will require
Cost of the fridge
Anyway, with that in mind let's get straight into our 12v camping fridge reviews. In our opinion, the best fridges for camping are:
12v Portable Camping Fridge Buyers Guide​ for Australia Reviews 2023
Camec 55 Litre Fridge/Freezer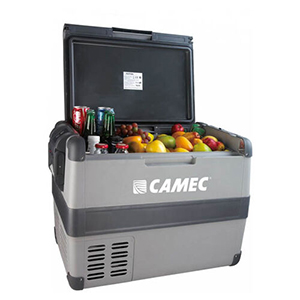 Having hot water or warm food spoil's every other's mood, especially during travelling. Are you looking for the best camping fridge or caravan to keep your beverages icy chill? If so, look no further. Camec's 55-liter portable camping fridge has everything you are looking for.
Whether you're planning for a long route trip or chilling this weekend, we recommend you to have this amazing product with you. Car freezers are a great investment to save your food from being rotten or nasty. Camec portable freezer is a perfect fit for those who love camping, fishing, or recreational activities.
What's included in a package? This incredible product is highly recommended for all kinds of applications. It has equipped with a 3 stage battery, Seacop/Danfoss compressor, internal light, detachable lid, removable basket. Apart from that, its outside exterior is made from good-quality heavy-duty polycarbonate that would keep your beverage cold for long until you're ready to consume it.
Having said that, the Camec freezer works via three different power sources, such as a 12/24V battery or 240 V from the main supply. Moreover, this portable car fridge utilizes low power, which means they have an extended running time. Also, they come with a decent 2-years warranty along with a 5-year warranty on the compressor.
All in all, Camec freezers have grabbed the attention of almost every other Hodophile across Australia these days due to their perfect size and capacity at cost-friendly rates.
The storage capacity is huge.
It has the ability to work for extended hours.
Comes with a 2-years warranty.
You may find it a little heavier in weight.
Evakool TMX65 Travelmate Fridge/Freezer – 65 Litre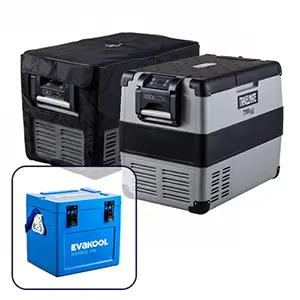 Are you planning to invest in an efficient yet extended running time car freezer for your everyday commute or long adventure trips? Do you want to know which camping fridge is a great replacement for ordinary chillers, eskys, or coolers? If yes, then without a second thought, shop for an amazing Evakool TMX65 Travelmate camping fridge. Evakool is more cost-effective and durable as compared to other reputable brands, such as Bushman, Engel, or Camec.
That being said, they are suitable for 4×4 wheel driving, recreational amusement, and camping. Also, these user-friendly and reliable freezers can withstand almost any weather condition. Apart from that, Travelmate portable car freezer has fortified with a powerful Danfoss compressor technology and a high-quality rollbond evaporator.
Evakool camping fridge draws low power, which means your food or drinks stay icy-chill for a longer duration. This amazing product has a unique cooling capacity – 55~C below ambient that means it can work in Australia's hottest weather conditions even. It operates at 12/24V DC voltage or 240V Ac voltage. Due to its unique design, the lid can be opened from one side or can be removed completely at once.
Another distinctive feature of the Evakool fridge is the Wi-Fi-enabled feature. This gives you access to control your unit just by downloading the Evakool app on your cellphone, and you're all set to monitor the freezer temperature. Moreover, it comes with an internal led light, drainage bung for easy cleaning, and removable baskets.
In a nutshell, Evakool is a win-win product these days due to its huge capacity, quality fittings, easy to clean and use. Also, it's certified by Australian standards.
Comes with a controllable Wi-Fi feature.
It has equipped with a USB port to charge small devices (0.5A).
The body is highly insulated which means it won't rust or corrode.
You may find it a little heavier to carry.
Engel MT-V45F 40L Portable Fridge/Freezer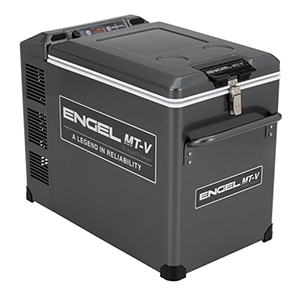 After a hectic travelling or sightseeing on hot sunny days, everyone wants chilled drinks or snacks. But using ordinary chillers could leave you in the mid-way of your journey, hence; investing in a high-quality yet durable car freezer works wonder for you. Therefore, you should consider purchasing an Engel 40L portable camping fridge.
Whether you're planning for long trips, boating, or enjoying vacations in a caravan, Engel MT-V45F has got you covered. From ample space to storage to a powerful battery, every other feature is worth discussing. This product has equipped with a Sawafuji motor along with 3-stage battery power protection. Also, it offers efficient cooling and could be switched from different power outlets based upon your power situations outdoors. The freezer draws low power that means your beverages are kept cool for long hours. The unit runs from12/24V Dc or 240 Ac. Moreover, it comes with a large display screen that gives you access to control the fridge operations. The freezer works perfectly around -18~C.
Furthermore, the Engel camping fridge has equipped with a built-in battery motor to keep track of the power usage of the fridge, preventing the battery from being flat. The outside exterior is made from rugged steel with an exterior lid, hence it's a perfect fit to take in the caravan. For security purposes, you can use the steel handles placed at the unit as tie-down points to make sure the fridge keeps intact.
Moreover, it comes with a stronger yet durable removable basket. Also, it has an internal LED light that is ideal for use in the daytime or at night. You can store nearly 60 cans or upright Riesling bottles at once. In short, the Engel camping fridge is a great investment for your upcoming travelling.
Easy to operate and carry during traveling.
Ample amount of storage.
Comes with a 5-year manufacturer's warranty.
The outside exterior is not highly durable which may result in paint peeling or rusting overtime.
Dometic CFX3 45 Portable Fridge/Freezer 46 Litre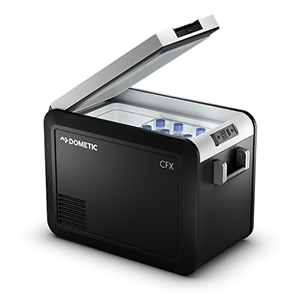 Dometic products have been winning the heart of their customers for over 50 years. They have known as experts in making high-quality cooling system designs and manufacturing. And, CFX3 45 portable fridge is their new phenomenal invention. Perhaps, this one is the most versatile to store a good amount of beverages without making compromises on the size and weight of the product.
The Dometic camping fridge draws low power from a 60W light bulb and works at –22~C. also, it comes with a user-friendly TFT display screen that lets you control the freezer operations. The freezer automatically turns off when the power gets too low. The CFX3 features lightweight and resilient fender frames making it a perfect fit for use in tough outdoor conditions. Moreover, the durable spring aluminum handles make it easy for you to carry and uplift it.
The powerful VMSO3 compressor is placed at the back of a freezer, unlike previous models so you will get more space to store items. The compressor comes with a motor speed optimization feature that allows to change speed and adjust according to the environment. This helps you to save power during hot weather conditions. Also, it has removable lids and a generous storage capacity of 46L.
Moreover, the Dometic portable freezer has soft-touch buttons that allow you seamless control and monitor the freezer operations. That being said, it gives you control of the freezer settings via Bluetooth or Wi-Fi. Plus, it has been developed based on gasket technology that offers a superior seal to reduce power consumption and retain cool air.
Comes with a 3-year manufacturer's warranty.
It has a 3-stage battery protection system in order to prevent dead car batteries.
You can monitor fridge settings with your cellphone.
You may find it a little costly as compared to other brands offering the same 46L capacity camping fridge.
ACOPOWER R40A Portable Solar Fridge Freezer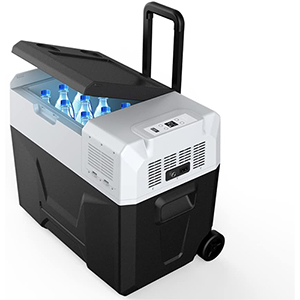 Does your old ordinary cooler draw huge power? Are you looking for a portable camping fridge that runs on solar power? Do you want to know which camp fridge is lighter in weight and easy to transport? Then, you might consider adding ACOPOWER R40A portable refrigerator to your cart.
This amazing item has a 40 liters capacity to store your favorite food items. Apart from that, it has a built-in rechargeable lithium-ion battery that lasts for about 10-15 hours on a single charge. Also, it is easy to transport, convenient to use due to its portability. Furthermore, the R40A solar fridge is used for three different purposes, such as chilling, cooling, and freezing.
ACOPOWER solar fridge is compact in design, 2-feet long off the ground, and 20 inches tall. Having said that, you'll find heavy-duty wheels and trolley handles in order to ensure your unit's durability and portability for long years. Due to trolley handles, you can easily roll or move it without any hassle.
Moreover, it has equipped with an LCD screen that gives you access to monitor and control freezer settings. Also, you don't need to worry about charging the battery as you get 4 different options to charge it. You can use an AC port, DC 12/24 V power outlet, ACOPOWER solar panels, and a 173Wh replaceable battery.
All in all, the ACOPOWER camping fridge is highly recommended for long-route journeys, camping, caravanning, boating, and much more. They are pocket-friendly too.
Comes with a 1-year manufacturer's warranty and a user guide.
Lighter in weight and easy to carry along.
Utilizes solar power to operate on hot sunny days.
You'll get chilled beverages in 40 minutes at 10~F.
Generally takes long to cool beverages when compared to other brands.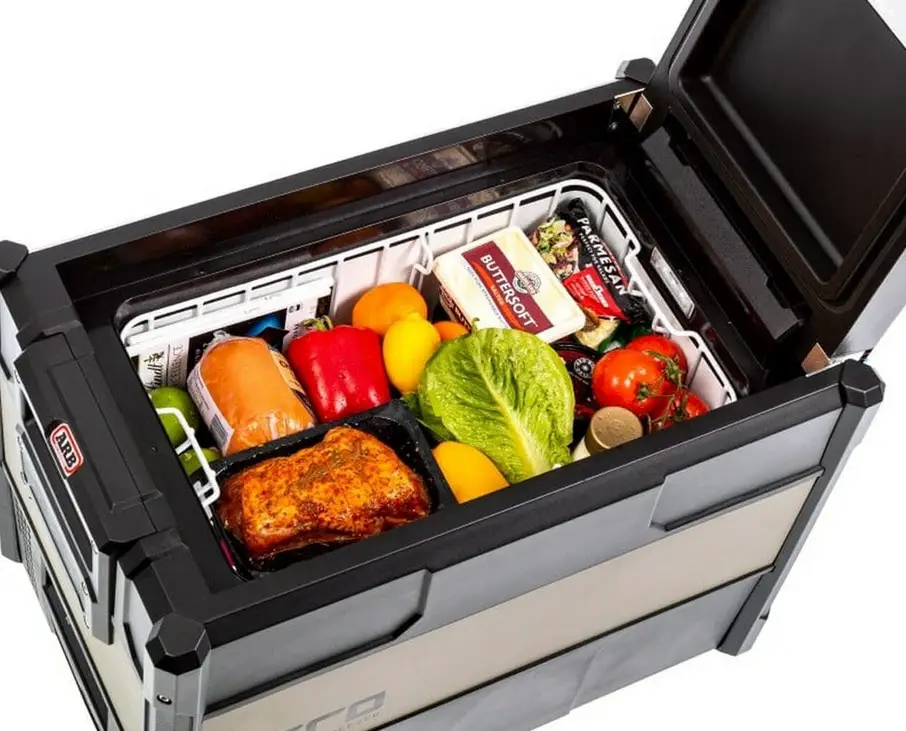 When you research buying a refrigerator, rather than picking up the winners, look into all the factors and features with details, and then opt the one best for your camping.
What to look for when buying a camping fridge
Quality Brand
Choosing the right camping fridge freezer is a critical task and especially when you are travelling to the faraway areas where you will stay for longer weeks like in Australia. Opt your fridge from a reputable brand having reliable servicing, easy access to spare parts, and extended warranty. You may find the number of brands with less price, looks perfect but they will be out of work after a few months, and then this will be a massive inconvenience during camping. In contrast, you may find brands with a relatively high price, but quality products with warranty, do for them. Here, we have presented the five best and top-rated freezers for your camping available on Amazon. 
Durable Body
Most of the time, fridges are made from the combination of plastic and metal that makes its body durable and insulated, while those fridges having an only plastic body are less durable because plastic deteriorates in the UV rays of the sun or becomes fragile. Though, some have plastic handles and lids, which are replaceable but the better and qualitative option is to buy fridges with stainless steel or aluminum cases. Also, you can keep some mounting kits with yourself if the weather conditions are too severe there and foam base to avoid an unforeseen problem while travelling or camping. With the hard work of years of renowned brands, they have crafted beautiful and classy cases to grabs your attention.
Power Efficient
Whenever you are camping for several days at the same place, it is incredibly essential to keep power consumption low and minimize the drain on batteries. However, if you have solar panels and a considerable amount of sunlight or generators for batteries' charging, then you can keep your fridge running with high power. Famous brands have high-quality products with thicker & robust walls for increasing power consumption efficiency. You can keep up it's working by caring about it while camping. Please place it in the cool shaded area to avoid sunlight, cover it with available thermal covers, turn off the fridge in the night because of falling temperature, always keep the fridge filled with bottles, ice cubes, or other stuff for better functioning. As well as, you can keep the temperature low for storing veggies and fruits while keeping it low for storing ice-cream or other long-lasting items.
Fridge Size & Shape
Generally, we forget to focus on the shape and size of the fridge, whether it can place in the car for carrying? Or would it be fitted at the camping place? Unless you are going to use a fridge as a portable wine cooler, you are going to want to have a decent amount of space. Make sure that you have measured the space width and length in the way that lid can be easily opened there, or the surface is smooth or tilted. All factors are immensely important to consider, including the weight of the fridge and its slide. If your transport can bear 30kg weight, keep in mind that the fridge slide also has some weight and the stuff you will place inside too, so choose wisely. While, there you will realize that the fridge slide has increased the height few centimetres, therefore check the space properly and then take it with you on camping. Besides this, most of the fridge sizes range from 10 litres to 100 litres, but its highly insane to choose with bigger sizes because it will cause extreme power consumption loss while working, as empty freezers consume more than the fullers.
Fridge Power & Connections
Wow! Maybe you believe or not, but the technology innovation has brought this revolution that many of fridge now come up with the WIFI or Bluetooth connection with your smartphones to keep the temperature of the fridge in control remotely. By default, fridges are operational on 12 to 24 volts and have an in-built transformer to function on 100 to 240 volts. If you have an available transformer, then turn it over to the mains, but if it doesn't pre-installed, then you can get that separately. Moreover, there is a problem of power plug in the cars, as these 12volts can be connected to a cigarette lighter plug, but sometimes they run out while moving on the rough roads. Keep it working by attaching with cargo car batteries and travel safely to your camping area.  
Packing your Portable Camping Fridge
If you want your food to stay cold it's best to learn how to correctly pack your portable fridge. Don't just throw things in randomly, check out the following video for some great tips on correct packing procedures.
Frequently Asked Questions (FAQ's)