Escape to the Sunshine Coast for a relaxing beachside holiday with beautiful landscapes, quality restaurants and plenty of activities to keep you and the family busy.
Located just 100 km away from Brisbane, the Sunshine Coast is surrounded by beaches on all sides. With Caloundra in the south to Coolum and Noosa in the north, the breathtaking 60 km coastline is a hotspot for beach bums and surfers. In addition to the golden sand-lapped beaches, this location is filled with natural wonders such as the Blackall Range and the Glasshouse Mountains, where travelers can rejuvenate themselves.
Along the coast, fascinating historic villages, heritage-listed national parks, and lush rainforests are stretching along the coastline.
The subtropical climate calls for a variety of fresh seafood and local produce, enabling you to savor a bountiful dining experience. Each of the villages in this area is steeped in history and sprinkled with majestic mountains and subtropical rainforests. Soak in the fresh air and discover various attractions, from goldmine activities to wildlife encounters at Australia Zoo.
Your furry family members need not be left out as they are welcome at these accommodation sites. Certain parks even provide pet-friendly cabins on request. Most of the caravan parks at Sunshine Coast permit tourists to stay up to 28 days. You will also come across long-term caravan and camping sites located far away from the main tourist sites. Based on your budget, go ahead and choose the accommodation type that suits your specific requirements.
5 Sunshine Coast Caravan Parks To Visit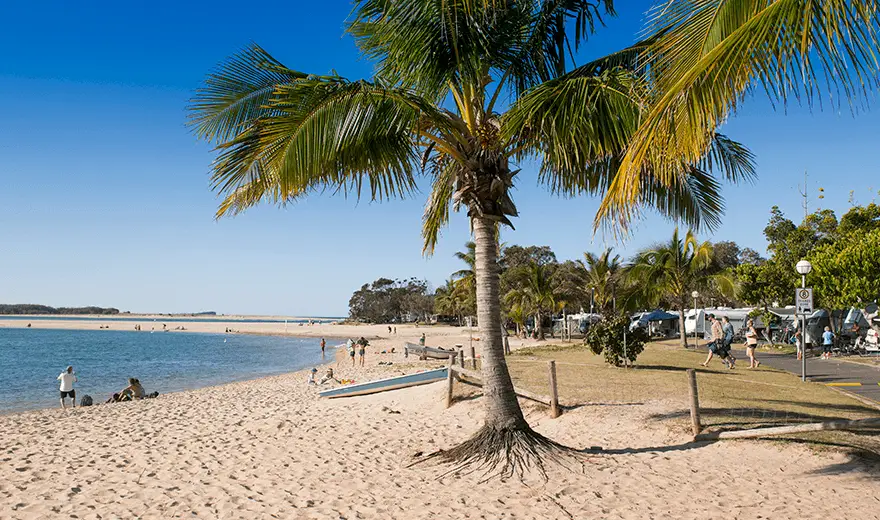 The Cotton Tree Holiday Park is one of the largest Caravan Parks on the Sunshine Coast, having 280 powered caravan sites surrounded by nature. Among these, 28 of them are located overlooking the waterfront of the Maroochydore Beach and Maroochy River. These waterfront accommodations get snatched away quickly due to the prime location, so make sure to ring up the site and secure your spot in advance.
The park has a wide range of accommodation facilities located at prime positions to enjoy stunning views of the Maroochy River.
Each powerless and unpowered site is fully self-contained, making it suitable for the entire family to have a comfortable experience.
MAKE A BOOKING / CHECK RATES
We do not list rates as they can change regularly. Click below to check.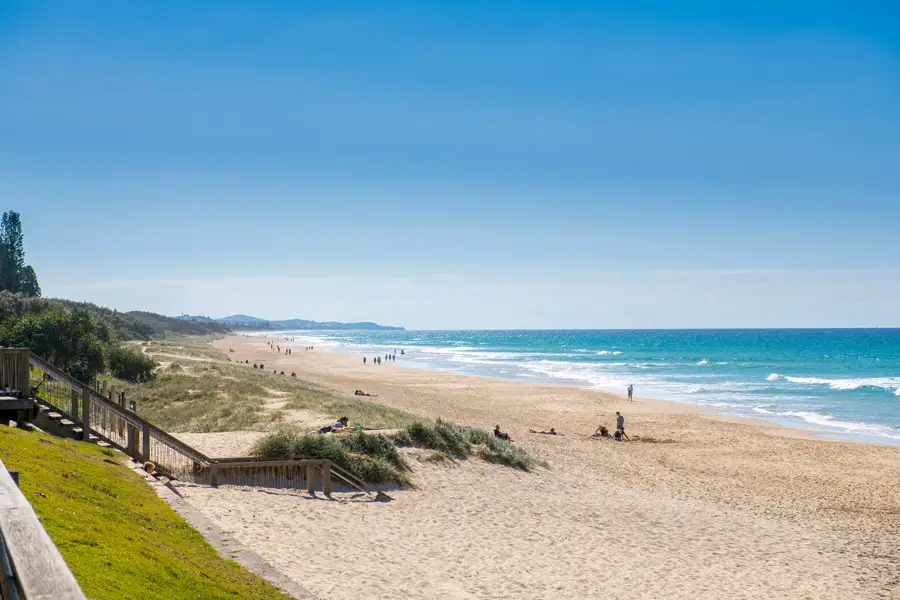 2. Coolum Beach Holiday Park
Situated close to the Surf Club, the Coolum Beach Holiday Park accommodation sites direct Coolum Beach access. Being one of the most popular caravans and camping destinations on the Sunshine Coast, the place attracts lots of visitors looking for a much-needed holiday escape. Soak in the spectacular views by cycling through the bike paths, hiking to the top of Mount Coolum, or taking a walk through the headland boardwalk.
The park caters to all types of camping options where tourists can enjoy uninterrupted beach and ocean views.
The large sites have all the necessary facilities to ensure a perfect camping experience
MAKE A BOOKING / CHECK RATES
We do not list rates as they can change regularly. Click below to check.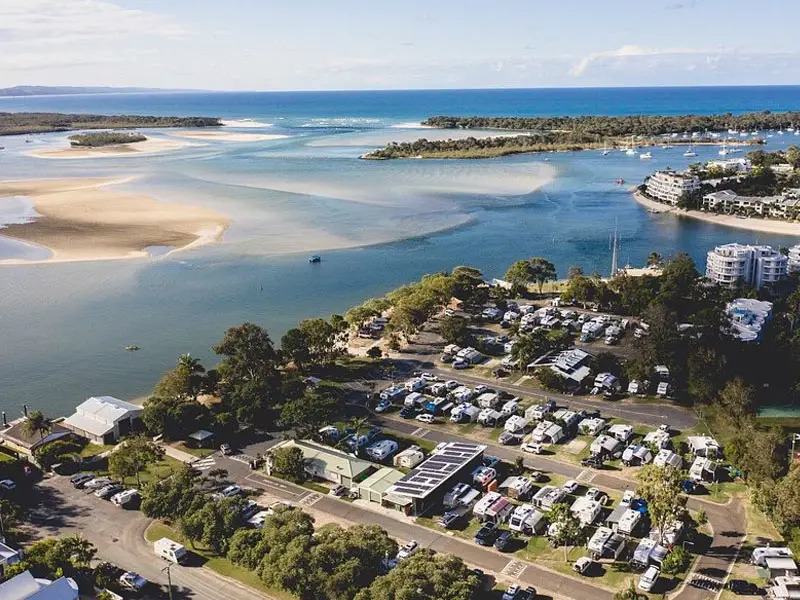 To enjoy a relaxing and budget-friendly vacation, head over to the Noosa River Holiday Park. Well, pitch your tent or park your motor van at the center of Noosa and dove into the riverside paradise that awaits you. Carefully sandwiched between the Gympie Terrace and Hastings Street, the park lies close to the Main Beach and Noosa River coast.
Enjoy your vacation with a wide variety of waterfront sites that lie in close proximity to the beaches.
The site is well-maintained and has all the required amenities and features for a perfect holiday.
MAKE A BOOKING / CHECK RATES
We do not list rates as they can change regularly. Click below to check.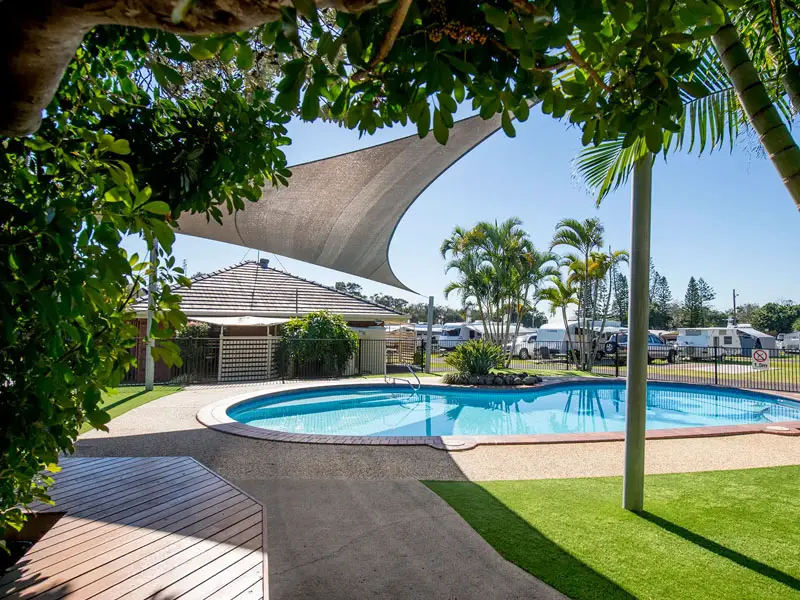 Dicky Beach Family Holiday Park
Situated on the magnificent beachfront of Caloundra'sDicky Beach is the family-friendly and spacious accommodation site, Dicky Beach Family Holiday Park. It is a favorite location among families with kids as the park provides direct access to Golden Beach, Kings Beach, and Bulcock Beach. The waterfront offers a wide range of water activities like fishing, swimming, and surfing.
The site offers plenty of accommodation options for all sorts of campers ranging from large groups to couples.
Each room is fully air-conditioned and has all the necessary facilities to enjoy camping with your loved ones.
MAKE A BOOKING / CHECK RATES
We do not list rates as they can change regularly. Click below to check.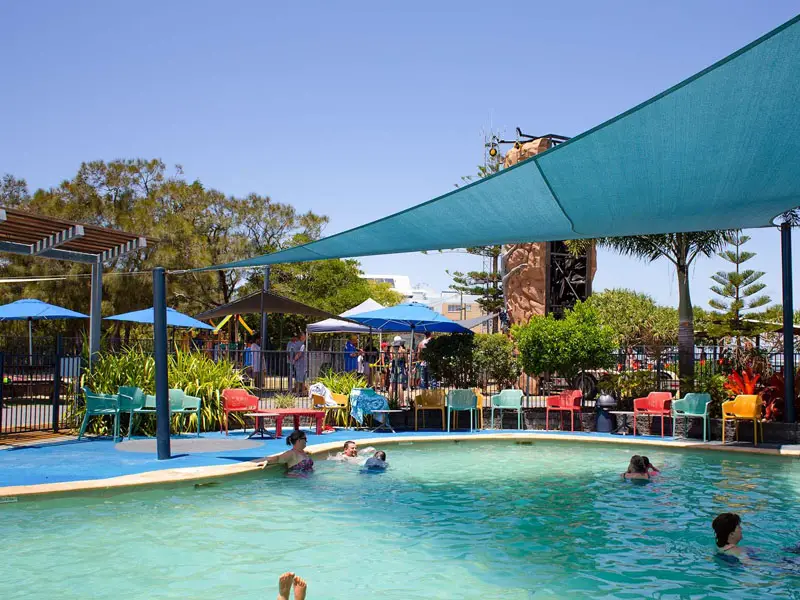 BIG4 Caloundra Holiday Park
Just an hour's drive towards the north of Brisbane, you will find the Big4 Caloundra Holiday Park. It serves as a perfect site for tourists to enjoy a seaside vacation. Located close by is the Queensland air museum which attracts aviation enthusiasts and families with kids.
Each modern, spacious accommodation adds a touch of luxury to your family vacation.
With all the modern facilities maintained meticulously, camping has never been so fun and relaxing.
MAKE A BOOKING / CHECK RATES
We do not list rates as they can change regularly. Click below to check.
Check out these deals for accommodation on the Sunshine Coast