Keep cool when traveling the US in your RV with a quality air conditioner!
When traveling by RV you are going to spend a lot of time inside sleeping, cooking or just relaxing reading a book. For this reason you want your RV to be as comfortable as possible, and that includes the climate. Summer can be HOT in most US states so having a quality RV air conditioner to keep you cool is a no-brainer.
It's highly likely your RV will already have an air conditioner fitted, but if you are in the market for a new one, or your current one has kicked the bucket then it's worth taking a look at the following reviews of RV specific air conditioners.
Anyway, let's get straight into our best RV air conditioner reviews. In our opinion, the best RV air conditioners are:
RV Air Conditioner Reviews - USA 2021
Truma Aventa Comfort Reverse Cycle Air Conditioner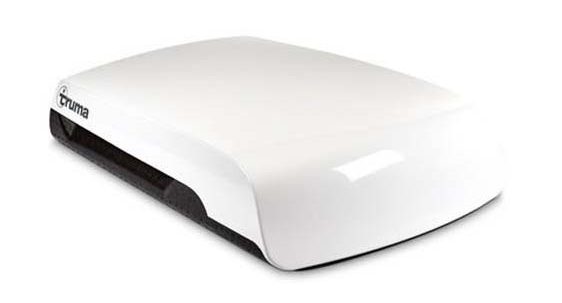 The Truma Aventa Caravan Air Conditioner is a great option for those looking for a sleek, compact air conditioner that also has reverse cycle functionality for those cold winter nights. It's lightweight design is crucial especially when trying to keep the overall weight of your van to a minimal. Built in LED lighting is a nice addition and can be dimmed to your liking and the remote control means you don't have to leave your bed to adjust the temperature. If you have an existing air con unit and looking to replace it, then this unit can be retro-fitted into a standard 400 x 400 mm cutout. Overall this is a good versatile unit that should tick all the boxes.
Quick Specs
Best for vehicle length: Up to 7.5 m
Cooling Capacity (ISO5151): approx. 2.4 kW
Heating Capacity: approx. 1.7 kW (Note: Heating is not possible at an outside temperature of less than 4°C)
Current Draw (Cooling/Heating): 4.2 A / 3.7 A
Operating Temperature Range: 4 to 43°C
Airflow (high fan): 400 m3/h
Dimensions (WxHxL mm): External: 660 x 248 x 1008| Internal: 523 x 46 x 670
Net Weight (kg): 33.0 Kg
Number of blower speeds: 3 + sleep mode (2 speeds in heating mode)
Remote control: Yes
Functions: Sleep function for quieter interior cooling, timer function, Powerful cooling, Energy saving heating
Manufacturers Warranty: 2 years
reverse cycle
low profile
low energy draw
built in dehumidifier
dimmable LED lighting
Heating cannot be used if outside temps are below 4c
Only 2 year warranty
Dometic Air Conditioner IBIS MK4 Caravan RV Rooftop Reverse Cycle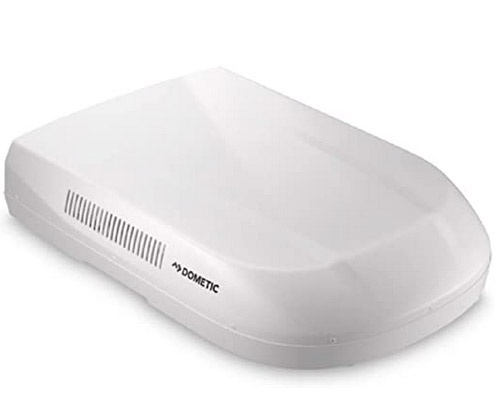 The best Caravan RV air conditioner in the market right now is Dometic Air Conditioner IBIS MK4. It is known for its amazing industry-leading features, thus a strong name in terms of reliability and exceptional performance.
This lightweight rooftop unit can perform well even in the harshest of all weather conditions. It features a strong and powerful, dual-cylinder horizontal compressor. This compressor is a first of its kind in the RV industry that decreases the amount of vibration and offers more stability to the unit.
The Dometic Air Conditioner IBIS MK4 features a turbo-mode fan speed to allow rapid cooling within your recreational vehicle. When required, you can turn on the quiet operation, i.e. sleep mode to enjoy cooling with low fan speed, compressor speed and noise.
The automatic display brightness and given ambient light sensors can automatically regulate the brightness of the unit. The optimized airflow, on the other hand, reduces noise and provide better functionality and efficacy.
Turbo-mode speed fan
Optimized airflow and low profile ADB
Low fan noise
Auto mode and sleep mode
Best seller
Free shipping
A little expensive than the previous models
Truma Aventa Compact Plus Roof Top Air Conditioner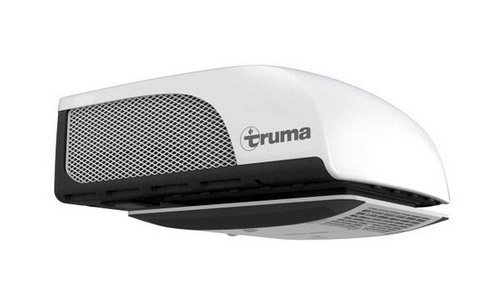 If you are looking for a lightweight rooftop air conditioner that produces a roaring 2200 watts of cooling power, look no further than Truma Aventa Compact Plus Roof Top Air Conditioner.
This product is definitely an all-rounder as it suits a  plethora of different applications of caravans with pop-top roofs, large motor homes and even full-height caravans. You can easily retrofit this air conditioner to your current roof aperture and add its external compact foot to your preferred rooftop applications in the most minimal space possible.
Its re-engineered compressor keeps the cooling unit and vibrations from the unit to a minimum value thus making it the quietest caravan air conditioner of its range. The slimline air distribution box (ADB)  and internal plenum in the construction give Truma Aventa Compact Plus Roof Top Air Conditioner a clear pathway through your RV which gives a great advantage to tall people.
For users, it is the most lightweight slimline, compact rooftop AC that anyone can enjoy at an affordable price.
Large internal cooling capacity
Low power consumption
Simple and easy installation
Adjustable air vents for controlled airflow
Aussie Traveller Air Conditioner K3600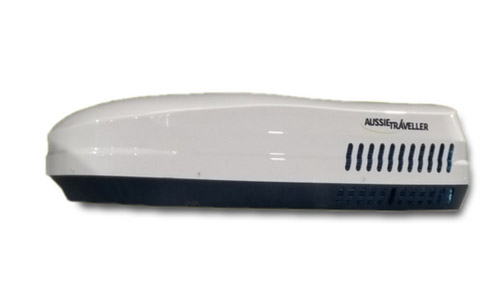 This air conditioner unit is designed and manufactured with a high gloss top cover and low-profile external housing. These features make this product impenetrable to ultra-violet rays and other dangerous elements of the environment.
The Aussie Traveller Air Conditioner K3600 is quickly becoming the number one choice for the RV market as it features more whistles and bells and an ability to adapt to different rooftop apertures. It also has a true soft starter on board which serves as a solid-state device to protect AC motor from harm caused by the abrupt inflow of power and a rapid inrush of current linked with the motor start-up.
For people looking for a Caravan air conditioner, that can run off a generator or lithium battery bank, Aussie Traveller Air Conditioner K3600 is an ideal choice to go for.
The best thing about this unit is that it does not only features external housings and advanced internal mechanics but also simple to use remote control and reclusive backlit display pane putting out the hassle of cooling up space when you are short of time.
Easy cleaning
Easy to fit and easy sealing
Improved airflow
Amazing performance
Costly unit and obtrusive compressor
Dometic Harrier Plus Air Conditioner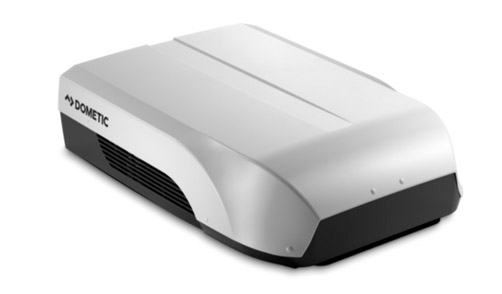 The Dometic Harrier Plus Air Conditioner is the all-new caravan cooling unit that is currently reforming the motorhome business with its less amperage draw and big capacity. For a lot of users, this AC is a great replacement for any inverter air conditioner on the market right now. It features a variable speed compressor backed by soft starter compressor technology to allow noiseless and effective performance.
This unit takes up less generator power to work as compared to its competitor models. It works best for caravans as well as motorhomes that are up to 8 meters in length on the inside.  There is an adapter to sync 360mm x 360mm and 400mm x 400mm roof patterns.
The design is lightweight and slimline, so allow flexibility with real weight and altitude restrictions of your caravan's roof. With its innovative sleep mode function, you can enjoy low compressor speed and fan speed with even further reduction in vibration and noise level while resting. Its four fan speeds and auto/sleep mode can be easily controlled via remote control for more functionality, practicality and comfort.
Low fan noise
Adjustable airflow
More efficiency and low-profile ADB
Less vibration
Pro Breeze Electric Mini Dehumidifier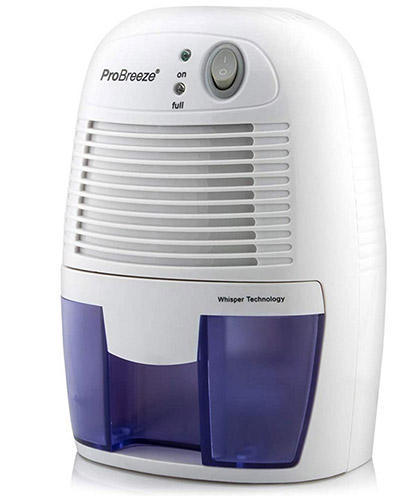 This small dehumidifier is among the best devices in the market that helps fend the humidity and its nasty effects.
With only 2.4pounds weight, this product is quite lightweight and small and can be taken just about anywhere you want. The water tank at the bottom of the humidifier has a total capacity of 16 ounces which is quite good at such a reasonable price rate.
The Pro Breeze Electric Mini Dehumidifier can remove around 9 ounces of humidity from the air around you. It can be used for about 2 days before its time to change the water in the water tank. The best feature of this humidifier is its Ultra-Quiet Peltier Whisper Technology which is tremendously noiseless.
It uses thermoelectric cooling technology which is relatively complex and allows the humidity in the atmosphere to turn into liquid water. There is no compressor, so it is sure to make less noise as compared to other similar products in the market. It may not be the best but still very useful and effective.
Small size
Ultra-quiet Peltier whisper technology
Features LED indicator
Practical design
Doesn't work for large spaces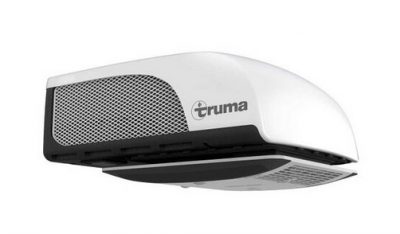 Your Guide to buying a RV Air Conditioner in America
Time spent traveling in a motorhome or RV can be challenging, and while traveling in the US an air conditioner is a must-have luxury to take, second to a good portable fridge.  RV air conditioners are not cheap, and many factors need proper consideration and understanding. Therefore, you must know every aspect and parameter before deciding which product is best for your next trip.
Things to Know Before you buy
British Thermal Unit (BTUs)
When looking for an AC unit for your little space, BTUs are probably the most significant factor to consider. British thermal unit helps you understand just how well an air conditioner can work in a caravan. Any product that offers more than 13500 BTUs should be your ultimate priority if you are a frequent traveler.  For large caravans, an air conditioner with 18000 BTUs is required for better cooling across space. 
Know that it is never about great cooling in a single room but about your entire vehicle. It is definitely a very large space to cool, unlike an open room where cooling can easily enter. Also, RV's have metal construction so hold more heat than anyone's expectations. You are likely to spend many hours without shade, so all these aspects indicate that you will require extra cooling capacity to get through the adventure.
Types Of RV Air Conditioners
Considering the type of AC you want for your RV is also very important. There are 4 types to choose from, i.e. rooftop AC, vent-free AC, portable AC, and window AC.
A lot of people prefer buying rooftop air conditioners as they are space-saving products and are easy to fix in the roof. They are available from anywhere between 5000-15000 BTUs and can be ducted or non-ducted to suit everyone's requirements. The unit is influenced by external weather, so cooling is through the outside air.
Vent-free or swamp coolers can manage moist air ventilation better than other types of RV air conditioners. They are compact, small in size and don't require refrigeration process to cool your RV. The only drawback is that they need some of your floor space to work efficiently.
Portable ACs come with adjustable frames and are the cheapest as compared to all. They take up too much space and also not as energy efficient as other products out there.
Window air conditioning units for RV's are like the ones we use at home. They have incredible cooling capacity and doesn't take up a  lot of floor space. They are compact, easy to install, and noiseless.
Heating/Cooling Mechanism
Another important factor to consider when buying a RV air conditioner is how the cooling and heating mechanism works. Many caravan ACs work via heat exchange to cool up space and an electrical heat component to keep warm.
Many reverse cycle units are also available that uses a compressor for heating and cooling. This method is more efficient and is most popular when it comes to RV air conditioners.
Size
Typically, there are 2 types of air conditioner sizes, i.e. 2-2.5kW (suitable for vehicles with 5meters length) and 3kW+ (for vehicles up to 7 meters long).
Accessories
Most of the RV AC units are available in the form of a complete kit with almost all the necessary components required for installation and working. However, there are some more accessories that you must look for when placing your order.
H-frames are manufactured for the caravan's roof to deliver more support and strength to a rooftop air conditioner. Thick roof adapters are also important if the roof of your caravan is 85mm thick or more. Another accessory to have with the package is the adapter for 400mm roof opening. This frame is important to have as it enables you to install 360 x 360mm AC in a 400mm x 400mm roof opening.
Installation
A good-quality RV air conditioner must come with easy to understand fitting and installation instructions. However, if you don't have adequate knowledge, you can always ask a qualified installer to help you with the process. Know that some models require a refrigerant line and so a licensed technician is needed for the installing.
Warranty and Insurance
Before installing your own RV air conditioner, be sure to check with your RV manufacturer to ensure your waranty will not be affected, and also inform your insurer so they can adjust your caravan insurance policy.
Popular RV Air Conditioner Questions
Q: Do RV AC units require re-gassing?
If you own a vehicle that runs frequently, re-gassing is essential to keep the seals lubricated and prevent the leakage. Most of the air conditioners are sealed units so don't need re-gassing unless you see a broken pipe or leakage that requires fixing.
Q: How many air conditioning units do I need?
The number of AC units depends on the size of your recreational vehicle. RVs with more than 8-meter length need more than just one air conditioner for effective cooling. The position of your cooling unit along with its ducted/conducted nature is also quite influential.
You can use ducted systems with both under bench and rooftop air conditioners as they allow effective distribution of cool air around the vehicle. Rooftop units can also be non-ducted, which may indicate you need two different units to have proper cool coverage through your caravan.
Q: What does 360mm and 400mm opening mean?
RV air conditioners are designed and manufactured to fit a 400mm or 360mm square roof opening. 400mm opening is an initiate of Europe whereas the 360mm opening is for 14-inch American style roof vent. Most of the models in our list have adapters to suit both these sizes, so it's better to select an apt product from our top picks.
Q: Which is best? Rooftop or built-in style air conditioner?
Though there is no winner having a rooftop style air conditioners should be your preference because they do not take up a lot of space and give high startup cooling in the central location of your RV. Built-in models, on the other hand, can add additional weight to the caravan and affect the roof's lining irrespective of its strength. Other things to consider when buying built-in style air conditioners include canopy lifters, gas struts and hoist gear changing.
Conclusion
There you go. These are our best Caravan air conditioners for 2020. The clear winner for us is Dometic Air Conditioner IBIS MK4. This unit is easy to mount; compact doesn't take a lot of space and easily suit a rooftop style. This product is reliable, high-quality and possesses great value for your money.