Knowing the weight of your caravan is highly important, for legal reasons and also for your safety and other drivers. Having a caravan that is overweight can pose serious dangers.
However, calculating the weight of your caravan can be hard. You could go to a weigh station, but these are hard to find. The next best option is using a personal caravan scales or weight guage. There are a several different styles available online.
We have checked out the best caravan scales and provided our findings below.
Reviews of the top Caravan Weight Scales May, 2022
Reich Caravan Weight Control Scale Orange 1500KG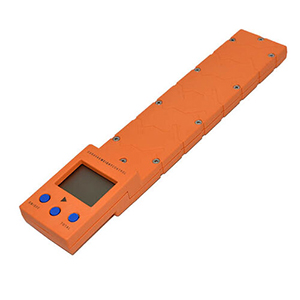 Caravan weight scales are important tools for those who are frequent travelers. They help you in monitoring the load on your vehicle and prevent accidents from occurring from overloading. Reich produces good quality traveling instruments, including the Caravan weight control scales. They are easy to carry anywhere and tell accurate weight statistics.
Reich Caravan weight scale enables you to measure the total weight during travel correctly. It also helps you to divide some weights on the individual vehicles to prevent overloading of one. This weight has three different control programs. These are for for following setups:
The caravan has one axle and one support wheel
a caravan with a tandem axle and one support wheel and
motorhomes.
This scale is designed to work adequately for all vehicles, including cars, bikes, trucks, delivery vans etc. It can measure a maximum load of 1500 kg with a very small variation of 3%. It is an orange-colored, handheld device that requires 3 AAA batteries of 1.5 volts each. You can easily store it in your car's dashboard for convenient use.
Maximum weight bearing range up to 1500 kg
Three different types of programs
Less variation in result only 3 %
It does not need cords or recharging
Ideal for all kinds of vehicles, i.e., cars, delivery vans, motorbikes etc
Batteries require frequent replacement
Milenco 2691 Calibrated Nose Weight Gauge Caravan Trailer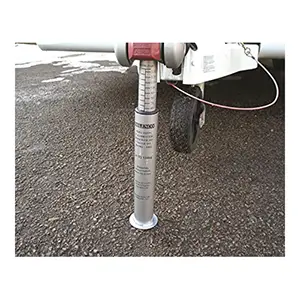 According to a study by The Camping and Caravan Club, no nose weight gauge was accurate and reliable. They requested the Milenco manufacturers to produce the most accurate nose weight gauge, which does not show much variation. Milenco then produced a nose weight gauge which is according to the BS7691 standards, written in 2004. It is calibrated and does not show much deviation, unlike other nose weight gauges.
Milenco's precision and calibrated nose weight gauge remain accurate even after 1000 uses. It has been formed using unique materials. The scale is much clearer and can go up to 130 kilograms. The deviation is only up to 2 kg, whereas previously, in nose weight gauges, it was 30 kg. Another notable improvement is that this nose weight gauge can go to a similar height as your caravan. This is why you do need to block it to calculate the nose weight. The gauge is light in weight and a compact device so that you can store it in your cupboard or car's dashboard (while traveling). The metal-made device has clear markings on its exterior to read the nose weight.
The only standardized nose weight gauge
Metal material which is durable and long-lasting
Clear markings to observe accurate nose weight.
Less deviation only up to 2 kg
Light in weight and compact
Expensive than many other brands
Camec Tow Ball Weight Scales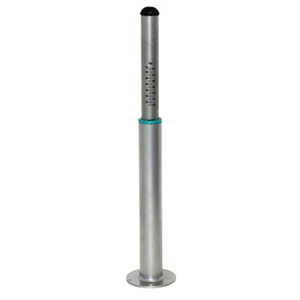 While riding on highways, following the traffic and vehicle weight loading rules is essential. It saves you and people around you from accidents and also prevents you from paying a fine.
But how would you know you are exceeding the tow ball weight limit while towing any vehicle. For this, you will require a tow ball weight scale. The scale will enable you to measure the load conveniently and boost your confidence while you hit the road.
Camec tow ball weight scale is made up of high-quality material. It is produced by Australia's best caravan accessories producer. It can weigh up to 350 kg and can show reading in both KG and LB. The markings are replaced after every 10 kg and are easily readable. The tow ball weight scale is not only light in weight but also easy to carry around. It has a silver finish to protect it from rust. This weight scale ensures that the weight you are towing is evenly distributed throughout the rig. It prevents the hazards of overloading and highway accidents.
Up to 350 kg load measurement
Easy to read markings
Lightweight, compact tool
Made up of good quality metal
Durable and longer-lasting
Ensures weight is evenly distributed around the rig
It comes from a reliable brand
It might show some deviation after several uses
Towsafe Tow Ball Weight Scales MHBWS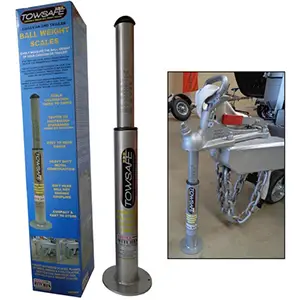 Knowing how much weight your tow ball can carry can significantly affect your driving. The tow ball weight should be able to comply with the safety standards. Generally speaking, a minimum of 10% of the total towing weight should be on the tow ball. This will ensure safe and accident-free driving.
TOWSAFE brand produces several high-end Towing accessories. These are produced while maintaining all the safety standards. Therefore, this tow scale is reliable and shows accurate tow ball weight. This can weigh between 100 to 350 kg. You can check the reading in both the KG and LBs. The soft tow ball scale head is quite gentle on the coupling. The tool is fully calibrated and does not tend to show larger deviations.
All you need to do is simply attach the caravan coupling onto this tow ball weight scale, and it will give you an accurate reading of the weight. This will improve your overall riding ability and prevent unnecessary swaying. If you exceed the tow ball weight limit set by the authorities, it may cost you heavy fines or bans from traveling.
It comes from a genuine brand
Follows all the safety standards
Shows weight between the range of 100 to 350 kgs.
Convenient markings with 10 kg breaks
Prevents swaying and highway accidents
Expensive than other brands.
What to look for when buying Caravan Weight Scales
Caravan weight scales are essential tools when you are traveling with heavy luggage. They enable you to measure the amount of load you are carrying and help you prevent accidents, and pay heavy fines. Caravan weight scales and tow ball weight scales are important accessories. If you are a frequent traveler and carry a heavy load, you must have these items in your tool kit. Let us know what some of the types of weight scales essential for traveling are.
Types of Caravan Weight Scales
Caravan weight control scales
These scales help you determine the weight of your cargo. This is essential because, in case of overloading, it may cause tripping over the vehicle and serious consequences. Overloading can also cause you to pay heavy fines.
Weight control scales have a certain weight-bearing capacity. Most of them can bear 1000 to 1500 kg weight. With the help of this tool, you can conveniently divide the total weight of your cargo amongst your vehicles if you are using more than one. Even on one vehicle, it helps you adjust the cargo weight according to limits set by the authorities. Most of them are battery-operated, and you do not need to worry about the electric supply or cords for their use. They can be used for dual axles, single axles and motor house vehicles.
Noseweight gauges
A nose weight gauge is an important tool. It enables you to measure the amount of load your vehicle can hitch. Measuring the nose weight of your caravan is essential because you don't want to overload it. The nose weight should not be too much or too little, and it should be balanced. To ensure you are not towing a too heavy or too light object, you would have to determine the vehicle's nose weight. This will ensure that you are not overloading your caravan.
Noseweight gauges are made up of metal and can determine weight between 100 to 400 kgs. They can show the readings in LBs as well. They are light in weight and are easy to carry. Travelers who tow caravans with cargo should always carry a nose weight gauge with them. The nose weight gauge should be calibrated well so that it shows less deviation.
Towball weight scales
The tow ball weight is the vehicle's weight that the trailer exerts on the tow hitch. A tow ball weight scale measures this specific amount of weight. As a general rule, a minimum of 10% of the total towing weight should be on the tow ball. Like all the other weight measures, tow ball weight is also crucial to prevent overloading and unnecessary swaying.
A tow ball weight scale makes sure that the weight being carried is distributed equally across the rig. A good scale is made up of metal and can show the weight up to 350 kgs. These scales should be calibrated, and the head of the tow ball should be soft so as not to hurt the coupling.
So do you really need to weigh your van?
Short answer, YES!
The weight control scales for a caravan are effective tools for regularly dealing with heavy cargo items. They check and balance the caravan, nose, and tow ball weight and prevent the rider from experiencing serious accidents or injuries.
Maintaining certain caravan weights is essential to driving on a highway with set speed and weight limits. Non-adherence to the rules may cause heavy fines and bans from traveling. Therefore, we advise our readers to get their hands on some of the best weight scales. They are handy and easy to carry.
Our blog covers some of the highly rated and reviewed products. They are made up of unique materials and calibrated to deliver accuracy. We hope our review will help you in selecting the best weight scales.
Frequently Asked Questions (FAQs)