Caravan Hot Water Systems Comparison Table
Caravan Hot Water System Reviews
Camec Digital Instantaneous Caravan Gas Water Heater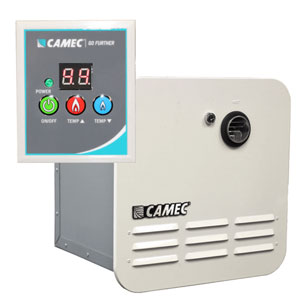 With white Camec Digital Instantaneous Gas Water Heater, you never have to wait for your water to heat up when needed. This best water heater system gives you a constant and immediate supply of hot water that you are your desired temperature with its remote control digital display. You don't have to mix up the cold and hot water and have peace of mind knowing that the temperature is perfect even for the kids.
The instantaneous water heating feature offers economic advantages to your power, gas consumption as well as water usage. It is very easy to operate this hot water system. Just use a 9kg gas bottle and start using it right away. The unit is sized to fit most of the water heater cutouts available in the market and comes with easy installation from the outside of your caravan.
Since it is an instantaneous unit, the gas will only go through it when you turn on the tap, which accounts for less gas consumption. The biggest benefit of this product is that there is no need for a storage water tank, so you can keep the weight down and use every ounce of water in your caravan water tank.
Some other notable features of WHITE Camec Digital include patented rain protection exhaust, white external door, and compatible door lock.
Controls hot water flow
Operated on 12V DC and gas
36,500BTU heating power
Low power and gas usage
Control panel error for some users
Devanti Outdoor Portable Gas Hot Water System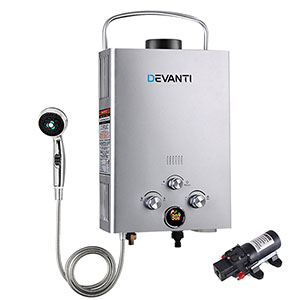 Are you planning a road trip or camping trip sometime soon? Do you not want to miss out on the best warm showers on the road? Look no further than buying Devanti Outdoor Portable Gas Hot Water Heater to fulfill your every outdoor expedition demand.
The unit or system is very easy to install. It can easily heat up to around 480 liters of water per hour at your desired temperature setting, fittingly shown on the given LED display. With this product, never worry about being burned from the hot water as this heater features an integrated processor. This processor has a maximum water temperature of 50 degrees.
Combined with a plethora of different safety features, the variable flow chrome showering head is also created and manufactured to automatically turn on/off the burner using a simple trigger button. The overall unit is lightweight and highly portable. The Devanti Outdoor Portable Gas Hot Water Heater also comes with a convenient handle with required mounting brackets to deliver a hassle-free setup.
Moreover, the system features winter and summer settings, flameout protection, and incline resistant protection. Now you can enjoy the open country with your warm shower and make the most of your camping trip.
Visible LED display and convenient carry handle
Fully adjustable temperature with 50 degrees
Gives constant water flow up to 8L per minute
Dry burning protection feature
Battery cells not included in the package
Truma Combi 2E Kit, Caravan Gas Heater / Hot Water System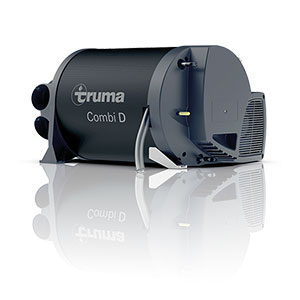 This intelligent and dual-purpose machine provides you with interrupted heating and hot water on your next camping trip. It is a gas and air-powered heater that caters to two heating tasks autonomously and simultaneously. It works by liquid gas and operates on 12 volts to generate large 2000W heat while still being eco-friendly with its high energy-efficiency rating.
The functions are easy to access through an LCD control panel, provided for user-friendly working. It features a stainless steel 10L water tank, which is leak-resistant and weather-proof. It can heat water as fast as 20 minutes with an added ability to mix and heat water while showering.
It has many performances enhancing features such as safety sensors, anti-frost technology, and a self-draining mechanism. Its system is ducted and has three outlet vents. The best thing about Truma Combi 2E Kit, Gas Heater is its low fuel consumption, minimal dimension, and weight. This maintenance-free, dual-purpose heater is surely an ultimate companion for your caravan.
You can operate the heater even when the boiler is empty. The sleek innovative design gives greater flexibility when looking for the desired installation area. The gas, water connections, and hot air duct are integrated into the side of the system for simple operation. The microprocessor ensures you get a high level of safety when using the appliance.
Very compact and lightweight
Friendly LCD control panel
20-minute rapid water heating
Maintenance-free working
May cause some condensation
Swift 20L Caravan Hot Water System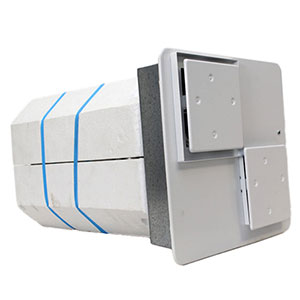 Not all hot water systems available in the market are created equally, especially the ones designed for caravans. Most of them have storage tanks that work on a variety of power resources, usually gas or electrical. There are a few other options for you that are considered as continuous systems and do not rely upon a tank as a part of the overall design.
From the outset, the unit is pretty simple. It can easily fit into all kinds of cavities and offer a useful amount of storage capacity. It uses gas and 240V to heat up the water and offers convenient usage via a remote control mounted switch. The Swift 20L Hot Water System comes with sacrificial anodes to prevent the water tank from leakage and corrosion.
The tank is of stainless steel, so it doesn't consume the anode as quickly as other products out there, which makes it more reliable and less prone to calcium buildup at the bottom.
In general, this automatic water heater is built to travel and is made to last long. It gives high-temperature delivery with dual fuel, i.e., gas and electric option. There are no outdoor switches that correspond well to the convenient usage. It works via a 3-stage ignition cycle to assist while you change to a new gas bottle. The best thing is a comprehensive installation guide that makes setting up a breeze for the buyer.
20L capacity
Operates well on propane or butane gas
1000W heating element
Tubular anode type
The permanent cover is time-consuming to remove
Truma Ultra Rapid GAS/ELEC Caravan Hot Water System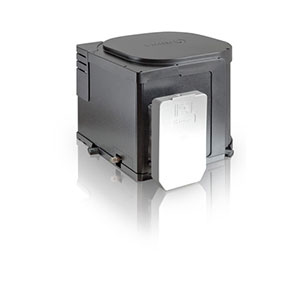 The all-new Truma Ultra Rapid GAS/ELEC Caravan Hot Water System is a perfect choice for washing dishes, showering, and washing your hands on a camping trip. It is a reliable way of getting hot water for all your caravan's purposes. The manufacturers have pushed this product a little farther than the predecessor models by meeting the constantly increasing demands of the caravan's market. This caravan continuous hot water heater is sure to impress all with its better heating power, black elegant design, and compact dimensions.
The best thing about this hot water system is its powerful heating element that gives 1415, i.e., 240V, instead of 925W for short reheat and heat up time. It has space-saving dimensions. The footprint is the same as a standard boiler, but it weighs a lot less than its competitor models.
The installation is very easy and convenient. The buyer only needs John guest connections for the faster and prompt installation of the heater. The Truma Ultra Rapid GAS/ELEC Caravan Hot Water System has a very modern and stylish design with a black control panel and black framework. It comes with an improved corrosion resistance due to the production changes and design of the water tank and heating element of the heater.
This heater can heat up the water in your caravan within a short amount of time. The unit has excellent installation to avoid heat loss. While this system is working, water will continuously be reheated within your vehicle. It means that another person can take a shower straight away without waiting any longer.
Strong heating element
Less weight
Reliable supply of hot water
Quiet working
How to choose a Caravan Hot Water System: Buyers Guide 2023
Having the best caravan hot water system 2021 while you travel is very important. However, there are a few considerations that a potential buyer must keep in mind before deciding on their hot water system.
Storage Capacity
The first thing to consider before buying a hot water heater is its storage capacity. It determines the amount of water you have at your disposal while on the road. The number of people traveling with you will also affect your capacity requirements because a family of five people will need a lot more water than a couple. A caravan hot water system can hold about 15 liters of water at a time. Your capacity is also concluded by the number of your onboard water tanks.
Installation And Dimensions Of The Unit
Before considering the installation of your appliance, it is important that you consider the available space for the installation along with any regulations concerning electricity or gas.
This feature is also affected by the installation application and whether you opt for a straight replacement of the same/different unit. Installation from the beginning if there is no pre-existing hot water system in your caravan also needs your acknowledgment. Thus, the unit's dimension, your holding tanks, and availability for installation, plumbing, wiring, and servicing need to be considered.
Source Of Power
When it comes to choosing the hot water system, there are multiple units available in the market that operates well on different power sources. Caravan hot water systems usually function on electric only, gas only, diesel, and combined gas/electric.
The type of power source you opt for your vehicle depends mainly on the type of outdoor activities you are planning for your family. Usually, opting for a unit with a combination of gas and electric type heater is a sensible choice because then you have the choice of using 240 mains power or LPG gas as per your preference.
Instantaneous Or Heat Up Model
There are two types of caravan heaters, i.e., instantaneous and heat up. For units that use heat up, systems require you to wait for at least 15-20 minutes to heat the water before you can freely start using it. Such units come with a water tank that the system heats for you to use.
On the other hand, instantaneous heaters have a short delay of a few seconds before giving you free access to hot water. They usually rely on your caravan's water tank to supply the water before heating it.
Frequently Asked Questions
How does the caravan hot system work?
A caravan electric hot water system is a heater powered by electricity or gas. It instantly heats water as it flows through the tap. You can then have readily available warm water to fulfill your camping requirements such as showering, washing hands or dishes, etc.
Is it important to have a portable caravan hot water system?
Portable options are very important to have as they can be carried along wherever you go. You can even use them in the wild where you do not have access to external power sockets. So, if you intend to use your endless hot water system for caravans in different parts of your caravan, make sure you opt for an option that is easy to use.
What are some safety features that need to be considered?
A good-quality caravan hot water system must have a number of reliable and powerful safety features to reduce the risk of fire hazard. The safety features must include a temperature control option and automatic shut off when not in use.
What are the benefits of using gas and electric powered hot water system?
You can start using these heaters at any time of the day and have hot water available even in the most unpowered places and during scrubland travels.
There is no need for you to invest extra money in solar panels or batteries if you are not using the heater as it will still function using a gas cylinder.
You can continue using the heater when you have to upgrade as it always remains compatible.
You can relish the continuous flow of hot water using the electric mode of the heater.
They are not pricier than other gas-only or electric-only models available in the market.
Final Thoughts
There you go! These are some of our best caravan hot water systems for the year. All these recommendations are worth your money, but for us, the clear winner is WHITE Camec Digital Instantaneous Gas Water Heater. It is a cheaper, flexible, and pleasing way to enjoy outdoor vacations. It is very compact, portable, lightweight, and can keep water hot for longer durations.