Myall Lakes is a group of three freshwater lakes – Myall Lake, Boolambayte Lake, and The Broadwater. Protected under the Ramsar convention, these lakes spread over a large area of land. When full, the Myall lake covers 5,800 hectares, the Boolambayte Lake covers 1,100 hectares, and The Broadwater lake covers 2,400 hectares in area.
These lakes are partially interconnected in a small boat, so you can navigate through them if you want to. These are freshwater lakes that become saltier as they flow towards the South.
The majority of Myall lake is surrounded by the Myall Lakes National Park, making this a good vacation spot for those who love nature. This national park operates a car ferry for you to enjoy a ride with the kids.
There are several small islands in the lakes. There are many isolated beaches too, in the areas between the lake and the sea. At the North shore of Myall Lake, you have a village called Bungwahl.
The Myall lakes were even featured in an American documentary about conservations, as these are coastal dune lakes and coastal lagoons.
If you like vacationing in your caravan, this is a good spot to stop by. You can go fishing, trekking, let the kids enjoy the national park's conserved nature, and just have a calm and peaceful time away from your hectic life.
For those who own a boat and love to explore the waters, you can always get away from land and spend some precious hours on the water with a friend or even alone. A vacation is supposed to rejuvenate you before you get back to your reality, and Myall Lake is bound to do just that for you.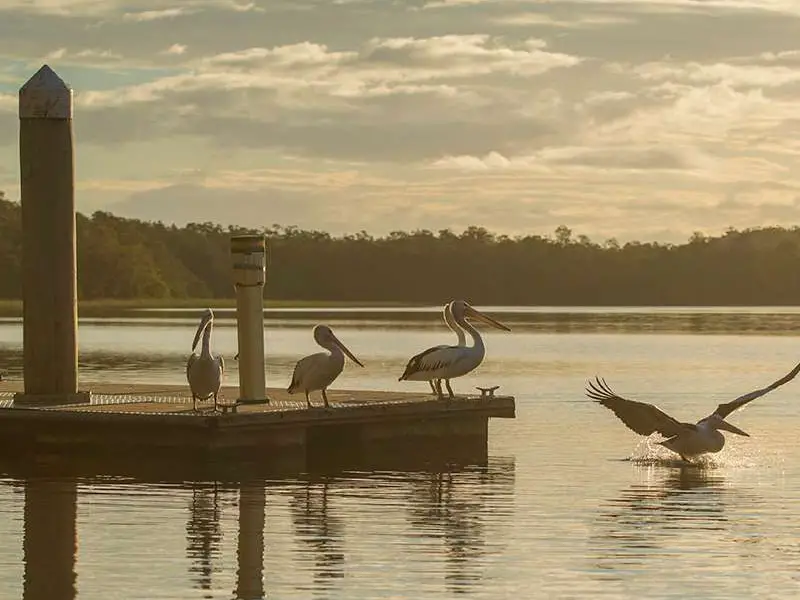 NRMA Myall Shores Holiday Park
NRMA Myall Shores Holiday Park is a laid-back park located just 10 minutes away from the Bombah Point Ferry Terminal, by walk. It is just 4.7 km from the Mungo beach. 
There are villas glamping-style tents with hardwood floors to keep you warm during the wet seasons. This is a child-friendly place where all amenities are accessible, even in wheelchairs. Comfort and convenience are of primary importance here. 
You have multiple indoor stay options. You can set up your caravans or RVs overlooking the river and just enjoy a quiet and peaceful night under the stars. 
There are many amenities to make you stay comfortable and keep the children occupied. They are kid-friendly, meaning safe and spacious.
MAKE A BOOKING / CHECK RATES
We do not list rates as they can change regularly. Click below to check.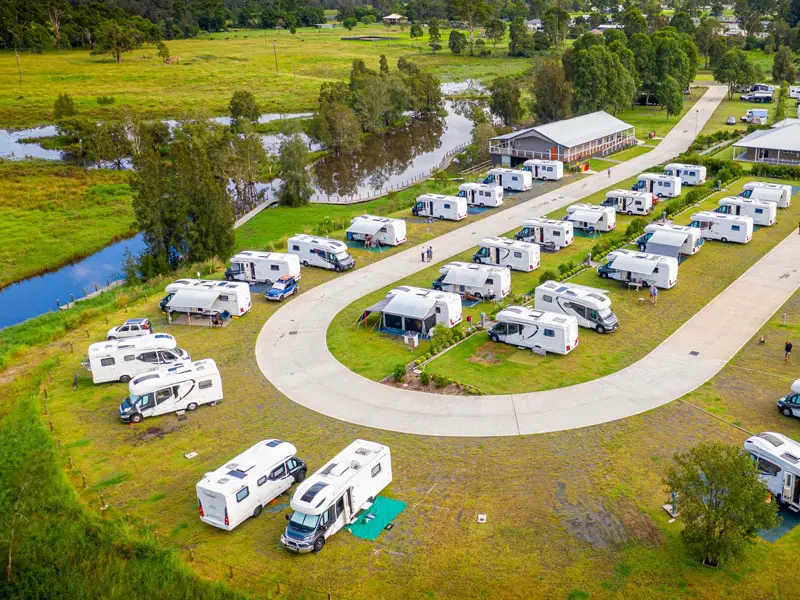 Big4 River Myall Holiday Resort
This is one and first a kind resort. It is a sanctuary specially designed for families who love to get up close with nature and enjoy the outdoors in a whole different way – the way it was meant to be, not from the comforts of an air-conditioned room that just looks over some trees and river.
The Big4 has accommodations to suit everyone's needs. Want to get cozy with your partner or planning to stay in with kids? This resort has something for every requirement.
Kids can have a lot of fun with these amenities, and the adults can just relax and not worry about a thing. The amenities are wheelchair friendly and even pet friendly. You can even wash up your furry little friend, who is bound to get dirty when they have so much open space to explore.
MAKE A BOOKING / CHECK RATES
We do not list rates as they can change regularly. Click below to check.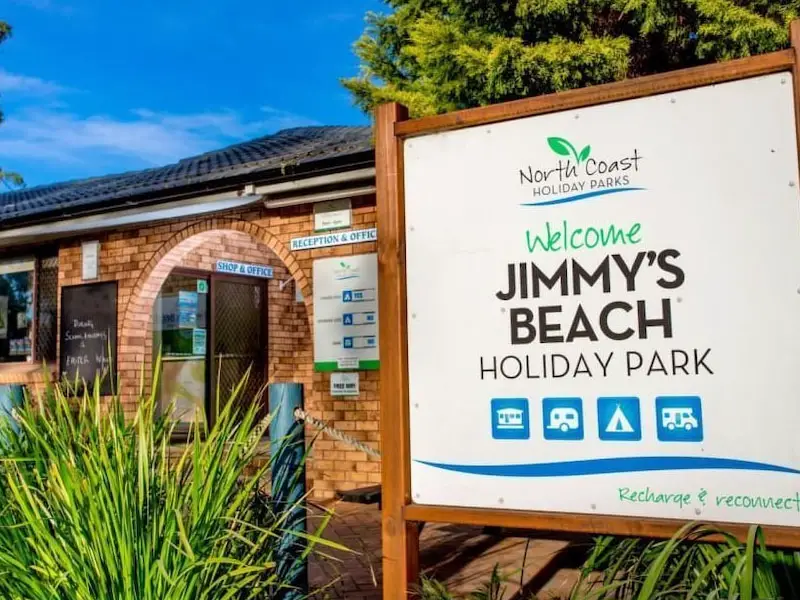 Reflections Holiday Parks - Jimmys Beach Holiday Park
A pet-friendly park for those who don't know what to do with your furry friends who are waiting to be let out of that caravan. The park is located near some iconic beaches. Giving you access to the water anytime you want. Based on your requirement, you can camp out in luxurious tents or stay in a tiny house. There are many activities to do around the park, to keep you occupied.
There is a wide range of accommodation options to choose from. You can stay indoors in well-equipped cabins or stay in your caravan parked in a breathtaking location.
Pets are allowed all year round, and the amenities are accessible by wheelchair. You can choose the amenities you want and pay for the rooms accordingly.
MAKE A BOOKING / CHECK RATES
We do not list rates as they can change regularly. Click below to check.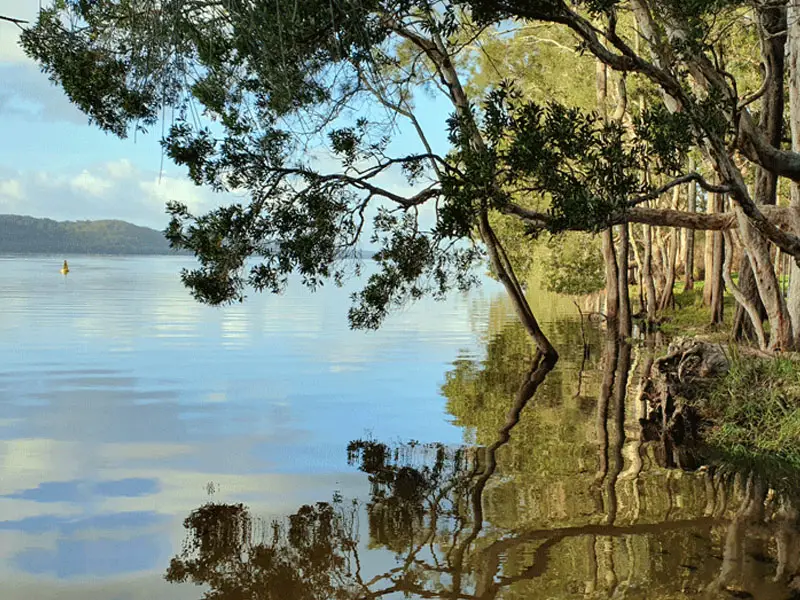 Myall Lakes National Park
If you choose to stay here, you have a lot to do alone and as a gang. The national park is always open, so you don't have to plan much. You can go canoeing, kayaking, boating, or even fishing on the state's largest coastal lake systems. 
Be it a day trip or an overnight stay in your caravan with family and friends; the Myall Lakes National Park can be just perfect with a variety of accommodation options to choose from. 
There are many exclusive cottages and resorts around the national park for you to choose from. Between all of these, you can find a suitable option based on your budget or the crowd.
There are multiple campgrounds to park your caravans or RVs in and pitch a tent under the stars. The top 10 options are:
MAKE A BOOKING / CHECK RATES
We do not list rates as they can change regularly. Click below to check.
Check out these deals for accommodation in Myall Lakes