If you are going to spend any time free camping and really going off grid then you will need a reliable battery system. Especially if you want to run items such as a portable camping fridge, television, lights and other electronic devices. The quality of batteries has improved ten fold in the last decade and there are a range of high quality battery systems on the market. The Enerdrive range of lithium batteries are by far a premium product that are definitely worth checking out. If budget is a concern then it's best opting for an AGM setup such as the Kickass range of slimline deep cycle batteries.
If you are going to install a dual battery system then you are going to need the following items:
Below are our pick of 5 great dual battery systems to consider for install in your caravan, campervan or trailer setup.
Dual Battery System Reviews and Comparisons 2023
Enerdrive eLITE 12V 2 x 100Ah Lithium Bundle, 40A DC2DC Charger & AC 40A Charger Pack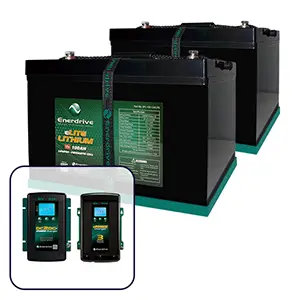 To keep your camping adventure an enjoyable one, you must equip your electric tools with the best power system. You require something that's durable and meets your power demands, and for that, there's no better pick than the Enerdrive Lithium bundle.
We realize that avid campers tend to avoid purchasing Lithium batteries because of their off-the-charts cost; luckily, the manufacturers at Enerdrive have taken care of that concern for you! Now, whether you're a new buyer or an experienced one, you don't have to worry about draining your wallet. This is because these batteries are available at groundbreakingly low cost. Moreover, they come with an advanced charger pack, all to enhance the user experience.
Other than being less than half the weight of lead batteries, this best dual battery system Australia also provides users with a greater life cycle of almost 2000 cycles. This unit is adjustable with an extensive range of camping vehicles and can power up nearly any tool that meets its capacity. It also allows a large discharge capacity of almost 80%, which provides the sustenance of a long run time.
This model also comes with an intelligent battery management system that ensures the normal function of the battery pack. That means it effectively reduces the chances of overcharging or over-discharging the battery, which extends the battery's life and makes it safe to use.
Battery management system
Low maintenance
Lightweight and inexpensive
Longer life span
Tray and straps aid functionality
Heat sensitive
May possess some safety risks
Revolution Power Entry Level 200Ah Low Draw Lithium Battery Solution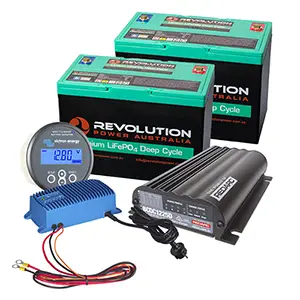 Revolution Power batteries are known for their exceptional performance and long life span. These batteries are best designed to power appliances like fridges, LEDs, or phones that require a low current. This unit comes with a smart charge system that utilizes solar power and recharges the battery. It also allows Bluetooth control so you can monitor your charging status wirelessly and with ease.
What's best about these batteries is their tremendous efficiency; for every unit of power, there's less heat emitted, which helps extend the battery's life. Also, it is a deep cycle battery; hence it ensures sustained power transmission with maximum discharge.
This setup has been optimized for low draw applications and accompanies a voltage of 12V. It also comes with an intelligent management system that ensures a safe and long-running battery. Most customers have reported it to be relatively easy to install. Moreover, it is highly efficient and requires minimum maintenance checks. The system is also built-in with temperature sensors that detect and compensate for the heat emission by the voltage. Furthermore, it can be operated in high temperatures, so unlike other lithium batteries, you don't have to worry about the heat sensitivity of this setup. Lastly, the charger and battery both are shockproof and waterproof, aiding the safety aspect of this model.
Can work in hot environments
LEDs for indication
Easy to install
Superior performance
Safety features
KICKASS Slim 12V 170AH Deep Cycle AGM Dual Battery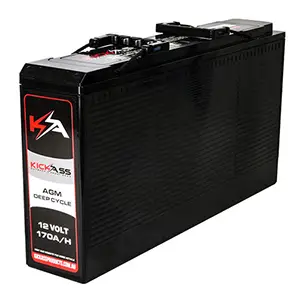 These highly robust batteries aren't just called "Slim" for nothing. This unit indeed serves its name because of its high standard construction, which allows for an easy adjustment in camping vans. The layout of this product requires it to stand instead of lying down, causing it to take up less room and allows for easy maintenance. While this AGM setup is relatively heavier than lithium-ion alternatives, it does come with detachable handles for easier carrying.
Due to its lower internal resistance, the power output of this setup is high, so it can power a large number of appliances. Moreover, this low resistance also accounts for the battery's greater responsiveness to loading charge. The Kickass slim also has a quicker charge time, so you can always be on the go. For the same power source, it is proven to reach its maximum capacity faster than competitors. Another feature consumers love about this best dual battery system Australia is its rigid body that can stand vibrations, corrosion, and extreme temperature variations. This feature enhances the longevity of the product and optimizes efficiency.
Good vibration management
Robust construction
Removable handles
Good discharge recovery
Heavy
Reduced charging capacity with time
Enerdrive 400Ah Off-Grid 40A DC & 60A AC Charging Bundle, with 720W of Solar Panels and 2600W Inverter (AC Transfer)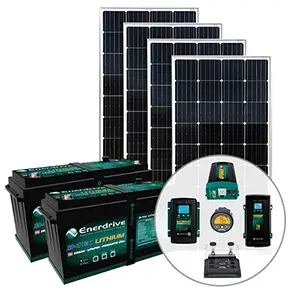 It is well known that Enerdrive is currently leading in the Australian market, so it is no surprise that we have included another product from its line. Enerdrive's tools are consumer favorites because they supply reliable products that ease and enhance camping experiences. Likewise, this model does the same. As for durability, its size and weight maximizes its portability and saves you the extra load that would otherwise come with other units. It has an excellent recharge cycle and low discharge rates, so your appliances can sustain a charge for extended periods. This is perfect for campers that love adventure in the wild.
Its innovative technology also features dust, moisture, and temperature resistive properties, so the climate can never become a setback on your camping trips.
While this technology is highly costly, it does help with environmental aspects. Solar power energy uses renewable sources and decreases emissions that a lead-powered system otherwise causes. This dual battery pack is also a low-maintenance tool, so it doesn't require watering as other systems do. Moreover, the control features wireless options. Making it all the easier to operate.
Superior performance
Offers greater discharge capacity
Solar-powered charging
Lightweight
Expensive
Complex installation
Baintech Dual Battery Kit 160 Amps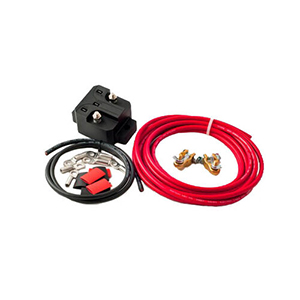 This best dual battery system Australia is designed to provide maximum comfort to its users. Not only is it highly compact, but it is also effortless to install. At 160 Amps, it offers enough power to charge all your devices, so you can be sure that the beers will remain cold without the risk of leaving you stranded! This setup is certainly the cheapest one to invest in if you're on a budget, and we highly recommend it. Although it is not as innovative as the other products, it is a traditional alternative for those wishing to avoid the fancy gizmos.
Unlike other kits, this set comes with multiple components, including the voltage relay, leads, connectors, and a user manual. The equipment is also pollution and moisture-proof, so whether you're making a trip down the Great Victoria desert or the Daintree rainforest, the performance will not be compromised. At just a lightweight of 2.30 Kg, you can adjust this setup easily without requiring additional straps or trays. Since it's so compact, it makes for a perfect fit to place under the car's hood, close to the primary batteries just like needed. For those investing in a dual battery system for the first time, you must note that the batteries must be bought separately, as this kit provides only a means of connection.
Compact model
Easy to install
Lightweight
Low cost
Power transmission
The wires may be too short
What to look for when buying a dual battery system
Buying a dual battery system is indeed complicated. There are so many terms and numbers to remember, and it's almost as if one needs an engineering degree to buy a decent kit. Not to mention the number of products on the market, it is easy to feel discouraged and hopeless. Regardless of that, worry not. To help you make a more thoughtful decision, we've constructed a helpful guide that addresses all the features and tips you need to know to buy the best setup for your needs.
Types of batteries
Before installing your best dual battery system Australia, it is worth considering which kind of secondary battery you would like to buy. The choice varies on many factors, such as the model of your van and your power consumption.
However, speaking from a broad perspective, there are three options you can choose from; these include Lead deep-cycle, AGM, or Lithium batteries. Each of these offers different advantages and disadvantages and is catered to different uses. We'll discuss each briefly.
Lead deep cycle batteries
Lead deep cycle batteries are convenient to install and are a cheap option. The output capacity is also high, and they can be easily recharged. However, they do tend to be heavy and toxic for your health and environment.
AGM Batteries
AGM stands for absorbent glass mat batteries. While its operation is comparable to a lead battery, it is more efficient in some aspects. AGM batteries are durable and have a longer life span compared to lead batteries. They also serve a high output capacity and recharge fast. However, they appear to show a reduced performance with time and tend to have a low resistance to higher voltages; they sustain easier damage.
Lithium Batteries
As for lithium-ion batteries, these are the most brilliant, innovative kinds of all. Almost all devices today, including smartphones and laptops, come with this kind of configuration. They're well known for their ultimate durability, lightweight, and discharge capacity. However, this technology is costly, and it is still under development; hence, one cannot say for sure if it's the safest option to use.
Determine Power Consumption
Before you buy the appropriate battery supply, it is crucial to determine the watts consumption for each device you take to the trip. Typically, this would include lights, caravan air-conditioners,  refrigerators, fans, phones, or any other kind of device you deem necessary. To do this, you can invest in a watt meter and plug it up to find out the consumption or manually calculate it.
Do this by finding out the voltage, amps drawn, and hours of use for each device. Multiply the values, and you'll get a value for the power consumption. This is important as the higher the power you require the more current your supply has to provide thus the costlier buying the system gets.
In Summary
The best way to make your trip a pleasure instead of a hassle is by always incorporating a plan B. No one wishes to save up and go for a trip, only to run out of power and be stranded in the middle of nowhere. Hence, it is wise to invest in the best dual battery system Australia to make your trip a happy and memorable one.
Frequently Asked Questions (FAQs)
A dual battery system is composed of two batteries. One is the starter battery powered by the engine, and the other is the auxiliary battery connected to it. The idea behind the system is that when your van is on the go, the engine powers the starter battery, which powers your appliances. But what happens when your ignition is off? That's where the secondary battery comes in. The secondary battery already has energy stored in the system; this was collected when the car was on the go. So, when you're setting up your tent or have your vehicle on rest, the isolator between the two batteries disconnects the starter and makes it so that the appliances draw power from the auxiliary battery. This ensures that you have power remaining in the starter battery so that you don't run the risk of having a nonfunctional vehicle at the end of the rest.
This highly depends on your preferences. However, it is somewhat essential if you're out for longer and like to visit rugged areas. This configuration minimizes the risk of draining your primary battery and allows you to be in a comfortable state of mind while exploring. It is easy to recharge and discharge these systems depending on the kind of battery you're working with too. The only downsides would be the cost and the added load to your van. You can risk not having a dual battery system if you're traveling for shorter periods and in areas where you can easily access a power supply.
If you're doing this for the first time, we recommend getting a professional to help you with this. However, if you're willing to do this on your own, there's an installation guide provided with each setup. Follow the guidelines and be sure to incorporate safety measures.