If you have a caravan with all the latest technology and gadgets then you are going to need a decent deep cycle battery!
Having suitable power in your caravan is vital in order to run all your appliances, that is when having a quality battery is paramount. If you have done a search for caravan batteries online you will know there are ALOT to choose from, all different sizes and power outputs – so how do you know what is the best one for you?
Well, firstly you should really work out how much power your appliances draw. This will then allow you to find a battery that is suitable to your situation. For more info check out our buyers guide at the bottom of the page.
Once you have worked out a suitable size of battery and specs you should be able to find a suitable battery.
We have found 5 quality caravan batteries that are available online
Best Deep Cycle Battery Reviews 2022
Enerdrive ePower B-Tech 125Ah Caravan Battery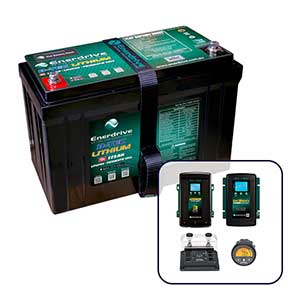 The first product we have on the list is E power B-Tech 125Ah. We choose this product for our valuable customers due to the high-end features. It has amazing battery life and comes with excellent usable power as well as fast charging. The battery is based on wireless battery monitoring technology that means you can easily monitor the battery life through your Android. Furthermore one can check the battery capacity, battery voltage, battery state of charge, battery status, battery temperature, battery cycles, battery alarms, battery event information, and all the related details through Android.
Furthermore, the battery comes with an internal life P04 battery system. This system helps to monitor every prismatic cell in the battery during normal functions.
Additionally, this management system will help to protect the battery from overcharge, over-temperature, over-discharge, or any short circuit incident. However, it also ensures the safety of the battery and makes it able to perform accurate operations. It is the best battery to use in your caravan, communication sites, watercraft, or any other application that needs a single yet efficient battery cycle that meets the demand of their regular work.
With the DC M6 screw terminals, you can easily connect the battery cable to all the sources it comes with 40 output add 40 plus degrees centigrade. With the LED display one can also check the battery life and voltage on the go.
Fast charging.
Excellent AC input range.
Sensor for temperature.
LED display.
Silent operations.
Phone app does not work properly.
Baintech 12V 150Ah Caravan Battery
The second product on the list is Baintech 12V 150Ah. This is a lightweight battery based on excellent construction. It is made up of updated prismatic lithium item phosphate cells which make the battery efficient. Furthermore, the product comes with a built-in battery management system that helps to manage every battery functions accurately. It is considered the best battery for caravans, RVs and 4WD's. It can provide 100V continuous discharge. Moreover, it is surrounded by strong aluminum that makes it a safe and powerful unit.
The item has a lightweight and required 13.5 Volt or charging. Additionally, the nominal voltage required by this battery is 12.8 Volt. However, the maximum charge voltage required for the flooded cell is 14.5 Volt while for lithium is 14.8 and four gel is 14.3 Volt.
This battery comes with two years. The battery comes with enough capacity to run a caravan. Moreover, the product contains positive as well as negative terminals which create fused along with the unfused connection. It perfectly suits the battery system mainly the next generation one. Furthermore, the battery has 2000-5000 cycles. It comes with the 256 x 163 x 240mm dimension. However, the stand by current-voltage by the battery is 0.003A.
Strong construction.
Lightweight.
100A discharge.
Safe to use.
Powerful.
Quality must be approved.
Enerdrive ePower B-tech 200Ah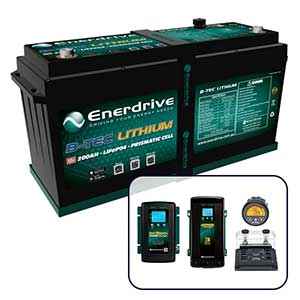 The third product on the list is Enerdrive power b-tech 200Ah. This battery has an excellent warranty life regardless of the amazing design it has five years of full replacement warranty. It is designed in a way to use in deep cycle applications where all single battery is needed the most. However, it has an amp hour capacity. Furthermore, the battery is based on wireless battery monitoring technology that means you can check battery capacity, battery state of health, battery state of charge, battery status, individual cell voltage, battery temperature, battery alarms, battery cycle, and battery even information through the Android app.
Moreover, the battery also contains a life P04 battery system which is mainly the management system that helps to monitor and cheque the prismatic cells in the battery while performing normal functions. However, the battery also gets protected Over-discharge what temperature short circuit an overcharge. Additionally, the battery management system provides security and safety to ensure excellent operations.
The battery provides 60% useable power and perfect for the caravan, camp trailer, small watercraft, and running the lower power communication sites. These all need a single deep battery cycle that meets the needs of AMP hour capacity. This product is totally dependent on the DC for the engine as well as solar regulation charging. Moreover, the battery has an LCD where you can check the battery status and charge left on the go.
Temperature sensor.
Battery status to check through LCD.
M6 screw terminals.
5 years of warranty life.
Secure.
Giantz 170Ah Deep Cycle Caravan Battery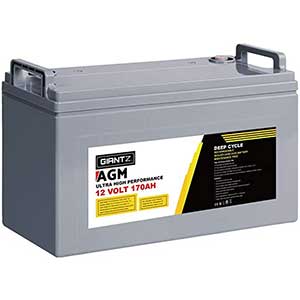 The fourth product on the list is Giantz 170Ah deep cycle battery. This battery is portable and perfectly sorted for outdoor machines one can use this battery for caravans campers trailers saltwater another marine application. The Product comes with hi cycles including 1400 cycles which make it the best of the rest. It is based on a gym technology that enables a battery to have cyclic stability excellent charging and super electrolyte absorption. Don't worry about the maintenance because the deep cycle battery is completely sealed and maintenance-free.
It is safe to use I never leak gas. However, the durability is up to the mark and contains an excellent cycle life. Additionally, the item comes with high oxygen recombination and low temperature. Moreover, it has superb discharge recovery and Bolts down terminals. You can easily carry it anywhere so don't worry about the weight issues.
Furthermore, the battery is based on the AGM technology that provides its long battery life. One has to charge the battery after every 3 months to make it run perfectly. You don't need any refilling while using it in your application. The rated capacity of this product is 170Ah.
Spill-proof battery.
Efficient to use.
Hassle-free operations.
Maintenance-free.
Excellent discharge recovery.
The warranty is not satisfactory./li>
X-Cell ZLR 155 Endure Series Caravan Battery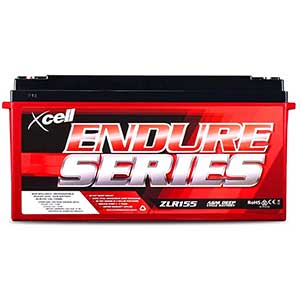 The fifth product on the list is the X-cell ZLR 155 endure series. It comes with an excellent cycle life and has higher sulfation resistance. Don't worry about the noise because it will have less noisy operations. The battery can combat the vibrations and knocks. It comes with longer battery life and excellent low-temperature performance which shows that no heating issues a user will be faced. Additionally, the battery has the power to charge 5 times faster than the other items. It does not have spilling or leakage issues.
Don't stress yourself about the maintenance because you will not face this hassle. However, it is obvious to provide adequate care to the battery to make it run longer. If you are an outdoor enthusiast then this one is for you. It can easily run all the handy applications and you can even connect it to the solar panel to get charged efficiently. The nominal voltage required by this battery is 12V and has built a life of 4 years. Furthermore, the item has a maximum 1700 cycle life and 5.0m internal resistance. It contains bolt down terminals and has a float charging of 13.5-13.8V. The self-discharge capacity of this product is 91 and has a rated capacity of 155Ah.
Are you going to any remote location? Looking for a battery that helps you to run the hassle of the application free? Then this one is for you.
Excellent cycle life.
Less maintenance.
Fast charging.
Efficient sulfate resistance.
4 years of build life.
The self-discharge capacity is not satisfactory./li>
A Quick Caravan Battery Buying Guide
Budget
The first thing which you should consider is the budget. One has to check the amount you have before making any purchase. There are different batteries available in the market with a different price tag. You should get the battery that falls under your budget category otherwise it will not be a convenience but a burden for you. The higher the budget more advanced will be the battery and vice versa. However, there are already low or you can say affordable batteries available in the market with such amazing features choose the one that goes with your needs.
Performance
There is no use for a battery if its performance is low. You should check the battery performance or find the reviews of the battery before making the purchase. There are some batteries available in the market with super performance while a few of them do not fulfill what they claim. Thus one has to make a wise purchase instead of wasting money. Batteries with efficient performance are the demand of everyone these days. Manufacture already launched high-end batteries based on the latest technology in the market. Some are available at a low price while others are in high. When you are going to purchase a caravan battery make sure it is powerful enough to run your appliances especially if you are running a caravan air conditioner, fridge or even a washing machine.
Battery Size
This is the most important feature which one has to consider. Most caravan setups will just require a 12v battery however it is the amps that will vary. First, you need to calculate the caravan power usage and the battery set up it required then you are ready to make your purchase.
Compatibility
The next feature to keep in mind is the compatibility of the battery with the application you need it for. While choosing a battery make sure if it's compatible or not otherwise this will be a waste of money nothing else. One has to check the specification of the battery before making the purchase. This is how you will get to know if it's compatible with appliances or not. Make sure to find the right size as well to confirm the compatibility of the battery with the device.
Verification
Many manufacturers come up with the alluring description of the battery but instead of attracting towards the description just check the reviews and performance as well. Before making the purchase find if the battery is verified by NCC and from which class it belongs. The class mainly shows the use of batteries.
Technology
The next feature to keep in mind is the technology of the battery will stop with the time new technologies are getting popular in the market. Different batteries are based on different technologies. However, choose the one which suits your applications. For example, some batteries come with calcium technology that makes it enough power to perform strongly that does not require any maintenance as well.
Battery Construction
When it comes to by choosing a battery don't forget to check the construction type. There are different types of constructions available in the market for batteries including gel lead-acid, AGM, and gel construction. We have mentioned the batteries with AGM construction that makes it spill-proof and maintenance-free as well. However, choose the construction type which suits your requirements and budget as well. The above-mentioned types are strong enough to protect the battery from any issue.
Battery Life
The next factor to keep in mind while purchasing is the battery life and the charging time as well. What is the use of a battery if it takes too long to get charged or have fast drainage right? One has to get a battery with excellent life and super-fast charging so you can enjoy the trips to the fullest. The batteries we have mentioned above come up with superb battery life and efficient charging time as well. Choose any one of them to enjoy the trips without any hassle. You can always connect up camping solar panels to your caravan to keep your battery charged.
Warranty
The warranty life must be good enough. It is not a one-time investment as batteries are replaceable as well. But for those who are living their life on a tight budget already must purchase a battery with at least 4 to 5 years of warranty life. We have selected the batteries for our customers with a high warranty life so you can easily choose any one of them.