Keep your clothes clean next time you are on the road with a Caravan Washing Machine!
Travelling the country can be a great experience, it can also be a dirty one especially if you are heading offroad or out bush for an extended period of time. The red dirt and dust can really make a mess of your clothing. However, just because you are away from home doesn't mean you have to put up with dirty clothes.
Now you COULD go to a local laundromat, but that can get expensive, plus you have to find one first, OR you could install a washing machine in your caravan!
There are plenty of caravan washing machines on the market so we have saved you some time and identified some of the best below.
Caravan Washing Machine Comparison Table
Top Caravan Washing Machines for Australia: Reviews 2023
Camec COMPACT RV 4KG FRONT LOAD WASHING MACHINE CAMEC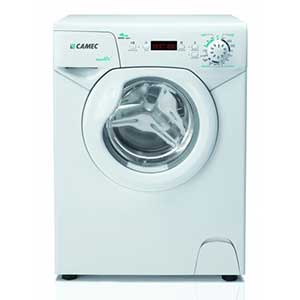 Next up in space-saving washing machines in the Camec Compact front-loading machine. For all those people who are in relatively smaller apartments or are on the go in their caravans, this is the perfect solution to all your space-related issues. With Camec, it is possible to do your laundry at your own pace while having little space. This machine comes with a huge variety of wash programs for all types of fabrics.
People on the go know how difficult it can be to arrange water for washing purposes and that's why Camec's caravan washing machine operates on low water consumption. There is an option for adjustable spin speed range for the users so that they can manage it however they like it from 400 RPM to 1000 RPM.
All you need is a cold water supply to start it and then you can choose to warm it if you like through the inbuilt heating present. With a bi-directional wash cycle and automatic water level sensor, the convenience of the user is set as a top priority.
One more efficient feature is that the remaining wash time is also displayed on the top. All in all, with its various features and the one year warranty, this is a great pick.
Low power consumption
Bi-directional wash feature
AQUAPLUS mode 3
The direction of the door opening cannot be altered from one side to the other
Dometic Compact WMD 1050 3kg Front Load Washing Machine 240V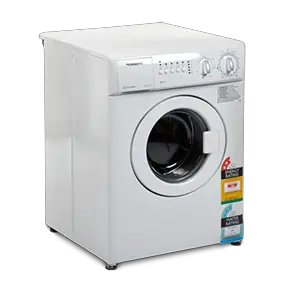 Washing can be a tedious chore if you do not have the right machine on hand. This is where caravan washing machines take the lead. Among many of their machines, this one has proved to be the best option for all of you who are looking for something light and space-saving.
The Domestic Compact has a user-friendly interface and takes very little space. This front-loading machine is capable of handling all sorts of variables and materials 3kg at a time.
Not just that, but you can also use it for your hot AND your cold washes. There are 9 different wash programs built in the machine which can give you a variety to choose from for your delicate and 7 temperature settings ranging from 60°C to 90°C. You can also use the adjustable spins setting and choose one that suits you best.
People who are looking for low maintenance and water-friendly can choose this one as it functions on low water consumption and even has an ECO valve built in it to monitor and lessen the use of water and detergent. Since it will just 3kgh load at a time, the built-in unbalance detection system will alert you about the laundry distribution ratio and make the process even easier for you.
Easy to use
Less water usage
It can only take 3kg load at a time
SPHERE AUTO MINI WASHING MACHINE 3.3KG 240V. STL-33C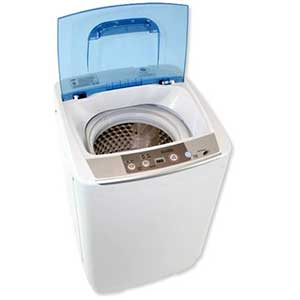 Living in caravans can get quite difficult if you do not have the right appliances on hand. This Sphere Auto Mini washing machine is the perfect laundry companion for all people who are short on space and like to do their laundry.
This might be a mini machine but it can take as much as 3.3kg load of dry laundry. It weighs as little as 18.5Kgs and is perfect if you feel like you would have to move it around a lot.
The machine is pretty simple to operate and comes with a control panel on the top with basic settings. It is a top-loading machine and comes with 5 simple settings for your wash cycle. You can either opt for a full cycle which takes as long as 38 minutes or you can go for the single spin which will take just 7 minutes.
Keeping your convenience in mind, there is a countdown to the remaining wash time left and a balance alert which will let you know if the load is more than what the machine can take. The water inlet will only take in cold water and will take as much as 20 liters of water.
With the Sphere Auto Mini, you can get all the benefits of a bigger machine but in a smaller size.
It is lightweight
Easy to operate
Can take 3.3kg load
Comes with basic features
Only allows cold water connection
Camec 3kg Compact RV Washing Machine
A very economical top-loading washing machine in the range set out by Camec is this one. The Camec 3ks Compact machine is the optimum choice for everyone looking for caravan washing machines as it takes very little space and gets the job done in no time.
This is the first machine in the Camec series which operates on hot water too. It can take up to 3kg of load at a time and comes with 6 different wash programs. The speed of the spin cycle is up to 900 RPM is pretty efficient.
With caravans, there is a lot of moving around one needs to make sure that their appliances are sturdy and durable. This same concept was kept in mind and the tubs inside this top-loading machine were designed for stainless steel. You can also adjust between the high and low water level adjustment depending on a heavy or a light load.
Some additional features involve the remaining wash time function, plus blue LED lights in the washing tub. With the LED lights present you won't have to waste electricity on lights and just make do with the built-in lights. There is also a securing strap and a clothes basket provided with it. The fun part is that you can use this basket as a tub stabilizer as well.
Built-in LED lights in the tub
Durable stainless steel
Water levels adjustment
Can take as much as 1035W power while operating on hot water
Devanti 4KG Mini Portable Washing Machine – Black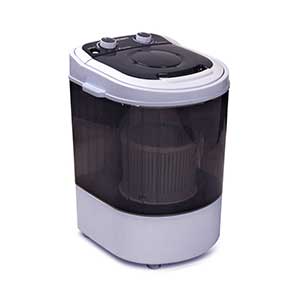 This mini washing machine is the perfect appliance that is looking to get their laundry done in little to no time. The Devanti Mini Portable has just 15 minutes of washing time and will make sure you have a clean and dry laundry with its 2 in one wash and spin feature. There is a spin-dry, and self-drain feature which will leave little left for you to do.
The machine can take up to 4kgs of load and has a large opening lid so no more of stuffing clothes. Using it is pretty easy and you can operate it from the two-knob controls on the top of the machine. There are a powerful wave pulsation and a feature to monitor and protect the overheating of the machine.
The problem with mini machines is that they can be quite noisy but this one operates on low sounds, as little as 58db so you don't have to worried about the cycle ruining your nap time.
There is a built in handle on it and you can easily use it to transport it from one place to another. It is small enough to fit in storage compartments if you don't want it insight. With the Devanti Mini washing machine, you won't be just saving space but your time as well. Operating on 120W for spinning input, you can save energy side by side as well.
Economical price range
Lightweight and easy to move
Choosing a Caravan Washing Machine: Buyers Guide
If you are looking for a washing machine then you must be in for a long-term purchase. You must keep some features and considerations in mind before you go to purchase a caravan washing machine.
Washing Machine Space
The biggest issue with caravans is that they are often not very big. This means that you will most probably have limited space to put all your appliances in. To keep the issue of space in mind, it is important that whichever one you opt for is small in size.
You can either get a small front load machine or try looking in the direction of mini washing machines. They are as good as the larger ones and will get the task done for you.  
Loading Capacity
Next up, another crucial factor to keep in mind is the loading capacity of the machine. If you live alone, then you might not have as many clothes and can do with a machine that has a 2.5kg loading capacity. But if you have roommates with you on your caravan, then you should think of getting a 3.5kg or 4kg load capacity machine.
Loading capacity is important because if you have several people on board and little load capacity then it just means a whole day full of laundry as you keep putting loads.  
Machine Weight
Caravan washing machines are designed in such a way that they are easy to transport from one place to another. Since a lot of people do not have enough space, they choose to put the machine closed in a cupboard or a storage space. If you plan on moving it and taking it out just when you need to wash your clothes then you should look for one that has handles to maneuver it.
Where handles can help in moving to some extent, the weight of the machine plays a huge role. Get one that is easy for your push and pull.
Durability
A major element is the durability of the machine. Washing machines are an expensive investment so you need to pick on that is durable and long-lasting. Caravan washing machines, specifically have to be even more resilient and sturdy because of the constant movement and rough usage they might face at one point or another.
It is advised to pick on which has a stainless steel tube inside and a long-lasting plastic exterior. This can help in keeping the machine alive and working for a long amount of time.
Front Loading or Top Loading?
This is a question often asked by people who are looking to buy washing machines. A deciding factor in this decision can be your budget. Front-loading machines are often more expensive but they offer a huge number of wash programs which makes the price worth it. These come with child lock options as well and many other advanced features such as the remaining time display, etc.
Top loading washing machines
Top loading machines, on the other hand, are relatively cheaper and give better wash quality. So, if you do not care about additional features and just want a sturdy, good wash machine then the top-loading one should be your pick.
Spin Cycle
The spin cycle of a washing machine is used to dry the clothes you just washed. This is an extremely useful feature and will give you clothes ready to wear in no time. The efficiency of the spin cycle is judged by the revolutions per minute. If you plan on drying thicker clothes, then they will need around 1000 RPM while lighters will require from 300-500 RPM.
Take a look at your wardrobe and get one accordingly. If you plan on washing and drying a lot of jeans and other thick clothes then you should get one with at least 800-1000RPM.
Wash Settings
Lastly, the wash settings of the washing machine should also be kept in mind. This is important to make sure that your delicate clothes are handled with precaution. You won't even have to worry about the prices escalating because wash setting machines are often very cheap.
Once you find a wash setting that works best for you, you can even choose to save it as a favorite by the various controls gives out on the top.
Final Verdict
Having a washing machine for your caravan is important if you don't want to feel like collecting coins and standing in queues at your local laundry service. But the process of purchasing one get quite complicated if you don't know what you should be looking for.
The machines by Camec, Domestic and Devanti, etc. mentioned above are some of the best in the market right now. Take a look at the buying guide and pick one that suits your needs aptly.
Q. Can you install a washing machine in a caravan?
Yes, you can install a washing machine in a caravan, campervan or camper trailer. Whilst space is always a concern in a caravan, it's best to get a washing machine that is dedicated for a caravan. These are generally smaller and compact in size compared to a standard home washing machine. The important things to consider are water supply; water drainage and power supply.
Q. How much water does a caravan washing machine use?
The amount of water used in a caravan washing machine will really depend on the size of the washine machine. For example, a 2.5kg washing machine will use on average 20 litres of water. This can vary between brands so check with the manufactures handbook for more accurate water consumption.
Q. How much does a caravan washing machine weigh?
The weight of a caravan washing machine will really depend on the size of the washing machine. For example, a 2.5kg Camec Compact washing machine weights 16kg compared to the 4kg model which weighs closer to 47kg.
Q. Can you use a normal washing machine in a caravan?
Technically Yes, you can install a normal washing machine in a caravan as long as your caravan has the required power supply to run the washing machine. A large washing machine will use a large amount of power so it would be best to be connected to mains power when running the machine. Consider a smaller, compact washing machine if you are running off a battery system.