Keep cool in your caravan or camping with a 12v fan
Camping is a great past time, but in summer it can get very hot inside tents or caravans. The best way to stay cool is by using a small 12v fan. A camping fan can really make the difference between an enjoyable, relaxing holiday and a terrible, sweaty hot mess of a trip!
Camping fans come in all sorts of configurations including:
Roof / hatch mounted
Traditional ceiling / hanging fan
Oscillating standup fan
Anyway, let's get straight into our 12v camping fan reviews. In our opinion, the best fans are:
If you have a large caravan however, a fan probably isn't that suitable, so instead check out our reviews of the best caravan air conditioners.
12v Camping/Caravan Fan Comparison Table
12 volt Camping Fan Reviews: Australia 2023
TRA 12V Electric RAIN Sensing Caravan RV ROOF Hatch Vent with Remote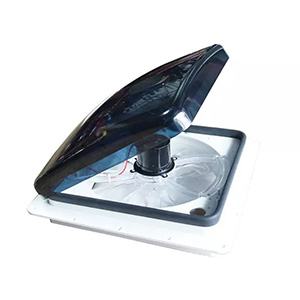 This is one of the best rotary fans you can have for your camping trips. It is a specially designed fan that is powerful and capable enough to move the fresh air while you travel in your vehicle or rest in your camp. It comes with its own remote control device, that has extraordinary features to make your trip at the most comfortable temperature. This remote device provides you ultimate control of your ambient temperature and you can have control over it from anywhere you want in your camping tent. You just need to set the desired temperature using the remote and your fan will start automatically whenever the temperature of your area exceeds or drops from your desired temperature level.
Moreover, it has many other stylistic features that provide you a complete facility to sense and manage yourself according to your environment.
Summary
A fantastic rotary fan is the core competency of this product. It adjusts the temperature of the area as per your requirements set by the remote control device. The fan is featured with a rain sensor. It closes its dome when the sensor gets wet during the rain. Once the rain is over and the sensor dries, it turns on the fan automatically. This fan has a variable speed function so that you can easily adjust the speed of the airflow according to your requirements. It also offers a simple reverse switch that changes the fan direction to draw the air in or out of the camp, tent, gazebo or vehicle. The vent has a built-in thermostat that takes care of temperature and regulates in accordingly. It also offers certain additional features that include a two-wire 12 V DC hook up, wall cradle remote control device, White color sturdy base, fits standard dimensions of 14"x14" openings.
Specs
Rated power: DC 12V
High-performance rotary fan
Rain Sensor
Variable Speed
Integrated thermostat
Standard dimensions:14"x14"
Dual options of automatic variable speed(thermostat activated) and manual speed with 13 settings
2 AA batteries included
High profile strong base
Attractive design, easily mountable dimensions
Etbotu DC 12V Low-voltage Ceiling Hanging Fan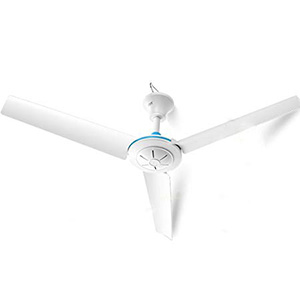 If you are looking for a ceiling fan that serves you best at the convenience of installation, price, and quality, this is the best choice for you. It can be used for all the outdoor activities including camping, tent, gazebo or even your hut. A really small diameter provides a good flow of air that's remarkable. You don't need to worry about any kind of noise as it is completely silent and does not disturb your sleep. It is made up of plastic body, externally and it comes with a hassle-free packing-a neutral box. A five-minute assembly can provide you the best fan you want to have.
Summary
A noise-free ceiling fan with real small size and compact design, that can be used at small places like camping, tent, outdoor dining tables, or gazebos. Power requirements are only DC 12V.
Specs
One packaging includes one ceiling fan, an engine, and blades
Rated frequency, power and revolution:50hz,6 W,320 rpm
A small diameter of 50cm and height of 16cm
Weight:760 grams
DC 12 V, low power design, best for camping or tent
Colors: white blue
Totally manual, no functional timings, can be switched on and off as desired
A peaceful product with the lowest noise of 40-50db
Compact design with a sleek structure, easily installed to provide a cooler environment
Made up of high-quality material e.g, plastic
Refined craft with durability a long-lasting features
No automatic switch option as the control is a wall switch only.
Oztrail 12″ Fan (12V / 240V) Rechargeable Portable Camp Camping Tent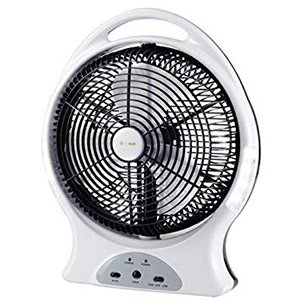 This fan is the best camping fan with stylistic and extremely desirable features as it is fully portable and you can use it wherever you want to have an extra airflow for cool air. Whether you are in the camp, enjoying the nature outside, you can just keep it in front of you to get the maximum benefit out of this camping fan. Moreover, it can also be used in your office, gazebo, tent, caravan, or any site because of its portable and rechargeable features. It offers you versatile power options AC and DC for oscillating and focused mode. The amazing feature of this compact and sleek design fan is its long battery hours. It serves for 7 hours without any shutdowns and you can recharge the battery afterward.
Summary
An amazing and versatile fan that can be used anywhere outdoor or even you can use it at your home to make any area a little bit cooler. It has a versatile power options-AC and DC- can be used in any way you want.
Specs
A versatile, rechargeable and portable fan
Two options of the oscillating and focused mode
AC and DC power inputs
Runoff time of 7 hours for oscillating mode
On slow speed, the battery offers 5 hours continuously for focused mode
A powerful integrated LED light of 50 lumens
Two switches for speed control and one for light turn on and off
Packaging includes 240V home cord and 5m 12 V car plug
Includes 6V rechargeable lead-acid battery
Portable and rechargeable
Includes battery
Long battery timings
It can be used for both, indoor and outdoor sites
It does not have a mounting bracket or clamp
VaygWay 12V Car Oscillation Fan- 12 Volt Cigarette Lighter Fan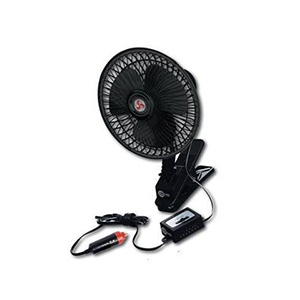 It is one of the best portable camping fans as you can use it without fixing it anywhere. It has a sturdy base that stands robustly without any inconvenience to the user. This custom autos oscillation fan has 90 degrees of oscillation mode with an adjustable tilt that can be focused on any direction. Its base is supported with a heavy-duty clamp that serves both ways, either to keep the fan portable or to mount it with the wall of the tent, camp or any available options. Such a robust and sound design enables it to withstand any conditions and it works for 10 to 12 hours continuously to provide a cooler environment in your camping tent. The blades of the fan are made up of high-quality plastic that has a smooth glide while the fan works. It throws the hot air and blows the cool air at a good speed that the area gets cool and fresh with no time. The fan comes with a 3 ft cord, a mountable bracket, clamp, and a mounting switch so there is no issue of fixing it anywhere you want during your camping.
Summary
It is the best camping fan that oscillates at 90 degrees with adjustable tilt. The base is sturdy and supported with a heavy-duty clamp to facilitate multiple mounting options. Mountable ON/OFF switch provides a great user experience.
Specifications
Rated power:12V
Item weight:1.65 pounds
Package dimensions:7.3×6.9×6.9inches
Run time:9 -10 hours
Movement:90 degrees
Cord:3 ft
Mountable switch and a mountable bracket
Lightweight
Strong and sturdy base
Adjustable tilt
Convenience
Durable and long-lasting
High air circulation
VaygWay 12V Fan for Car Fan
It is a dual fan that features extraordinary facilities that help you maintain a good temperature of your camp, providing you a comfortable, peaceful and joyful environment. It is 12 V fan that oscillates at 360 degrees and it cools the area within no time because of its dual fan feature and you don't even need to move it as it replaces the hot air at higher speeds. It has a built-in adapter, which is plugged into any power source. You can even simply plug it into your cigarette lighter and it is ready to provide a cooler environment for your amazing camping. Moreover, it is easy to use as you can install it with a 3M adhesive. Simply apply the adhesive at the back surface and mount it on any straight surface. Or it can also be screwed on any platform. What's more, it is a two-speed option that provides you an extra convenience to use it at your required speed.
Summary
A strong and sturdy camping fan that provides a higher level of cooling in your camp with its dual fans. It comes with an 8 ft cord for your easy usage. It is DC 12 V and extremely versatile to use. If you want to power it with a cigarette lighter socket, make sure to use it at 12V/120watts or DC power can also be used. Unplug when not in use.
Specification
Dual fan
Made up of plastic
Rated power: DC 12V
Includes 8 ft cord
Runtime:9-10 hours without breaking
Weight:1.27 pounds
Package dimensions:10.9×4.7×4.5inches
Versatile
Lightweight
Easy installation
Strong and sturdy
Economical
2 speed
Versatile
Lightweight
Easy installation
Strong and sturdy
Economical
2 speed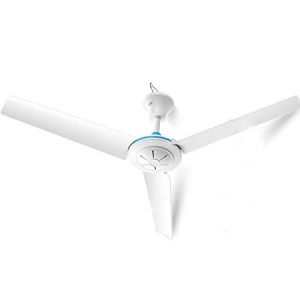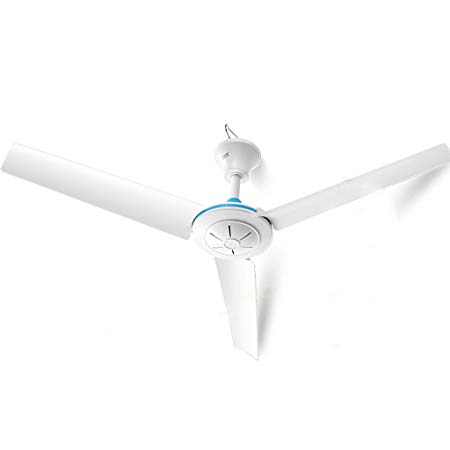 Choose the Right Camping Fan: Buyers Guide

Buying the best camping fan can be a real hectic process if you don't know the pros and cons of the buying process. Obviously, it is an amazing moment when you decide to go camping as it gives you a break from your daily hectic workloads and you need to re-energize your brain through the activities you love.
Mostly people like to go camping in the summer season as it lets you enjoy the colorful nature that is not possible in snowy white winters. The hot summer season can make the environment a little bit uncomfortable if you don't get a camping fan for you. Before you set off to get a camping fan for your camping trip, make sure to read the following guide so that you may have an idea of what to look for while buying a  fan for you.
Top 6 factors to consider when buying a camping fan
1. Fan Speed
Speed is the most important factor that determines the delivery of cool air blown by the fan. When you turn on the fan, it actually throws the hot air out of the place and blows the cool air in. So the speed with which the blades of the fan move, decide the time needed to cool the area, the fan is working in. So higher the speed is, the cooler the place will be within a small amount of the time. Moreover, the thing to look for, in a fan, is adjustable speed options. Because you don't always want to have higher speed cooling.
Sometimes you just need a medium or small amount of air so it is easy for you to adjust the speed of the variable speed option is there. Higher speed also brings more noise and battery consumption that cause inconvenience to you.
2. Power Source
You must know a power option before you buy the camping fan. Camping fans can be either electrically powered or with batteries. It is a great option to choose a fan that has batteries in it because using a battery fan can be easy for you from a portability and transportation point of view. Alkaline batteries are commonly used as a power resource for camping fans.
Another option is a rechargeable battery. You can also have electrically powered fans if you have an electricity source within your tent. Solar-powered camping fans can also be used but these fans are only effective in sunlight. Always go for a fan that gives you convenience and versatility at the same time.
3. Design of Fan Blades
Design and the material of the blades play an important role in the efficiency of a camping fan. The fan with a durable design and material works with higher efficiency and smooth speed.
The most common materials used in the making of a fan are metal and plastic. Metallic blades are highly efficient because of their high density. They give the air a good cut while working and a large amount of air comes out of the fan, so the blow of air is really smooth and powerful. But metallic blades make a fan noisy, heavy and kind of dangerous as it may harm your fingers if you accidentally put your hand in the blades while they are functional.
On the other hand, plastic blades provide a smart design that is light in weight and easy to transport. They provide a smooth airflow with little or zero noise. Plastic blades can be damaged on small pressures or if mishandled during transport.
4. Fan Run time / Battery Life / Power Consumption
All those fans powered by batteries have a run time that shows the time a fan works before it turns off. Most of the fans have a run time between 3 to 6 hours. The run time is directly proportional to the speed of the fan. If a fan works at a full speed or higher level of speeds, it consumes more battery than those fans that work at slower speeds. The battery of the fan is also consumed if you have some charging ports for your portable devices and any LED light drains the battery at a faster speed.
5. Size of the fan
The size of the fan is one of the most important factors to consider while buying a camping fan. If you are camping alone and you have a backpack, then the small size is a wise choice for you A big fan occupies a large space and this is what you don't want. Moreover, the season of camping also determines which size you must choose. As the big fan removes hot air fast and blows cool air at high speed, so big size fans are recommended for summer camping. Moreover, during family camping and car camping trips, a big size fan can be chosen.
6. Fan Weight
Weight is one of those things that decide the portability of any object. As you know heavy things are hard to manage and carry, so make sure your camping fan is lightweight which is portable, easy to carry and transport. It is a really tough task to carry all the things that are required for camping and packing those things can become difficult for you if you have lots of heavier things with you. Lightweight objects can be transported easily. So opting for a lightweight fan is a wise choice for you. Moreover, you can easily mount it on the top of your tent or anywhere as per available options.
Final Thoughts on Choosing a Camping Fan

When you decide to go for outdoor trips, a camping fan is a must-have. It provides you a lot of comforts that you cannot ignore. To have a camping fan is a must as without it you can not enjoy your trips because of the hot environment.
There are a lot of camping fans available in the market and all of them almost look alike. So before you decide to buy one, make sure to read the important factors that help you to buy your required item. Moreover, when you decide on a final item, don't forget to read the reviews about it. It can give you the actual picture of the product. Have fun.
Happy camping!