Check out these great caravan parks to stay on your next Victor Harbor holiday!

Victor Harbor is by far one of the most popular travel destinations in South Australia, and it's easy to see why. With beautiful beaches a plenty, there is so much to do for the young and old, singles, couples and families!
Anyway, let's get straight into our Victor Harbor Caravan Park reviews. In our opinion, the best caravan Parks are:
Top Caravan Parks in Victor Harbor, South Australia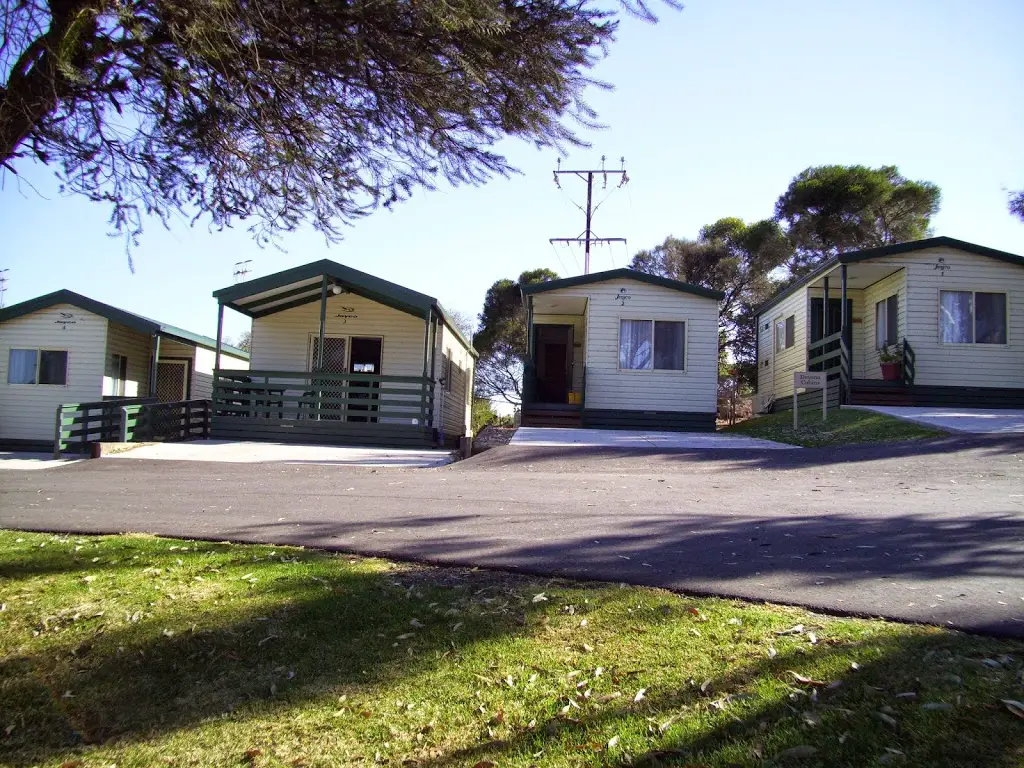 Adare Camp and Caravan Park
20 Wattle Dr, McCracken SA 5211
Situated 75 km from Adelaide in the picturesque Victor Harbor, Adare Camp and Caravan Park is an iconic location to relax and enjoy your holidays. It's located at 20 Wattle Drive in the Victor Harbor township and has the Warland Reserve a short distance away.
With walking trails, beaches, pump tracks, and the Hindmarsh River located nearby, it serves as an ideal camping spot for children and adults of all ages. This park consists of a unique mix of tent style and traditional camp accommodations, caravan sites, motor homes, and cabins.
The park serves as a popular destination for tourists across the globe due to its historic surroundings. Enjoy a lovely walk through the river edge that leads to old historic ruins where you can explore.
Adare Caravan Park remains open all 7 days a week – making it the perfect family getaway destination for both short and long-term breaks.
Types of Accommodation
There are accommodation types to suit everyone, from cabins and units, to caravan sites and camping grounds
Amenities
The park features all the usual amenities required for a comfortable stay including bbqs, showers/toilets, camp kitchen, washing machines. There are also lots of great features to keep the kids entertained such as mountain biking, kayaking, surfing.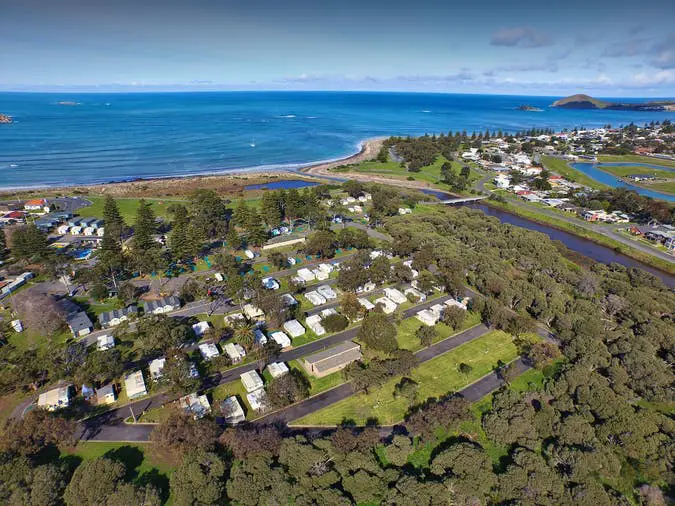 NRMA Victor Harbor Beachfront Holiday Park
114 Victoria St, Victor Harbor SA 5211
Are you looking for the ideal place to stay for the summer holidays? Then NRMA Victor Harbor Beachfront Holiday Park is an attractive beachfront getaway. It is a spectacular place in South Australia and gets our pick of best caravan parks in Victor Harbor. It provides the perfect opportunities for people to get away from the mad rush of the cities and spend time having fun. It is the perfect pitstop on the way to Fleurieu Peninsula. Victor Harbor town is located in West Beach, Adelaide, some 75-minute drive from Adelaide.
Location and features
The NRMA Victor Harbor Beachfront Holiday Park park is ideally located in the center of town.
It is bordered by the Inman river, and has a beautiful beach along the other border. It's one of the best holiday parks, equipped with superior facilities for kids. These include a waterpark, a big trampoline, pump track, and playgrounds. People of all ages can enjoy the heated pool and other games. There is free wifi throughout the park.
The city center is just a few minutes' walk from the park. You can spend the day trekking in Victor Harbour or nearby Granite Island. Kids would love the fantastic play areas and different activities here. Delicious food and easy access to the shopping make this park a hit amongst the tourists.
Types of Accommodations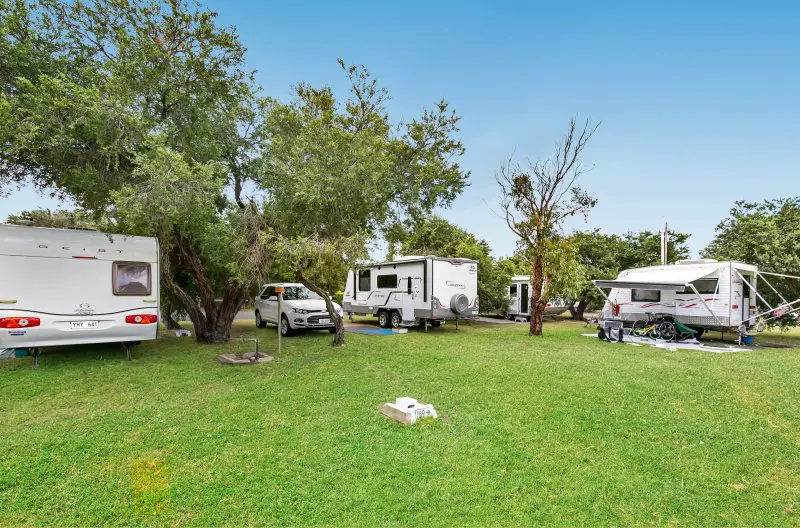 Big4 Breeze Port Elliot Holiday Park
Port Elliot Rd, Port Elliot SA 5212
Wish to take a break and enjoy the small and simple things that nature has to offer? Port Elliot Holiday Park, located 80 km towards the south of Adelaide in South Australia, is a perfect place to unwind, slow down and reflect.
Perfectly situated at a beachfront location of Crockery Bay and Horseshoe Bay, the location displays an unrivaled view from every point. Those who have an urge to explore can enjoy the coastal walking tracks. The rocky granite outcrops and the pristine open waters, along with the breathtaking ocean view, are stunning.
It lies in close proximity to incredible restaurants, bustling cafés, fishing areas, surfing spots, and golf courses. It's an ideal spot that can cater the needs of any tourists who visit the area.
Accommodation Options
Cabins
Caravan spots (powered/unpowered)
Camping
Site Amenities 
The park has numerous facilities to host various leisure time activities and is well-equipped with incredible amenities. This includes:
BBQ area.
Free Wi-Fi.
Laundry facility with washing machine and dryer.
Short-term boat storage area.
Kiosk.
Gas Swap Bottles
Public telephone.
Dumb point.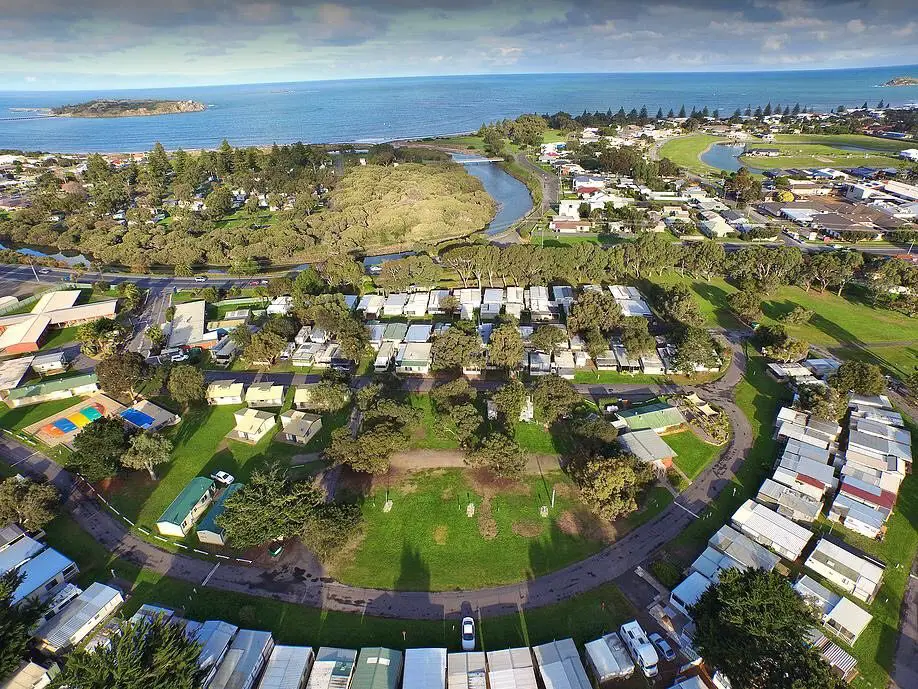 Victor Harbor Holiday & Cabin Park
19 Bay Road, 5211 Victor Harbor, Australia
Are you dreaming of a budget South Australian getaway that has all the comfort? Located on the South coast and not more than an hour from Adelaide, Victor Harbor Holiday & Cabin Park will be the perfect choice for your search. With close proximity to numerous surfing towns from Goolwa to Middleton, this holiday destination is loaded with great fishing areas and calm beaches. Steeped in history, this park is the preferred choice for tourists to explore and relax.
Those on the hunt for an adventurous and energetic holiday will find great fishing areas all across the Victor Harbor. It also offers plenty of water sports, boating areas, and well-maintained cycling tracks to remain fit. If you happen to be extra adventurous, you can enjoy a good swim in the Oceanic Victor in-sea aquarium. Taking a nature tour on Granite Island will give you a closer look at the cute penguins that live on the rocks.
Main Features 
The park understands exactly what the kids need and has a swimming pool, playground, jumping pillow, waterpark, and much more to keep them entertained.
Some of the popular attractions nearby include Horseshoe Bay – 7.3 km, Oceanic Victor – 2.2 km, and Urimbirra Wildlife Park – 4.8 km.
Absolute best choice for animal lovers! The place offers pet-friendly accommodation throughout the year.
Accommodation Facilities
Cabins
Self Contained Holiday Units
Caravan
Camping spots
What you should know about Victor Harbor
Victor Harbor is a small town located on the coast of South Australia. It boasts comfortable temperatures for most times of the year, with low rains. It is very picturesque and has a mix of urban and rural vibes with a historical background. 
Being a tourist destination, it has abundant accommodation facilities. It draws people from all over the country apart from the weekend crowds from Adelaide and nearby cities. 
Natural and man-made attractions make it perfect for all kinds of holidays. It offers the perfect getaway with fun and exciting activities for families with kids. 
How to get to Victor Harbour
You can travel to Victor Harbor via road or air transport. The closest airport is Adelaide, at a distance of about 68 kilometers. This can be easily covered in 90 minutes. A short flight to Adelaide and then a car drive make it the most popular travel mode.
People coming from far-off places like Sydney have multiple options. Fly to Adelaide and then drive to the town. You can drive down, but the car ride and driving for 15+ hours may make it a tedious journey. You can instead take a bus or train to Victor Harbor. Flying is the fastest option to reach this idyllic town.
There is a coach service from the Adelaide Central Bus Station and Goolwa. You can also get a bus to the airport directly from the main shopping center in the town. The frequency of the bus and its timings must be checked. 
Lots of things to do and see in Victor Harbor.
It is a small town that has many hidden attractions, including hiking trails and biking paths. Parking may be a little tough, so better to find a spot and walk around as much as possible.
SA Whale Centre– Start with this fantastic whale center. You can learn so much about this amazing animal and have close encounters too. (Best time to visit between May and October).


Granite Island – This is a major attraction. You can take a horse tram or walk across the wooden causeway. There is a penguin center nearby. You can see The Bluff from here and enjoy the wildflowers and natural beauty of this place. Kaiki Walk is a good hiking trail.


Heritage trail – This will take you from Petrol Cove to King's Beach, approximately 6 KM. You can go farther up to the Heysen trail if you like biking. The encounter bikeway is also a good biking path. 


Steam-ranger service- This service is available between Adelaide Hills and Victor Harbor a few times every month. It allows you to explore the town for a few hours and makes for a fun ride for kids. You can also check the trains to Goolwa. The train may run twice a week, but during school holidays they run daily trains. You can buy handmade craft items or the local brewery. 


The Bluff- You can climb up to the top – the Bluff- on the Waitapinga Hill and have a fantastic view of the entire town from this point. 


Fountain in Victor Harbor


The trails – These include the Heritage Trail, Inman River Walk, and Discovery Trail.
Victor Harbor has no dearth of places to stay. The food is fresh and delicious. You will find something interesting to do every day when you are here on vacation. You can interact with whales or go on a hike to reach the top of the mountain. Alone or with family you will never get bored.