Portable Jump Starter Reviews - Australia 2023
NOCO Boost HD GB70 2000 Amp 12V Ultra-Safe Lithium Jump Starter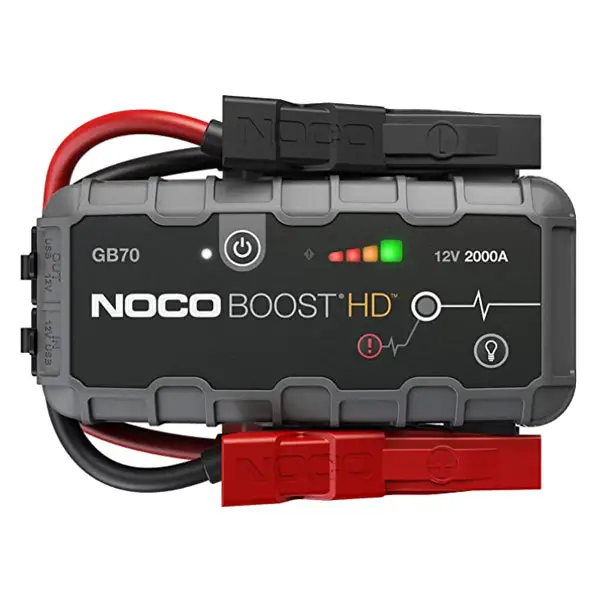 If you are looking for a powerful device to add to your collection of tools, NOCO Boost HD is the best option. This reliable lithium jump starter is available at 4000 amps and provides about 80 jump-starts in a single cycle. One of the most prominent features of this device is a built-in 500-lumen LED flashlight which performs on seven light modes: high, medium, low, strobe, flashing, and emergency SOS. This integrative component can function consistently for approximately 6 hours.
You should also pick this jump starter because it has received multiple positive reviews from the customers and analytics. You can get the most out of this equipment if you fix cars on a daily basis as well. It has the capacity to recharge all of your USB devices. It can also provide power to 12-volt devices such as inverters, tire compressors, and more.
With the strength and backup, it has to offer, NOCO Boost HD has usage benefits on diesel and gasoline engines for approximately 10 liters and more. This includes boats, trucks, cars, pickup trucks, and even agricultural vehicles. The packaging has the portable jump starter, XGC female plug, a USB charging cable, XGC cable,  XGC male plug, a warranty card, and a storage bag.
Provides a maximum amount of jump starts
Reliability for multiple vehicles
Built-in LED flashlight
Optimal reviews
Questionable warranty support
Charging time may vary for some equipment
GOOLOO Upgraded 1200A Peak 18000mAh Portable Car Jump Starter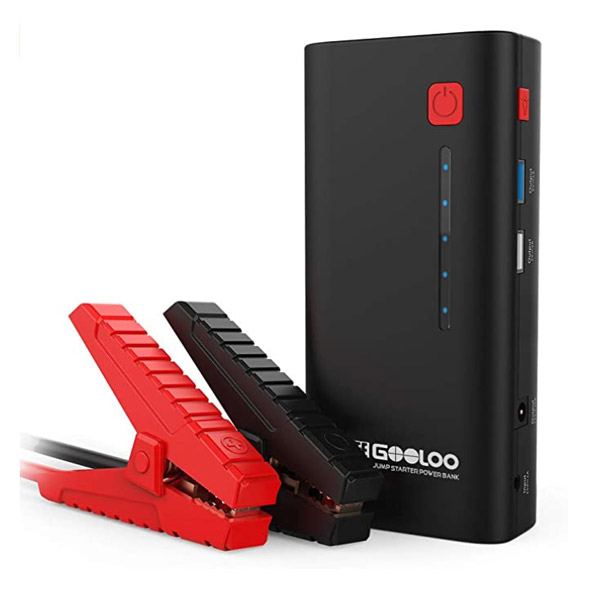 This is another power bank style jump started brought in the market by GOOLO, providing 1200 amps of peak power. The electricity backup provided by this device is good enough to kick start gasoline engines up to 7 liters and diesel engines up to 5.5 liters. This product can work with different vehicles and provide a diverse set of functions. You can use it on motorcycles, cars, ATVs, watercrafts, UTVs, snowmobiles, lawnmowers, and even yachts. There are two USB ports integrated into the product, including a quick charging 3.0 pot for the USB devices.
GOOLOO 20800mAh Super-Safe uses proficient jumper clamps which make the device efficient enough to use. There are multiple beneficial features such as over-current support, protection from over-voltage, protection from power overload, protection from over-charge, and sustenance on high temperature.
As compared to other jump starters, GOOLO's product has an incorporated LED light with three settings: SOS light, strobe light, and flashlight. The product comprises a battery capacity of 18000 mAh which comes with an 18-month certification. You can add this device to your emergency car kit and derive the most optimal outcomes in the future.
Polymer batter with a higher rating
Built-in LED flashlight and SOS light
The size is ultra-compact
Provides support
Comes with 18 months warranty
Battery timing is problematic
GREPRO Car Jump Starter 1500A 18000 mAh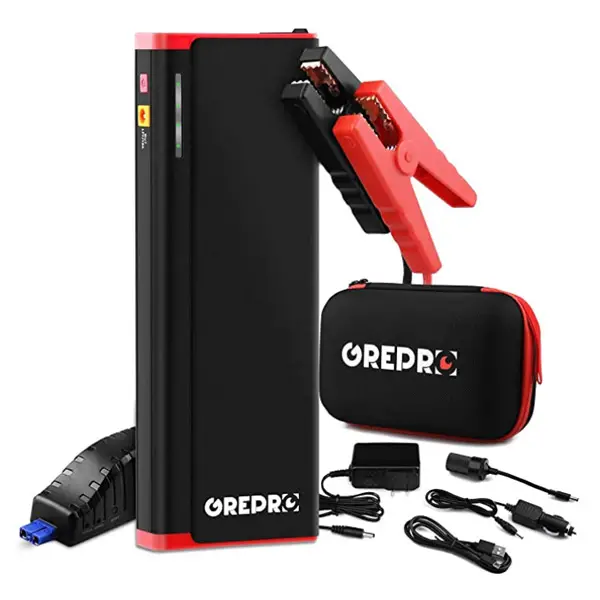 GREPRO Car Jump Starter is the best option for you if you want to use it to start all 12V batter cars, trucks, vans, snowmobiles, ATVs, UTVs, motorcycles, and lawn mowers. This is a heavy duty device which can operate up to 30 times after a complete charge (about 8.0liters on gas and 6.0 liters on diesel). This tool is very compact and you can store it in your car or a smaller space in the house.
The product comes with smart jumper cables with audible alarming system, visual notifications, and eight built-in protections involving protection of reverse polarity, protection from overheating, protection from over-charge, protection from short circuit, and support from over voltage to make it completely reliable for common use.
Like other products in the market, the GREPRO Car Jump Starter provides a dual USB quick charge. The option is compatible with almost all of the USB charging specifications; as a matter of fact, it provides 3 times faster charging speed as compared to other jump starters. With an 18000 mAh capacity, you can provide battery backup to tablets, GPS devices, phones, kindle, camera, and other devices.
Reliable battery support
Functions with multiple vehicles
Multiple precautionary settings are present
Built-in flashlight for multiple purposes
Battery timing may fluctuate depending on the use
ROOBOOST 600A Peak 12000mAh 12V Portable Car Jump Starter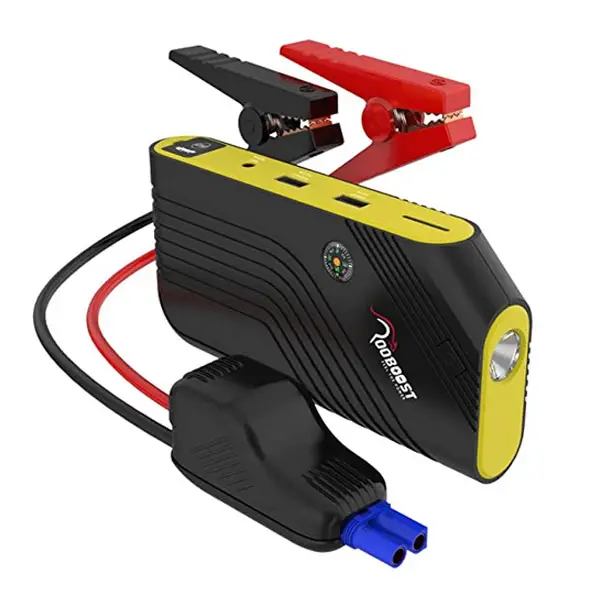 The ROOBOOST 600A Peak is a powerful device which can work with 600 Amp and is capable of providing support to vehicles up to 30 times. It can have viable outcomes for 4.0 liters gas or 2 liters diesel engine. The battery capacity of this car jump starter is 12000 mAh which is suitable for motorcycles, cars, lawn mowers, RVs, snowmobiles, yachts, and even watercrafts.
This proficient device comes with a powerful jump starter and a portable power bank. There is a compass available with a dual USB port and LED flashlight. You can easily take this jump starter on your adventure trips, especially for outdoor camping activities. The size is compact enough for the tool to fit in the glove box.
There is a unique Intelligent Smart Jumper clamp present with combined protections including short circuit security, anti-reverse polarity safety, protection for short-circuit, protection for over-charge/discharge, and protection on overheating. This way, everyone can use it for the vehicles without any prior experience.
The ROOBOOST 600A Peak comes with a 24-month warranty. If you are not satisfied with the outcomes, you can have your money back.
12000 mAh capacity
Smart USB Port
Travel friendly
Money back guarantee
Compact size
Supports long-distance driving
The battery timing may fluctuate
Portable Car Jump Starter, TACKLIFE 2200A
TOPVISION portable car jump starter is a device which can be a life saver. There are several ways through which it works in a positive manner, particularly on a long trip. TOPVISION provides optimum solutions for diesel engine. It can kick start a 6 liters engine within seconds. The system works on a rapid process that can start a 5.2 diesel engine up to 30 times within a specific charge.
This tool is not simply a jump starter but it also has its use as a power bank through which you can charge your devices such as smartphones, laptops, and tablets, etc. The advanced safe technology is something which differentiates this product from others in the market. It provides overcurrent security, protection from reverse polarity, protection from over voltage, protection from overcharge, and safety from overload.
TOPVISION jump starter comes with a 20,800 mAh capacity. It can provide enough power in case of an emergency. Nothing can be more effective than investing in a device which is multifunctional and contemporary. This jump starter is not just a portable charger, it also has SOS lighting signal for guidance, dual USB quick charge, and LEF flashlight.
A supportive power station
Safety technology
Multidimensional functions
Clamps and cables are strong
Reliable
Needs professional assistance in usage
Manufactured by synthetic material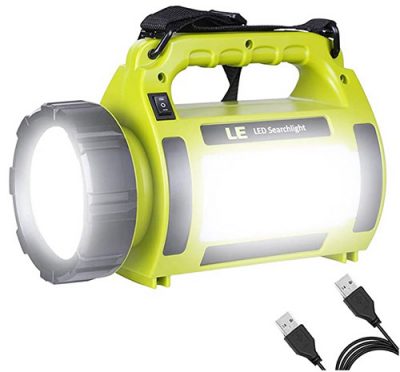 Your Guide to buying a Jump Starter Pack
It is extremely important for you to know the purpose before buying a portable car jump starter. Most of these devices and battery chargers provide some flexibility, but some have restricted options in terms of usage and characteristics. If you are not worried about running heavy appliances and electronics when there is no power backup present, you do not have to worry about getting an advanced jump starter.
Starting amps
This aspect is particularly essential if you have to use the portable car jump starter mainly for its basic purpose: starting up the engines. Heavier engines, particularly the ones running on diesel, can require about 500 ampere of current to revive the current supply. For this purpose, you need the right kind of battery power. Most of the manufacturers provide information for their car starters and types of batteries for engine types. It can be helpful to read the fine print of the jump starter battery.
Storage Capacity
The storage capacity values are in amp hours or milliamp hours and it is significant if you plan on using your portable jump starter battery as a charger or source of mobile power. A higher number usually means an additional capacity of electrical storage.
Features
Before getting a portable car jump starter, you need to take into consideration the features and attributes. All of the options are promising, but the difference of weight and size remains. Before making a purchase, you can add all of the features in a single unit and the jump starter values become more useful. On the contrary, at times, you might not want to carry a heavier portable car battery around. For such times, you will have to keep separate accessories, such as a supportive and small compressor that works with the batteries.
Some Important Jump Starter Tips
Portable car jumpers and batteries are not considerably maintained and developed as the customer reviews mention. Some of the performance measures are ineffective and impractical. It is always helpful to read the fine print.
For security purposes, you should search for batteries that are beneficial for compliance with the vehicles.
You should always note the temperature changes. According to the manufacturers, it is not safe to store these devices on environments with higher temperatures. If you want to keep them in your car, you should make sure that they are out of direct sunlight in the glove box. Keeping them in the trunk can be better as well.
With the portable car jump starters, you can start your vehicle when the engine fails. All of the reviewed options will work perfectly fine. However, you need to check the price differences.
Some of the jumpers have LCD screens and monitors for efficient performance, feasibility, durability, and reliability. Moreover, they are available on affordable prices from reputable companies. You can get any of them to include in your emergency car kit.
Popular Jump Starter Pack Questions
Q: Can you charge a phone battery with a portable car jump starter?
Yes. The majority of packs will include a USB connection to power phones and other small electronics.
Q: What exactly is a car jump starter?
A car jump starter is a tool which works as the battery of another vehicle. These devices have their own alligator's clips so you can join it to the batter of your car to start the engine.
Q: How can I find the best portable car jump starter?
It is quite convenient and easy to find an option. You need to consider the buyer's guide and select an option which suits you.
Q: Is the LCD display on a jump starter important?
Some of the portable car jump starters have LCD screens for better performance. According to your budget, you can pick one if you like the option. This feature also depends on your traveling or outdoor experiences.
Conclusion
With the mentioned portable car jump starters, you can avoid embarrassing situations while traveling when your vehicle breaks down. If you have one of these devices from a reputable brand, you can charge all types of batteries, including the anti-gravity and lead-acid batteries. NOCO Boost HD, out of all options, provides optimal kick-start options. Not only is the battery support advanced and well-maintained, this product is exceptional in terms of safety, reliability, and price as well. Once you have this smart technology, you do not need a jumper cable anymore.
I hope you found this review useful with the buying guide. It includes everything there is to know about selecting the appropriate portable car jump starter and going through the routine procedures.