Has the time come when your kids no longer want to sleep in your family tent and want their own setup? Well, it might be time to consider a swag. Kids swags are a great portable option that can be used just about anywhere.
There are a number of swag companies that sell swags suitable for kids, with most "single" sized swags being a great size.
We have found 5 good swags that are worth considering.
Check them out below.
Best Kids Swag Reviews 2023
Darche Traditional Single Swag
Kids love to take their swag with them on vacations so it must be cozy and comfortable enough to make the little munchkins happy. Darche Tradition single swag is one such appealing swag for a single person. The design is a fusion of traditional envelope-style and modern roll-out swags which offer great convenience and comfort.
The swag is made up of very fine high-quality material and design to offer appropriate ventilation. It has rear support, Galvanized steel telescopic adjustable head pole, and a PVC base bucket floor with a thick mattress to offer a comfortable sleeping place. Moreover, it is made using wear and tear-resistant ripstop canvas which lasts for a lifetime.
In addition, it comes with a lifetime warranty which makes it the best-selling single swag among adventurers, campers, tourers, and sheep shearers, etc. All in all, Darche Traditional single swag is an all-rounder which proves itself reasonable in price, construction, and durability.
Comes with a comfortable thick mattress
Traditionally designed with all modern features
Ready-to-go roll swag you can take anywhere
Lightweight and sturdy
Oztrail Cooson Expedition Single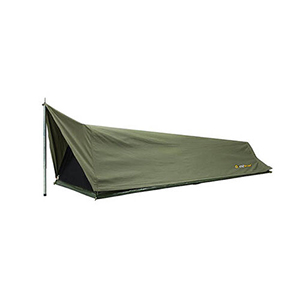 Here is another cozy swag that can make your outdoor journey safe and comfy. Oztrain cooson expedition single swag is made with a large mesh door and windows ensuring that the bugs and other flying insects stay out of your resting place. It is also made up of a sturdy SatProof Ripstop canvas with a traditional A-frame design and a sturdy PVC vinyl base adding durability.
The head canopy is made up of mesh to provide appropriate ventilation. The canopy stands on a galvanized front pole and a fiberglass rear pole. The swag is suitable for kids and adults also. One adult can easily sleep in the swag and extend it across the foot. The swag is made for all climates. You can take it with you on any outdoor trip no matter whether the climate is sunny or cold.
Oztrail Cooson Expedition Single comes with a 2-year manufacturer's warranty making it easy for you to buy it confidently. It comes with a guy rope and sturdy straps which are long-lasting. The structure is lightweight so it is quite easy to carry it.
Easy to store and carry
Mesh windows and entrance to avoid bugs
Comes with a two year's warranty
Suitable for both kids and adults
Heavy-duty and long-lasting
Suitable for all climates
OZtrail Swift Pitch Bivy Tent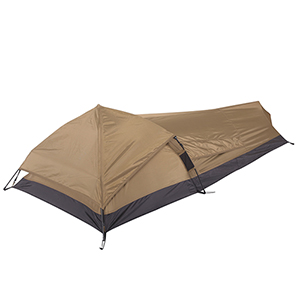 Some people hate carrying luggage at the tours so they like to take lightweight and compact gear with them. OZtrail Swift Pitch Bivy Tent is made for that kind of people. It is handy and compact with a considerably lightweight making it easy to carry. The single-person swag is suitable for all kinds of outdoor activities like fishing, hiking, camping, and trekking, etc.
The bivouac-style tent is made to make your nights comfortable outdoor. It has a head mesh panel so it remains airy always. Moreover, you can enter the swag from the top easily. The most appealing feature of the Oztrail Swift Pitch Bivy Tent is the instant setup. The setup is quite easy and quick. It uses a unique hub system that helps you to setup and pack it down instantly.
OZtrail Swift Pitch Bivy Tent has a Utex Sun Tough fabric which is very sturdy and water-resistant so it lasts long even in tough weather, Moreover, this heavy-duty swag has a durable puncture-proof floor which adds to the longevity.
Compact and lightweight easily fits into the backpack
Instant setup and pack-down
Made up of water-proof fabric
Durable and long-lasting flooring
Weisshorn Dark Grey Single Biker Swag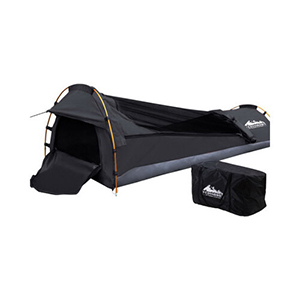 Weisshorn Dark Grey Single Biker Swag is another good bet if you are a camper and want to spend outdoor nights comfortably. The single swag is suitable for all climates and made up of durable waterproof fabric i.e. ripstop canvas which lasts for a lifetime. Moreover, it has PVC-made water-resistant flooring which makes it sturdier.
Weisshorn Dark Grey Single Biker Swag has mesh panels that keep the insects out and also provide necessary ventilation through the swag. In addition, it is fully enclosed with zips giving you complete privacy. The swag is equipped with a thick 40mm breathable mattress which offers comfortable night sleep no matter how rough and uneven the surface is.
The structure is supported by heavy-duty curved poles made up of aluminum. These poles hold the canvas and other components very well to allow a comfortable outdoor experience while traveling. Another feature that adds to its utility is the extras that come with it to make the experience worthwhile. They include sturdy pegs, a guide robe, and a backpack to carry the swag conveniently.
Equipped with a high-density breathable mattress
Best for all weathers
Lightweight and easy to carry
Sturdy, safe, and airy swag
Darche Ranger Solo is specifically designed for solo night trips so it is designed keeping in mind the needs of bikers, hikers, and campers who want to experience the overnight stays safely. The swag is best for all weathers. It is compact and lightweight so it can be carried easily while traveling. The swag is made up of tear-resistant heavy-duty canvas for longevity.
The most unique feature of this solo swag is a separate storage compartment to store your important accessories and gear while traveling. In addition, it is equipped with a storm cover over the sleeping area for proper ventilation. The swag has a breathable high-density mattress for a comfortable sleeping experience on any surface.
It is surrounded by a fine mesh to keep the insects out of the swag. The poles are made up of anodized aluminum to hold the canvas appropriately. This Australian swag comes with pegs, guy ropes, and a dry bag for carrying the swag conveniently during outdoor trips.
Specifically designed for solo trips
Equipped with mesh panel for ventilation
Keeps the insects out
Made using sturdy PVC floor
Waterproof Ripstop canvas
A Quick Buyer's Guide for the Best Kids Swag Australia
A swag is a must-buy outdoor gear for those who travel frequently, especially the solo riders, bikers, tourers, or campers who are going to spend the night outdoors. It is available in a variety of kinds and types so before buying the one, you must go through our quick buyer's guide to make the right decision.
How swag is different than the tent?
If you are unable to decide whether you want to buy swag or a camping tent, you must look into the following differences between the swag and a tent.
A swag is smaller than a tent. It occupies lesser space and is easy to carry as compared to the tent. It is lightweight than the tent. So a single biker or rider can easily carry it in the backpack.
It offers a simple and easy setup and pack-up as well.
A swag is suitable for those traveling solo. A tent is a good choice if you are traveling with family or a group of friends as you need more space to accommodate a lot of people.
Most of the swags are equipped with the mattress to make the sleeping experience better. However, the tents do not include the mattress.
The swags are made up of sturdy canvas so they have more longevity than the standard tents.
The swags can keep you warmer in the cold weather because they trap the warmth while the tents do not.
How to Choose the Best Camping Swag
Here are some factors you should consider while buying the best swag serving your purpose and camping style.
Type Of Swags
Here are few common types of swags easily available. Each type serves differently so go through them quickly to make the right choice.
Traditional Swag
A traditional swag is a very simple setup. It consists of a mattress and a canopy made up of canvas. The mattress can be rolled up into the canvas pocket to be carried easily. What you have to do is to roll the mattress out and there you go. It is compact, lightweight, and easy to set up. However, there are some downsides too. They do not contain many modern features the advanced models are equipped with. They can't protect you from many external threats like insects and very rough weather.
Dome Swag
Dome swag is quite like a small tent having a shape like a dome. This type of swag is equipped with the poles and comes with ropes to hold the structure covering the mattress and a sturdy base. It is good for the solo campers who are traveling to the simple campsite and do not have a lot of luggage with them. Most of the dome-shaped swags consist of a mesh panel to keep you away from insects and also to offer appropriate ventilation in summer.
Air Swag
Air Swag is the latest type of Australian swag. It is an inflatable tent where poles are not used. These types of swags are lightweight, compact, easy to carry and store because they don't use poles.
Swag Size
Another important factor to consider is the swag size. Swag comes in a single, king, or double size. The choice depends upon how many people are going to use it. However, you should considerately check the dimensions of the swag you are buying because different brands may vary in the dimensions. Generally, the standard swag sizes are;
Single: 60-90 cm wide x 180-230 cm long
King Single: 90-115 cm wide x 190-230 cm long
Double: 110-130 cm wide x 190-230 cm long
Material of Swag
Most of the swags are made up of resilient material so they usually last longer than the tents. They are made with such consideration to withstand tough outdoor weather and to protect you from external elements like insects, wind, and storms, etc. The canvas of the swag is made up of breathable cotton and polyester ensuring appropriate ventilation. Moreover, make sure that the canvas is ripstop to ensure longevity. The parameter to gauge the quality of the fabric is its weight. Greater the weight better will be the quality.
Base
After having a critical look at the material quality, it is also important to check the quality of the base. Some swags are equipped with the PVC base which is quite a sturdy and long-lasting option. Make sure that the base is water-proof to keep you protected. Some swags also come with the canvas-made base but they take time to dry and you need to put a sheet underneath in order to get them dried.
Mattress
The best unique feature of a swag that differentiates it from the tent is the built-in mattress. The swags are equipped with high-density mattresses to ensure a good night's sleep in any climatic condition or at any uneven surface. Make sure that the mattress is thick enough. The thicker the mattress is, the more comfortable it will be. However, the built-in mattress leaves no choice for you to change the mattress if you feel comfortable. If this is the case, you can also buy an inflatable mattress to make your starry nights worthwhile.
Other Features
Swags can offer you various other features too. It depends upon the purpose you are going to buy them for and the feature you need to spend the night with.However, ensure that your swag must have an airflow system like the mesh panels, windows, or entrance for appropriate ventilation.
Some swags come with canvas covers so they protect you from rain. Moreover, the swags are usually equipped with zippers to ensure that the quality of the zippers is considerable and they do not snag.
Some swags also come with storage pockets and separate compartments to keep the important items safe. Moreover, make sure that the poles are made up of aluminum or steel as they prove to be durable and safe.