For comfort and safety it's always best that your caravan is level! The best way to achieve this is by using Caravan Levelling Ramps!
When you are out touring the county in your caravan, it's highly likely that many of the camp sites you visit will not have level ground – especially if you are free camping. Having an uneven caravan can be both annoying (drinks rolling off tables) and also unsafe. Whilst caravans do come with stabilisers, it's best to also use a set of caravan levelling ramps.
Levelling ramps are pretty straight forward and there are only a few variations on the market so choosing a set won't be very difficult.
Here are 5 caravan levelling ramps we have found that are available online.
Best Caravan Levelling Ramps for Australia: Reviews 2023
Milenco Quattro Pair of Levelling Ramps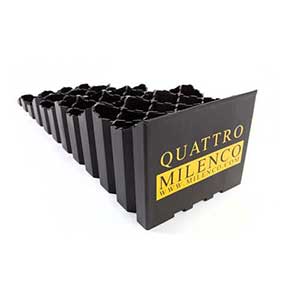 Quattro Leveling Ramps are one of the best caravan levelling ramps. 160cm long, one of the tallest levels available. And its uniqueness is that it provides four levels where most of the new ramps offer a maximum of 3 levels.
Quattro level includes lattice, high-altitude, and with much safer grip. Your car tires stay secure with a notch at all heights. In fact, there is no need for chocks! They have a solid foundation to stop sinking in soft soil or sand. Rigid and firm grip stops tires from slipping as they approach and avoid the need for grip plates.
These ramps have four different heights levels that would allow you to raise your van to a height of 160mm and also can hold upto 2000 kg per wheel. These levelling ramps are designed with adding extra width to make it wide up to 250 mm allowing tires to be larger from motorhomes.
This is one of the best and innovative products that have proved its worth by winning multiple awards and servers multiple patents worldwide. Its flexibility surely helps you on rough surfaces.
The milenco levelling ramps is much easier to use because it would give a strong grip on top of the surface so that your motorhome or car doesn't slip over it. Along with milenco quality ensures the safety of your car because stronger base won't allow the tires to just sink into mud or smooth ground.
Sturdy and offers four levels
Rigid, hard, and shows effective resistance
Can melt due to overheating of tire
Not dimensionally stable
Haigh Explore Cvl2 Levelling Ramp Pair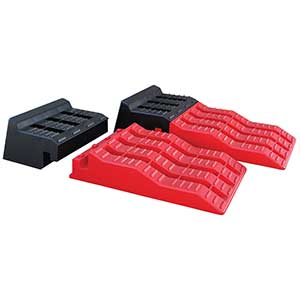 Want to go on a vacation to the highlands with your family in your trailer? Buckle up your luggage and don't forget to add Haigh Explore Cvl2 Levelling Ramp Pair. These Ramps are made in Australia and can withhold up to 5 tonnes of weight.
This levelling ramp would support twin axle trailers and yet can also be used for a single axle trailer. The front section is placed between the rear wheels and front wheels to remove the rear section. These ramps are built with extra-wide width of 250 mm that would suit most motorhomes, campers, trailers, and caravans.
With ultimate rigidity and super strength, they can raise the wheel of your trailer up to 100 mm in height. Comes with an extra-wide tread to cover for the tires with widths of 250 mm. Being this much heavy-duty, you must think they would topple off your luggage's weight capacity then don't worry they're just 1.8 kg per ramp.
This is one of the unique products that have hit the market, to support dual axle caravans the rear section of the ramp can be easily removed.
Built with lightweight UV resistant polyethylene the Haigh Explore levelling ramps would level up your motorhomes or cars on uneven surfaces. Due to non-metallic built material, they are rust free and are durable, heavy-duty ramps.
Can hold 5 tonnes weight per axle
UV resistant
Rust free
Made in Australia
Does not come with matching chocks
Can slide on the ground
FROLI Detachable Wheel Leveller w/ 3 Adjustable Heights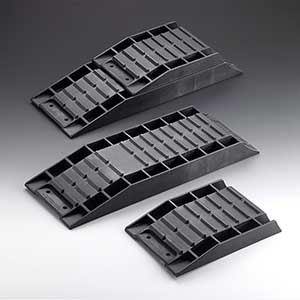 Now make the levelling up of your RV even much easier with a two-piece adjustable FROLI detachable wheel leveller. It can allow three heights by detaching into two pieces of 40 mm, 50 mm, 95 mm; you got one of the best 3 in one offer.
FROLI provides levellers that are the easiest option to level up your motor caravan in sideways slopping patches. Its grip features the outer surface that provides tire traction and terrain resistance so that neither your RVs tire slips nor the ramp leaves its place. Its lightweight and sturdy plastic can withhold larger weights.
You can easily pack it inside your vacation luggage. They are lighter in weight with a weight lesser than 1.8 kg per ramp and made from UV resistant material to enhance durability and make it rust-free for providing quality and lifelong support.
Each ramp can carry weight up to 2000 kg or 2 tonnes of weight which is more than enough if we use them for cars and small motorhomes. They do not have any extra front ramp shape to support your car, but its rough and nonslip surface can keep your car steady and in one place.
Can hold up to 2 tonnes or 2000 Kg
3 different levels
UV resistant, durable material
Hold car in one place
Weight capacity per ramp is lesser than contemporary ramps
FIAMMA LEVEL-UP "PLUS" RAMPS 2PCS GREY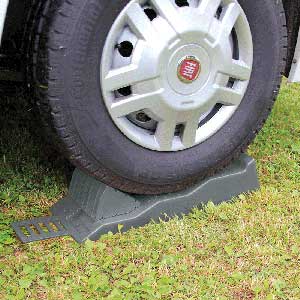 Fiamma level up ramps would keep your caravan levelled for better operation when parked on uneven surfaces.
With three height levels, the Fiamma level up a ramp is one of the safest options you have available for your caravan or RV. One of the best features about it is the ridge surface that would grip the tires, and your vehicle would be much safer.
Made with rust-proof materials, they are durable, lightweight and would give you a lifetime performance. It is UV resistant, and each ramp can hold a toppling weight of up to 5 tonnes. The surface of the ramp is nonslip so that car doesn't slip off the ramp, comes with an optional lock-in chock. It has a width of 20cm to match caravans, RVs, and cars, and offers three levels of 4, 7 and 10 cm.
The built quality is extremely durable. They can-not crack or break with a solid built material of polyethylene. The original version only comes through Fiamma.
Now you can keep your caravan levelled up on every vacation place. You can hold it easily because it comes with a carry bag and is also lightweight due to its non-metallic built material.
Non-slippery surface
Lightweight and durable
Can carry up to 5 tonnes per ramp
Comes with a carry bag
Non-metallic built material
Suitable for smaller tyres
Haigh Storage Bags for CVL1/L2 Levelling Ramps.CVLB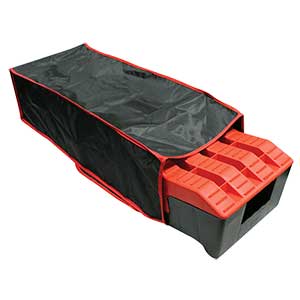 This Haigh storage ramp is another best caravan levelling ramps. It is particularly designed for CVL1/L2 travellers. Ramps are made up of high quality, UV resistant polypropylene with a PVC backing. These ramps are liable to keep the caravans and motorhomes level being on any uneven areas.
Haigh Storage bag ramps are rust-proof. It features a high level of durability that makes it built to last and helps you in tough conditions. The Haigh ramps are created to get used on single and twin axle vehicles both. Its back part is removable to position its front part in between the rear wheels.
The width of this leveller is 250mm that is an ultimate fit for most of the motorhomes and caravans. Haigh levelling ramps are made in Australia and are able to hold enough weight. It has high rigidity and strength that makes it a great fit for caravans. The rams are heavy duty that would never topple off your luggage weight.
These are lightweight ramps that assure you to level up your motorhomes on rough surfaces as it's made from a non-metallic material, so it is durable that will support you for ages.
Patented design
High weight capacity
Rust-proof
Wheel chocks are separate
A Quick Buying Guide to find the best Caravan Levelling Ramps
All the buyers out there should know important factors before buying the best caravan
Durability
Similar to several other things for the caravan you need to assure that ramps are durable enough. High durability refers to its material that should be high quality and heavy-duty. This will end up servicing you for years without failing.
The best caravan levelling blocks are the one that does not split when you use it. So you need to get a caravan leveller made up of potential material surely. This will make it long last and bear pressure. Durable ramps are able to bear heavy caravans with harsh weather conditions too easily.
Weight Capacity
The point to keep in mind is that all caravans weight different. Due to this, levelling will also differ in terms of weight to support preventing fall. So, while looking for buying varied ramps, keep in mind to make sure that your ramps should have the weight capacity sufficient enough to hold your caravan.
It is a must for you to check weight capacity; otherwise, extra weight can break your things as you reach the caravan.
Nonslip Grip
are designed in such a way that they are easy to transport from one For sure, you need to get the durable ramp blocks. Alongside, your caravan ramp blocks should be capable of holding the wheels in place. It does not let it slip and hold it securely. For this, it requires having a grip coating that enables a tight grip to let you rest with surety that your caravan is not going to slip.
Ease of Usage
If you are really going to buy caravan levelling blocks, then go for the ones that feature easy usage. Definitely, you would never need to have a fiddly set that takes your hours to get set.
In this regard, you need to get ramps that are easy to store and transport when not in use. A carry case included with caravan ramps would be more useful to make your setting easier. So, your ultimate choice should be getting levelling rams that are easy to use alongside supper effective as you set it up.
Warranty
Using levelling ramps on caravan enables a lot of weight pressure on them. Due to this, there is always a chance of ramps getting fail in accordance with its quality. So, make sure to get high-quality ramp blocks that are durable and have added warranty.
A warranty is an assurance that if your ramps getting deteriorate before the set time so the company will repair replace it free of cost. It will be the peace of mind for you that your money will not go in vain. Also, it is a surety that you are getting a quality product from a high-quality company.
Adjustability
If you buy caravan blocks that are adjustable, then this will be your biggest time saver. There are times when you get into extremely rough grounds. In such conditions, the adjustability allows you placing wheels on different height levels.
But still, if your campsite is wholly rough and uneven, then our recommendation is to search a new site that is a bit less rough to let you easily adjust.
Price
Most probably, you will have a set budget before you begin hunting for best caravan levelling blocks. Different ramps have different prices and quality, and brands influence highly on the price.
High-quality brands end up creating high-quality products that last longer. In this regard, it is good to spend a little more money to get high quality and long-lasting ramps. It is because it will last longer and save your money afterwards.
Price is not always something you consider. Make sure to get high quality in a normal price range that serves you at its best.
Tire Diameter
All the best caravan rams are a good fit for standard tire sizes. Still, you need to check on the width of your tire blocks that fit your caravan tires. A perfect-fitting tire is great for caravan weight to spread evenly on the larger surface ending up with a high level of stabilisation.
Final Verdict
Caravan levelling somehow do not bother people. But it causes the appliances to work poorly. So using the best caravan levelling ramps is a great help to level your caravan. Also, if you are getting correct ramps then for sure, it is a super easy and stress-free method to get levelled caravan.
This is the list of our best caravan levelling blocks. All these blocks are a surety that your caravan will get perfectly levelled on uneven surfaces. Also, our buying guide will help you buy the perfect one.