A caravan can be an expensive investment, so it makes sense to keep it protected from the weather with a caravan cover!
When you aren't touring the country in your van, it's best to keep it under a cover and protected from Australia's harmful weather. Whilst most of us don't have the luxury of keeping our vans undercover, a caravan cover is the next best thing – but what's the best cover? Well that all depends on the size and shape of your caravan.
There are many universal style covers, and they will be just fine, but just make sure you pick the right size.
Here are 5 caravan covers that we have found online for different sizes and styles of caravan.
Best Caravan Covers for Australia: Reviews 2021
ADCO Caravan Cover 18-20′ CRVCAC20 (5508-6120mm)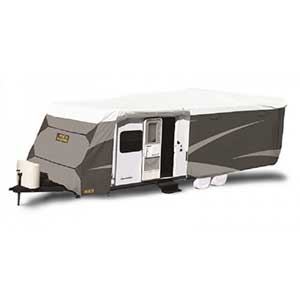 This highly durable and practical product is from ADCO, the leading international company in the caravan cover industry. The cover measures between 18-20 feet in length. The best thing about ADCO CRVCAC20 is the universal design that makes it a great fit for almost every caravan where the user needs a quick and easy installation process. It is held in place by tactically placed buckles and straps and uses a handy cinch system for the loose fabric at the back and front.
The heavy-duty build of this best caravan cover for sale includes a breathable layer of polypropylene sides and a Dupont Tyvek roof. This feature helps block 99% of harmful, destructive UV rays to keep your favorite product's exterior and furnishings from fading and aging.
With all the unique and distinctive features, the cover tends to stay breathable to prevent unwanted mildew and mold from the motorhome. This high-rated product's practical design also includes a non-abrasive inner lining and zippered side doors for uninterrupted access to the caravan.
The top panel here extends from the back and front in a white finish. It is often complemented by 2-tone greys and contoured patterns of side panels. The door flaps feature eyelets to double the cover as an awning or sunshade. With the weighted buckles, you can easily toss the cover under the RV to connect to the opposite side. The corner reinforcements help protect against extremely sharp edges and wear/tear.
Designed for high sun exposure
Completely breathable
Storage bag included
Camec Caravan Cover (C20CCV) 18-20′ (5.4m-6.0m)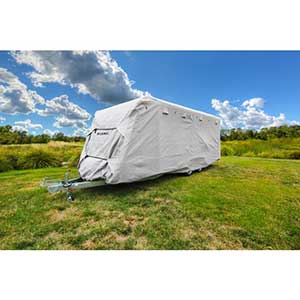 The Camec Caravan Cover (C20CCV) is a good-quality, reliable, and practical solution for your medium-sized caravans. This product is highly equipped to protect your caravan against environmental elements for a longer duration. This particular product is crafted and designed for caravans between 18-20 feet in length. It has almost every unique feature and component that gives it a prime spot in the list of best caravan covers in 2020.
In addition to a water-proof and UV stabilized design, it has heavy-duty materials in its construction to protect your caravan against the corrosive action of pollutants and acid rain. The roof section of Camec Caravan Cover (C20CCV) is also water-resistant, whereas the side panels have weather-resistant properties. When coupled with the breathability factor, both these features keep your caravan free from all kinds of molds and mildews.
This caravan cover is super lightweight and easy to set up/install. With its zippered side doors, you have convenient and easy access to the caravan whether the door is located at your van's rear or front side. There are dual clip nylon straps and a reinforced skirt on the front and back of the cover to ensure that it fits securely over the van without causing you any trouble.
The double-stitched, extra reinforced corners help the cover negotiate sharp edges, recurrent installation, and easy removal. The ventilation flaps and elasticized front/rear hem are some other star features of Camec Caravan Cover.
Light in weight
Easy fitment
Double-stitched reinforced corners
May scratch window if fitted poorly
ADCO Pop Top Cover 14-16′ CRVPTC16 (4284-4896mm)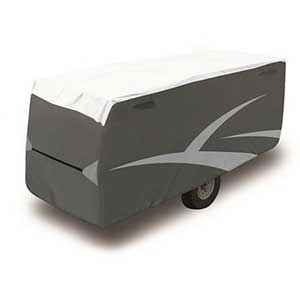 Now you can keep your pop-top looking brand new and damage-free with this reliable and durable Caravan cover. This best Caravan cover for sale is especially crafted and designed to give you a tight fit for your pop-top caravan. The best thing about this product is its user-friendly buckles and straps. It comes with an easy and convenient cinching system for the loose fabric to prevent flapping, wear/tear, and billowing. Thanks to all these features, the ADCO Pop Top Cover 14-16′ CRVPTC16 is an ideal choice where long storage periods are required.
This cover is made from a mixture of heavy-duty polypropylene and 4- layered DuPont Tyvek. The top panel made from this material performs the additional function of preventing harmful ultraviolet rays up to 99%. It also prevents mold build-up and condensation to serve this product as a breathable shield for your caravan. It is jam-packed with the signature features of ADCO company to facilitate excellent workmanship and even better material quality.
The corners of this cover are double stitched and also features additional reinforcements for protection against tearing, ripping, scratching, and sharp edges during setup and removal. It has a stylish and modern look to complement the premium quality, which is why this product is a complete package for people with a thing for outdoor adventures.
Designed for long pop-tops
Comes with a storage bag
Protects well against sun, rain, and snow
Caravan Cover 18 – 20′ (5.4m – 6.0m) Heavy Duty
The truth is, caravans are one of the most expensive vehicles in the market, so they need current protection and safeguarding against outdoor elements. Not many people have the luxury of keeping their caravans in a garage. For them, covering their caravan is the ultimate solution to consider.
If you are looking for a high- quality motorhome cover protection for your Caravan under different weather conditions, look no further than Caravan Cover 18 – 20′ (5.4m – 6.0m) for your next trip. This heavy-duty Caravan cover in 2020 provides you with an extensive cover with ultimate protection, quality, and practicality. It is very lightweight and convenient to use.
You can use this caravan cover to protect your unit from rough environmental conditions like industrial pollutants, acid rain, bird droppings, tree sap, weather damage, and dirt. This product is undoubtedly the most high-quality cover in the market and features rear and front reinforced eyelets and nylon straps for secure and easy fastening.
It is made from two different fabrics with a water-resistant roof compartment for ultimate protection. Also, weather-proof breathable side panels are present for the evaporation of moisture and preventing mildew and rot. Moreover, are heavy-duty reinforced skirt and ventilation steps are present with a front/back elasticized hem to deliver a strong guard against damage from sharp items.
Compact dimension
UV-stable and breathable material
Comes with straps and buckles
It is not completely waterproof
Heavy Duty 16-18ft 4 Layer Caravan Campervan Cover UV Waterproof Carry bag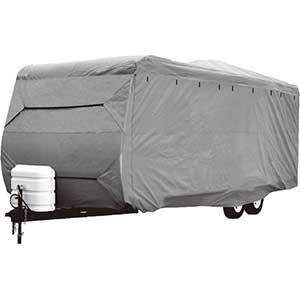 The Heavy Duty Caravan Campervan Cover comes with a breathable, superior quality, UV-coated, water-resistant fabric. It can cover your van's overall roof area to deliver maximum protection from the harsh environmental factors. The side panels with this product are made of water-proof polypropylene material to give all-out breathability and decrease the heat buildup among your caravan and cover. By nature, the material is moisture-proof, so it never stretches/shrink and permit efficient evaporation of condensation and wetness.
Some other great features of this best lightweight caravan cover are its elasticized hem with a steel-clad material around the cover's bas. It helps protect against protruding and sharp objects when you are on the go. Dual clip nylon straps make sure that the cover is securely and firmly fastened for different weather conditions.
The user can add double-stitched seams or reinforced corners to increase the durability manifolds. Zipper side panels are present to give convenient access to doors despite their location. The eyelets are present within the hem and can also serve as a handy sun awning when needed.
The best part of Heavy Duty Caravan Campervan Cover is that it is available in various sizes that suit almost every brand and model of caravans out there. However, it is suggested that before you opt for this cover, measure your caravan accurately from one edge to another to make sure you have the right size for the unit.
Includes ladder cap and storage bag
Quick set up
Multiple zippered panels
Tight wrapping can cause mold/mildew
A Quick Buying Guide to find the Best Caravan Covers
Caravan covers are available in a different size, range, and brand, making the buying process even harder than your expectations. Knowing the best product for your routine needs can be tough. To make things easy for you, we will discuss some of the best features, factors, and parameters every potential buyer must know regarding caravan covers before making a final choice.
Snug And Tight Fit
A caravan cover that is too loose in terms of the fitting is more susceptible to wear and tear during heavy winds. Constant flapping can also cause damage to the bodywork of your van. For a fail-safe made to secure fit, many manufacturers have a wide range of model-specific products under their web pages' accessories section.
Also, make sure you measure the unit yourself and give preference to external length over internal dimensions.
Ease Of Access And Fitting
Applying and setting up the caravan cover should not be a hectic task for you. The best caravan covers in 2020 come with a combination of fixing straps, Velcro, poles, and zips to make things easy for the buyer. If you are not purchasing the product online, check out the demo videos to know how user-friendly the particular cover is. Also, look out if the cover has particular openings for the windows and doors.
Breathable And Soft Fabric
A high-quality, full caravan cover will typically consist of multiple layers at once. It will have a water-resistant outer covering, a breathable secondary membrane, and the last soft inner sheet to prevent the bodywork from stretching.
Breathability is of utmost importance, especially when it comes to preventing the buildup of condensation within the van.
Protection From Environmental Elements
The main objective of using a caravan cover is to keep the van away from dirt and damage. Bird droppings, tree sap, and rain can also damage your unit's paintwork. This is why it is important to go for a high-quality cover that can easily protect the exterior of your van from unnecessary cuffs and keep it clean throughout the time.  
Protection Against UV Fading
UV rays are the most harmful rays for any vehicle. They can damage or fade your caravan's paintwork and can also harm the seals over the doors and windows. Not only this, but intense sun rays can also cause your paintwork to chip or crack when exposed for a longer duration.
Go for the best lightweight caravan covers to protect your vehicle against these harmful rays.
Towing Or Storage
Before buying any particular product, it is essential for you to know which type of cover will be more useful for you. If your caravan is parked somewhere where it is going to be exposed to dust, dirt, tree sap, animal droppings, UV rays, and bad weather, then you must opt for a storage cover.
However, if your unit has to be on the road most of the time, but may get chipped or dirty, then a toeing cover is your best option to consider.
Quality Control
When you are shopping for a caravan cover, pay close attention to its warranty. A cover with a warranty of at least 2 years is an indication of good quality. These covers are usually made of UV-resistant materials that let moisture escape but prevent water and dust from coming through. A lot of these covers come with straps, so it is better to go for a solid yet light fabric that the user can get off and on quickly.
Construction Material
Despite your intended use for the caravan cover, the materials in its construction mustn't be harmful to the van in any way. For storage purposes, the cover should be waterproof, but it must be breathable and have no chance of forming condensation below the unit.
The best breathable caravan covers must feature multiple layers or pliers of the construction material. For most manufacturers, breathability and water-resistance are achieved through micro-porous breathable membrane film. The outer materials are often flexible and can handle long exposure to the sun without changing the color.
Velcro Straps And Zippers
Make sure that the caravan cover you are buying for your unit must have zippers or Velcro in its framework. These features make it easy for you to fit the cover or give access panels for the doorways. Zippers and Velcro are also easy and quick to use and can provide the ultimate level of strength during use.
Cost Of The Cover
For many owners, a caravan cover is a worthwhile investment as it helps preserve the unit's value until years to come. A high-quality cover generally costs around a few hundred dollars; pricier covers fit better, are easy to set up, have better options, reliability, and durability.