A caravan is a big investment so it makes sense to keep it in good condition.
When out touring the country the biggest risk to damaging your van is stones. It's highly likely many of the roads you will be driving down will be pretty poor quality and it's not a matter of IF stones will hit your van, it's a matter of HOW MANY will.
The best way to protect your caravan investment from stones and other objects hitting it is by installing a stone shield / guard. They are pretty straight forward pieces of equipment and relatively easy to install, a good weekend DIY job before your next caravan adventure.
There really aren't that many options online in Australia when it comes to buying a stone shield. In saying that, we have found a handful of good stone shields to check out.
Caravan Stone Shields Comparison Table
Caravan Stone Shield Reviews November, 2023
Camper Van Stone Shield W/ Mesh 3pce Black (2150mm X 500mm) Best Camper Van Stone Shield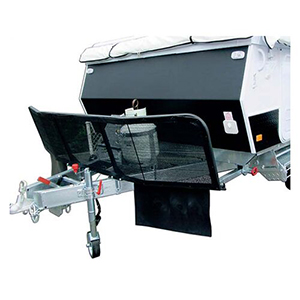 Are you concerned about your caravan's paint and want to protect it from dirt, debris, and stones? We have got this pick for you. It is specially designed to protect your caravans' expensive paintwork from scratches and dents, which may occur due to the debris and stones you may encounter while traveling. This sturdy stone shield is made up of durable mesh, which ensures long life and does not tear apart or rip off easily. This stone shield is available in all sizes, so you can get one for your camper van no matter what the dimensions are.
This stone shield comes with two integrated mud flaps which protect the undercarriage from mud. The most attractive feature of this caravan guard is its easy assembly. It comes in compact folded packaging. You don't need to hire a professional assembly service in order to get it fixed. Just fix it on the A-frame of your caravan, and there you go. Note that it is suitable for any camper van or caravan where the U-brackets can fit onto A-frame bars with a width of 50mm x 100mm, 125mm, or 150mm high.
Made up of sturdy tear and rip-resistant mesh material
Easy to fix
Easy to assemble
It can be constructed using screws
Camper Trailer Stone Shield with mesh 3PCE Black (1800mm x 500mm) Best Camper Trailer Stone Shield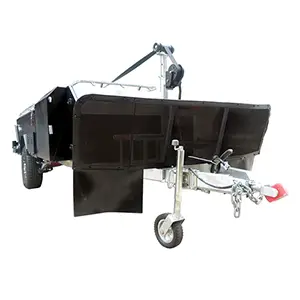 If you are looking for the best stone shield for the camper trailer, this product is made for you. It is also made up of sturdy ripstop mesh, which is teat resistant and protects your RV or caravan from flying debris and stones etc. It comes with pre-drilled holes, which make it easy for you to fix it over the camper van. Moreover, it comes packed in three sections making it relatively easy to remove and assemble. This model is available in all sizes, so it does not matter what the size of your caravan is.
The component includes the high-strength metal frame reinforced with the mesh, which has to be fitted on your carriage's A-frame. The mesh is fixed at the edge using metallic screws, not elastic usually used in ordinary stone guards. The screw fitting ensures that the mesh does not displace from the frame while traveling. Moreover, this stone shield also comes with two mud flaps to protect your carriage's inside from the mud. In addition, an instruction manual is given to help you assemble the gear.
Durable construction using screws
Easy assembly with pre-drilled holes
Ripstop mesh material is used
Easy to unpack
Caravan Stone Shield with mesh 3PCE Black (2310mm x 500mm) Best Stone Shield for Caravans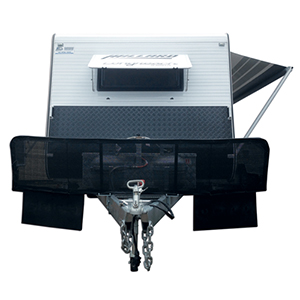 This stone guard is specifically made for caravans and protects your prized caravan and its undercarriage from the stones and debris which come flying while towing. This assembles very simply like the previous models we have reviewed. What you need is to unpack the frame and mesh ripstop and mount it on your vehicle's frame with the help of screws. The screws ensure that the mesh ripstop is fixed appropriately on your vehicle's A-frame. You can also remove it easily when you don't need it. The assembly does not take time, and you can do it yourself by reading the instruction manual which comes with it.
This shield has a black finish frame using high-strength metal and a ripstop mesh, which is tear-resistant, so it promises to take you places without being afraid of the stones and debris which may cause dents and damage to your valued possession. Two rubber mud flaps are also given with the package. These mud flaps protect the undercarriage and can be fixed in the pre-drilled holes easily. In addition, the mud flaps and the mesh ripstop are readily removable as well.
Pre-drilled holes for easy assembly
Durable tear-resistant mesh material
Comes with two mud flaps
Comes with an instruction manual
Poptop Camper Van Stone Shield with mesh 3PCE Black (2150mm x 500mm) Best Stone Shield for Poptop Camper Vans
If you have a poptop camper van, this stone shield is a reasonable bet. It consists of a sturdy metal frame and a ripstop mesh which needs to be fixed on the A-frame of your poptop camper van so that it may prevent your prized poptop camper van from the stones and flying debris while traveling. The fabric is worn and tear-resistant, so it is quite reliable. The pre-drilled holes are given to make assembly and removal easy.
Another good feature of this stone shield is its compact packaging and easy assembly. Assembling is fast and simple with the help of metal screws. The screws ensure that the mesh is fixed perfectly at the frame. It does not require you to hire any professional service. This stone shield comes with two additional mud flaps, which prevent the undercarriage from debris and mud etc.
Made up of sturdy metal frame
Comes with pre-drilled holes making the assembly easier
Tear-resistant ripstop mesh is used
Comes with an instructional manual
Assembling is fast and simple
A Quick Buyer's Guide for buying the Best Caravan Stone Shields
Are you concerned about your caravan van to make your travel smooth? You are at the right place. In this article, we have scribbled some important factors to consider when you go to buy a caravan or camper's stone shield. Read down the line and find more about the stone shield and guards available in the market so that you may end up making the appropriate choice to protect your prized possession.
What is the Caravan Stone Shield or Guard?
If you have an RV or camper van, you better understand the need for a caravan stone shield. The shield consists of a high-strength frame and a fabric usually mesh to be fixed at the frame. This stone shield is mounted on the A-frame of your camper van to protect it from flying objects and debris while towing. However, there are several other types of stone guards too that protect your vehicle from chips, dents, and scratches.
Features & Benefits
These stone shields are mounted onto your existing A-Frame (ensure there is space) to protect the front of your Caravan, Pop-top, or Camper Trailer from stone chips and to dent when traveling on gravel roads. They are a metal frame with mesh that is tilted down and out, plus they include lower mud flaps.
They come in three sections and do need the polyester mesh to be screwed into place using the pre-drilled holes. The whole unit can be easily removed when not required and easily assemble.
The package usually includes two mud flaps to stop the dust and rocks.
It is removable by two R-clips, no need to unbolt brackets, so you can easily store the gear anywhere.
The material is made from strong ripstop mesh, attached to the frame by screws.
The installation is easy. It also includes full fitting instructions in the guidebook so you can install the shield yourself.
The stone shield has an easy assembly with pre-drilled holes.
Adjustable Shifter Spanner
Easily adjustable width.
Mudflaps included and pre-drilled holes body for easy assembly.
Ripstop mesh.
Solid fixing, there's no elastic, unlike the ordinary stone shields, which is the good thing I preferred.
How to Install the Caravan Stone Shield?
Here are some step-by-step instructions which you can follow when installing a stone shield on your campervan or trailer. Hopefully you have success installing a shield yourself.
Start by cutting the box open.
Remove the contents from the box.
Ensure you have all the parts required and arrange them so it will be helpful to assemble.
Start by connecting the ends to the middle.
Screw the ends to the middle with the screws provided.
Flip the stone guard frame over.
Lay the mesh over the frame.
Aligned the corners of the mesh with the frame.
Screws the mesh with the frame with the screws provided.
Flip the stone guard back over.
Lay the mud flaps out.
Attach mud flap with the longer screws provided.
Repeat the same for the other mud flap.
What to consider when buying a Stone Shield?
Buying a reasonable stone shield is a challenging task as it has to protect your prized possession. It is important to buy a durable one so that your van's paintwork and undercarriage may look new for a lifetime. Here are few important aspects you should consider to make a wise decision.
Durability
Durability is the most important factor which can drive you to buy a certain stone shield. Make sure that the stone shield you buy has a sturdy frame construction and a rip-resistant fabric that stays for a lifetime. The ordinary stone shield having elastic holders and fragile mesh is also available, but it can't stand the test of time. So, make sure you end up buying the guard which promises to protect your van from stones and debris in the long run.
Ease of Use
Make sure that the stone shield is easy to assemble and install. The reasonable models come with pre-drilled holes, which make the assembly easier. You can also remove the same easily if you think that mounting the stone shield is not needed anymore. Moreover, the stone shields usually come in compact and easy-to-store settings so that you may be able to store them appropriately.
Material
The material matters because your RV, camper van, or caravan is a valuable possession, so it should not be chipped, scratched, or dented with any of the stone it encounters while traveling off-road. Make sure you don't spend your hard-earned money on the fragile stone guards. Always buy a stone guard with a rip and tear-proof material. The stone guards are available in mesh or aluminum etc. Aluminum is a high-profile material, and it can protect your vehicle unconditionally.
Warranty
Don't forget to check the warranty so that you may be able to replace or claim a full refund in case of any fault or defect. There must be at least a 12-month's warranty with a stone shield.
Price
Price is, of course, the prime consideration. Always buy a stone shield or guard which offers good value for money. The general rule says that the more the price, the better will be the quality, but this rule proves to be wrong in the case of the stone shield. You can get some really good models at a very reasonable price that offer appropriate protection to your caravan.
Frequently Asked Questions (FAQs)