It's very common to want to take a bike with you on your next camping trip, especially if you have kids. Many camping grounds have great access to bike paths and it's also convenient to use a bike to ride around town instead of using your car. When it comes to transporting your bikes then you will need to use some sort of bike rack.
There are several different styles of bike rack that can be used when towing a caravan or camper trailer, one that attaches to the tow hitch or one that attaches to roof racks, or finally one that attaches to the back or front of the caravan.
So choosing a bike rack will really depend on your current situation in terms of caravan and mounting options. That said here are 5 great bike racks that are worth checking out.
Top Caravan Bike Racks for Australia: Reviews 2023
Fiamma Carry Bike Caravan XL A 2 Bikes.02093-01A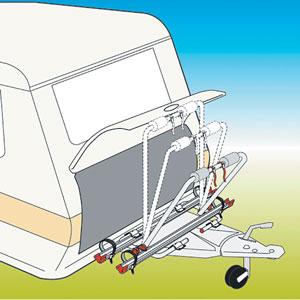 The all-new FIAMMA CARRY BIKE CARAVAN XL A is one of the most convenient bike carrying mechanism for campervans and caravans. This bike rack can efficiently fasten your bicycles to your caravan during your next outdoor voyage, that too on a budget. Today, it is one of the most expensive bikes carrying solution that is commercially available for potential customers.
This rack is designed for any caravan with a typical a-frame ranging from the front. It can support up to two bicycles with a total weight capacity of 35 kg. Its system rotates from the front of the vehicle making the front storage compartment free to use once the bike is un-mounted. You can easily assemble and install the unit without drilling anything. It comes with two rails supports and a reinforced aluminum blocking system. It eliminates any need for using bike blocks. U-bolts, installation brackets, and other hardware are supplied with the package.
This best caravan bike rack 2020 is strong yet very compact and lightweight. It is the best way to go if you are looking for a simple and effective bike carry solution with solid construction quality. The best thing about this caravan bike rack is that it stays clear of your caravan's level or hitch ride system upon installation.
Value for money
Easy to install
Supports up to 2 bicycles
Compact and lightweight
Solid build quality and anodized finish
Still expensive for some buyers
Quick Fit XF2 Folding Caravan Bike Rack – 60KG Cap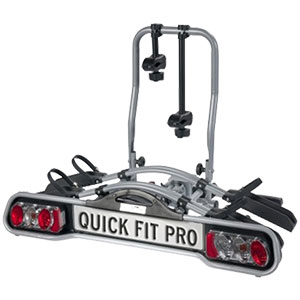 The Quick Fit XF2 Folding Bike Rack is designed and manufactured to make it very convenient and easy for you to transport your bike from one place to another on an outdoor expedition. Thanks to its patented quick connector feature, it is very easy to use and quick to fit over your caravan's tow bar.
The ingenuity of this product lies in its unique and distinctive folding system. This feature allows the bike to easily collapse down for easy carrying and even more convenient storage. This product allows you to have complete access to your boot with the tilt mechanism even when it is tightly fitted onto the caravan. With this bike rack, traveling with bikes has become much more easier than before!
This XF series is designed to fit and suit most of the tow bars, bikes (including e-bikes) as well as wheel dimensions on stable, wide aluminum wheel holders. With advanced and easy to use features, you can mount the bikes with your caravan's frame, so there is zero force on the pedals. There is no need to fuss about setting the rack up as it comes with assist ramps, which makes them ready to go right out of the box.
With this product, the boot is always accessible. It is possible due to the presence of an easy-to-use tilt mechanism. The biggest plus with Quick Fit XF2 Folding Bike Rack is that it comes with a storage bag for appropriate stowing when not in use. When combined with the ride-on-ramp, it is easier for you to move the bike around onto the given carrier.
The bicycle frame diameter is 22-75 mm, and the maximum bicycle wheelbase is 1400 mm.
Can hold up to 2 bicycles
Tiltable
Foldable
60kg maximum load
Coated steel and aluminum material
It may not be compatible with some tailgate designs
Coast Alu Star Caravan Bike Rack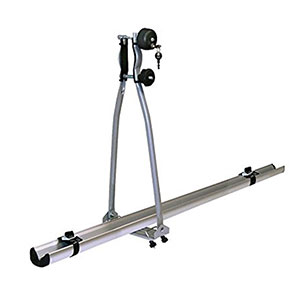 Are you wondering about the best caravan bike rack available in the market? Look no further than buying Coast Alu Star Bike Rack this year.
This product can be the best addition to your caravan holiday. Thanks to its high-quality materials and advanced features, you can enjoy a new world of adventure and endless possibilities. This bike rack makes it very easy to pack up your plush bikes and take them to your next camping trip. So whether you wish to carry your own bike or for another family member, this rack has you covered in all the possible aspects.
The Coast Alu Star Bike Rack has a very strong and sturdy design. Moreover, it has outstanding value, very high-quality materials, and compact dimensions with carefully planned usability. You get the bike rack pre-assembled for a convenient and easy DIY installation. It is made and crafted especially for coast-to-coast and Jayco adjustable roof racks.
This bike rack is for upright assembly. You c carry out easy and prompt installation using the given plastic handwheels. The package is supplied with extra mounting brackets to suit your caravan's roof rack. This product is ideal for mounting one bike with up to 133 cm wheelbase and 80 mm in width. The load capacity here is around 15 kg, with the bike rack weighing only 2.15 kg.
Made from strong materials
Easy to mount
Very compact and lightweight
Convenient and affordable
15 kg of load capacity
May damage the vehicle if not fully secured
Fiamma Easy Dry T/S Carry Caravan Bike Rack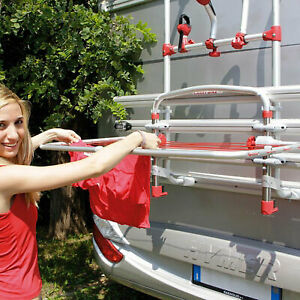 When people need to bring their bikes along the camping trip, they want to get the job done as securely and easily as possible. That is why we recommend FIAMMA EASY DRY T/S CARRY BIKE. 06306-01 as it is the best option for people who want to carry a bicycle with an added benefit of a dry rack. This bike rack is constantly gaining popularity as it offers the best combination of ease of use, strong construction, lightweight, and affordable price range.
The FIAMMA EASY DRY T/S CARRY BIKE. 06306-01 is a bike rack that you can easily fit on the back of your caravan. It surely hits every potential buyer's sweetest spot in terms of price and performance that makes it stand out from the crowd. This lightweight model is very easy to mount on the caravan and to store away than many high-end products available in the market. It is also very easy to secure in the hitch and can hold almost all types of bikes while still titling out of the way when required.
It has a 35 mm tube diameter, so you can turn this versatile and multi-purpose bike rack into a dry cloth line. The installation is very easy, as well. Simply hook the final parts of the easy dry tube in the rail support and start using it right away.
No drilling is required
Lightweight and durable
Convenient fold-down feature
Wide anodized aluminum tubing
Adjustable handles
Wind resistance while driving is noticeable
Allen Sports 3-Bike Hitch Racks for 1 1/4 in. and 2 in. Hitch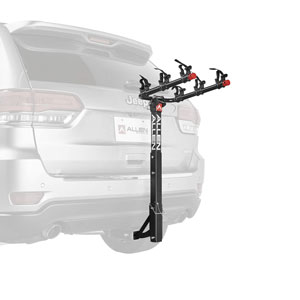 At present, it is one of the most popular and cheapest bike car racks on the market. Since Allen Sports is a very established brand which is famous for its high-quality products at only a fraction of price range. With ALLEN SPORTS 3-Bike Hitch Rack, you are in for the top-of-the-line features, quality, and functionality. It does an amazing job at providing decent performance for families who wish to get something on a budget.
Putting the rack on the caravan and taking off is very easy and fast. It is compatible with almost all types of cars and is likely to fit in perfectly with your caravan too! You can easily carry up to three bikes at once. Every bike is sure to stay in its place thanks to its outstanding patented tie-down cradle system.
The user can tilt this hatch mountain bike rack for convenient lift-gate access. This best bike rack for caravan has a black powder-coated finish to endure all kinds of rough/tough weather conditions. It has foldable carry arms and is best for 1-1/4-inch, and 2-inch receiver hitches to store easily as it doesn't need a lot of space.
In general, it is easy to use, rugged rack that can safely transport your bikes from one place to another.
Folding carry arms
Wobble-free installation
105 pounds load capacity
Quick install locking hitch insert
Individual tie-down system
A little flimsy and insecure for some buyers
A Quick Buying Guide to find the Best Caravan Bike Racks
People spend a lot of time and money to purchase the most suitable gear for their outdoor expeditions. They want to make sure they have the equipment needed to spend less time worrying and more time enjoying. However, with hundreds of models and brands available in the market, choosing the most suitable caravan bike rack can be a bit intimidating.

In this buying guide, we will cover some important features to help you narrow down your choices when choosing a bike rack for your next adventure.
Type Of Bike Rack
Purchasing the right bike rack begins with knowing the type of rack to use. Some of the most commonly available types of bike racks are hitch racks, trunk racks, roof racks, rear-mounted bike racks, roof-mounted bike racks, and tow bar mounted bike racks.
The Number Of Bikes To Transport
This feature is very important to consider because you don't want to pile up multiple bikes on a rack that cannot handle the load. Every bike rack available out there, despite its model, has a certain number of cradles. So once you know the number of bikes to transport, you can consider a product to match the requirement.
Here, the maximum weight of the bike rack is also of utmost importance in regard to the number of bikes it can easily carry around.
Your Car
A lot of car or caravan owners struggle to know which rack is suitable for their vehicle. Most of them end up with the wrong product that doesn't pack a punch. Know that your car's model has a major impact on your decision. It is a determining factor; it is very important while choosing a model to suit your routine requirements.
Your Overall Budget
When it comes to the caravan bike rack, cost and price tag matters. When all the factors are considered, ensure that you know the exact amount you are willing to afford as it concludes the type of rack you can purchase for your caravan.
Safety And Security
If safety and security are your biggest concerns, go for bike racks with anti-theft features. Some models have this feature, while others don't. The ones with a locking system can hinder thieves from stealing the rack, so you always know your item is going to be safe at all times.
Frequently Asked Questions
Do Bike Racks Damage Your Caravan?
The answer is both yes and no! There are many models that do not cause any damage to your caravan even when loaded completely. However, many trunk-mounted bike racks can damage the vehicle if you do not fully secure your bikes. If the front wheel of your bike can move, it can rub against your car's paint and may cause scratching or fading with time.
Can I Open The Trunk Of My Vehicle With A Bike Rack On?
No, you cannot! If you are a driver that needs constant access to the trunk, a bike rack is not for you. Many bike rack manufacturers do not suggest opening up the rear trunk with the unit installed. Since the door hinges are not manufactured to hold the extra weight, the trunk door might come down on the road or on the person underneath it.
What Are The Key Features Of Rear-Mounted Bike Racks
These bike racks are the most affordable options you can start exploring with your bikes. They are ideal if you need some roof space to carry other camping goods or holiday items. With such bike racks, you can easily carry up to three bikes and even e-bikes (model compatibility is required). They are also easy to remove when not in use and are easy to fold away for convenient storage.
Why Should I Consider My Individual Needs Before Buying A Caravan Bike Rack?
Before opting for a certain product, it is very important that you know what you want from your bike rack. You must know if you want access to your vehicle's boot while transporting the bikes or need extra space on the bars to carry around other stuff. Moreover, it is also imperative to know which caravan bike rack is the easiest to fit/install. Lift up your bikes and use them.
Final Thoughts
Though it is extremely fun to bring your bikes on an outdoor excursion, you cannot keep them in the trunk of your vehicle. You need a high-quality bike rack instead. These are some of our best caravan bike racks for the year. All these suggested models are high-rated and high-selling, but the true winner is FIAMMA CARRY BIKE CARAVAN XL A 2 BIKES.02093-01A. It is a budget-friendly, convenient, and easy to install unit. It gives good value for money and can easily support up to 2 bikes simultaneously when on the road.