When towing a caravan for safety it is crucial you can see the whole van. Not only that, it is in fact a legal requirement in many states of Australia. Standard car mirrors will not cut it, so you will need larger mirrors ideal for towing a caravan. Most makes will attach to either your existing mirror or to the passenger and drivers side doors using straps. 
So choosing caravan towing mirrors will really depend on your current situation in terms of caravan and mounting options. That said here are 5 great caravan towing mirrors that are worth checking out.
Top Caravan Towing Mirrors Steps for Australia: Reviews 2021
Milenco Aero 3 Extra Wide Convex Caravan Towing Mirror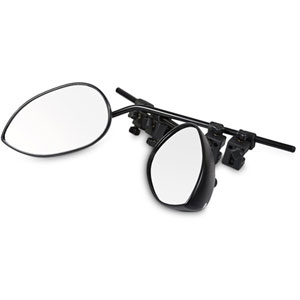 Milenco is currently leading the market while outperforming all the other competitive products in the market. The Milenco Aero 3 is solely designed to offer you an excellent vision and vibration-free view at an affordable price range.
The best thing about this mirror is that it complies with the latest international regulations and pedestrian safety laws. It is manufactured with the most high-quality products. The mirror screws are of stainless steel material with turn in brass that never corrodes. The glass is a chrome safety glass that has an extremely long life and no discoloration even after years of usage.
With the new clamping system, this mirror is further improved to give more grip and better fitment. This best caravan towing mirror 2020 has thumb wheels over the titling axis to allow completely versatile fitting. Another invention in its design is an upgraded gripper system, so you never lose the grip pads while on the road.
The mirror's head design (registered) uses airflow around your caravan to even out and balance the mirror head at fast speed. This product has been extensively tested at different speeds (up to 250 KPH) to make sure you have the most outstanding vision possible. The unique design also offers improved performance in great winds while reducing the impact of passing heavy commercial vehicles.
Extra-wide arm length
Clamp-style fitting
It comes with a carry case
Convex style mirror
Stylish
Reich Handy Mirror XL Extended. Mounted Caravan Towing Mirror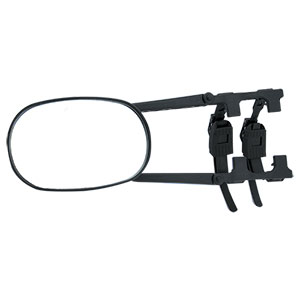 Towing is extremely fun but can become stressful quickly if you don't have the appropriate mirror for it. To give yourself some peace of mind while driving your caravan, it is important to have a high-quality towing mirror that is ready to go on your vehicle.
With REICH HANDY MIRROR XL EXTENDED. 528-286692, you will surely have a better view of everything behind you of both the passenger side and driver's side blind spots and stay safe on the road. This German towing mirror can easily be mounted over your existing mirror using its secure quick release adjustable straps. It has longer arms, which is perfect for seeing longer and wider caravans while out there. It is not only suitable for caravans but also an ideal choice for sedans and all 4WD vehicles. A lot of people commonly used this mirror on larger vehicles while towing oversized caravans.
Another great feature of this mirror is a turn knob to control the length of the straps. This feature ensures maximum tightening capacity on your current, pre-existing car mirror. Everything about this product works n synchronization to deliver a hassle-free, vibration-free, and barrier-free vehicle towing experience.
In some places, towing caravans is only allowed with proper towing mirrors. This mirror is both a safety and legal requirement and an ideal choice to consider before hitting the road the next time.
Adjustable straps
Adjustable mirror head
Large convex mirror
Easy installation
Suitable for wider towing
SAN HIMA Pair Towing Mirrors Multi Fit Clamp on Towing Caravan 4X4 Trailer Heavy Duty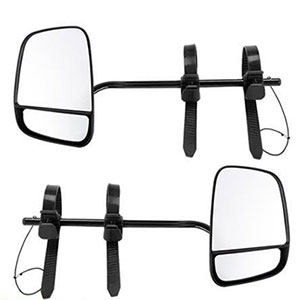 If you are towing caravans on a regular basis, consider investing your money in SAN HIMA Pair Towing Mirrors. With its unique and distinctive features, you will be its biggest fan in the market. It is an inexpensive option for budget-conscious people who can easily clip it on to the pre-existing mirror of their vehicle.
This mirror looks excellent when it comes to matching your car's overall look and getting the job done more effectively. They also tend to vibrate less as compared to other high-end models out there. This best towing mirror 4×4 is a perfect choice for both small and large cars, thanks to its unique, balanced design to stop vibration.
The mirror is of superior quality made of the highest quality materials accessible to the industry. It has stainless screws with brass inserts that are strong, durable, and never corrodes. The aerodynamic head feature uses airflow around the vehicle to balance out the mirror head at different speeds. Chrome mirror glass offers long life and no discoloration, whereas the unique air-balanced design stops vibration while passing by large vehicles.
Installation is also very easy, simply clamp on the mirror for a few seconds and turn thumb screws for efficient fitting on your towing caravan.
Universal, multi-fit product
Stay in place very well
Easy to install
Superior mirror quality
Good value for money
Not suitable for wing mirrors
Camec Heavy-Duty Door Caravan Towing Mirror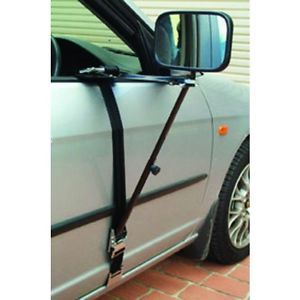 While some caravans out there don't need a towing mirror, the majority of them do! No matter what you drive, it is very important to have at least two towing mirrors mounted on your pre-existing mirrors at all times. It gets even more strict when it comes to towing caravans.
The Camec Heavy-Duty Door Mirror Ratchet Strap Type is a vital bit of kit which is manufactured to make your caravanning life extremely comfortable. It is very popular, mostly because of its quality, ease of use, and simple design. It can fit almost all types of vehicles, gives a good range of rear vision, and rotate to give you the perfect driving angle. Its design delivers stability to drive even at the highest speeds and when passing oncoming vehicles without needing further support arm.
This secure and adjustable mirror system is very easy to install. The installation takes about 5 minutes and fits most vehicles out there with a ratchet and bracket strap system. It is a heavy-duty door mounted mirror that you can fit securely via additional straps upon requirement.
The best thing about this best heavy-duty towing mirror is its mirror head, which has a 229 mm X 155 mm dimension. This feature helps deliver excellent vision behind. You can mount it on an adjustable extension arm to reach around 470 mm from the edge of your caravan. The rubber mounting pads are also present to prevent marking your car.
Sold as a pair
Suitable for all kinds of cars and caravans
Quality rubber mounting pad
Easy installation
Firm fitting
A smaller field of view for some customers
Coast Door Mount Mirror V2. Door Mounted Towing Mirrors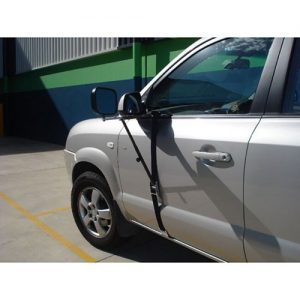 Since caravans are wider than an average road car, it can be a bit hard for the driver to see every side behind the vehicle. Towing mirrors is a perfect choice in such circumstances as they can extend further than a typical mirror and enable the driver to clearly see each side behind the vehicle.
The COAST DOOR MOUNT MIRROR V2 comes in handy when you have to see the rear of a tall caravan and serves as a legal tool for different types of vehicles that are wide than towing cars. With this mirror, blind spots are easily avoided. This feature makes overtaking less dangerous even at high speeds.
When you are towing a caravan, you have to rely on all the towing mirror features. With COAST DOOR MOUNT MIRROR V2, never tow blind and eliminate blind spots before driving out to your next voyage. This mirror is suitable for most 4×4 cars, caravans, and vans. It is very easy to fit and completely adjustable to meet your routine requirements.
The mounted mirror comes with rubber-mounted pads to protect your vehicle's paintwork. It has a ratchet T bar to ensure a snug and firm fit. Its additional larger bracket and strap are to suit thick door types.
Mounts to any vehicle
A good field of view
No vibration
Solid and durable construction
Seamless design
A Quick Buying Guide to find the Best Caravan Towing Mirrors
With hundreds of caravan towing mirrors available in the market, it can be a bit challenging to choose the most suitable product for you. Luckily, in this buying guide, we will discuss some of the key factors and features that every potential buyer must consider before making a final choice.
Type Of Glass
There are different glass types out there, such as flat glass mirrors and convex glass mirrors. Flat glass mirrors are good for reflecting the proportion of vehicles outside more precisely. They can show the correct size as well as the distance to the driver. On the other hand, the convex glass mirrors are curved in shape. They give a wider view but may distort distance and objects a little more. Though they are very useful but flat mirrors are even better for reducing blind spots.
Field Of View
Another important parameter to look for when buying a towing mirror is its field of view because the mirror's overall size matters a lot. Wider and taller caravan towing mirror delivers a larger field of view. With this factor, you can easily improve and augment your chances of towing in any vehicle more efficiently and safely. We suggest you get a mirror with both convex and flat glass to enhance your field of view and to keep you safe while on the road.
Convenient And Easy Installation
Some models are easy to install as compared to their competitor products. If you opt for a portable, clip-on mirror, you can easily slip/clamp it on your vehicle's pre-existing side mirror. The procedure will only take about a few minutes. For more permanent options, you can replace your original mirror along with the existing wire. This might take more time and professional knowledge to do correctly.
Compatibility
Depending on the type of mirror your vehicle has, make sure you pay close attention to the compatibility of the towing mirror. Unfortunately, not every product you select will work with your vehicle. To make sure the mirror works as designed, ensuring compatibility is very important. A true universal mirror must work with all the other renowned brands and caravan vehicles.
Quality
In terms of quality, the towing mirror must be manufactured to high standards and must display its durability in several ways. They should have no problem with vibration or noise. The clarity of the glass must also be high. It must offer a good field of view, and you should be able to fold flat the mirror when not in use.
Frequently Asked Questions
What Are The Benefits Of Using Caravan Towing Mirror?
Best towing mirrors go outdoors give you an added peace of mind. With these mirrors, you never have to focus on the vehicles in front of you or at the back of your vehicle. They reduce blind spots that prevent accidents from happening and make it easy for you to clearly see the road. Such mirrors also come in handy when you are towing larger objects; they effectively enhance your field of view and allow you to see around yourself perfectly.


What Makes Towing Mirror More Unique?
Apart from their design, a towing mirror gives you a clearer view of behind and increases the field of view, making them distinctive from a standard mirror.


Does a towing mirror fold back when not in use?
This feature depends upon the type and design of the towing mirror. Many high-end and moderately priced models do fold back when not in use to avoid damage. Some clip-on mirrors are also available in the market that is easy to attach to folding side mirrors.


How Can I Fit A Towing Mirror In My Car?
The installation and fitting of any towing mirror depend upon its type. Universal mirrors can fit with any car model as long as its mounting mechanism is attuned to your vehicle's side mirror. Some permanent options can also replace factory-made mirrors.
Final Thoughts
There you go! These are some of our best caravan towing mirrors. All these recommendations are fine and suitable for most vehicles out there, but the clear winner here is Milenco Aero 3 Extra Wide Convex Towing Mirror. It is the most durable one on the list and delivers an amazing field of view, which makes towing fast and effective.