Travel is exciting, but washing your clothes can be challenging during Caravanning. However, whether you want to wash laundry or not while travelling, it will give you many advantages such as packing minimum clothing, returning home with less dirty clothes, etc.
If your trip is a long one, you have to wash your clothes. Here in this article, I will give you all the information regarding washing laundry when Caravanning. I hope it will be helpful for you.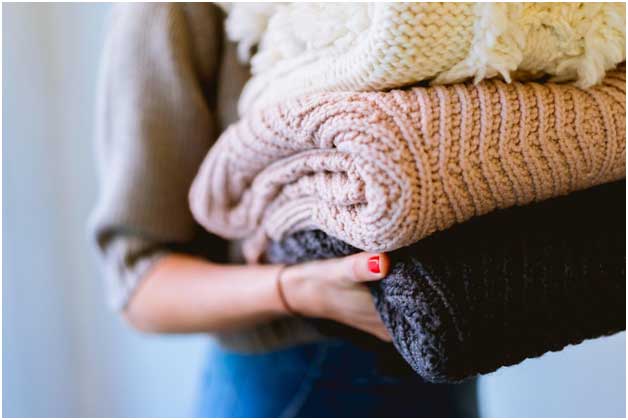 Credit:images.unsplash.com
How to Do Your Laundry While Traveling?
You have many options on how to do your laundry during your travels. Choose the one that is best suited for your budget, your destination place, etc.
Go to the Laundromat
The first option for washing laundry is a laundromat. It provides the facility to caravanners to wash their clothes themselves or take some professional help. In addition, it offers self-service washing and drying machines generally operated by coins. Some laundromats also provide additional services like drop-off laundry, where some professional washers, dries and folds your laundry.
Before you visit the laundromat, ensure to carry something with you to keep yourself engaged, such as a book, phone, magazines, etc., because you have to wait for hours when your clothes are being washed. Also, take your detergent with you because laundromat provides detergent at a very high price.
Public Showers
Some public showers may have washing facilities attached to them. If not, you could use the water in the shower to fill up your wash bucket to clean your clothes. The dirty water can then be disposed of here as well.
Use Portable and Onboard Washing Machines
You have two options of the Caravan washing machine to wash your clothes during travel. The first one is to use an onboard washing machine that is easy to wash and dry your clothes. The main problem with this washing machine, it occupies a huge space in your Caravan.
Another option is that you can invest in a portable washing machine. If your Caravan has no in-built washing machine, you can opt for this one.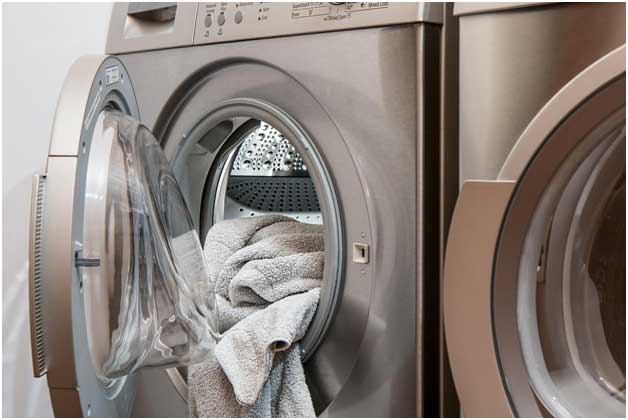 Credit:cdn.pixabay.com
Hand Wash Your Clothes
It is also another way to wash your clothes. In this, you need detergent, basket, rope, clothespins, tubs, and a washboard. This method is very economical as you don't need to invest more in washing machines or pay for a laundromat. After hand washing your clothes, you can tie a rope in between the branches of two trees and allow your clothes to dry under the sun.
Things We Recommend to take for Washing Clothes While Traveling
If you are planning to wash clothes during your trip. We recommend some items to keep with you to make your washing experience better while caravanning.
Travel Clothesline
You need a camping clothesline to hang your clothes for drying purposes. You can use it in a caravan, campsite etc. Buy a clothesline that comes with hooks or loops as they can work on every surface. However, clotheslines that come with suction cups only work well on smooth surfaces.
Travel-sized Detergents
The most important thing you need while washing is detergent. So always buy travel-sized detergent packaging during your travelling shopping. Most of the laundry detergents come in liquid form, but detergent sheets are also available if you want. Buy according to your needs and preferences.
Travel Laundry Bag
You will also need a travel laundry bag to place your dirty clothes. For this, you can buy a drawstring bag, a packing cube, a normal pouch, etc.
Plastic Basin
Sinks in Caravan are very small in size and can be difficult to wash clothes in. So, if you will hand wash your clothes, make sure to invest in a plastic basin. They come in different sizes and shapes. They are also not that expensive.
Drying Racks
You can also invest in drying racks to dry the clothes both indoors and outdoors. Some drying racks are free-standing, and others attach directly to the back of your vehicle.
Tips and Tricks for Doing Laundry while Travelling
If you really make up your mind to do laundry while travelling, then below are some pieces of advices that make your washing hassle-free.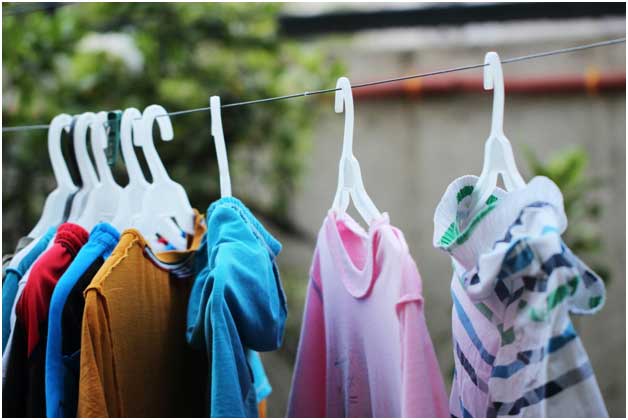 Credit:images.unsplash.com
Determine the best way and place to do your laundry before starting your trip. The way of washing suits at one place may not work at another, so prepare accordingly.
If any one of your group members who will travel with you has any skin problem. Ensure that you have bought the detergent suit to their skin. It will be very difficult for you if any of your group members suffer from rashes or any skin-related problem.
Be careful what you pack for your travel because not all clothes are easy to wash and dry. Take the clothing that is easy to wash and dry. Denim is a good option for travelling as it does not need to be washed often. White clothes and cotton clothes are not for travel purposes. It is difficult to wash white clothes during travel as it demands special focus. Cotton clothes breathe well but take a huge time to dry. Also, avoid heavy fabric clothing.
If you will hand wash your clothes and dry them in the air, make sure you have enough time as it takes time to dry clothes in the open air. It will not be fun to travel with wet clothes as they become smelly if not drying properly.
Challenges while Washing During Caravanning
You can also face some challenges while washing in your travels. So, make sure you find the solutions to the challenges mentioned below before starting your journey.
Washing clothes needs a lot of water, so there is a chance of a water shortage in Caravan's water system.
Space can also be a challenge for you. You probably don't have space to place your washing machine. So, check the space availability in your caravan before investing in any washing machine.
Electricity supply is a precious commodity in a Caravan, so always think about electricity before travelling to run your washing machine.
You cannot iron the clothes in a Caravan. So, choose a fabric that doesn't need ironing.
So that's all the things you need to know if you plan to wash your clothes while caravanning. We hope you will use them on your next trip.