Having a sink in your caravan is one of those little features that is often overlooked, but very sorely missed when it comes time to washing up dishes. Whilst most caravans and campers WILL come with a sink by standard, you may wish to either upgrade it, or replace it completely if it's faulty. Others may be rebuilding a caravan and need a completely new sink setup. Well luckily there are plenty of options out there to choose from.
Caravan sinks do come in a variety of different shapes and sizes. Choosing the best sink will really come down to your existing vans sink space, and whether you are comfortable modifying your van to suit a new sink.
This article will look at a number of different sinks suitable for caravans.
We have highlighted 5 sinks that are worth a look.
Caravan Sink Comparison Table
Our Best Caravan Sinks Reviews
SMEV Stainless Steel Sink – 8000 SERIES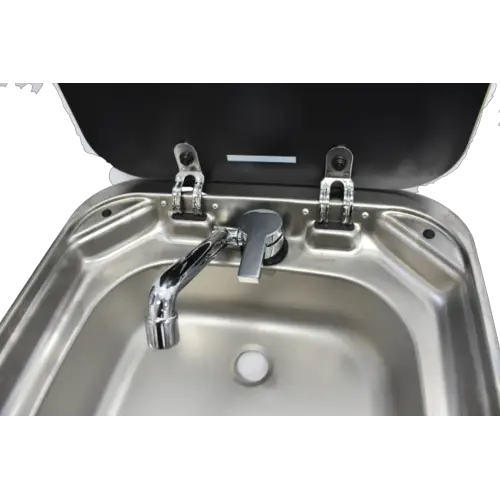 A caravan sink probably gets more attention and use than any other accessory instilled within the vehicle. We use it to wash stuff, prepare meals, make coffee, and store pots, plates, and pans. Since space in most caravans is limited, you need to opt for a product that is both compact and multipurpose with fairly uniquecomponents.
The SMEV STAINLESS STEEL SINK – 8000 SERIESfeatures an extremely pleasant and practicaldesign specially constructed for caravans and RV. It works very well in smaller areas, so if you are dealing with limited space in your vehicle, know that this product is always there for your assistance. The sink features a fold-down glass lid cover to protect the unit when it is not in use. Thanks to this feature, you can have more working space to prepare food for parties and family gatherings.
The lid of the sink is made of heat-resistant safety glass, so you never have to worry about smashing or breaking it accidentally with hot food. On top of everything, it is also economical and budget-friendly.
Features a glass lid
Best for limited space
Hot and cold taps included
Incudes straight waste
Not too stylish for some buyers
SMEV S/S Sink H125mm x W590mm xD370mm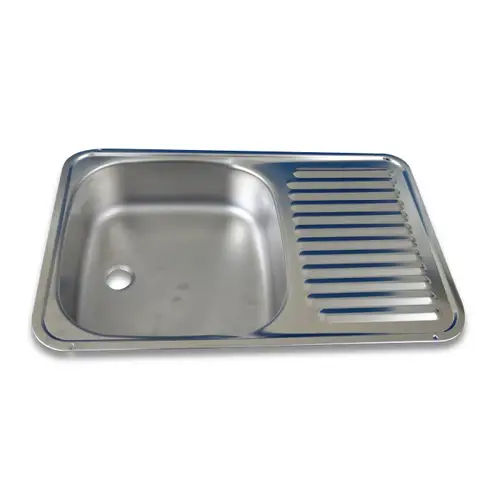 The SMEV Stainless Steel Sink & Drainer Top Fixing is another most compact and practicalstainless steel sink and drainer on the list. This product is an ideal choice to consider, especially if you are looking for an eye-catching product that can add appeal and aesthetic to your caravan or campervan.
The sink is extremely practical, useful and features a compact size for any caravan on the market. With H125MMxW590MMxD370MMmeasurements, it is sure to give you all the extra room that you need as compared to other high-end products out there. Like most buyers, we also love the fact that the sink is extremely easy to clean and maintain. Its sink basin is almost square in shape with a depth of about 12.5cm.
For added user convenience and comfort, the package comes with four small mounting holes around the product's parameter. This way, you can screw the sink in the caravan, boat, RV, or even on an apartment benchtop. Not only this, the package includes a plug, straight waste, and perimeter seal as well. With so many extra accessories, you never have to worry about spending more money while setting up the sink.
Stainless steel finish
Top fixing design
Hassle-free cleaning
Comes with multiple attachments
Boring design for some purchasers
MOFANS RV Single Bowl Hand Wash Rectangular Basin Sink with Lid Cover Fit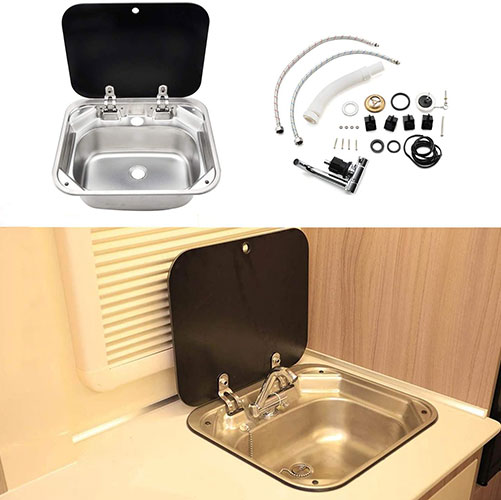 This next product on our list is pretty unique, versatile, and cheerful. The best thing about this sink is its compact dimensions. It only measures about 16.54 inches (42cm) length, 14.57 inches (37cm) width, 6.3 inches (16cm) depth and 0.31 inches (0.8cm) thickness. It means you can mount or set it up even in the tightest spaces of your caravan without worrying about sparing too much space for a single product.
The hot and cold taps are included in the package. You can rotate the taps to 360-degrees and use them conveniently to carry out your routine chores like cleaning, cooking, and washing. Another thing to love about this caravan sink is its high-quality materials. The product is made of high-quality 304 stainless steel material, whereas the cover is made of heavy tempered glass.
The incorporation of stainless steel and tempered glass material makes it easy to clean and maintain after every use. This sink is highly durable and long-lasting, so it can be a good companion for you and your caravan for many years to come.
Heavytempered glass offers stability while driving
Easy to clean
Rotatable taps
Compact dimensions
No installation instructions included
SS Sink 2 Basin 890X480X170 & Draining Board 90mm Waste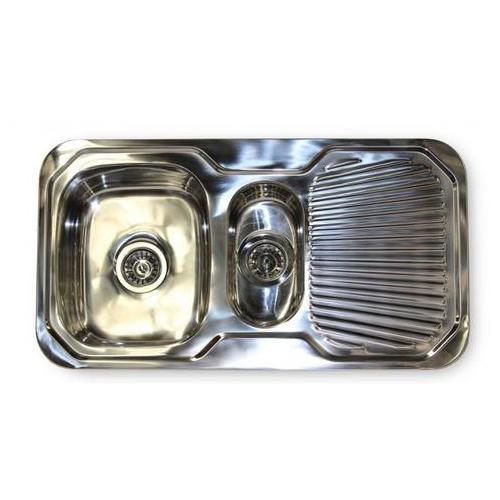 We know that no caravan kitchen is complete without an SS brand product. It is one of the most popular and cherished brands when it comes to talking about high-quality caravan equipment. The SS SINK 2 BASIN 890X480X170 & DRAINING BOARD makes for a high-quality kitchen sink that fits well with all kinds of caravan décor. We highly recommend getting this product as it comes with a basin rack, waste, plug, mounting clips, and draining board.
What's best about this quality sink is that it is made of strong and durable stainless steel material. This material helps prevent dents and features tight corners with side walls to maximize the working space for you and other members.
Quality and multipurpose sinks can get very pricey, but with SS SINK 2 BASIN 890X480X170 & DRAINING BOARD, you get to relish a sleek and modern-looking product without poking a hole in your pocket. The presence of gently rounded corners also makes it very easy to clean and maintain despite constant, rigorous use for daily cooking/cleaning.
Made of high-quality materials
Compact and small
Comes with a draining board
Has waste, plug, and mounting clips
Smaller than expectations
CAMEC Stainless Steel Round Basin 450mm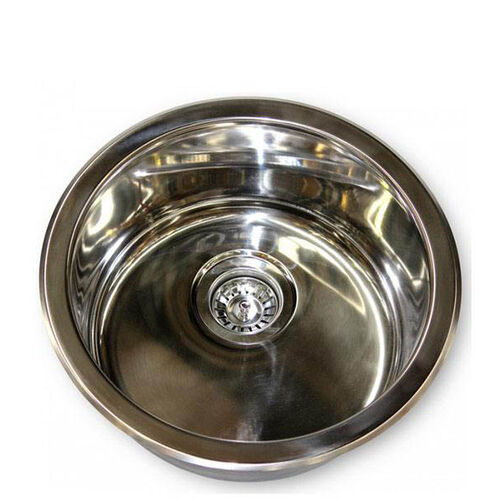 The sink is perhaps one of the most important areas of a caravan that many people take for granted before purchasing. If you are looking to change your caravan workspace by replacing the worn-out looking sink, this product will not only add a practical element to the vehicle but make things more easy for you to manage in the long run.
The CAMEC STAINLESS STEEL ROUND BASIN 450MM is our suggested choice for the best round basin in the market. It is an extra deep sink which is thoroughly practical for the average-sized kitchen areas. You can wash or stack a large number of dirty dishes inside without making a mess of your vehicle ever again. Its unique design allows you to accommodate larger kitchen items, including baking sheets, skillets, and round pans.
Made with stainless steel material, this basin is a dent-proof model which strong, ultra-durable, and resilient for regular use. With a rust and corrosion-resistant finish, you can use it for heavy-duty tasks and without worrying about wear/tear or cracks. The sink matches most caravan interiors and is visually appealing as well, so an optimal choice for most caravan or campervan owners out there.
High-quality product
Made of durable materials
Comes with mounting clips
Compact yet versatile
Only available as a single round sink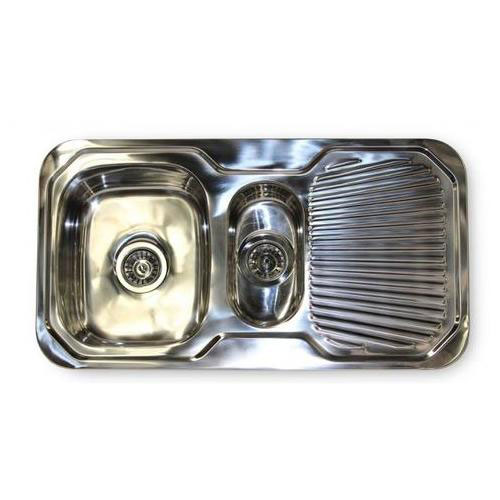 Choosing a Caravan Sink: A Buyers Guide
Hopefully, you have taken a good amount of time reading through our best Caravan sinks, and by now, you must have a better idea regarding the most suitable product as per your needs. However, before you can invest your money and make a final decision, let us help you gain some additional and vital information to choose that perfect model. Let's get to our detailed buying guide that discusses the factors one must consider before buying a particular caravan sink.
Sink Size
Knowing the correct sink size can be a bit challenging and tricky as there are certain elements in play. Before investing your money in a product, you should not only consider the length, width, and depth of the sink but also its dimensions and surface area over the counter. we recommend that you get a sink that is at least 27 inches long, 20 inches wide, and 8 inches deep for convenient adjustment in a compact kitchen or small caravan.
Construction Material
The most popular and commonly used material for caravan sinks is stainless steel. This material is best known for its durability, longevity, resistance against denting or scratching, and its versatility. However, there are other choices as well to choose from. You can go for a cast iron product with a porcelain coating for its traditional, user-friendly appearance. Know that the animal covering will not hide the damage, compromising the overall interior of your caravan. Fireclay, granite, and copper are some other modern, stylish options but demand a bit more care and maintenance to keep looking good.
Easy Installation
You might not consider it first, but caravan sings can be a pain to install and set up. There are some models that you can simply place in a hole into the designated kitchen space, while others make use of fancy equipment to make their surprising statement. Therefore it is better to go for a model that is easy to install and mount. This way, you will be spending less time, energy, and money on a particular model and giving more of your attention to other daily duties.
Number Of Bowls
Even though this feature is more of a personal preference, it is still better to have more than one bowl in your sink type for its innumerable benefits. Most of the models are available in the market have just one bowl, which is large enough to accommodate all your requirements. However, many people still prefer the practicality and versatility of two bowls in their sink to wash stuff in one and prepare/ clean required items in the other.
Finish
The overall finish of a caravan sink also matters the most. A lot of people prefer a lustrous type of finish, but for us, a sink with a matte finish works great due to its corrosion and stain resistance features.
Ease Of Cleaning And Maintenance
We cannot stress this feature enough! We always recommend buying a product that is easy to clean, sanitize and maintain. Never go for a model that starts to rust or flake when cleaned with harsh chemicals like bleach. There are many caravan sinks in the market that you can make shiny only by using a gentle cleanser or warm water.
What your sink will be used for
You should also consider how often you are caravan sink will be used and for what purposes. If you are a full-timer who likes cooking and washing, it is better to invest in a sink that can hold up to heavy-duty usage, for example, copper or stainless steel. If you are looking for a product for occasional use, you can easily get by with a budget-friendly, less durable option.
Caravan Sink Design
It is wise to invest in a Caravan sink that can suit your personal preferences, all while complementing your Caravan interior. If you have the best product, you can instantly transform your Caravan space into an attractive platform that your friends and guests will admire.
Frequently Asked Questions about Caravan Sinks
What Is A Caravan Sink?
Caravan sink is a product designed for apt working with the vehicle's plumbing system. These things can be different in terms of their size and features to accommodate smaller living areas of a Caravan or your travel trailer. For example, you can opt for a Caravan corner sink that is compact and can fit well in the designated place. As a result, the product will offer you enough area to do your chores without taking up too much space.
Which Material Is Suitable For A Caravan Sink?
Stainless steel is one of the most suitable materials for a caravan kitchen sink mainly because of its durability, quality, and excellence. It lasts forever, does not damage, can withstand heat, and offers convenient clean-up with soap and water.
Are Caravan Sinks Durable?
Like we mentioned earlier, the durability of any product depends on how you use it. For instance, If you are using the caravan sink with appropriate straining, cleaning, and weight control, it will surely last a couple of years before needing a replacement. Almost all the products on our list are affordable as well, so you can choose a particular model according to your budget and routine requirements.
Is It Important For A Caravan Sink To Match The Aesthetic Of My Vehicle?
In general, it all comes down to your personal choices and preferences. If you are an individual with a likeness towards style and aesthetics, it is better to consider how the caravan sink will fit in with the rest of your vehicle.
There you go. These are some of our most recommended products! We believe that the merchandise we have discussed above undoubtedly qualifies as some of the best caravan sinks of the Year. You can check them all out one by one and then make your final decision after considering their features and advantages. You can also refer to our buying guide before selecting your desired Caravan sink to make the most well-informed decision of your life.