Before, we will explain the ways to protect your caravan from stone chips. You must know what a stone chip is?
What is a stone chip?
A stone chip is a small rock or stone from the road that gets knocked up from the wheels of your caravan or other vehicles while driving that hits your caravan from the front or the sides.
So, If you are planning to travel on country roads in your caravan, then ensure that you are familiar with the ways to protect your caravan from stone chip damage so that your van is looking newer for longer.
In this post, we will pen down some ways so that you can protect your caravan from stone chip damage during your travel.
Caravan Stone Shield
It is one of the effective solutions to prevent your caravan from stone chip damage. It will keep the front of your caravan looking as good as it was on the first day when you bought it by protecting its front panels and under-carriage.
A Caravan stone shield is a metal-framed mesh designed to stop or deflect stones flicking up from the tires of your tow vehicle. This stone shield also comes with rubber flaps that hang below, preventing damage to your camper van.
Features
Easy to assemble using pre-drilled holes.
A mesh is attached to the frame using screws.
Easy to remove when it is not required.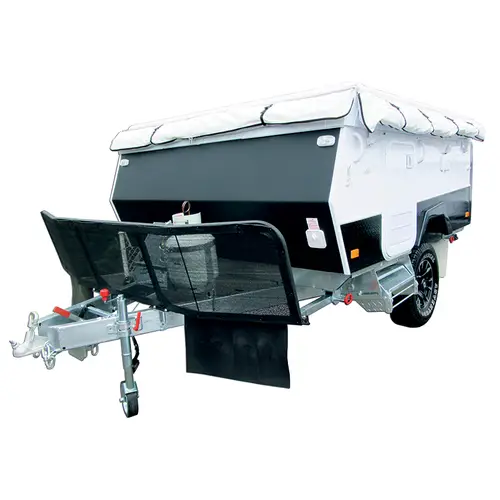 Rock Tamers
This Mud Flap is the premiere "adjustable and removable" system designed to give your towables protection from damage caused by rocks or stones on the roads. They are the perfect solution for those who want the appearance of their vehicle stylish and attractive. It is available in a size range from 2″ – 2.5″. The overall width is adjustable and easily fine-tuned to fit any small, full size, or dually truck.
Features:
Protects your truck and towables from damage caused by flying rocks
You can customize according to your vehicle's specifications for a perfect fit and maximum coverage
You can install and remove them easily as no drilling or welding is required
Maintains the appearance of your vehicle
Stone Stomper
A Stone Stomper is a customizable option for your caravan, and it provides good protection from stone damage. The main advantage of the Stone Stomper is it protects the caravan and the complete A-frame, gas bottles, gas and brake cables, coupling, and the front of the van. Stone Stomper differs from other systems because it runs horizontally between tow vehicle and trailer. The main benefit of horizontal shielding is that it doesn't increase wind resistance, which helps in saving fuel. Also, it doesn't restrict airflow underneath the vehicle, which can be important when towing a heavy trailer.
Features:
Rumbled Finish
Stainless Steel Storage Brackets suit Stone Stomper
Suits up to 25mm Wide Straps
6mm Mounting Hole Standard (can be enlarged to 8mm)
Checker Plate Caravan Shield
A caravan checker plate fitted to your caravan protects the front and sides of your van from stone chips. It is also a great way to give a new look, cover any existing stone chip damage, and add value to your caravan. In addition, it is a great technique to improve the look of your caravan. It is also a cost-effective solution if you already have some stone chip damage that you are looking to hide. Checker plate is available in black and silver aluminum and is usually installed in one day.
Features:
Slip Resistant
Convenient pre-cut and lightweight
Decorative patterns
used in situations that have high demand in anti-corrosion and oxidation.
Tips and Tricks for minimizing Road Rash
You must polish or wax your vehicle caravan before each trip. The wax protects the surface that makes the removal of bugs easier.
You must check your glass insurance; it should not be limited to the windscreen. Rear wagon encapsulated glass is also very expensive to replace as the gaskets are molded around the glass during manufacture.
Creating the extra drag, mud flaps mounted at the front of your caravan will minimize damage to shock absorbers and other painted surfaces.
A horizontal mesh stone protector like the Stone Stomper protects both your camper and towing vehicle.
Stone protection is a major factor in preventing damage to your caravan and towing vehicle. This becomes evident when barrelling along a dirt highway at speed – a glance in the mirrors tells the story. The wheels eject rocks or stones, and the turbulence of dust and dirt is readily visible around the wheel arches. Terrain tires add to the problem, harvesting bigger stones that bounce back the trailer and onto the towing vehicle, risking damage to paintwork and glass.
So before your next trip, ensure that you choose anyone above pay to protect your caravan, so it saves you from any damage.