Taking your caravan through rugged terrains and dirt roads could impact your overall driving experience? You must look for the best stone protection solutions for your vehicle. Remember, deflecting flying objects can damage your caravan. Stones can also fly onto the back of your tow vehicle and break the rear windscreen. In the worst, they can break the PVC pipes and even rip out the water hoses. This requires an expensive repair job.
Remember, even the smallest paint chipping can begin the process of rust damage and others when left untreated for a long time. This post will dig into the caravan prevention tips to preserve its aesthetic appeal and prevent expensive repairs.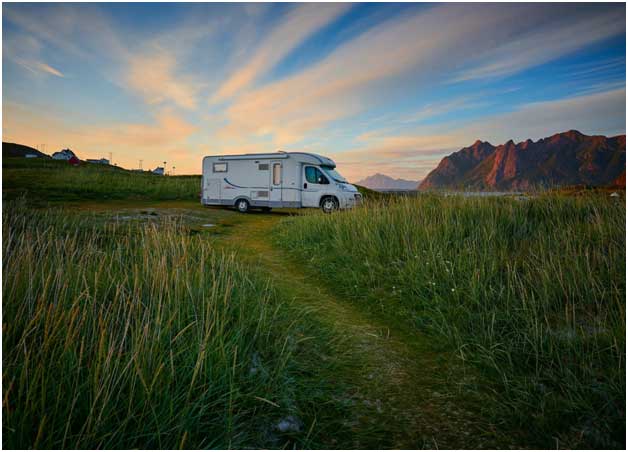 Caravan Stone Damage Prevention
Below are some of the easy measures you can take to protect your expensive caravan from stone dents and scratches:
1. Use Caravan Stone Shields to Reduce Front Damage
You can invest in a caravan stone guard with a rip-top mesh. It helps you cover the whole front wall of your caravan to offer complete protection to your vehicle. Caravan stone guards are built to protect your caravan and make it free from scratches, dents or chips. They also allow you to shield your storage boxes, jerry cans and other items mounted at the front of your caravan.
Both padded and unpadded stone guard designs are available today. Best stone shields are manufactured using the best material and state-of-the-art technology. Few of them even come equipped with two additional large-sized rubber mud flaps to shield the undercarriage of your caravan.
They look appealing in front of toolboxes, gas bottles, etc. Moreover, they have an easy and quick installation to the A-frame of the caravan. Before ordering a caravan stone guard, make sure you measure the width of your vehicle.
2. Inspect the Underside
Check out the underside of your caravan to look out for the signs of stone damage. Did you know even caravans displayed as "off-road vans" may face unprotected wiring and greywater plumbing?
So, make sure that wires linked to the e-brakes are well protected because the flying stone from your or other vehicles close to you can break out the wires and wreak havoc. It's also worth checking for the springs, water hoses, water tanks and tyre wear.
3. Keep Some Distance
It is important to maintain some distance between your vehicle and the other one in your front. This will help you reduce the possibility of anything flicking up by other vehicles and dust build-up.
4. Install Stone Stomper
Stone stomper got its idea from stone guard mesh and stretched it between the tow vehicle and caravan. As a result, a stone stomper provides excellent protection to your caravan from stone damage. You can use this protective sheet in every condition, including tight turns, without concern about damage.
A stone stomper is made using a reinforced truck mesh. It can also be custom-fit your specific caravan. It's a good option for the frequent travellers that travel offroad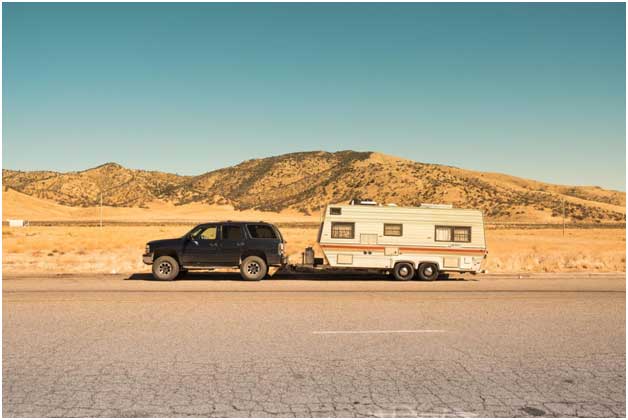 5. Add vinyl on the front of your caravan
Another great solution for caravan stone protection is installing padded vinyl on the front side of your vehicle. Today, it is available in numerous colours to complement your caravan. It's also straightforward to install.
Fix the buttons to the front surface to form holes to allow water to enter. This will help you prevent the possibility of leakage and trapped humidity.
6. Rock Tamers
Rock Tamers are a removable and adjustable mudflap system that provides ultimate protection when towing caravans during dirt-road travel. They are suitable for all towing applications and have a quick DIY installation.
7. Checker Plate
Caravan checker plate protects the sides and front of your caravan from stone chipping. It can also give your vehicle a new look and even helps you mask the existing stone damage. It is usually available in silver or black aluminium.
8. Gas Cylinder
It's also essential to keep your eyes on gas cylinder protection. They are usually mounted on the drawbar. That is why we suggest adding a protective cover before taking your caravan on a gravel path. It's a good idea to eliminate the cylinder and tie it in the front boot of your vehicle as per the set regulations.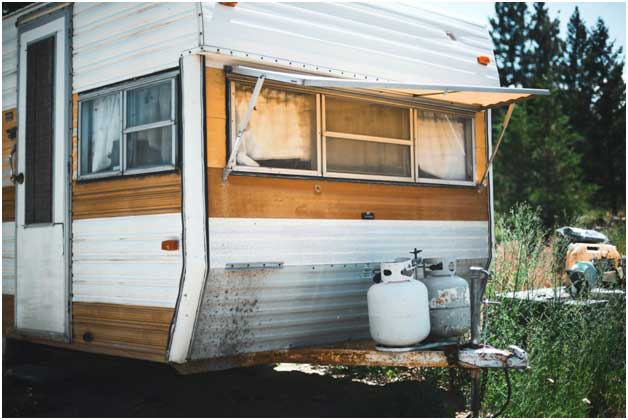 Wrapping Up
Accidents are usually avoidable. Usually, the front and chassis region of the caravan are prone to stones and rocks flying at high speed. Your caravan is a valuable asset that you would like to protect where possible and avoid any insurance claims. You can follow some basic things to shield your caravan from damage, mainly when you are off-road.
Today, there are also many protection devices available that can help you stop abrasion from rocks and gravel and prevent damage to the paintwork of your caravan.