Are you in the market for a double swag for those quick weekend trips?
Whilst swags have been around for a long time, they have increased in popularity of late with more and more brands releasing their own range. With lots of competition, brands are forced to introduce better features, and improve on quality to stand out from the crowd.
Whilst the concepts behind a swag remain the sames, the materials used, shape, width, height etc all vary.
If you are looking for a double swag then it's most likely you are wanting a decent amount of space either for yourself or you and a mate/partner/dog… and not be squashed in there like sardines.
After scouring the internet for available double swags in Australia, we have come across the following 5 double swags that we reckon are pretty good to give a go.
Double Swag Reviews January, 2022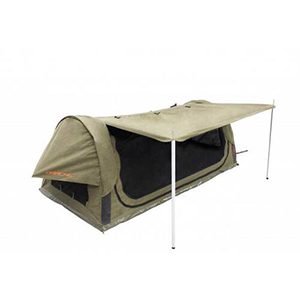 For the luxurious comfort and two-way entry, there is no better product then Darche AD 1400 swag is the one you need. It's an excellent tent for rough weather conditions and lasts for a long time. From entering into the tent to exit, everything is easy to handle. While being on the tour, when you don't want to compromise on comfort and safety, then choose this tent.
It takes hardly 20-seconds to set up, and even as a beginner; you don't have to invest a whole day. The inflatable poles of the tent are puncture-proof and have an extreme level of protection to save you from inconvenience. The high-quality canvas material ensures no leakage issue during hiking or camping.
The single inflation point allows you to store it conveniently, and no complication process is involved. The best double swag Australia has an exceptional hand pump and polyester swag bag. Throughout the traveling, you will find it protective and comfortable to use against different elements. The high foam mattress supports the body and saves you from uncomfortable aches.
Two-way entry
Single inflation point
Robust protection against weather
High capacity hand pump
Setup requires effort as a beginner
Oztrail Mitchell Expedition Double Swag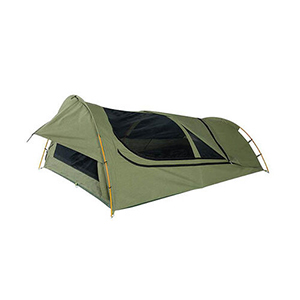 Oztrail Mitchell Expedition double swag is easy to set up, and you will find it exceptional in terms of performance. None of us want to compromise on the tent comfort at the end of a day to keep protection possible. The ventilation system is exceptional, and you won't feel uncomfortable while being inside for a long time. It keeps condensation away and makes your nights easy under the stars.
The tent has no-see-um mesh panels to protect you from extreme weather and wild insects. It's spacious enough to fit 2-people at a time, and due to high-quality material, you will lay comfortably inside. No matter if you are short or tall, the 3-pole dome-style keeps you fit inside without a backache. For a good night's sleep, even in the middle of a wilderness, you can count on this tent.
Oztrail Mitchell expedition double swag is acquiring customers globally due to its excellent services. They are providing a 2-years warranty and can compete with the different brands. It is easy to handle, and you will find it lightweight to carry.
Mesh panels for protection
Excellent ventilation
Suitable for extreme weather
Comfortable to use
Adventure Kings Big Daddy Deluxe Double Swag 70mm Mattress Optional Bag Bundles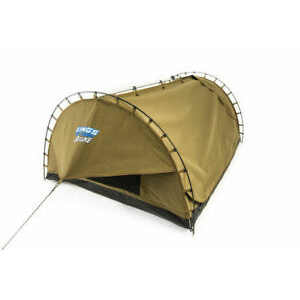 Airflow and easy entry are one of the main concerns of a user when buying a tent. Adventure king's big daddy deluxe double swag is all you need to make the whole process comfortable. The free-standing design with a telescopic center pole keeps it firm on the ground. The polyester pole clip loops make it easy to set up and don't require half of the day to adjust on the ground.
The heavy-duty PVC bucket floor is suitable to protect you from any weather difficulty. The superior waterproofing feature keeps you comfortable throughout the journey and protects you from water leakage. The double-stitched seams are durable, and the material won't get ruined after using few times. Easy storage is possible due to the long-length zipper that keeps the material safe inside.
This 400gsm canvas bag can fit a person of any height, and you can set 2-4 pillows inside easily. Whether the environmental condition is rough or smooth, it will keep you dry and safe from water. The mattress inside keeps your body comfortable, and you can lay with ease.
70mm thick mattress
Thick padding for comfort
Stand firm on the ground
Water and dust resistant
Not suitable for a single person
Mountview Double Swag Camping Swags Canvas Dome Tent Hiking Mattress Daddy Bags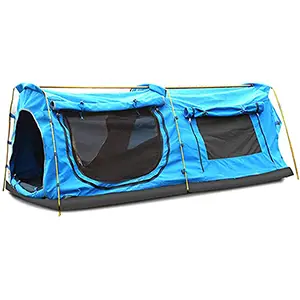 We all want to experience camping and hiking because of the whole new challenges coming our way. Sleeping under the stars makes us all excited, but what to do when you don't have a durable tent to survive in the wilderness. Mountview double swag camping is in the market intending to serve you in the best possible way. Now you can experience a new level of comfort and freedom while being inside the tent.
You can open the flaps of a tent when you want to witness the beauty of the sky in the middle of the night or keep them closed to save yourself from the wet weather condition. It's an excellent product to use for hiking and camping. Getting the warm and cozy feeling while being on camping is all we need. This best double swag Australia will keep you comfortable throughout the wilderness and protect you from insects.
The high-density foam mattress is suitable to lie on even when going through difficult body conditions. It's made from waterproof material, and inflatable pillows keep you comfortable throughout the night. From breathable inner fabric to a built-in mesh panel, you will get everything from this tent.
Built-in mesh panel
Durable and firm aluminum poles
Easy to setup
High-density mattress
It is not suitable for extreme weather conditions
Weisshorn Dark Blue Double Swag with 7cm Mattress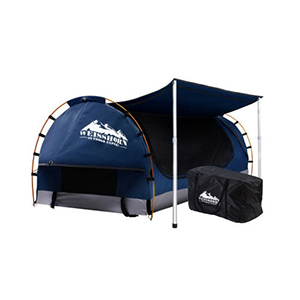 To enjoy the great outdoors, you should have a durable tent that must be reliable and comfortable to set up. Weisshorn dark blue double swag is the best for all seasons and is reliable to stand on the ground. The thick mattress keeps your back in a comfortable position, and after spending a night inside a tent, you won't feel tired. The durable aluminum poles stand robust on the ground and handle all the weight with ease.
The extra high floor edge is to protect you from water leakage during rough weather conditions. The 70mm thick mattress keeps you easy on the floor without letting insects enter the tent. You can spend the whole night with ease due to excellent ventilation that is possible because of the breathable inner fabric. The heavy-duty zippers make it convenient to store the tent anytime and travel with it anywhere.
The 2-adjustable awning poles are reliable to handle the whole weight of a tent. Due to UV resistance, it can reduce heat even in warm weather and keep you cool inside. It also has guide ropes and pegs to keep you comfortable and at ease.
Waterproof flooring
Breathable inner fabric
High floor edge
Reliable and easy to use
Require assistance for setting up
What to look for when buying a Double Swag
While buying camping swag, you may feel confused and lost without a buying guide. By going through this ultimate guide, you can make this journey memorable and comfortable.
Easy to Carry
The first thing people often find difficult to find in the best double swag Australia is the travel-friendly feature. The camping tent should be easy to carry and lightweight, so you can travel with ease without feeling a burden on the back. Many new models are portable and small in size that is enough to fit one person inside with space. Hang it at the back and check the weight before you decide to invest in it. Also, it must be easy to handle, so you don't have to look for assistance.
Setup
As a beginner, if you are going camping for the first time, the tent should be easy to set up. Many people end up with the wrong product and find the whole process tiring. The setting consumes their day and sucks out the energy to explore anything else. The tent should be easy to set up and keep you protected from unnecessary complications. Go through the setup process at home first to understand the process before going through a challenge alone.
Waterproof
When you are in the wilderness, the weather is quite unpredictable. You never know when it's going to rain or when you have to save yourself from extreme heat. The camping tent should be weather-resistant and waterproof. No matter, if you are in the worse weather conditions, the tent will keep you dry and prevent water from entering inside. It should be sturdy and firm on the ground to fight against windy conditions. In this way, you can stay protected for a long time without worrying about safety and security.
Construction Material
If you want a camping tent to survive in worse weather, always check the construction material closely. Never compromise on the quality because this product is to keep you safe and protected from difficulties. Ensure whatever camping tent you are choosing, is made of the desired material and is durable enough to stand in the wilderness for a long time. Other than a reliable material, it should be lightweight to carry, so you don't have to deal with heavy fabric while setting it up.
Mattress
The whole beauty of swag lies in the mattress, and if you are not comfortable inside the tent, what is the use of it? If your swag tent has a high-quality camping mattress, there is no need to invest in another one to keep the posture comfortable. If budget is not an issue for you, choose the bulkier foam and enjoy the rest of the trip. Mattress plays an important role when it comes to keeping you easy, and for a long sleep.
Ventilation
Choose the swag with ventilation panels so if more than one person is sleeping with you, there will be enough space inside to avoid suffocation. Some of the swags have windows to keep you cool on hot nights and protected from rain. When choosing any tent, ensure it has enough ventilation to keep you easy and safe from any suffocation issues. The fabric should also be breathable, so after closing the window, you can still feel promising airflow.
Final Thoughts
The most amazing solution to camping is to use the best double swag Australia. It's not possible to stay protected against insects and environmental conditions without a camping tent. The advantage of double swag is exceptional, and you will find it different than conventional ones. Due to the plenty of space, you can feel comfortable, and a double-entry point is a plus. By investing in the camp, you can enjoy the journey and experience the best camping.
Frequently Asked Questions (FAQs)