Having fresh, clean drinking water is a crucial part of camping and touring in your caravan. If you are going off-grid, then water can at times be hard to come by, and there will be times you need to filter water from creeks or tanks. Even the water from your caravan water tank can contain bad bacteria which can cause nasty health issues than can ruin your holiday.
So having a water filter either permanently setup inside your caravan or a mobile filter system is highly recommended.
In this article we look at 5 water filter setups ideal for caravan and camping.
Caravan Water Filter Comparison Table
Caravan Water Filters for Australia Reviews 2023
B.E.S.T. Inline Water Filter 1/2 Threaded Connections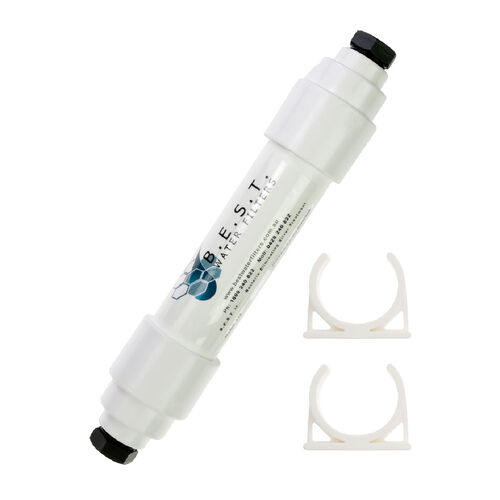 Water filter is the ultimate requirement of every home where health is the most important thing to focus on. Who wants to feed their family with polluted water? The BEST inline water filter is the solution when you need clean and crystal clear water in your caravan sink. This inline water filter gets attached to the existing fittings and is ready to use immediately.By tasting the water, you can tell the difference between the filtered and unfiltered ones.
It's a versatile and revolutionary product you need when nothing works with the existing system. This water filter is loaded with features and shows maximum performance to keep water safe from pollution. As soon as you feel the pressure has reduced, reverse the flow and flush the dirt away. It's your great partner and compact to keep with you. It can be adjusted in a vertical or horizontal position without leaving a hint of leakage.
The product has come up with bare threads, so it can fit in any pipe without much effort. The mounting clips make installation simple than ever, and you don't need anyone's assistance to use it for the first time. It's a great way to remove impurities from the water when you don't want to compromise with health. Unfiltered water may contain life-threatening bacteria's which can lead to several health complications.
Attach easily to the current system
Prevent impurities from flowing
Reversible flow
Easy to install
No complaints from customers
Thirsty NOMAD 5 IN 1 Caravan Water Purifier – Permanent Installation
The caravan water filters are one of the revolutionary products in the market to deliver clean water everywhere. It's one of the affordable products to use to fit in the system for utilizing clean water. Due to the latest water purification technologies, you don't require extra energy or resources to run it. You can feel the difference in digestion after drinking it due to no contamination.
Usually, caravan filters are not suitable to catch bacteria and kill them. Most of them are not designed on the International standards to kill viruses inside. Thirsty Nomad 5 in 1 caravan water purifier has been developed by water scientists to maximize the performance of a product. When you are sensitive to bacteria, choose the filter with proven qualities.
If you compare this product with another water purifier, you can realize it's a complete game-changer. By combining excellent technologies, it can kill bacteria from water within 0.1 seconds. Due to its exceptional performance, this product is backed by 14 global laboratories and 7-patents. This water purifier has 5-stages in total to purify the water, and it successfully removes 10-metals to make it crystal clear.The product has simplified water filtration like never before, and you will love the results.
Removes 20X more contamination
0.01micron ultrafiltration
12-months warranty
Kills disinfectants 99.9% as a contraction
Existing users are satisfied with the performance
SHURFLO Filtration Kit RV & Marine use 158761 RVQBR-A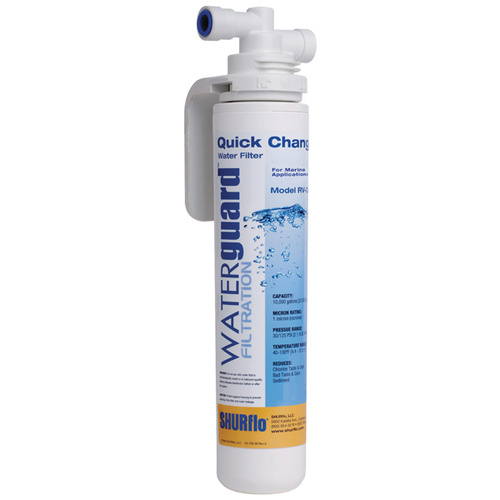 Despite spending money, if you are not satisfied with the quality of the caravan filter, it's time to switch to something proven and worth investing in. Shurflo filtration kit RV, and marine USE 158761 RVQBR-A is one of the best products you can install in the caravan to never drink contaminated water again. Above all, this product can filter around 1900 liters before it's time to change a filter.
Usually, people already using filters in their caravans can taste the chlorine, and it's no different than drinking chemical added water. This filtration kit not only prevents water from mixing with chemicals but eliminates odor and bacteria immediately. For frequent travelers with a sensitive stomach, never compromise on the quality of water. Shurflo filtration kit is providing a permanent solution to install.
The mounting screws and easy fittings have made things easier because you don't need assistance while installing them. The best practice to check the efficiency is to keep it running for 2-3 minutes if you haven't used the filter in a long time. The flow rate is also impressive, and it's about 1.9 liters per minute. In case of any damage or technical fault, you don't have to worry because the company is providing one year warranty. It was never this easy to drink fresh and clean water anywhere.
Prevent odor and chlorine
Impressive pressure range
1.9L/minute flow rate
Easy to fit
No complaints from current users
Geekpure 5-Stage Reverse Osmosis Drinking Water Filter System with Extra 7 Filters for 2 Years Use -75 GPD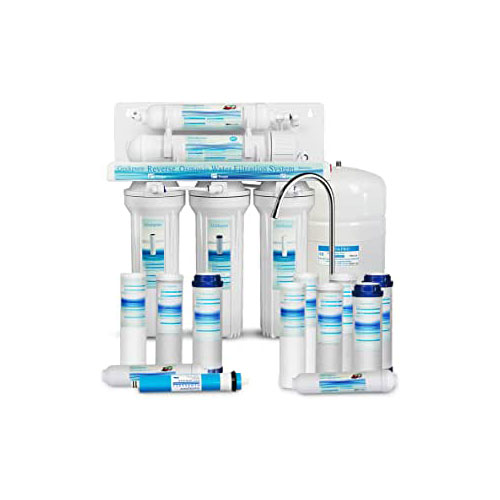 Who doesn't want to adopt advanced technology that can simplify life and prevent health issues? Water is the basic need of every human, and it would be hard to survive without it a day. People often install filtration systems in their caravans, but in the end, they realize how it was never performing at its maximum capacity. If you are going through the same trauma while being in the caravan, you should invest in Geekpure 5-Stage Reverse Osmosis Drinking Water Filter System, without a doubt.
Geekpure 5-stage reverse osmosis drinking water filter system works on advanced technology to kill bacteria and remove contamination from the water as soon as it detects. It removes metals like arsenic, chlorine, lead,fluoride,mercury,cadmium, and heavy metals. The product is not only suitable for drinking water, but baby food, tea, coffee, and other formulas. After installing it in your caravan, you don't have to maintain it for a long time and don't require investment to replace different parts.
It guarantees clean water, and you don't have to invest energy for anything to drink clean water. The capacity is about 75 gallons a day, and the tank capacity is 2.8 gallons. The company is also providing 7-premium long-lasting filters for free, and it covers the technical issues for 2-years. All the parts are universally compatible, and you don't have to search for them from store to store.
High-quality fittings
Certified system
Removal of contamination
Highest reliability and low maintenance
Water pressure may feel slow
Twin Caravan & RV Water Filter System with Sediment & Carbon Filter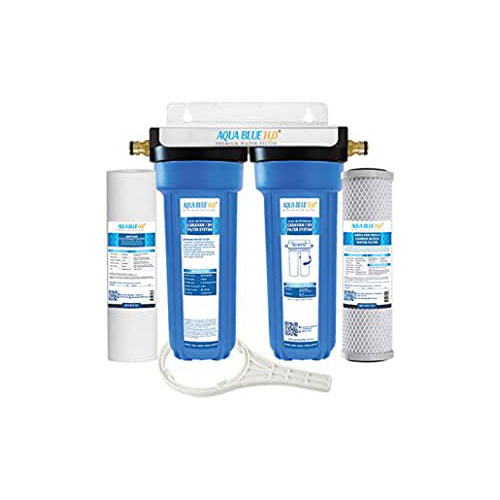 If you don't want to waste your money anymore on products that require loads of maintenance and investment, then a twin caravan & RV water filter system is the ultimate solution. By installing this product at your home, you can have clear water anywhere, and there is no need to compromise on health anymore.
The water filter system works on antibacterial technology to remove any odor, germ, and other contamination from water. Whether water is inside the filter for hours, it will stay clean without catching factors from the environment. If you are wondering how it can last? Well, it is made of durable stainless steel and can last for a long time without catching rust. It has bacteria and germ resistance to never compromise on your health.
The product is for delivering ultimate clean water to you to feel relaxed while traveling. Due to the durable material construction, it prevents metals from entering into the liquid, and you can use water as long as you want to. If you are willing to invest money in some reliable product, this is the one to go for without having second thoughts.
Filter out dust particles
Made from chemical-free material
Inhibit bacterial growth
Multi-layer filtration
No complaints from existing users
Guide to choosing a caravan water filter
Choosing caravan water filters is not an easy task, and you should have enough information before picking out the right model. If this is the first time you are buying a water filter, you should go through this guide and pick the best available product from the market by considering these few factors.
Warranty
What if after using the filter for a few months, it's not working anymore, and you are having technical issues? In this case, while buying the filter system, ensure the company is providing a warranty to cover the damage in a specific period. This will give you an advantage and build your confidence in the brand. Never compromise on the quality or brand to save a few bucks. It's about your health, and it shouldn't be neglected, no matter what.
Filter Changing
Many people using water filters may experience difficulty in changing filters, and every time they have to pay labor. When planning to buy a filter system, ensure the change is easy enough to deal with by yourself. It will be a whole hectic process when you have to call someone else for helping out. Check the reviews and go through the technical specification of the water filter system when buying. It will help you fetching a clear picture of how it works and whether it's worth investing or not?
Easy Installation
The caravan water filter is easy to install, but sometimes due to the complicated accessories, you may have to ask for help. Choose the water filter system that must have universal fittings and accessories so you can deal. In case of any damage, the parts should be available and, you don't have to run around everywhere to find one exact fitting. A product should be simple enough to use and easy to set up. Also, look for the water inlet pipes, and don't decide until you are satisfied with the fittings or installation process.You can also take help from several tutorials on the internet to assemble the unit.
Efficient Filtration
The massive reason for fitting a water filter in the caravan is to drink clean water no matter where you are going. Some people get trapped and buy cheap-quality systems that can't clean water thoroughly. A product should have an impressive capacity for filtering dust particles, metals, and odor. It should remove all the contamination and must be tested medically. While buying a unit, you can ask for an approval certificate from the seller for satisfaction. Dirty water can lead to other diseases such as diarrhea, kidney diseases, and other health complications.
Water Filter Flow Rate
The flow rate of caravan water filters should be good enough to fill the bottle in a few seconds. If your filter is working slowly, it means the unit needs cleaning, or something is not working right. None of us want to deal with a slow rate filter, so pick out the one that fulfills all your requirements. It depends on the brand and construction quality as well. Never pick out the product with no reputation in the market, especially when buying for the first time. If you are not confident about the specification, ask them from the company and be satisfied with the performance.
Easy to Maintain
Who wants to buy the water unit, then invest an additional amount in the maintenance? Of course, it would be too painful for everyone. Go for a product that is easy to maintain and reliable enough to last for years at your place. The construction of some caravan water filters is too delicate, and after a few months of usage, one has to invest more for maintenance. We always advise you to choose a low-maintenance unit that can keep working in any circumstances and deliver clean water.
Quick Cleaning
You must be wondering if it's possible to clean the unit without asking for help? Yes, it's possible, you will love the whole process, and the product is worth it. When using a high-quality water filter, you have to follow a few steps, and it will be ready to perform again.
Along with a quick cleaning process, you should also check the construction. If the unit is not of reliable and chemical-free material, don't buy it. People often purchase simple equipment from the market, and later they realize that the product can't remove contamination perfectly. A robust product will save you loads of costs.
Final Thoughts
Caravan water filters require all your attention when buying, and if you make the right decision, they can last for the longest time at your place. A water filter will never let you compromise on your health, and it will be possible to get clean water from anywhere now.