Get your ATV out of the mud with these 12v Electric Winches
Getting off the beaten track in an ATV or quad bike is great fun, but there will come a time when you will encounter some rough terrain often resulting in being bogged. If you don't have a support vehicle to help pull you out the next best thing is an electric winch.
Electric winches come in all sorts of configurations including:
Bullbar mounted
Rear mounted
Portable
Wireless Remote or Corded Remote
Anyway, let's get straight into our ATV winch reviews. In our opinion, the best winches are:
Best ATV Winch for Australia Reviews 2023
RUGCEL 2000-lb. ATV/UTV Electric Winch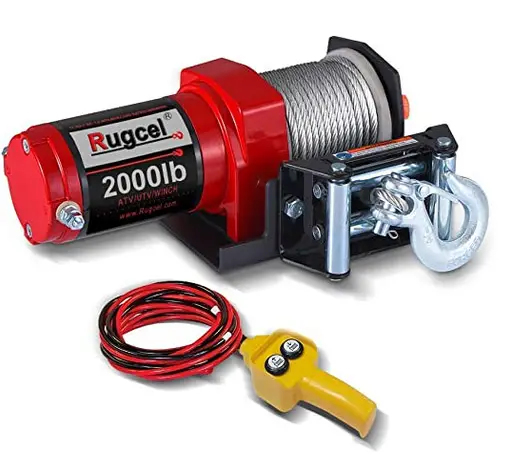 The first product on our list is by the brand Rugcel. The reason why this winch has made it to our list is because of its versatility. A lot of times people complain that they have to buy separate winches for their boats, cars or jeeps. They long for a winch that is so versatile that they do not need to spend money on different winches; they just want one winch that can cater to their different needs. Well, such people would love to have this winch as it can be used in multiple trailers including car, boat, trucks, modified vehicles and much more.
One of the most exciting features of this winch is that it is waterproof. Perhaps that is why people who own boats love this winch. It is extremely powerful, with being able to pull 2000 lbs. capacity line. This would allow you to run this winch smoothly and efficiently without giving you much trouble. Finally, you would be glad to know that this product comes with lifetime technical support. Anytime you are unaware of what you should do, you can give a call to the company, and they will solve your problem.
It comes with lifetime technical support
It is completely waterproof
It is extremely powerful
The cable could be stronger
Novawinch 3000LB Electric Recovery Winch ATV Utility 12V with Steel Cable Roller Fairlead
If you are looking for a winch that is specially designed for ATV and UTV sports, then this product on our list should really appeal to you. The winch has been tested by CF Motor Corporation to see how well it performs with heavy-duty ATVs and the results were pleasant. It has a simple appearance yet a solid structure, which is capable of withstanding the wear and tear of time.
It performs quite excellently, and it does not break your budget. It has a planetary gearing system which is known for being easy to handle yet also being efficient. The smooth clutch and turn system allows you to pull your machine out of a hole without any trouble. The cable is manufactured out of steel that is capable of handling heavy loads.
It is especially good to use with ATV and UTV sports
It performs well with heavy duty ATVs
It has a sleek appearance
It is quite heavy
Corded remote
Champion 3000-lb. ATV/UTV Winch Kit
The next winch on our list is for those who are looking for something affordable yet don't want to compromise on quality. It consists of some of the most fantastic gearing and torque system that we have seen on winches. Both the features ensure that you complete your work without putting yourself through either trouble or at risk. Moreover, the features also provide that users get a smooth pulling experience. The winch comes with a galvanized cable which is going to serve you for years.
One of the best things about this winch is that it is quite easy to install. While other winches require a professional person to come and install them, that is not the case with this winch. It has excellent braking power which will provide you with a safe and efficient pulling experience. Controlling the winch is also relatively easy, and the credit for that goes to the additional spooling clutch and a user-friendly controlling system.
It has an east controlling system
Its cable is galvanized
It is powerful enough to lift large ATVs
VIPER Midnight 3000lb ATV/UTV Winch Kit with 50 feet BLACK Synthetic Rope
Imagine going on a snowy adventure with your best friends. While having the time of your life, unfortunately, your side by side gets stuck in a whole. Now, what can you do? In such a situation, you need a winch that can help you so you can get back to enjoying your trip. Viper Midnight is precisely the kind of winch that would help you in such situations. It is primarily built to help people bring their machines out of holes.
Once you have this winch with you, you wouldn't need to depend on someone else to help you out of the trouble. You would be able t help yourself. One look at the winch and you would be able to tell the quality of it. For instance, it is manufactured out of metal gears and composite housing to ensure you don't have to replace it for years to come.  Installing this winch is very easy. Just follow the instructions carefully, and it would be installed in no time.
It is robust
It comes with a 1-year warranty
It comes with excellent safety features
It doesn't work with all winch brackets
Megaflint Trailer Winch, Reversible 12v Electric Winch for Boats 4X4 up to 6000 lbs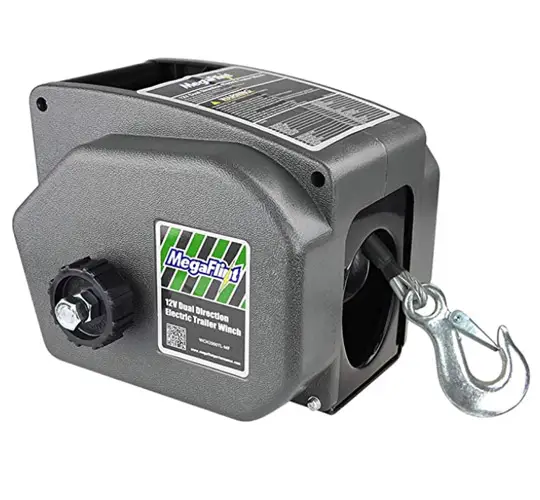 While Winches are, no doubt, a great help, but the noise they make can be loud. A lot of times, people who need a winch choose not to buy it only because it makes a lot of noise. If you also belong to the same category, then we have got the perfect winch for you. This winch by the brand Megaflint is designed in such a way that it does not make a lot of noise. Other than that, the winch delivers on other fronts too. Just take its motor, for instance. The motor has 30% higher power as compared to its counterparts.
Whether you want to use it for in or out, you would be able to do so. Thanks to the dual-mode operation, your options are unlimited. It allows you to run in both electric and manual mode. This feature is something not a lot of winches offer. While it may be advertised as a boat winch, don't limit it to just boats. You can use it for cars, trucks and trailers as well. Finally, if you are worried about the winch being not safe enough, you couldn't be more wrong. The winch consists of galvanized steel cable as well as a hook for extra safety.
It is incredibly safe to use
It does not make a lot of noise
It comes with dual-mode operation
Portable and can easily be temporarily attached to a towbar
The manual mode leaves a lot to be desired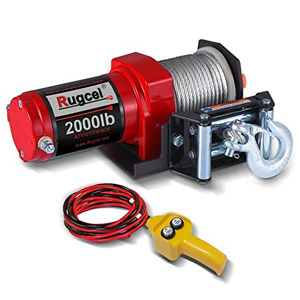 How to buy the right Electric ATV Winch

Even with so many fantastic options in front of you, it can be hard to make a decision. We understand that. Hence, we have come up with some factors you should consider to make the purchase decision easier for you. Let's have a look at those factors:
Type of rope/cable
Since winches are made to lift heavyweight machines, your natural thinking might be that each winch comes with a durable rope. While you are right, there are still some things about the type of rope you should know.
Steel Winch Cable
First up, there is steel cable. Steel cables have been around for a long time, and they are quite common to use with winches. Unlike other types of ropes, steel ropes are not damaged by sunlight. One flaw with steel ropes is that they are cumbersome. Without proper gloves, you risk hurting yourself.
Synthetic Rope
Synthetic ropes are relatively new. However, they are slowly becoming quite common. Such cables are much easier to handle, and they don't pose a significant threat to injure someone either. One problem synthetic ropes have is that they require constant maintenance and are often damaged due to the changing weather.
Pulling power
The whole point of buying a winch is so that you can pull vehicles, boats or other machines with it. If a winch cannot even provide that, there's no point in buying that winch. If you own a truck and you want a winch to pull a truck, then make sure it is capable enough to do so. Different types of winches have different pulling powers. Some can pull a vehicle, while others can pull trucks. Some winches are multi-purpose as well. If you are confused about the pulling capacity of a winch, then check for pull rating of the winch. It tells how heavy the vehicle should be for the winch to pull it properly. The pull rating should be either equal to your vehicle's weight, or it should be more than your vehicle's weight.
Wired Winch or Remote/Wireless Winch?

Do you want to control the winch from a distance? Or are you comfortable managing it from inside the vehicle? If you prefer the former controlling system, then you should go for a winch that can be controlled with a remote. Since you control a winch from a distance with a remote winch, you are much safer. However, wireless winches are expensive as compared to wired winches.
Different Types of winch
Hand winch
Also called hand operated winch, a hand winch is perfect to use when you want to lift light machines. It has no connecting with the vehicle's engine whatsoever, and one person is enough to control it. Such winches have a lever arm which acts as a handle and a barrel axis that functions as a fulcrum. One of the best things about hand winches is that they are perfect for when you want to work in remote areas, such as the woods.
For example, if you have to work somewhere that does not have any power outlets, then you should go for hand winches. A hand winch is further divided into two types: a crank winch which is suitable for pulling weight between 500 kilograms and 1 ton. On the other hand, a lever winch is ideal for pulling approximately 2 tons of weight. A hand winch is the simplest type of winch. It doesn't require electricity for functioning; just a person with a strong arm is enough.
Electric winch
If you have seen a winch, chances are that it might be an electric winch. This is the most common type of winch. While they have specific uses, they are especially suitable for handling low to medium weight. As compared to other types of winches, electric winches are quite easy to install. They have other benefits too, which is why a lot of people prefer to buy it. Electric winches generate power from the battery of a vehicle. If you want, you can also use another source to power the winch's motor.  One flaw with electric winches is that since they run on battery, they consume battery very fast.
That is precisely why electric winches are best for light usage. Pulling heavy machines that require a lot of time to pull is not recommended with electric winches. One significant benefit of an electric winch is that they are easier to install. They do not require a professional. With the instruction manual in front of you, you would be easily able to install it yourself.  Another significant benefit of an electric winch is that you can quickly move it from one place to another. It may be heavy, but since it doesn't have loads of wires connected to it, it is not a hassle.
Boat winch
People who own boats can agree that loading and then unloading a boat on a trailer is one of the hardest things to do. You end up spending all your energy on it. In short, it is nothing but exhausting. That is where a boat winch comes in. With a boat winch, you can quickly load and unload your boat, which makes for a smooth experience. Since there are different kinds of boats, there are multiple boat winches as well, choose from a simple hand winch, or an electric boat winch.
Some examples of boat winches include small boat winch, yacht winch, fishing boat winch and a lot more.  Some winches are capable of handling small vessels while other boat winches can handle massive vessels excellently. Since they are used for boats, which means they are used around water. For this reason, this type of winch is waterproof. There are several materials used for manufacturing boat winches, and all the materials have their pros and cons. Some of the materials include aluminium, zinc and powder.
Q. Do I need a winch for my ATV/MOTORBIKE/BOAT?
A large number of people will actually never require a winch, but for those who actually use their vehicle offroad then a winch is recommended. If you are driving in remote areas where the roads are not sealed it's highly likely at some point you will become bogged and require tools to get your vehicle free. This is where a winch can come in handy.
Q. How strong should my winch be?
There is a simple rule of thumb that any winch should be 1.5 times stronger than the weight of the item it is pulling. So if your vehicle is 1000kg, then the winch should have a capacity of 1500kg.
Q. How do you double the pulling power of a winch?
By using a pulley block you can increase the pulling power of a winch. This is physics 101.