Going hiking can be great, but often you have to carry alot of gear with you. Don't risk a sore back and ultimately an uncomfortable experience!
There would be nothing worse then getting an hour or 2 into a hike and you are crippled with pain, or it starts raining and your pack gets soaked along with all the contents in it. These things can ruin what would be a great experience.
It pays to take the time and get a pack that is going to be best suited to your body and hiking style. Also a pack that is both lightweight but also a solid construction.
With that in mind, we have found 5 great hiking backpacks available online.
Best Hiking Backpack for Australia: Reviews 2023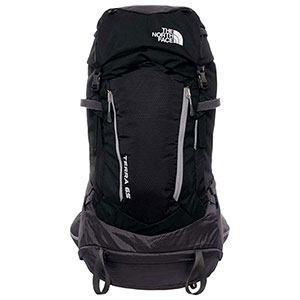 A hiking backpack is one of the essential things to keep with you when going hiking. It stores most of your stuff and makes your journey simple. We all look for the kind of backpack that must have maximum space to store necessary items we may need in the wilderness. The north face terra 65 is the one you may look for to make hiking memorable. This bag is a perfect combination of durability and outstanding design that can complement the whole look without leaving the burden on your shoulders. The padded shoulders of this backpack are comfortable and light.
The adjustable Opti-fit feature supports the back and balances the weight when climbing on an inclined surface. It has enough pockets to keep an emergency kit or food items that require a separate compartment. The appearance of north face terra 65 is elegant, and it's affordable to everyone. The material of this hiking bag is durable for hiking purposes where you have to use it roughly. The brain compartment of this hiking bag is large to keep necessary material for hiking. It's suitable to keep food packets.
If you have additional items to keep in the bag, you can also access the bottom area. Hiking requires a sleeping bag compartment, and guess what? This bag has a sleeping bag section to make the night comfortable and easier for you. The improved ventilation of the backpack keeps it cool and maintains the air pressure inside. The bag is suitable for all hikers looking for something light and easy to handle without feeling a burden. Hiking is all about exploring nature, and the north face terra 65 makes it convenient to deliver every necessary item to you.
Adjustable Opti-fit
Spacious brain compartment
7+ pockets
Improved ventilation
A rain cover is not included
FJÄLLRÄVEN Kajka 75 Trekking Backpack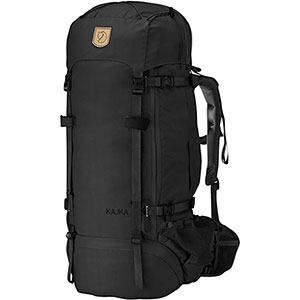 The adjustable backpack is the essential requirement of a hiker. Due to the different routes, conditions, and items inside, a hiker can adjust it accordingly to make the journey comfortable. The modern appearance of the hiking backpack is elegant and gives an elite look to your personality. The perfect fit adjustment system of the Fjallraven Kajka 75 trekking backpack is suitable for different bodies. It can distribute the load equally.
The product has a hip belt, suitable for carrying a bag on your body during long days that require a consistent walk on a rough surface. The front of this backpack can be opened completely to get access to all things inside it. One of the pockets is removable, and a hiker can use it as a bag too. Side pockets are with zippers and slanted side pockets for water bottles. The mesh pocket of the backpack keeps the wet and dry sections separate from one another. To reduce the carbon frame and to make the product environmentally friendly, it has a wooden frame. At the top lid of a bag, it has an elastic strap to attach the sleeping bag. The bag is spacious enough to divide into upper and lower sections.
It is convertible to a waist or chest bag after removing the top cover. It has a rain cover with reflectors and attachment points as well for convenience. This 75-liter backpack is the dream to take on hiking due to its spacious interior and durable construction. The product will last for a long time, and the cargo capacity allows a user to keep maximum items in it.
Perfect fit adjustment
Hydration system compatible
Rain cover included
Wet and dry compartment
Not appropriate for keeping the phone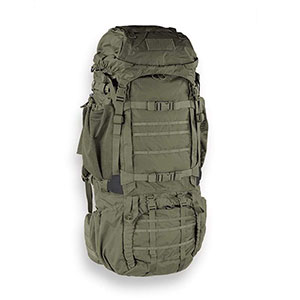 Hiking requires tough backpacks that can go through rough weather and handle maximum items inside. The appearance must be robust to last for a long time with all the features require in the wilderness. This bag is spacious, and the upper top is removable that can divide into two sections. The sleeping bag compartment of the Eberlestock battleship V90 pack is also large, and after removing the barrier, it becomes more spacious. This hiking backpack also has external load compression and internal compression straps.
To provide maximum protection to all your belongings, it has a durable zipper opening at the back of the bag. The fabric of this backpack is durable and ideal for hiking use. The heavy-duty material used in the construction can handle the maximum load without damage from any side. To deal with rough weather, it has a full-size rain cover that converts into small folds. This bag carries two bladders, one on each side of the bag. The look of the Eberlestock battleship pack is conventional that gives hiking feel to a user. This backpack also features 5-liter dry bag and a 3-liter hydration system. Due to the multiple pockets and compartments, you can organize every item separately without worrying about ventilation issues.
The best thing about the Eberlestock battleship V90 pack is despite all the modern features, the product is affordable. The load-bearing capacity of the hiking backpack is impressive, and you will love the flexibility. It's suitable for all types of bodies, and it can store different gears. The water-resistant feature of the backpack is a win-win for you.
Large sleeping bag
Water-resistant
3L hydration system
High strength and lightweight
Fitting is complicated to understand
Osprey Packs Stratos 50 Men's Backpacking Backpack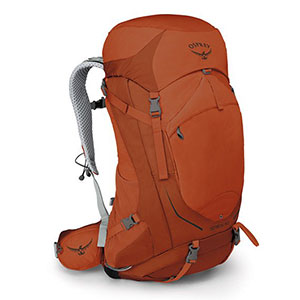 Osprey is one of the premium brands that deliver exceptional quality to hikers obsessed with wilderness and always search for products that can support the adventure. It is one of the finest backpacks by Osprey that is rich in features and provides maximum comfort to a user. Osprey packs Stratos 50 men's hiking backpack features airspeed technology that keeps your back sweat-free in hot weather. You can carry the bag all day long on your body, and there will be no irritating sweaty feeling. The efficient suspension system of the Osprey backpack distributes weight evenly and fits perfectly on the shoulders. This product is highly adjustable and flexible, which makes it ideal for frequent travelers or hikers.
For night hiking, where gears are essential to use, this backpack can carry all of them. This smart backpack can bear 35lbs of load, and due to the reliable material, this backpack lasts for ages. When you are hiking for hours, this bag has a hip belt to transfer load. It's not bulky and suitable to handle even when you are carrying heavy gears with you. The thick padding on your shoulders keeps your backpack light and delivers relief to your body. The sternum strap also converts the bag, and it can adjust on your chest. This product has premium zippers, and you don't have to deal with weak zippers anymore. Osprey packs Stratos 50 men's hiking backpack providing three access points, integrated rainfly, sleeping bag pocket, and an internal hydration sleeve. You can also use a removable sleeping pads strap and walking pole attachment.
Airspeed technology
Internal hydration sleeve
Thick padding
Smart suspension system
The sleeping bag compartment is not roomy
Gregory Mountain Products Women's Deva 70 Liter Multi-Day Hiking Backpack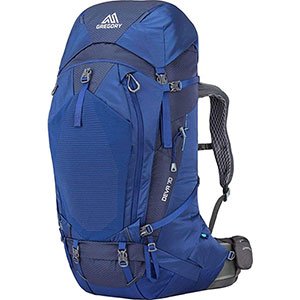 While planning hiking with friends and family, a few accessories and equipment are vital to keeping with you. The backpack is the source of keeping most things that you may need on hiking. Auto angle suspension system gives custom fit to your shoulders for distributing weight evenly. It helps to save your energy on every step while climbing on an inclined surface. The combined technology of Gregory pre-curve and multi-density lifespan provide relief to sensitive spots. It also reduces pressure while carrying a backpack. A high-strength tubular aluminum frame gives support to the lower back and shifts weight to the hips.
Gregory mountain women's Deva multi-day hiking backpack features anti-barreling support to maintain the shape of a bag. To enhance moisture management, it has a breathable mesh structure, and it makes air-flow promising. The comfortable silicone keeps the strap firm at the shoulders and prevents adjustment. It has a customized fitted rain cover and weather shield hip-belt pocket to keep the phone protected. The backpack features a hydration sleeve and sidewinder bottle holster for quick access to the water.
Zippered sleeping bag compartment with a removable divider and double barrel lid is suitable for dividing material into different sections. This hiking backpack has four top pocket lash points for accessory attachment or solar equipment. The 70L capacity of a bag is impressive to keep maximum belongings in different compartments.
The auto angle suspension system
Breathable mesh structure
Gregory pre-curve technology
Robust silicone grip
What to look for when buying a hiking backpack
A perfect backpack should be spacious to keep necessary belongings and have enough pockets to create different sections. In this buying guide, you will understand; how to choose the right backpack for the best hiking experience?
Backpack Weight
The weight of the backpack should be light to carry for long hours. The best way to enjoy hiking is to keep the bag light for striking a balance between comfort and flexibility. Before choosing any backpack, ensure that it's according to your body type, and after loading it with the necessary items, you can handle it. Hiking is all about moving and climbing on inclined surfaces, but sometimes due to the heavy load on your back, you may get uncomfortable, and posture will be disturbed. Always check the weight of the hiking backpack when you want to enjoy the adventure.
Frame
The frame of the backpack plays an essential role in maintaining posture and in moving forward. We always advise hikers to choose the product with a simple layout that can shift load evenly to other areas and keep your body light. If you can handle a heavy bag with gears, then it's necessary to choose a sturdy frame. The backpack must bear 35lbs of the load to complete the hiking.
Backpack Fit
The torso length and height of the backpack matters; when traveling for hours. A great experience comes from an appropriate fitting, and it makes your shoulder feel light. Before buying any hiking backpack, use it on your body and ensure the size. If you are not comfortable with the height and width, move to the next one. By loosening all the straps of the backpack, hang it on your body and then adjust it. It must be able to bear maximum load without shifting the whole burden on your body.
Padding
The padding of the hiking backpack is of great importance, and without proper padding, you won't be able to move comfortably on the track. The thick padding supports the back, shoulder, and hips throughout the trip, and the hiker doesn't have to feel pain due to no support. It distributes the load on your body and relief soreness. Hiking backpack with no padding is hard to handle, and it can cause blisters on your body. To keep the body protected from strains and unnecessary injuries, choose the backpack with appropriate padding.
Construction
No matter if you are buying a shoe or a bag, checking the construction of the product is essential. First, check the material of the backpack and whether it's durable to last or not? Next, use zippers and determine if they are easy to pull and push without putting in too much effort. Lastly, check if it is capable of bearing 35lb of weight or not? If the construction of a hiking backpack is weak, it will be damaged in the first two days of hiking then, it will be difficult for you to carry essentials.
Ventilation
Attempting hiking in hot weather is not an easy task when your bag has no ventilation system. A sweaty and itchy back is enough to make you uncomfortable on the entire trip, and you will be tired due to dehydration. Look out for the premium ventilation system in the backpack to keep your back dry even if hiking in hot weather. After long hours of carrying a bag, your back will remain dry, and the whole experience will be magical. It's a wise decision to buy a backpack with all the features to make this adventure memorable.