Getting in and out of your caravan can be draining on ones body especially the legs. It can also be quite dangerous if your step is not safe. A slippery step could result in a fall and ruin your holiday or worse, cause injury. To avoid this from happening, it's best to get a suitable caravan step that will make getting in and out of your van a breeze and not a burden.
So choosing a caravan step will really depend on your current situation in terms of caravan and mounting options. That said here are 5 great caravan steps that are worth checking out.
Top Steps for Caravans 2023 [Reviews & Comparisons]
Coast Double Pull-Out Caravan Step – Galvanised Steel 560mm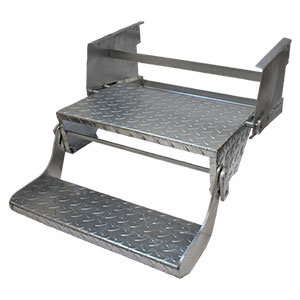 Buying a caravan step is not an easy job. However, with COAST Double Pull-Out Caravan Step – Galvanised Steel 560mm, your life on the road will be more comfortable whether you have any mobility problem or not. Coast has a very good reputation when it comes to manufacturing high-quality and durable outdoor equipment and accessories.
These steps are an ideal example of this company's excellent commitment to high-quality accessories. They are made from steel, so very well-made and strong. Apart from this feature, every step features non-slip components to deliver better grip and control over movements.
The COAST Double Pull-Out Caravan Step is a very strong product, therefore an ideal choice for touring caravans. It is also one of the cheapest options available in the market that uses tubular steel construction. It is made to very high standards using steel material and can easily be used virtually anywhere you want without needing a floor.
The bottom step dimensions are 520mm (width) and 180mm (depth). The top step dimensions are 510mm (width) and 305mm (depth). The close dimensions are 380 (depth) x 590 (width) x 310 (height). Mounting plate dimensions are 290mm x 25mm (outside mounting plate to outside mounting plate is 575mm). The open length mounting plate of the unit to the bottom is around 400mm. It is zinc plated, weighs around 17.5kg, and features an anti-slip checkered plate.
Zinc plated
Compact
Suitable for all types of vehicles, including caravans
Affordable and sturdy
A Quick Buying Guide to find the Best Caravan Steps
With hundreds of brands and the best caravan steps 2021 models available in the market, it can be a little hard to choose the most suitable product to fulfill your outdoor requirements. In this section, we will discuss some of the key factors every buyer must acknowledge before making a final choice.
Single Platform Or Double Platform
Considering the number of platforms is also very important before spending your hard-earned money. Single platform caravan steps are more compact, which means they are easy to transport and stow away when not in use. The main downside here is the effort it takes to get up the stairs.
Double platform caravan steps have a large surface area so you can step up and down without straining your joints and knees. Due to their larger size, they are a little hard to hide away when not in use.
Durability
The caravan step you purchase should be durable and constructed from a strong material. This feature is important because they need to be able to withstand tough weather conditions without damage. Aluminum or steel are the common candidates here as they don't rust or become weak under constant snow and rain.
Weight Limit
Before purchasing a caravan step, it is also important to be aware of your chosen product's maximum weight limit. The majority of steps available in the market have a weight capacity of up to 150 kg, but still, there are some models that can accommodate the load above this value. You can opt for double platform steps to distribute weight more effectively when the unit is not in use for your convenience.
Stability Of The Steps
Your selected caravan steps must be very stable and robust. They should not move or bounce when you are going up and down them. The vibration level should also be very low while using the steps, which you can easily determine by reading the customers' honest reviews.
Maintenance And Cost
Electronic caravan steps need lubrication regularly to keep their parts constantly moving. They might also present you with frequent repairing costs on account of different electrical components. On the other hand, manual steps don't cost more or need frequent maintenance to work effectively.
Frequently Asked Questions
How can I stop my Caravan step legs from sinking?
Before leaving your house, always test out your caravan steps on a level concrete ground. A set of steps that have legs and a larger surface area. These steps are great at resisting sinking in the dirt, making your product more stable. You can also prevent the legs from sinking by putting a piece of flat wood under the legs. Doing so will not only protect your steps from getting dirt on them but also from sinking and slipping.


Why are aluminum and steel an ideal material choice for Caravan steps?
Caravan steps are available in a wide range of materials. However, the majority is made of aluminum or steel as they are very strong and durable. These steps can last several years, even after constant use and abuse. Aluminum material is light, so you can move it easily from one place to another. If you are on a tight budget, steel is an ideal choice to opt for. Though it is a little heavy, but it makes your investment worthwhile.


Which one is better? Soft or hard caravan step?
Most of the caravan steps out there are made from alloys and metals. Aluminum alloy made steps are rust-resistant, very hard but light in weight. They are usually more expensive than the steel version but for all the rightful reasons.
Some caravan steps are made of plastic; they are cheap, rust-proof, and light but also convenient to clean. Since they are made with strengthening ribs, they have added support but doesn't fold away.


Why is the caravan step tread an important factor to consider?
Whether you opt for a product with a single or double step, you always need a non-slip trip to be able to use the unit safely in all kinds of weather conditions. Always go for rubber trade plates with metal mesh or any other type of slip-resistant surface for a more enjoyable experience. Since most of the steps are kept outside in different weather conditions, it is important that you keep yours clean and dry at all times to prevent it from becoming slippery.
Final Thoughts
There you go! These are some of our best caravan steps for 20201. Now you can step in and out of your caravan with style with any step of your choice. All these products are convenient and time-saving figures, but the clear winner for us is Dometic folding step 9108400913. It is a low budget solution with all the advanced and necessary features that a potential buyer look for when purchasing a high-quality caravan step.