Getting in and out of your caravan can be draining on ones body especially the legs. It can also be quite dangerous if your step is not safe. A slippery step could result in a fall and ruin your holiday or worse, cause injury. To avoid this from happening, it's best to get a suitable caravan step that will make getting in and out of your van a breeze and not a burden.
So choosing a caravan step will really depend on your current situation in terms of caravan and mounting options. That said here are 5 great caravan steps that are worth checking out.
Top Caravan Caravan Steps for Australia: Reviews 2021
Coast Double Pull-Out Caravan Step – Galvanised Steel 560mm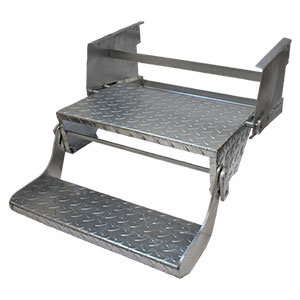 Buying a caravan step is not an easy job. However, with COAST Double Pull-Out Caravan Step – Galvanised Steel 560mm, your life on the road will be more comfortable whether you have any mobility problem or not. Coast has a very good reputation when it comes to manufacturing high-quality and durable outdoor equipment and accessories.
These steps are an ideal example of this company's excellent commitment to high-quality accessories. They are made from steel, so very well-made and strong. Apart from this feature, every step features non-slip components to deliver better grip and control over movements.
The COAST Double Pull-Out Caravan Step is a very strong product, therefore an ideal choice for touring caravans. It is also one of the cheapest options available in the market that uses tubular steel construction. It is made to very high standards using steel material and can easily be used virtually anywhere you want without needing a floor.
The bottom step dimensions are 520mm (width) and 180mm (depth). The top step dimensions are 510mm (width) and 305mm (depth). The close dimensions are 380 (depth) x 590 (width) x 310 (height). Mounting plate dimensions are 290mm x 25mm (outside mounting plate to outside mounting plate is 575mm). The open length mounting plate of the unit to the bottom is around 400mm. It is zinc plated, weighs around 17.5kg, and features an anti-slip checkered plate.
Zinc plated
Compact
Suitable for all types of vehicles, including caravans
Affordable and sturdy
Dometic Folding Caravan Step
Before purchasing the best caravan steps out there, you have to do some thorough research or seek professional help from the experts to get it right the first time. The Dometic Folding step 9108400913 is an ideal choice for outdoor lovers and adventurers looking to save as much packing space as possible while setting off on their vacation.
This caravan step has some obvious advantages over all the other products on the list. The first one being the storage and the second one being ideal step height. This stable step has its legs further apart to give a compact folded height. It has a very decent non-skid tread and only weighs a couple of pounds for easy transportation. As compared to solid caravan steps, the Dometic Folding step 9108400913 is a secure option as it offers more convenience to potential buyers. It is very easy to pack, and once popped up, delivers a solid foundation for your family members wherever required.
The unit is purpose-designed to give you a safe entry and exit from your RV, caravan, and motorhome. While traveling, anyone can easily fold it up under its framework in one swift action. Its heavy-duty frame can easily hold up to 225kg weight. It is easy to install and only needs bolting to the underside of the chassis.
With his product and its advanced features, you can now enjoy your caravan life with ease. The unit is made from strong aluminum material and can be relied upon for heavy individuals
Folding step
Lightweight
Good weight capacity
One year warranty
Pull out and Folding Aluminium Caravan Step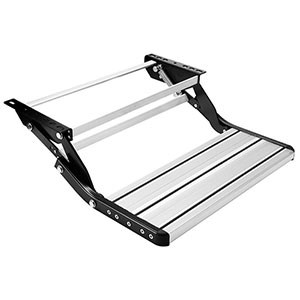 Caravan steps are of utmost importance to almost all the campers and outdoor fanatics out there, and why shouldn't they be? They make your caravan very easy to go in and come out of while providing some additional benefits instantaneously. The most prominent benefit of using Caravan Step Aluminium Pull Out Folding Caravan Step Camper Trailer Motorhome RV lies in its usability. They can easily be extended by hands and placed effortlessly outside the caravan.
Apart from the convenience, this caravan step offers a plethora of advanced features to introduce you to a whole new world of accessibility. Another great thing about this step is its excellent load rating. Unlike other high-end products, this step does not demand extra care from you, so it works great when it comes to long-term usage. This product is a great idea for those for whom loading is particularly a big problem.
Here, the body material type is top-grade aluminum, which means it is strong, sturdy, and highly durable. The tread width is around 548 mm, whereas the overall size of the unit is 580 mm (height), 548 mm (width), and 185 mm (depth). It weighs only 4.5 kg, which makes it one of the most compact and highly portable products on the market.
Folding caravan step
Aluminum framework
Portable
High-quality construction
Camec Caravan Step Electric Double 12V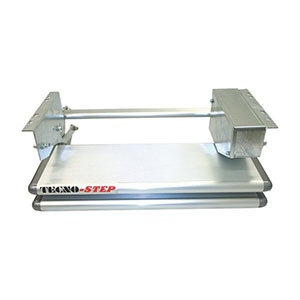 There is no denying in the fact that caravan steps are indeed very important for getting out and into your caravan more safely and comfortably. However, buying the most suitable product is not an easy task to pull off. If you are also looking for the best caravan step that ensures you can enter or exit your vehicle without any problem, look no further than Camec STEP ELECTRIC DOUBLE 12V 560MM FOOT BOARD 560MM to fulfill your outdoor requirements.
It has all the advanced features and qualities to make sure you meet your caravan's requirements with ease without worrying about subpar access. This electric step has some resemblance with the handicap lifts or different sheath-able hardware you usually see! The unit allows you to push a simple button that causes the metal step to extend a bit further and help you get into your caravan safely.
Having this caravan step means you don't have to do any additional work once you are done assembling and mounting the unit. You can install the step yourself or hire any professional to get the job done for you.
This single step for your caravan comes with an aluminum tread and a galvanized steel construction framework. It features a 12-V motor that extends out and secures the step. You can operate it by a switch which is placed just inside its doorway. Bolt the mounting brackets or weld them to the chassis for a convent assembling.
560 mm wide
It can be operated via a switch
Steel/aluminum construction
Large footboard
A wiring harness with the switch is not included with the package
Milenco MGI Caravan Double Step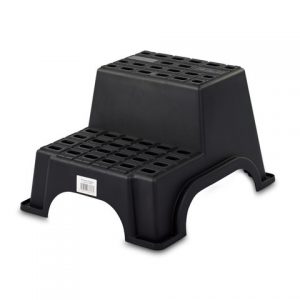 Get in and out of your caravan with style and ease with some assistance from the all-new Milenco MGI RV Double Step. This product is the smaller version of the MGI Giant ML450 step. It is a highly durable and stable caravan step that features a non-skid upper surface and fitted rubber pads over the feet. This feature helps prevent slipping on tarmac surfaces. Moreover, there are pegging out holes to secure your steps on the grass with the standards wire tent pegs.
This caravan step with the platform is designed to be a reliable and safe way to get out of your caravan without any fuss. It has a very large platform that has a non-skid upper surface. There are impact-absorbing feet to keep everything nice and strong while in use. The caravan step is lightweight, so it doesn't add too much to your load.
Another great thing about Milenco MGI RV Double Step is made from 100% recycled material, which makes it an environmentally friendly and lightweight option to use and store. The product meets strict safety guidelines put together by EN 1645. The unit is designed with a larger base than its top to make sure that the step never overturns during use. the dimensions of the unit are step height- 37cm, first step height-18.5cm and tread size- 38cm x 24cm.
200kg maximum load capacity
Large and stable tread platform
Impact absorbing rubber feet
Built from durable plastic
Wire tent pegs not included in the package
A Quick Buying Guide to find the Best Caravan Steps
With hundreds of brands and the best caravan steps 2021 models available in the market, it can be a little hard to choose the most suitable product to fulfill your outdoor requirements. In this section, we will discuss some of the key factors every buyer must acknowledge before making a final choice.
Single Platform Or Double Platform
Considering the number of platforms is also very important before spending your hard-earned money. Single platform caravan steps are more compact, which means they are easy to transport and stow away when not in use. The main downside here is the effort it takes to get up the stairs.
Double platform caravan steps have a large surface area so you can step up and down without straining your joints and knees. Due to their larger size, they are a little hard to hide away when not in use.
Durability
The caravan step you purchase should be durable and constructed from a strong material. This feature is important because they need to be able to withstand tough weather conditions without damage. Aluminum or steel are the common candidates here as they don't rust or become weak under constant snow and rain.
Weight Limit
Before purchasing a caravan step, it is also important to be aware of your chosen product's maximum weight limit. The majority of steps available in the market have a weight capacity of up to 150 kg, but still, there are some models that can accommodate the load above this value. You can opt for double platform steps to distribute weight more effectively when the unit is not in use for your convenience.
Stability Of The Steps
Your selected caravan steps must be very stable and robust. They should not move or bounce when you are going up and down them. The vibration level should also be very low while using the steps, which you can easily determine by reading the customers' honest reviews.
Maintenance And Cost
Electronic caravan steps need lubrication regularly to keep their parts constantly moving. They might also present you with frequent repairing costs on account of different electrical components. On the other hand, manual steps don't cost more or need frequent maintenance to work effectively.
Frequently Asked Questions
How can I stop my Caravan step legs from sinking?
Before leaving your house, always test out your caravan steps on a level concrete ground. A set of steps that have legs and a larger surface area. These steps are great at resisting sinking in the dirt, making your product more stable. You can also prevent the legs from sinking by putting a piece of flat wood under the legs. Doing so will not only protect your steps from getting dirt on them but also from sinking and slipping.


Why are aluminum and steel an ideal material choice for Caravan steps?
Caravan steps are available in a wide range of materials. However, the majority is made of aluminum or steel as they are very strong and durable. These steps can last several years, even after constant use and abuse. Aluminum material is light, so you can move it easily from one place to another. If you are on a tight budget, steel is an ideal choice to opt for. Though it is a little heavy, but it makes your investment worthwhile.


Which one is better? Soft or hard caravan step?
Most of the caravan steps out there are made from alloys and metals. Aluminum alloy made steps are rust-resistant, very hard but light in weight. They are usually more expensive than the steel version but for all the rightful reasons.
Some caravan steps are made of plastic; they are cheap, rust-proof, and light but also convenient to clean. Since they are made with strengthening ribs, they have added support but doesn't fold away.


Why is the caravan step tread an important factor to consider?
Whether you opt for a product with a single or double step, you always need a non-slip trip to be able to use the unit safely in all kinds of weather conditions. Always go for rubber trade plates with metal mesh or any other type of slip-resistant surface for a more enjoyable experience. Since most of the steps are kept outside in different weather conditions, it is important that you keep yours clean and dry at all times to prevent it from becoming slippery.
Final Thoughts
There you go! These are some of our best caravan steps for 20201. Now you can step in and out of your caravan with style with any step of your choice. All these products are convenient and time-saving figures, but the clear winner for us is Dometic folding step 9108400913. It is a low budget solution with all the advanced and necessary features that a potential buyer look for when purchasing a high-quality caravan step.