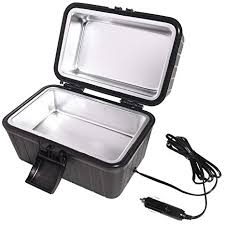 Keep your meals hot when traveling with a 12v portable food warmer stove!
Don't eat cold food again when you can keep all your favorite meals piping hot in one of these great portable food warmers! With many different styles to choose from, you can be eating hot home cooked meals anywhere.
Some devices only act as warmers and just maintain a hot product, however there are a few that also can cook the food, we will take a look at each product in more detail below.
Anyway, let's get straight into our 12v portable oven comparison and reviews. In our opinion, the best 12v portable food warmers are:
12v Portable Food Warmer Oven Reviews 2023
Road Pro 12-Volt Portable Stove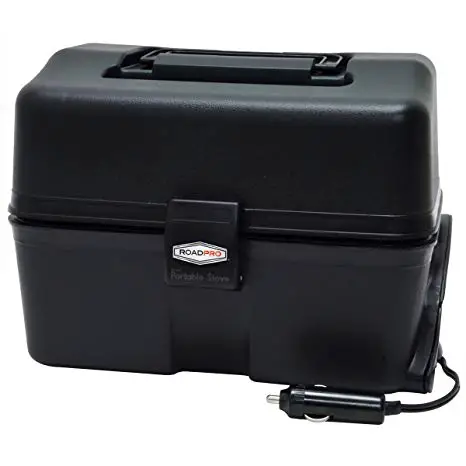 The first portable stove on our list is by Road Pro. It is extremely lightweight and weighs only 454 grams. You can easily carry it around while camping and while hiking as well. This portable food warmer helps in warming up almost any kind of pre-cooked food especially beans, stews, rice, and all kinds of meats. It is designed to heat large portions of food in approximately one hour.
This portable stove does not consume much power yet warms up food up to 300 degrees. It can be plugged directly into a 12-Volt power port. It comes with a 15 amp fused 5.5 inches power cord and 12 AMPS/144 Watts current draw. It is compatible with aluminium and you can use aluminium disposable containers or foil to avoid cleaning up the stove after every use. It can accommodate 8 x 3.75 x2.5 inches containers easily.
Cleaning this portable stove is a breeze. You can wipe it clean with a damp cloth and dry it well before using. Make sure it is not plugged in while you clean it. You can easily carry pre-cooked meals with you in coolers that can keep the food frozen. Let the food defrost on outside temperature and you can warm it up in this portable stove. You will get yummy hot food while you enjoy your time at campsites.       
Warms food up to 300 degrees
Lightweight
Heats all types of food
Does not consume much power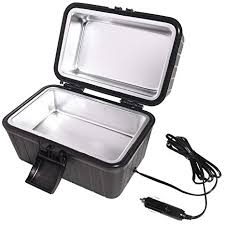 Buying Guide for Portable Food Warmer Oven
The following buying guide will help you through the purchasing process. This buying guide contains all the features you need to know while purchasing a portable food warmer for your camping experience. You need to keep the following features in mind when you are looking for a portable food warmer.
Power Output
If you plan to go on camping and you want a food warmer solely for this purpose, then the first thing you have to look for is the power output of the food warmer. There are many options for food warmers when it comes to portable food warmers especially for camping. You will find food warmers with the power output of 11V and 12V. These power outputs are not very effective. You want to look for a professional food warmer with higher power output. They are more effective and help more in keeping the food warm. The ideal power output is 24V as they are more efficient and cook food comparatively faster than the other ones.
Quality of Construction
The durability of food warmer depends on its built. No food warmer can serve you for long if it's built is compromised. You have to check the materials of the food warmers. You need to get a food warmer that has been built from premium materials. The heating element is the main component which plays a vital role in the cooking and heating process. It should be efficient enough to make the cooking hassle-free. A durable food warmer is designed from stretch neoprene material. Make sure your food warmer contains this material for long-term operation.
Capacity
Capacity is another factor that affects the performance of food warmer. You have to select the capacity according to the number of people travelling with you. If you are travelling solo, then a smaller capacity food warmer will do it for you. But you cannot use the same one when more than one people are travelling with you. It is more like a one-time investment, if you plan to travel with your friends or family then you would want to get a food warmer with the largest capacity so that you don't have to carry multiple food warmers with you.
Compatibility
The compatibility of various materials of food containers with food warmer is very important. Your food warmer should be compatible with materials like glass, cardboard, plastic, and ceramic etc. This will help the camper in using any type of container to put in the food warmer without worrying about the container breaking or melting.
Versatile usage
The food warmer you get should be versatile enough to have multiple applicability. It should serve you while travelling, at office, picnics, campsites, and even at home when you have guests coming over and you have to make multiple dishes. It helps in keeping the food warm for a longer time and saves you from the hassle of reheating again.
Frequently Asked Questions
Q1. For how long a portable food warmer can keep the food warm?
Ans. A good food warmer can keep the food warm in the warmer for up to 2 hours when you turn off the power. The food will stay warm and will not go bad in the food warmer.
Q2. How can I clean a portable food warmer?
Ans. Cleaning a portable food warmer should be done carefully. Make sure it is not plugged in while you clean it. It is not recommended to open up the food warmer or take it apart to clean it. You can wipe and clean it. You can also put your food in containers and then heat them in the warmers. That way your food warmer will stay clean.
Q3. Is it okay to put plastic and foil containers in the food warmers?
Ans. You have to check the manual of the food warmer to see what materials are compatible with it. Most of the food warmers are compatible with plastic and foil containers.
Q4. Which voltage is more suitable for cooking food in portable food warmers?
Ans. We recommend you to get 24V food warmer. It helps in cooking as well as heating the food more quickly as compared to lesser voltage food warmers.
Final Thoughts
A portable food warmer is one of the most useful camping gears. You can use it other than camping as well. They serve you well even in offices as well when you are busy working and still want to have a nice warm meal. We hope you will find this article useful enough and learn the maximum from the buying guide what features to look for. After all, everyone wants a nice warm meal at the end of the day and these food warmers are the best available in the market.